The kitchen turns out to be one of the most welcoming spaces in the whole house, in the end, all the meetings end up in the kitchen, that's why it is important to have a nice decoration. Here we bring you some decoration ideas for kitchen counters.
What should I display on my kitchen counters?
There are many decoration ideas for kitchen counters, depending on your personal style and preferences. Here are some basic ideas to get you started, use plants and herbs, use fruit bowls, you can also use the artwork on walls or sculptures. Use cookbooks, and pop of color utensils, and add some seasonal elements to decor, like candles, gourds, flowers, and pinecones.
Natural texture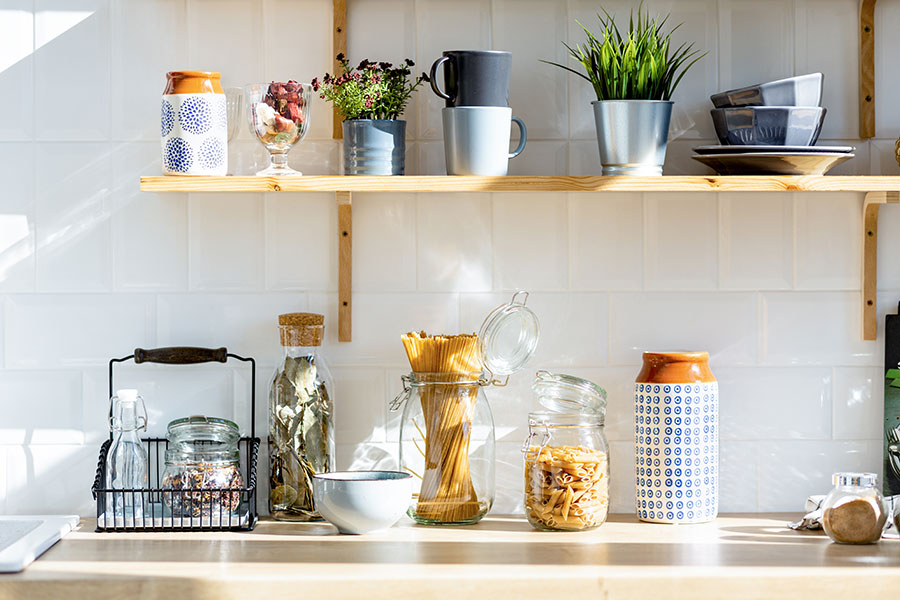 Add seasonal plants, such as spring flowers, mosses, ferns, or indoor plants, that need to be in areas like the kitchen that have warm temperatures.
Add seasonal elements
Some decoration ideas for kitchen counters. include seasonal elements such as pumpkins or spoon kitchen accessories in the fall, pinecones in the winter, or seasonally appropriate colored dish towels and place mats.
Add some color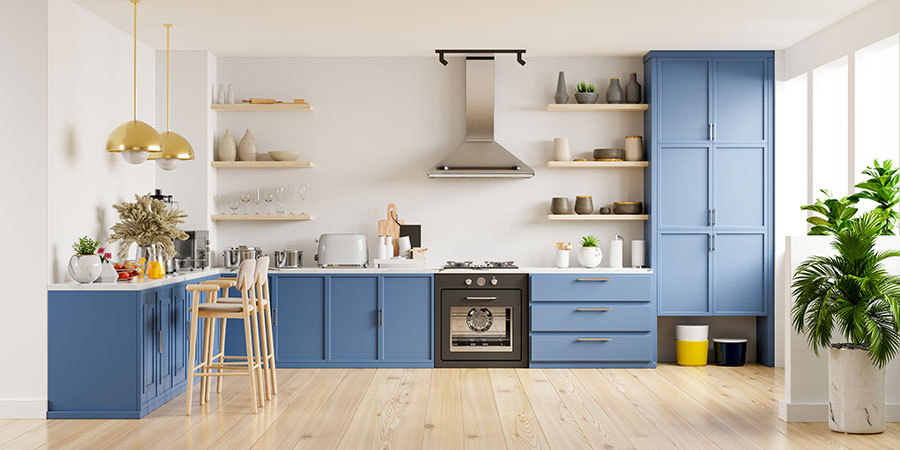 Use elements of the kitchen to set the eye, such as a colored wall, lamps in a bold color, or furniture like the ones in the photo. These add a touch of color to the kitchen, making it more eye-catching and creating a focal point.
Monochrome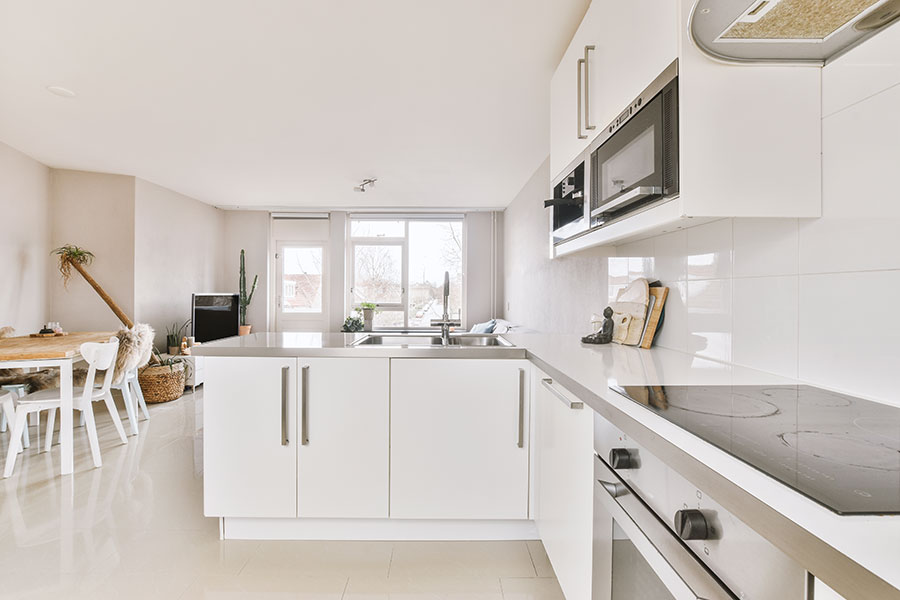 Choosing a monochromatic design is classic and timeless, you don't have to add anything else to your kitchen to make it elegant. As in the photo that only revolves around white and cream tones. You can give it a twist by adding colorful utensils or unifying everything in one color scale.
Warm up with patterned accents
Use kitchen towels, chopping boards, and everyday utensils such as spatulas, spoons, ladles, and mixers, placed in containers or separately hung on the kitchen wall.
Dress with kitchen staples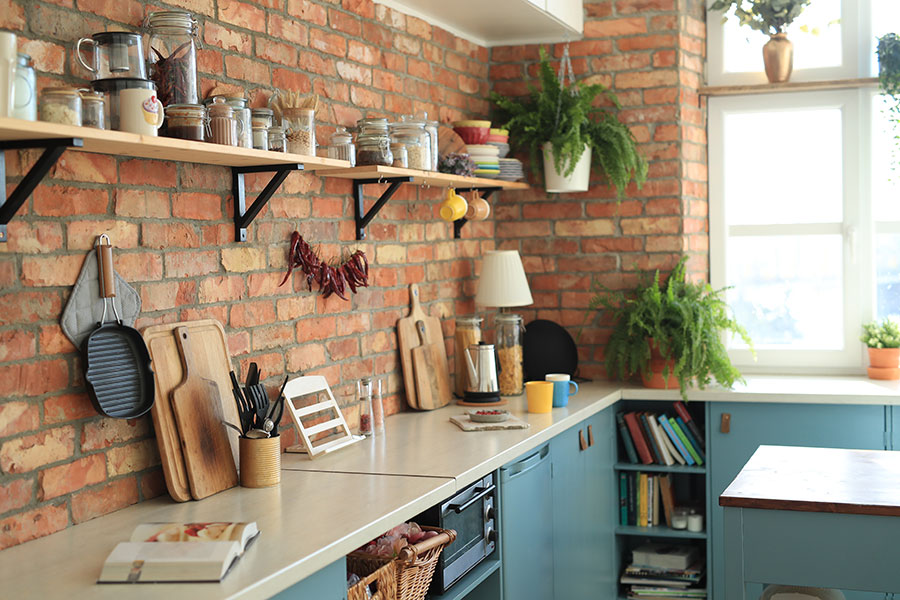 You can use porcelain or marble for a warm design with natural patterns. You can also use paper to decorate, following the respective tips. This is an alternative to have a balance between monochromatic and prints.
How can I decorate my kitchen countertop without clutter?
Having an aesthetic kitchen without clutter is totally possible, it can be difficult but not impossible. You need to know some hacks to keep the kitchen under control. Here are some of them, the most important ones:
Analyze before shopping for your kitchen. How you move around in the kitchen, what utensils you use frequently, and what utensils you use sporadically, especially if you live in a house with a small kitchen. This will determine what is immediately at hand and what can be stored in hard-to-reach places, for example. This way you can keep the kitchen countertops free and tidy, as well as be able to locate utensils with ease.
However, here are some ideas:
Use trays or baskets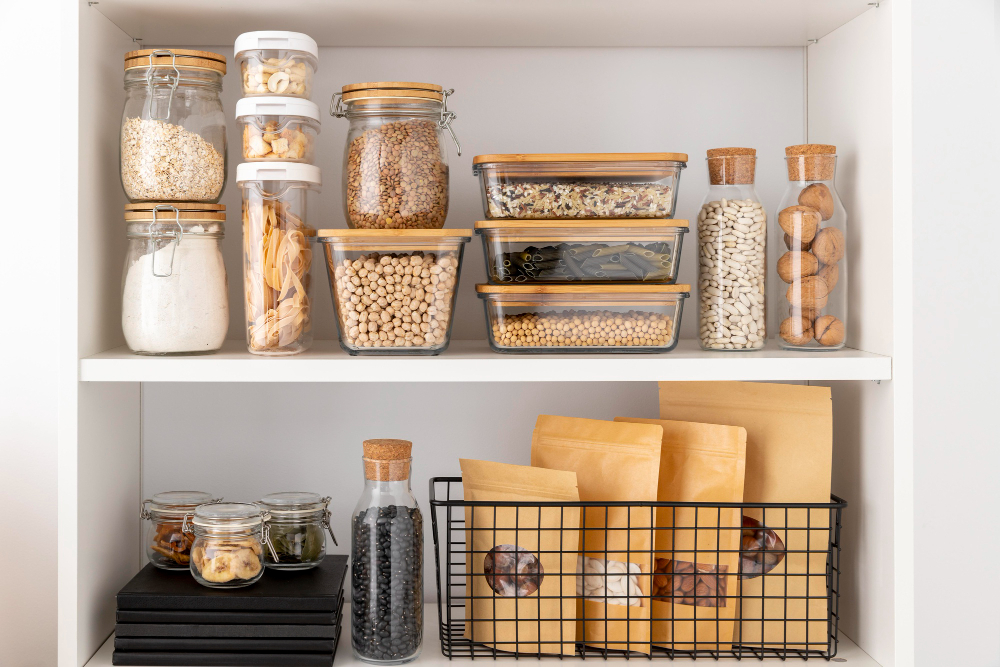 Gather those utensils that are similar or have a similar use, such as salt and pepper shakers or spice containers. Use baskets and trays to group them together to keep them off the kitchen counter and keep them tidy.
Use Shelves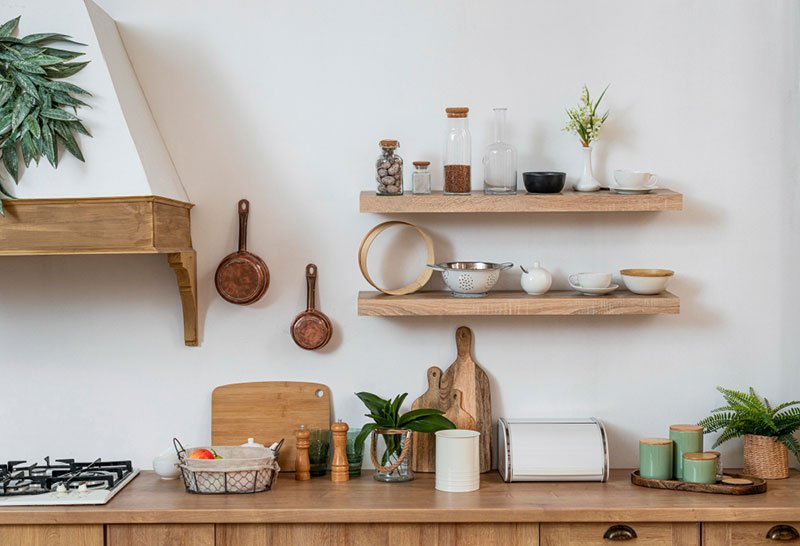 The shelves will be your best friend if you have a small kitchen, you have many cooking utensils or condiments and spices for cooking, and you can have wipes and detergent baskets on them. They are beneficial when it comes to keeping the kitchen tidy.
Countertops function first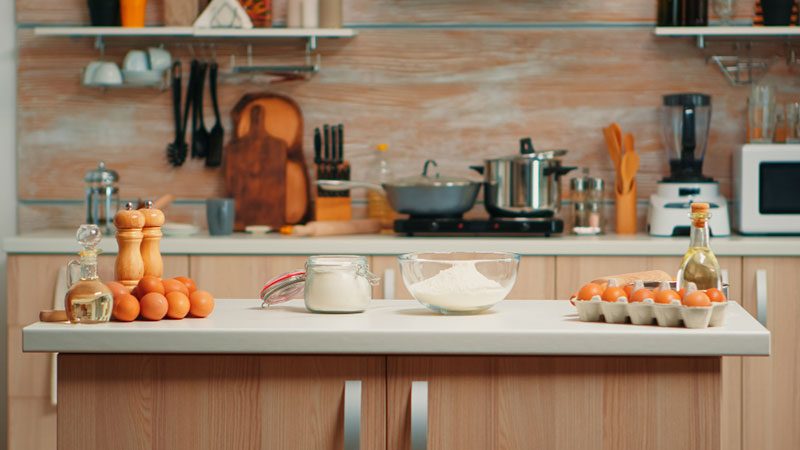 Within the clutter you can find order, for example, if your kitchen is a place where you work and spend more time than elsewhere in the house, you can not have everything stored. What we suggest you do is leave your work materials on the countertop in an aesthetic way while you start working. Include a cutting board wooden.
How can I make my kitchen countertops look better?
There are several ways to make your kitchen countertops look better. Here are some tips:
Tidy up
The only simple way to improve the appearance of countertops is to tidy them up. Remove items that are not frequently used and find a designated storage spot for them. This will create more space and make countertops look more streamlined.
Clean
Keep countertops clean and polish them regularly to keep them looking their best. Use a cleaner designed specifically for your countertop material to avoid damaging it.
Improve lighting
Good lighting can make your countertops appear brighter and more attractive. Consider adding task lighting underneath, also called portholes to cabinets or pendant lights above countertops to create a warm, inviting atmosphere.
Invest in quality materials
The quality of materials is directly related to the longevity of the kitchen countertop. Granite, quartz, and marble are very popular and can add value to your home.
How do you accessorize a kitchen?
Accessorizing a kitchen can be a fun and creative way to add personality and style to the space. Here are some ideas to decorate your kitchen:
Choose a color scheme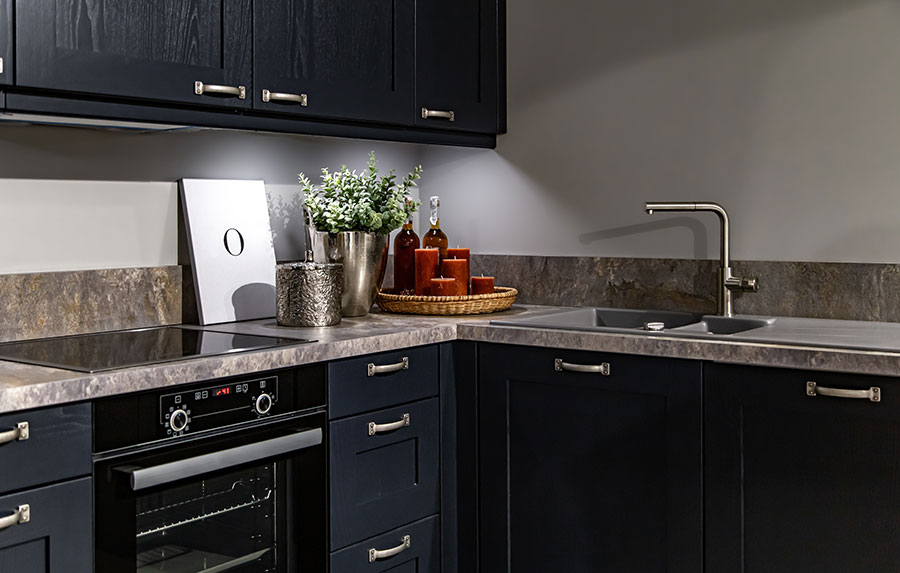 Select a color scheme for your kitchen and choose accessories that complement it. For example, if you have a white kitchen, consider adding pops of color with bright red or blue accessories.
Add artwork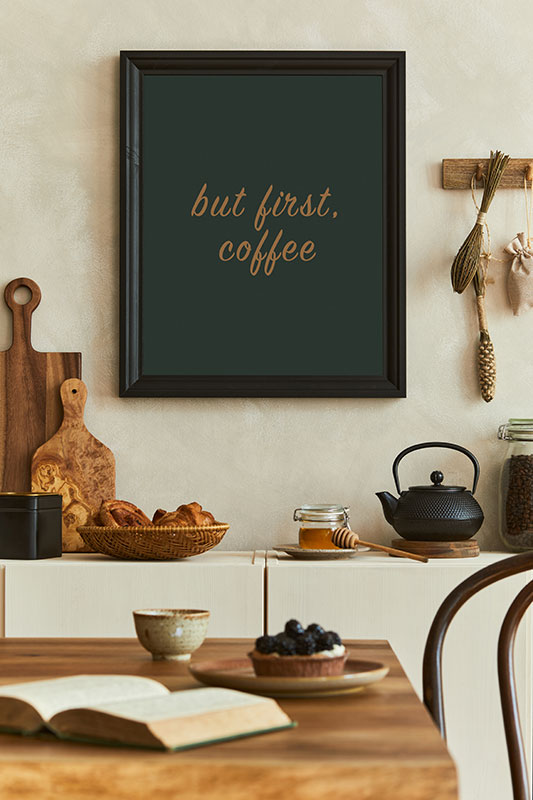 Hang artwork on your kitchen walls to add visual interest and personality to the area. Choose pieces that reflect your personal style and complement the color scheme of your kitchen.
Display dishes and glassware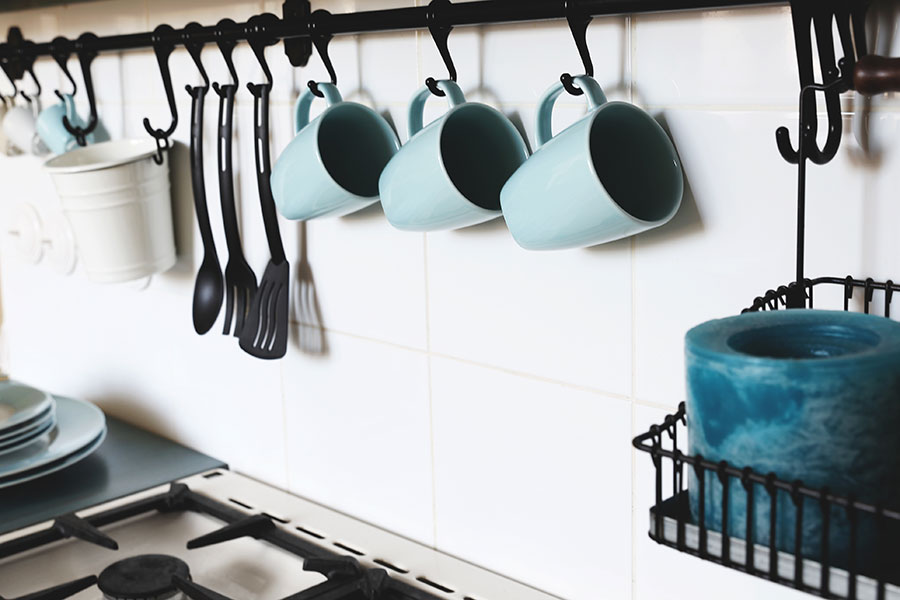 Use open shelving or glass-front cabinets to display your dishes and glassware. This can add visual interest and provide easy access to the items you use frequently.
Add lighting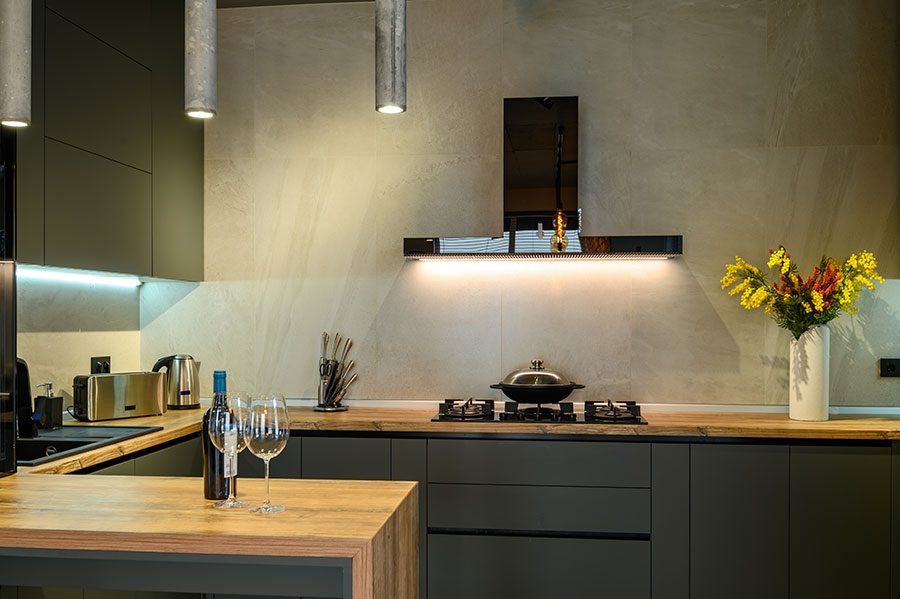 Good lighting can make a big difference in the look and feel of your kitchen. Consider adding pendant lights over the island or task lighting under the cabinets.
You can choose some decoration ideas for kitchen counters and have an aesthetic and warm kitchen. Don't forget that the kitchen is the place where the best recipes are created, meetings happen and the most important conversations take place. Let's keep this place tidy.
Decoration ideas for kitchen counters
was last modified:
May 19th, 2023
by
Recommended