This is the second part of a major guide on bathroom design and decor. You can also take a look at the first part that delves into 10 tips from an expert on how to design your bathroom.
Now, let's move on to the next step after designing your bathroom, which is decorating your bathroom. Here are 7 tips from the pros to ensure your bathroom decor fits your newly designed bathroom.
1. Use Color to Create Mood
Color isn't just about what you think looks pretty–it actually has an effect on your mood.
This is an especially good thing to take advantage of in the bathroom, where you spend a lot of time getting ready, cleaning up, and going through your range of worst to best.
Blue, for example, calls to mind serenity and calmness, while green has a strong emotional correspondence with safety and nature. So if you want your bathroom to have a soothing spa vibe, blues and greens with white and grey are your best bets.
On the other hand, if you want something fun and bright, go for warmer colors like yellow, red, or pinks.
2. Add in Mirrors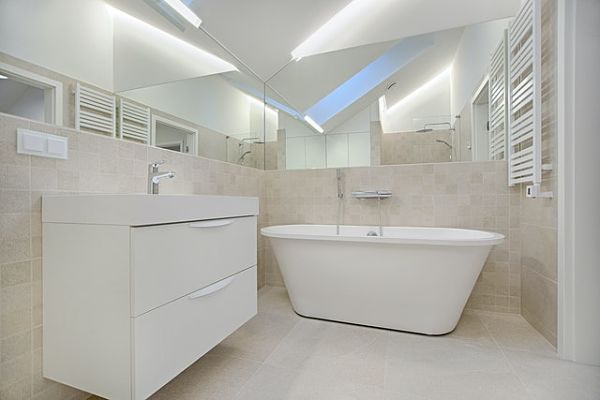 Another trick to creating more space is to add in mirrors.
True, every bathroom has a mirror that you use to brush your hair and make sure your tie is on straight each morning. But mirrors provide an illusion of depth, so they're a great choice to make a small bathroom look more open.
If you already have mirrors, replace them with larger ones where you can, and position your lighting so it can reflect off the mirror (it enhances the power of your lighting).
If you have the space to experiment, you can put mirrors up high (it helps to enlarge the space) or try putting a mirror on the wall opposite the sink vanity so that you can see yourself from behind.
3. Use Shelves Sparingly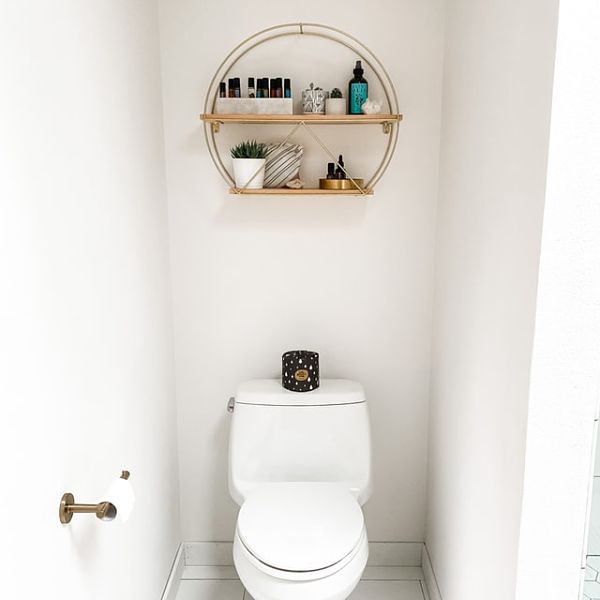 Pop quiz: if you have a small bathroom and storage space is a high priority, you need all the shelving you can get, right?
Wrong.
Shelves are one of the easiest DIY installations you can do in your bathroom–they take no time at all, and you can get items off the counter and out of the way.
However, too many shelves make the walls look cluttered and smaller than they actually are. So even though you're technically saving space by putting in shelves, you're making the room look smaller than before.
As a rule, over-the-toilet shelving can't steer you wrong. Long shallow shelves are also a good call–they can fit a lot more than you realize.
4. Plan Your Fixtures to Suit the Space
Note that the word space here has two meanings: the literal square footage of the room and the ambiance you're going for.
If you have a small master bathroom, you're going to want fixtures that will create the illusion of space. For example, if space is at a premium, consider a wall-mounted toilet and vanity instead of floor-mounted ones. This frees up floor space to create the illusion of a larger room.
It also applies to small things like the showerhead–consider installing it in the ceiling to keep the walls clutter-free.
5. If Space is Tight, Choose a Sliding Door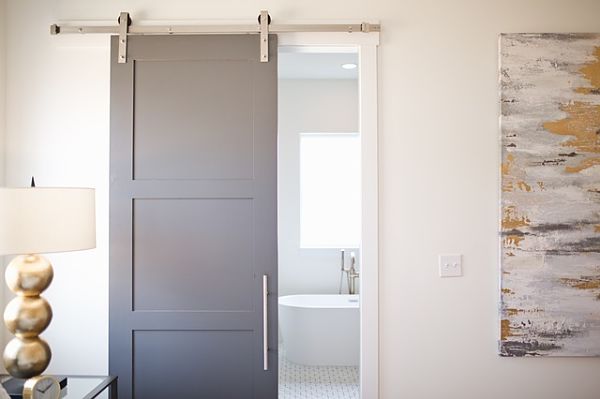 The door you select for your bathroom isn't just about having privacy when you do your business. It sets the tone for the room before you even set foot inside.
And if you have limited space, the door is even more important, because you have to account for the swing room.
If you have a small master bathroom and space is at a premium, consider investing in a sliding door–a hinged door takes up valuable floor space that can be spared with a sliding door. Just keep in mind that you can't hang towels on the back of the door or it won't fit in the pocket.
6. Plan Ahead for Accessories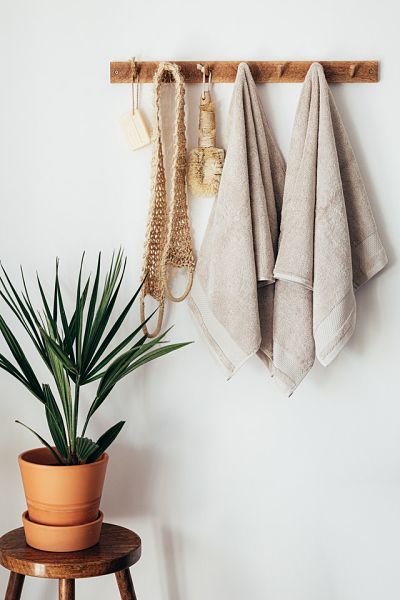 Of course, for all your planning when it comes to the absolute essentials like the toilet or the bathtub, you have to account for all the accessories that a bathroom entails. After all, these accessories are what make a bathroom functional.
For example, you need towel racks, but where will you put them? Near the shower? Next to the vanity? They should be reachable from the shower or bathtub without an inefficient use of space.
Remember earlier, when we said over-the-toilet shelving won't steer you wrong? This is a classic example of making your storage work for your accessories.
There are some things you'll keep on your counter all the time, like hair products or your toothbrush, but other things, like toilet paper, need to have a home until you call upon them.
And on the flipside of accessories, think about amenities you can't live without. Heated bathroom floors, for example, are hugely popular these days, but you could also go for something more outwardly luxurious like a gas-insert fireplace.
Remember, this isn't just about pampering yourself (though you absolutely should). Investing in these things does wonders for your resale value.
7. Use Window Treatments to Create Softness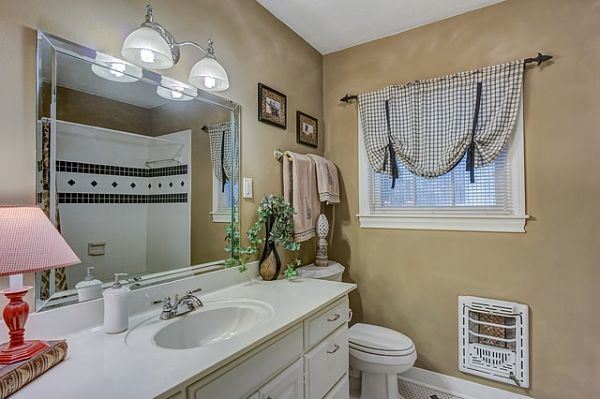 Window treatments are one of those things that you know are functional but also want to be pretty.
And for good reason–bathrooms are mostly made of hard surfaces, which means you need ways to create softness wherever possible. Window treatments are one of the easiest ways to do this.
Plus, a window treatment is a great way to introduce color and pattern to the room or a way to tie together the color scheme and theme you've already got going on.
However, you should keep in mind their functionality–bathroom window treatments need to provide privacy and they need to be able to handle moisture well. Otherwise, you'll be replacing them every few months.
7 Easy Ways to Achieve That Perfect Decorative Bathroom Decor
was last modified:
May 30th, 2022
by
Recommended