How to Get Perfect Blueprint for an Open-concept Home
More and more people today are opting for large, open floor plans instead of the traditional modular spaces that we remember from our parents' houses. We now want more light and access to picturesque views, as well as open, easy communication and movement between spaces.
Many open-plan homes feature the classic combining of kitchen/living room, or living room/study. Bedroom/bathroom/closet spaces are also on the rise, particularly inspired by open-plan hotel schemes.
All-in-one is great in concept, but can falter when it comes to practicality. Taking down all the walls can make maintaining privacy and delineating different spaces challenging.
When it comes to designing an open-concept home, the real art is in the creation of separate "zones" that essentially do the job that walls used to have – that is, dividing areas by use, which can be done in various ways. There are lots of tricks of the design trade that help resolve these issues, and create the perfect open-plan home.
Zoning with flexible dividers and screens
Flexible dividers provide the simplest and most cost-effective way to separate open spaces. Flexible dividers include:
Using hanging screens or curtains is a very simple way to suggest space division without having the restraint or expense of installing fixed pieces. Using a discreet ceiling-mounted curtain rail means that you can easily change the fabric you use for the curtain to suit different color schemes, etc.
A more permanent fixture is the screen. Borrowing from Islamic and Japanese traditions, screens (free standing, sliding, or fixed) are a great way to introduce semi-transparency (privacy) plus color and pattern into open-plan spaces.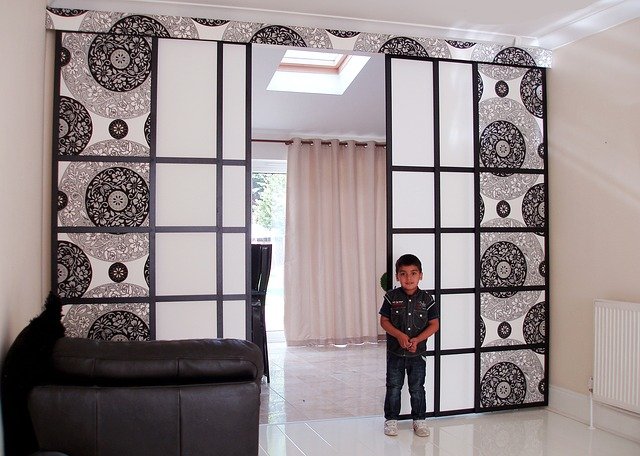 Pixabay
Grouping furniture to create intimate spaces
Furniture groupings are the real definers of spaces when it comes to zoning an open-plan house. Create clearly visible groups by using symmetry/mirroring or corner sofas to create closed groups of furniture such as those in the living room space.
Fixed furniture such as storage, bookshelves, fireplaces and display panels are also some of the most effective space dividers there are as they have double uses.
Read more: How To Arrange Living Room Furniture (With Blueprints)?
Separating large spaces with color and materials
Although interior walls are out when it comes to open-concept homes, spaces can be defined by using the other elements available, such as the walls and floor.
Simply by painting the backing wall of the living area or kitchen a different color to the rest of the spaces will make it appear as a separate space in its own right.
Read more: Should You Install an Open Concept Kitchen?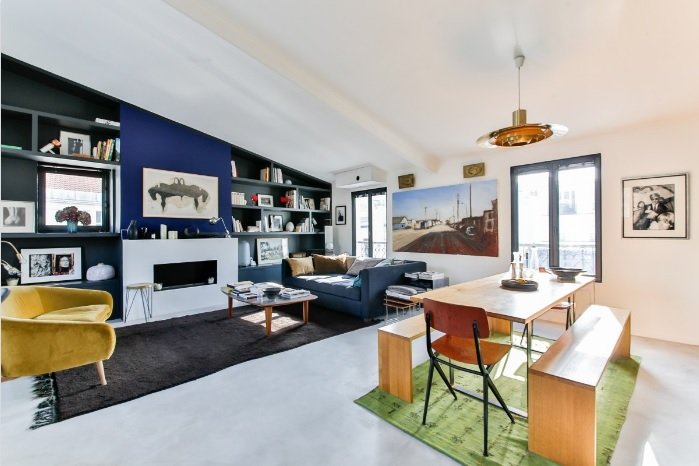 Pxhere
A beautifully simple way to mark boundaries is to change the floor-finish; this also adds a richness and texture to the interior. This can be a more permanent solution, using wood and concrete for example, or it can be something as simple as a large rug to mark a seating area.
Changing levels to define areas
If you're designing a house from scratch and love the mid-century modern look of the classic open-plan American house, introducing some level changes can be the perfect way to add interest and zone-up an open-plan home.
Create a sunken lounge area
Elegant and sophisticated, the sunken lounge is currently being revived in modern architecture. Decked out with cushions, it creates a real feeling of privacy within a larger space.
Take it to the roof and drop the ceiling to give a more intimate feel to certain parts of the space.
Open-plan bedrooms/bathrooms
Not for the shy among us, open-plan bedroom/bathroom combinations are a little too daring for some, but if executed correctly (i.e. with a separate cubicle for the toilet/bidet), they can result in unusual and stunning spaces.
Read more: Renovation ideas for spare bedroom
How to Get Perfect Blueprint for an Open-concept Home
was last modified:
April 20th, 2022
by
Recommended