Types of heating systems: The ultimate guide
There are different types of heating systems that are designed to give you maximum comfort in changing weather conditions. They keep you safe when temperatures outside get too cold or too hot.
No wonder, a heating system is crucial for a house. An even more important decision is to choose the best from the different types of heating systems available. The kind that would provide you the best climate control — keeping the layout and size of your home in mind.
The first question you need to ask yourself is whether you want a centralized or decentralized heating system for your home? Then come the more specific choices regarding the equipment type, kind of fuel, and energy efficiency.
Let's first explore how centralized and decentralized heating work and then choose the type of heating that would work according to your requirements.
Centralized Heating
Centralized heating is when the heat is generated from a single source in the home and then distributed to the different rooms in order to warm the air at a consistent temperature. A thermostat controls the flow of warm air.
Generally, this kind of heating system often comes combined with a cooling system and a ventilation system. The complete HVAC system controls airflow, temperature, and even humidity across the house from a single point.
What about bathroom heating? Let's review together these six bathroom heating ideas for your next renovation
Advantages of centralized heating:
Easy temperature control via a central thermostat.

Consistent temperature throughout the house.

Usually, highly efficient.

Centralized installation and hence less chance of malfunctioning.

Lower heating cost (over time).
Decentralized Heating Systems
Instead of having a single unit that distributes heat to the entire house, there are individualized units that control the heating. Needless to say, this heating system allows individual control of temperature in different areas.
This feature ensures that heating costs are kept to a minimum, especially when you have to warm up an area with massive square footage.
What about heating systems for your floors? Let's review together this guide on things to know for a floor heating system at home.
Advantages of decentralized heating:
Easy (and cheaper) installation.

Individual temperature control for separate areas.

Highly practical for large spaces.

Easy and localized repair possible.
Types Of Heating Systems
Within the broad categories of centralized and decentralized heating systems — there are several different heating systems available. Each with its own advantages and disadvantages.
Getting to know them in detail should help you decide which type of heating system will work best for your home. So, let's begin.
1. Forced Air Systems
This heating system is one of the most common types for residential homes. It utilizes heated air from a furnace and distributes it to the different rooms through ductwork. What's more, it even filters and humidifies the air. This system can be a rather inexpensive and practical option — generally taking up hidden space in closets, basements, or attics.
The heating system includes furnaces and heaters that burn natural gas, propane, oil, or use electricity to heat up a house. Based on the fuel oil, there are three major kinds: gas furnace, oil furnace, or electric furnace.
Furnaces can be highly efficient — especially the natural gas one. Be it any kind, furnace heating is extremely reliable, with repairs that tend to be affordable. The only downside is that it can move allergens around the house quickly.
Read more: Everything You Need to Know About Furnace Inspection
2. Radiator Distribution System/Radiant Heating System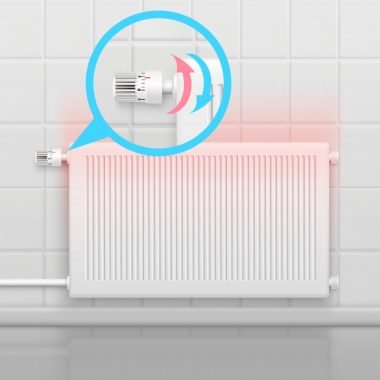 Winter vector created by macrovector – www.freepik.com
A boiler is a special-purpose water heater that provides centralized heating system — transferring natural, comfortable heat into a house. It works much like a furnace except, instead of using fuel to heat the air, it uses fuel to heat water. The boilers utilize natural gas, electricity, propane, or oil.
The principle is quite simple — thermal energy from boilers is transferred from warm surfaces to cold in the rooms where the heat is required.
This hot water flows throughout the building via a series of pipes, connecting to radiators in every room. The radiators are filled with hot water which then transfer that heat to the room.
Generally, this water is piped through in-floor or in-wall radiant heat pipes. It's a good change from earlier times when one would only find wall-mounted radiators.
As opposed to furnaces, boilers don't move dust and allergens through the environment and their ductwork doesn't require cleaning. Also, they are completely quiet.
The downside is that while it enables you to practice zoned heating and cooling, this system is significantly more expensive to install and costs more money to run as well as maintain. It can be difficult even for professionals to access piping if any heating problem arises.
3. Heat Pump Systems
Heat pumps work by exchanging heat energy with the air (or with the ground under the surface of the earth in the case of Geothermal ones). A source or heat pump transfers heat from the air outside your home to a refrigerant in the system's coils.
This heat is then distributed throughout the home. Such a system is best suited for areas with moderate temperatures. They can be used to cool or heat an environment as long as the temperature is not extreme. Otherwise, the transfer of heat energy may not take place.
Winter is coming! Take a look a look at our guide on smart ways on how to save on your heating bill this winter
Read more: Bleeding radiators: What you need to consider?
4. Geothermal Heat Pumps
Geothermal heat pumps work on the scientific principle of utilizing the earth's naturally consistent temperature to heat or cool the air in your house.
This is perhaps the most energy efficient heating system. It uses little electricity and is a great way to keep utility bills low during winters. Do note that the installation cost of a geothermal heating system is much more than other conventional ones.
And, it might disrupt a part of your house's landscaping. However, in the long run, such a ground source heating system saves you money. Also, it's known for being absolutely quiet.
5. Ductless Mini Splits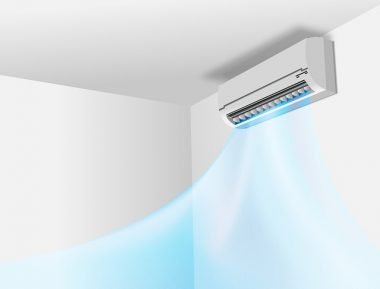 Mini splits are the perfect example of a decentralized heating system or air conditioning. They work like a regular air conditioner but without centralized ducts. Generally, such residential mini splits work using a heat pump system but heat or cool the air in an individual room.
They are great retrofit add-ons to houses with non-ducted heating such as a hydronic system (hot water heat), radiant panels, or space heaters.
Basically, there are two vital parts to a ductless mini split system: the indoor unit or air handlers and the outside unit or the compressor. These are connected through a three-inch hole in the wall for the conduit.
The indoor unit blows air from your home over cold evaporator coils. The refrigerant — running through these coils — absorbs the heat or cold from the air and takes it to the compressor. This is where the heat transfer takes place.
The main advantages of mini splits are their small size and flexibility. They can be wall-mounted, horizontal-ducted, ceiling-cassette, or floor-mounted. Also, since they have no ducts, there is minimum heat loss — allowing for efficient temperature control. It's especially great for often-used areas such as a dining room or a home office.
Read more: How Much Does Ductless Air Conditioner Installation Cost?
6. Hot Water Baseboard Systems
This system is quite similar to radiant heat, except that it uses hot water — heated by a boiler — to heat the space using a combination heating system of radiation and convection heat.
The boiler heats the hot water and is then sent into baseboard units through pipes along a wall. The boiler uses fuels such as electricity or natural gas. The best part is that it is energy efficiency and quiet. Homeowners can control the temperature easily. Do note that increasing the temperature may take time.
Read more: Hot water baseboard heaters
7. Steam Radiant Heating Systems
Today, not many houses use steam radiators but they are very much a part of older homes. You can spot them easily — these upright radiators — made of cast iron — sit off to the side of a home.
They may either use natural gas or electricity to warm spaces. And, they do it quickly and comfortably enough. The downside is that these bulky radiators are a sore sight and may affect the arrangement of furniture in your house.
8. Direct Heat
Direct heating equipment such as gas-fired space heaters and electric space heaters warm up an area with zero ductwork. You can fire the gas models with propane or natural gas. A few burn using kerosene.
The portable (plug-in) electrical heaters, on the other hand, are inexpensive to buy, but costly to run. These oil-filled resistive heaters convert electrical current from the wall socket directly. Much like a clothing or toaster iron.
The downside is that they need plenty of electricity supply. A 1,500- watt plug-in heater will use nearly the entire capacity of a 15-amp branch circuit!
9. Fireplaces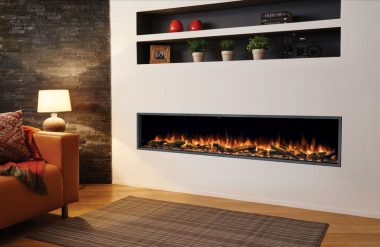 Sometimes, old methods are used more for sentimental reasons than practicality. Gas, wood, or electric fireplaces are the perfect examples. More often than not, they are essentially a part of a room's décor — offering a warm glow but are NOT an effective heat source.
A fireplace loses more heat than it provides because so much air is drawn through the device and has to be replaced by cold air.
If you still prefer fireplaces as the best heating system for you, install a glass door and a chimney damper. The heat loss may be controlled to an extent.
Read more: Heating up a two-story house in winter
Conclusion
We hope this article helped you peruse through the different types of heating systems and zero in on the best option for your home. Whichever system you choose, be sure to install and maintain it properly.
Another point to keep in mind is that it's useful to invest in energy-efficient products when you buy new heating equipment. If you are not clear about its energy facts, consult a qualified contractor. He should be able to give you the details for different types, models, and designs to help you compare energy usage. You can look for the ENERGY STAR when purchasing new products.
Bring home a system that will provide you with the most cost-effective, comfortable, and energy efficient heating.
Check these Effective Ways To Increase The Humidity In Your Home
Types of heating systems: The ultimate guide
was last modified:
January 31st, 2023
by
Recommended