Are you looking to add a spectacular dining room chandelier? This style guide lists out 9 different types of chandeliers for your dining area. From a crystal chandelier to a candle-style one, you can choose any style that matches your home decor. After all, your lighting will reflect your personal style and taste — and you don't want to go wrong there!
A dining room with a chandelier that's suspended over your dining table looks stunning, to say the least. The right dining room lighting is the key to creating a dramatic yet intimate atmosphere. So, if your dining area doesn't have a chandelier, maybe it's time to install one.
Planning a renovation for your dining room? Try our free dining room remodel cost estimator; it's easy and convenient to use!
A good rule of thumb when choosing dining room chandeliers is to make sure it's 1/2th to 3/4th of the width of your dining table. Moreover, the bottom of your dining room chandelier should reach about 30 to 32 inches above the table.
And, here's another expert tip to determine the size of your dining room chandelier: simply, add the room's dimensions in feet and then convert to inches. This measurement should equal the diameter of the fixture. For example, if your dining space measures 10′ x 14′, your light fixture should have a diameter of about 24″. Neat trick, right?
There's something quite timeless about chandeliers. While the design feature of yesteryear's had a formal look, the modern chandeliers of today are more stylish, trendy and affordable. And, there are different styles, finishes, shapes, and sizes to choose from.
Read more: Family Room Lighting Ideas
With such a huge range of dining room chandelier styles, it's important that you choose the right one that's perfect for personalizing this important entertaining and rendezvous room.
To inspire you some more, we have 9 best dining room chandeliers that will make your dining space absolutely spectacular.
1. Candle-style chandelier
This mid-century modern candle-style chandelier looks classic. Historically, these chandeliers had candles to provide light into the room — and hence the name. Today however, such a chandelier has attractive light bulbs instead.
Since there aren't any shades to cover the bulbs, the chandeliers give out a lot of light.
Take a look at our guide on Small Dining Room Ideas For You To Choose From
2. The wheel of illumination
This lovely chandelier makes for the perfect lighting fixture for your round dining table. It adds charm and oodles of visual interest to an otherwise simple décor or design. Thanks to the many bulbs in the circle, the polished nickel chandelier produces plenty of light for your room without being too ornate or fancy.
What about a dining room rug? Take a look at our guide on How to Get the Perfect Dining Room Rug Size.
3. Novelty dining room chandeliers
These pendant ceiling lights aka novelty chandeliers are a wonderful way to add style to your space. The lights will definitely be a conversation starter! And, they come in various designs — matching any style of home. However, keep in mind that such chandeliers tend to collect dust and need to be cleaned regularly. We're sure that won't be a problem for a homeowner like you who loves things classy.
4. Rustic flower of metal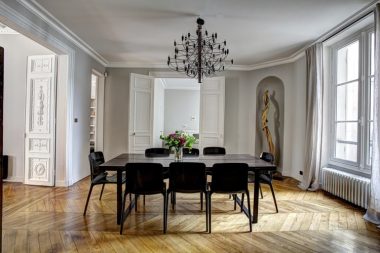 Photo by yann maignan on Unsplash CC0
The best thing about a wrought iron chandelier is that it not only looks incredibly attractive but is also very durable. We like this fixture; it looks almost like a bunch of flowers with tiny bulbs at the end.
It's best to keep the versatile metallic structure in its natural dark color. Interestingly, it can appear either modern or rustic depending on your décor.
A special day coming up? Take a look at these Decorations For Your Home
5. Industrial minimalism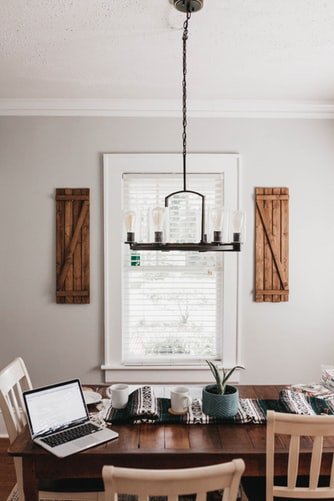 Photo by Camylla Battani on Unsplash CC0
Sometimes keeping things minimal adds to the style quotient of a place. We like the unadorned minimalist silhouette of this modern chandelier. It consists of a large iron ring that accommodates four naked bulbs to offer uninhibited light.
The pendant light design adds a sense of drama into the room despite being simple. It's a great lighting choice for an industrial, farmhouse, or rustic chic design.
6. Shaded lamp-style chandelier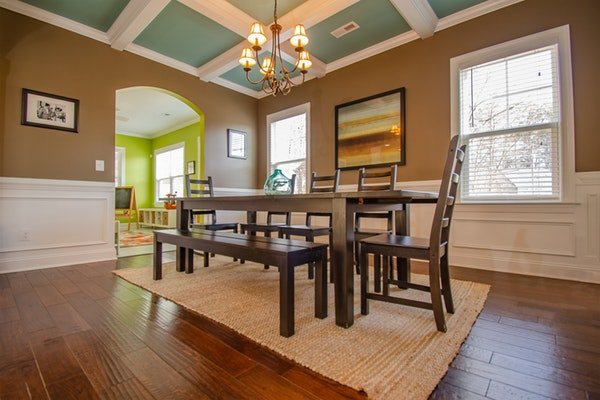 Want to add a discrete light source to your dining room? This small chandelier with five lamp shades shades creates soft lighting. You can customize it to medium or strong lightning depending on the angle and thickness of the shades, and of course the ceiling height.
Here's a helpful lighting tip: It's best to match the shades with your curtains to create an overall cohesive look. The thoughtful styling will beautifully tie your room together.
7. Statement-making glass pendant light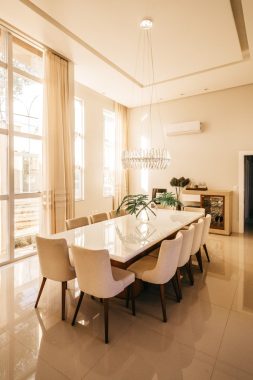 Both glass and crystal are popular materials for lighting fixtures. And, for good reason. The bedazzling chandeliers help to brighten up your space and reflect the light in the most beautiful way. Needless to say, your whole dining room will appear brighter, stylish, and comfortable.
8. Rustic charm of a wooden chandelier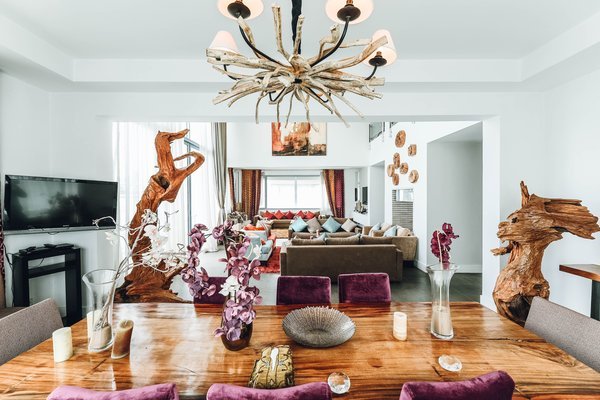 This unique hanging light is a great choice for a homeowner who thinks out of the box, and loves all things natural. The chandelier looks as if it's carved straight from a driftwood and perfectly matches the rest of the rustic and raw home decor. The many lamp shades provide good light over a rectangular, wooden dining table.
How to Choose the Right Dining Room Wallpaper? Let's find out!
9. Timeless teardrop crystal chandelier
The traditional chandeliers can never go out of style. Such crystal chandeliers are not just fancy, they brighten up your entire dining room with their luminance.
These ornate types of lighting fixtures look great in a formal dining room setting — creating the most amazing focal point.
Read more: Indirect lighting ideas make your home inviting stylish
Last words
When it comes to lighting your home, nothing creates a statement like a chandelier. The glittery jewel is the best mood setter of the room and your entire house.
We hope the different chandelier designs, styles, and types help you explore all the possibilities for your dining room. Just remember that the right kind of dining room chandeliers can transform your space with their glimmering light and undeniable style.
Read more: 20 Living Room Lighting Ideas
9 Stunning Dining Room Chandeliers for You
was last modified:
May 30th, 2022
by
Recommended