A rug under your dining table provides a comfortable underfoot, helps protect your floors, and even muffle the noise in the room. The perfect rug brings your dining room to life. It gives a frame for your dining table, adding to the overall décor of the room. So, how do you decide on the correct dining room rug size?
It does get a bit tricky. Too big and it will hide your beautiful floor. A smaller rug may look like an awkward attempt to hide a stain. Or, the dining chairs may scratch the floor, their hind or front legs may get tangled in the rug, and cause discomfort. When choosing an appropriate rug size, it's best to follow some rules of thumb.
Here are a few guidelines to help you select the correct size of the rug and make a smart design statement in you
Take a look at these 12 Dining Room Storage Ideas To Keep Your Space Clutter-Free
Guidelines for choosing the right dining room rug size
Your dining area rug should be approximately four feet longer and wider than your table. Ensure that there's 18 to 24 inches on each side so you can slide the chairs out without worrying about falling off the edge of the rug. Don't forget to accommodate any extendable leaves, if your table has them.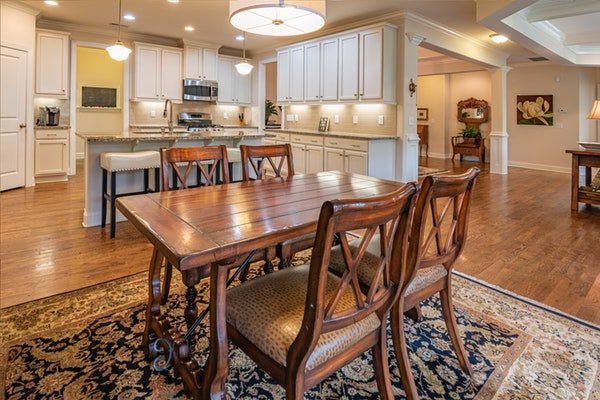 To determine the ideal dining room rug size, measure your table first. Then add 24 to 30 inches to each measurement. Also, take into account any sideboards, bar cart, or China cabinets in the room. The rug

should not extend beneath such dining room furniture.
Generally, an 8×10 or 9×12 rug will be a good choice for an average-sized dining table. It will still leave plenty of room for your chairs. A 7 to 8 foot round or octagon rug is perfect for a breakfast nook table.
A 6 chair dining room table will need an 8×10 rug. An 8 chair dining room table will need a 9×12 rug while a 10 chair dining table will need a 10×14 rug.
Check our Ultimate Guide to the Best Commercial Vacuum Cleaners
Here are some more recommended sizes:
| Table Size | Table Shape | Rug Size | Rug Shape |
| --- | --- | --- | --- |
| 42″/48″ | Round | 8′ (96″) | Round |
| 60″ | Round | 9′ (108″ x 108″) | Square |
| 42″ x 60″ | Oval | 8′ x 10′ (96″ x 120″) | Rectangle |
| 49″ x 97″ | Oval | 9′ x 12′ (108″ x 144″) | " |
| 36″ x 70″ | Rectangle | 8′ x 10′ (96″ x 120″) | " |
| 39″ x 90″ | " | 9′ x 12′ (108″ x 144″) | " |
| 41″ x 108″/30″ x 120″ | " | 10′ x 14′ (120″ x 168″) | " |
Are you planning to remodel your dining room? Take a look at our free estimator tool to see how much the project cost would be!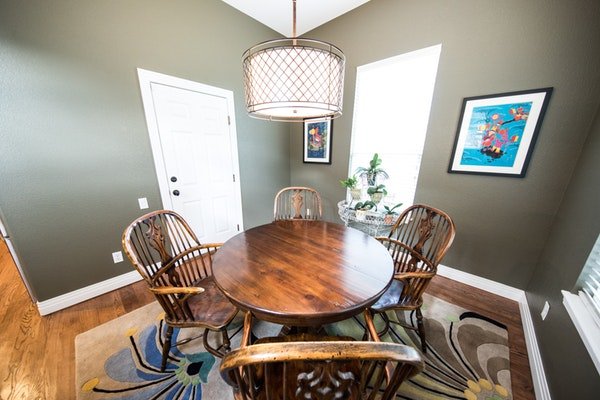 Always keep your dining table shape in mind before choosing a rug. Generally, round dining tables look great with round or square rugs while rectangular and oval dining tables pair well with rectangular rugs. Ovals also go well with octagon rugs. For square tables, you can opt for square rugs.
Since a smaller dining room may have less room for chair clearance, it's best to choose a flat-weave rug. It allows your chairs to move smoothly over the edge of the rug.
The right rug can tie your dining room (and your living room!) together — due to its lovely combination of colors, textures, and patterns. If you want to make your dining both functional and fashionable, choose the right size that will provide a well-balanced feel to the room.
Read more: How to Make Your Dining Room Look Bigger and Better
How to Choose the Perfect Dining Room Rug Size [Guide]
was last modified:
October 14th, 2022
by
Recommended