Essential DIY house window cleaning tips from the pros
A lot of us homeowners take great pride in the way our home presents, don't we? No pains are spared to make sure the front and backyard are perfectly landscaped. The interiors are spic and span with everything exactly where they need to be. And then we look at the windows and notice the smudges.
Sure we spray glass cleaners and wipe them every so often, but we hardly ever get that streak-free shine that professional window cleaners do. So should we just hire a professional to clean our windows? Or is this a home improvement we can handle by ourselves?
What professionals charge
Let's do the math to decide. The national average cost to get a residential home's windows cleaned by a professional is around $250, with the lowest cost being around $166 and the highest across $360.
Now, you'd want your windows cleaned thoroughly at least twice a year. If you live in a high-traffic area, make that three times a year. So you're looking at spending between $500 to $1,000 a year on just cleaning your home's windows. The cost of cleaning window screens, glass sliding doors, tracks, sills, French doors, and cleaning windows on multi-story residential buildings are all extras.
Well, we spoke to the pros and found out just how you could save a lot of that money and still get your windows sparkling clean.
What you will need
A 10-12 inch squeegee with a stable rubber blade. Keep a few extra blades handy so you can change them when they get worn out
A sponge or a scrubber
A 5 gallon plastic bucket
A spray bottle (optional)
Lint free cloth or microfiber cloth. Alternatively, you could also just use paper towels
Dish soap. Some people recommend using vinegar and water instead
A large bath towel
Dry cloth to wipe the squeegee periodically
Making the solution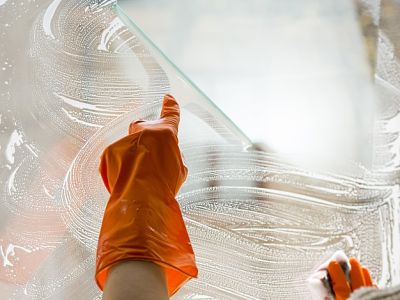 Making a homemade cleaning solution is really simple and you do not really need any industrial cleaning products for it. All you need to do is mix about a teaspoon of dish soap with around two gallons of water in your plastic bucket. If you're using vinegar and water, add one part white vinegar to two parts water and fill this solution into a spray bottle.
If you're cleaning your winters in the winter and if you live in below-freezing climes, add a little windshield washing solution to prevent the water from freezing over on the windows.
Interior window cleaning process
We'll first discuss the process of washing windows from the inside of the house.
Place a large bath towel under the windows to catch any spillage.
Use a sponge or a microfiber cloth to wipe down the window and the frame thoroughly.
Apply the cleaning solution thoroughly to the window pane. If you're using a sponge, squeeze out as much water as possible before applying the solution. If you're using a spray bottle, spray an even layer of the cleaning solution across the pane.
Use the lint free cloth or paper towels to wipe the windows starting from the top and working your way downwards in a Z-shaped motion. Then, let the window dry.
Repeat the process if needed. Most windows need this to be done at least twice for them to be completely clean of all stains.
Another approach is to use the squeegee after the cleaning solution has been applied and work the pane from the top to bottom. Just remember to keep a rag handy to wipe the squeegee and the window frame of extra water.
Once you are done, use a dry microfiber cloth or paper towels to wipe the perimeter of the window dry.
Read more: Why are japanese homes so clean
Exterior window cleaning process
Let's now take a look at how to clean windows from the outside.
Remove your window screens.
Outside windows obviously will have a lot more dirt, stains and grime to work through. So a good way to begin would be by hosing the windows down.
Then, use a clean microfiber or lint free cloth and wipe the window down thoroughly, especially at the corners, where dirt accumulates.
Next, wet your sponge with the cleaning solution and apply it thoroughly over the window pane.
Place your squeegee at the top of the window angled downwards and work from the top downwards. Be sure to wipe the squeegee with a dry cloth with every pass. Do this until the window is dry.
If the pane has stubborn stains such as bird droppings, saturate the panes with a vinegar and water solution. Let the solution stand for a few minutes before drying it with the squeegee or with a sponge.
Hose the window screens down with plain water. Then, spray the window screens with the vinegar and water solution as well. Rinse them off with plain water again and let them dry out completely before replacing them.
Read more: How to clean exterior light fixtures
Essential DIY house window cleaning tips from the pros
was last modified:
October 14th, 2022
by
Recommended