Sometimes, when you have everything in place, it's the little things that need immediate attention. Your kitchen sink is one of them. When upgrading your kitchen, adding a new sink can be very important. If you're a DIY kind of person, installing a new kitchen sink can be a breeze if you know how. Not only is it better to install it by yourself, but you can even save money in the long run. In this article, we're going to look at a few tips for helping you in your new kitchen sink installation to ensure you get the job done quickly and correctly.
Measure Everything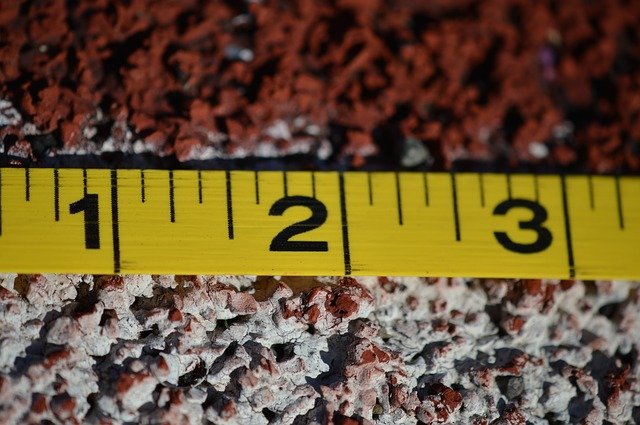 This step is the most important one. You need to measure everything and measure it two or three times to ensure you've got it right. If you buy a sink that is the wrong size, it's going to make the installation job that much harder. Correct measurement will help ensure that you get the right size to avoid having to cut into your countertops or take the sink back for an exchange. Remember that every sink has different drain locations and sizes. Measuring things can ensure you get exactly what you need to avoid any major modifications.
Additional Changes
Do you want to update the faucet? Do you want to add a sprayer? Most standard sinks have various holes for additional options that can be added with the new sink. If you want to do some updating on your options with your sink, installing the new kitchen sink is the time to make the upgrades. It is much easier to upgrade your faucet when you change out sinks than when changing the faucet with your current sink. Remember to factor in these upgrades with the price of your sink to ensure there are no surprise budget issues.
Read more: 5 tips for kitchen remodel on a budget
Removing the Old Sink
Before you can install your new sink, you have to remove the old one. First, take a good picture of your plumbing to give you a reference for installing the new plumbing. Next, you need to turn off both water supply lines. Luckily, the shutoff valves are typically right underneath the sink. If you can't seem to find the shutoffs, simply turn off the main water line to the house until you are done.
After turning off the water, you will need to relieve any of the water pressure within the water lines by turning on the faucet. Then, using your adjustable wrenches, disconnect the water supply, keeping a bucket close to catch any excess water left as the drainpipes are removed. Those with garbage disposal will need to do a little more work to turn off the circuit, unplug it, and disconnect the drainpipe. You will also need to disconnect the dishwasher drain line, the disposer, and any metal clips around the sink. Remember to keep buckets close by to catch any excess drain water while removing the sink.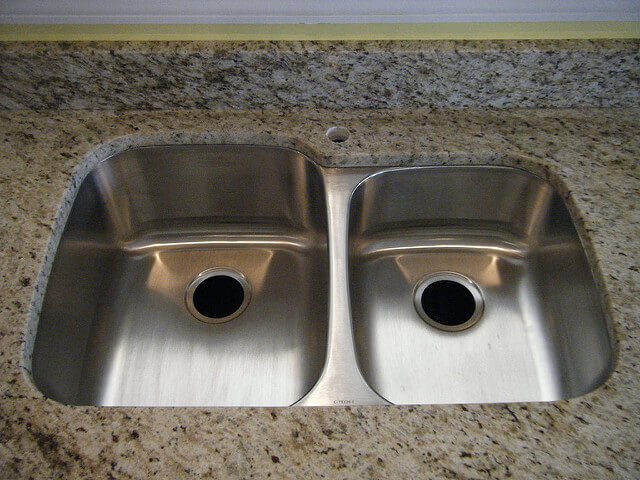 Photo by Granite Charlotte Countertops on flickr [CC BY 2.0]
Before removing the sink, use a utility knife to carefully cut away the caulking around the sink that keeps it watertight. You can then push the sink from underneath, and lift it away, leaving the gap for the new sink.
Preparing for the New
Before you can install the new sink, you need to first do a little bit of cleanup to ensure that the new sink has plenty of space for a watertight seal. Using a putty knife, you should remove any of the grime leftovers on the countertop from the caulking and plumber's putty. You should also clean up any of the items you want to reinstall. For example, if you want to reinstall the faucet, you should clean it up.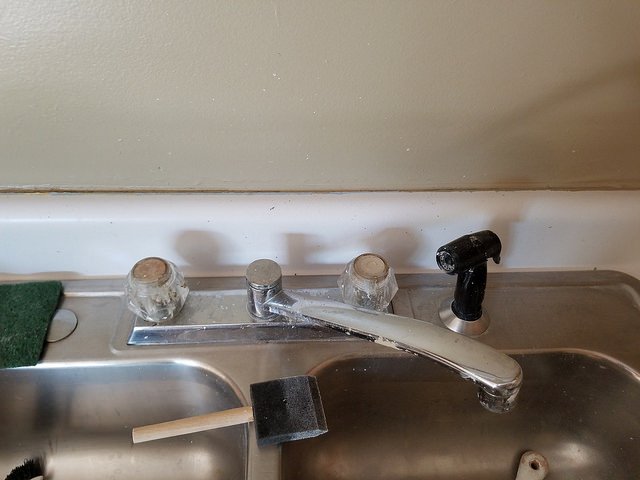 Photo by John Beagle on flickr [CC BY 2.0]
In with the New
First, make sure your new sink fits by placing it in the hole in the countertop. If you need to, you can modify the countertop opening with a jigsaw, making sure to cut it just the right amount. Next, you will need to remove the sink and attach all the metal clips, making sure to turn them toward the sink bowl for later attachment. Now, you can install your new faucet or your old one if it best suits you.
Using a bit of plumber's putty, ensure that the drain strainer is firm against the putty and sink, creating a seal. Next, secure any rubber gaskets or the threaded flange to the drain. If you have a garbage disposal, follow the steps that come with your sink for attaching the necessary equipment. Before you can move on, you need to put a bit of silicone on the edge of the sink basin, lowering the sink carefully into the opening and aligning it up straight.
You will need to get under the sink to finish the rest of the installation, making sure to attach all the metal clips, attach the supply lines for the water, and tighten up any loose bolts and connections. Reattach your garbage disposal and reattach your dishwasher drain to get everything in working order once again. Reattach you p-trap for the garbage disposal, and adjust any old drainpipes that might be misaligned or no longer in working order.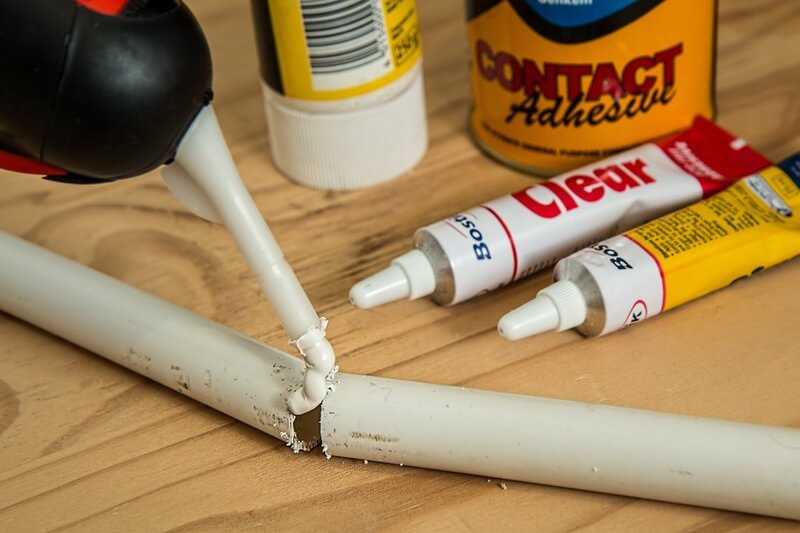 Finally, seal off your sink to the countertop by using a sink sealant, making sure to keep everything clean. Once the sealant has dried completely, you can reconnect any power and water to your sink, giving it a good testing for any leaks or issues.
Conclusion
Believe it or not, installing your kitchen sink is easier than it sounds. All you have to do is take a photo of your plumbing to ensure you are doing things in the right order and hooking things up in the right spot. Should you run into any plumbing issues while working, call your plumber right away to have a professional solve any major problems. Otherwise, installing your new kitchen sink is a great DIY project to save you some money and help you renovate your kitchen one step at a time to get that kitchen you've always dreamed about.
Read more: An Exclusive Shopping Guide To Choose The Best Kitchen Sinks
Handy Kitchen Sink Installation Tips You Must Know
was last modified:
February 25th, 2022
by
Top blog posts
---
Recommended