Have you grown tired of your walls' color scheme? That's okay.
Are you a first time painter? You are not alone.
Before you roll up your sleeves to unleash your natural-born talent and paint the room yourself, we humbly advise you to spend a few more minutes to read our extensive guide of tips and tricks, on how to paint a room like a pro, step by step.
Surely, you may feel absolutely confident, but a dash of valuable know-how wouldn't hurt, right? Rest assured, at Kukun we share a guide full of the best tips,tricks and techniques to help you get better at it and paint a room like a real professional.
Introduction: There's More to Professional Painting & Decorating Than You Expect
Tо rush into painting as if it is duck soup would be a mistake. Be aware of the many factors you should consider when dedicating to do a paint job yourself. We hope you won't assume that the many tradesmen with years-long experience have a busy schedule for no reason.
Make sure to sum up all the different procedures and aspects of a quality painting and decorating project before you actually start. This will surely save you time, effort, and nerves.
Read more: How To Choose Living Room Paint Colors?
First off, you need the right set of tools to conduct a good redecoration job.
Photo by Khara Woods on unsplash
The more detailed oriented you are the more professional tools you are going to need. To strip the top layer you'll need different tools for the different type of coverings – wallpapers, paint, wooden surfaces, tiles, etc.
You can do the job as a child's game and paint freehand, but believe us, the result will not be as good as if you use known techniques and procedures. This is know-how. A well-done paint job will certainly take time and If you don't have it, you better think about calling in a professional painter.
Before You Paint: Set The Stage In 6 Easy Steps
Pick the prep day.

Yes, a whole day just for preparation especially if you are a beginner. Plan the tools and materials you are about to need. Homework will save you running time to the shop and back.
Clear the painting workspace.

It will be difficult to paint if the room is full of furniture, seating, electronics and etc, right? If you cannot move out stuff, take a moment to build your tactics. You may place furniture in the middle of the room and go around it or move it around on a wheeled platform. Take time to visualize. If painting the ceiling too, keeping one side of the room blank free while stacking the rest in the other half.
Prepare a lot of cloth and plastic sheets

to cover your furniture and hardware such as doorknobs and other handlers. If you are a first timer, make sure you leave as little space for mistakes as possible. Use plastic bags to store different hardware that you can disassemble and label them to remember which hardware is for where. This will be inevitably helpful when you need the exact same screws for a specific hardware.
Establish a neat and tidy workstation.

A place where to gather and store your tools within a hand reach. It will help you as well to get the habit of leaving stuff on one and the same place all the time, because you know that's your working station. It is a healthy habit to implement.
Repair walls before you put a coat of paint.

If there are any small holes, fill them, you can as well sand brush the areas with excess of dried up paint from the previous paint job. Not everyone wants to do a great job as you do. Besides, furniture can leave nasty marks which may be difficult to coat with paint.
Wear clothes you won't care to mess up

when starting to paint. Any kind of accessories and jewelry will be compromised during the process, so make sure you don't wear any. Your clothing must be comfortable and with minimum skin exposure. Loose pants and blouses will certainly do the job. Same applies for your shoes and socks. Wear something you don't care about, because you will not wear it again after you are done.
According to the property experts at HouseBuyers4u (UK), a coat of fresh paint can severely alter the first impression and value perception a person has from a property, regardless if a house or apartment. The right use of colors is among the big tricks property developers use.
Layers Of Paint: 11 Rules For A Good Job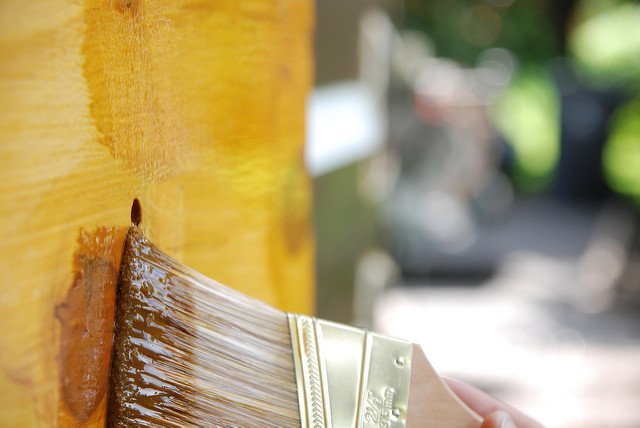 Painting by Jean-Simon Asselin [CC BY 2.0]
You are all set and planned. Workstation, prep procedures, proper clothing, and a clear vision on how the things are going to happen. Follow the painting tips from the professionals and achieve results you will be proud of.
Ensure A Clean And Dust-free Surface
Unfortunately, many people will forget to do this when undertaking a paint job.
Believe it or not, having a dust free surface is as important as to the way and tool you apply paint with. Dust and dirt particles will stick to all types of paint and thus make it more likely to peel off in the long term.
To clean the wall use a pair of rubber gloves and a soft cloth with a cleaning product. It can be a deglosser or window cleaner as well. Once you cleaned the surfaces, let dry and you are ready to go without having to worry about it.
According to Pestions, uneven or poorly sealed paint can peel and fail to properly seal the wall, which can result in pest infestations or mold. On the same note, termites trapped in wood could also cause high levels of humidity. If feel floors weakened or if old paint peels, forms bubbles and fresh cracks, then you'd better consult with an exterminator to make sure you're not painting over an infested area.
What to Paint First? The trim. Leave Ceilings and Floors to Follow
Many ask us "when painting a room where do you start"? As any experienced painter will tell you, it's always better off when trim comes first. It simply takes less hassle to tape off the trim then to do that for walls. It is how to paint a room on the corners.
Also, never try to handle both at the same time. Paint the trim, leave it for a day or two to fully dry and then paint ceiling and floors.
Maintain A "Wet Edge" And Avoid Lap Marks
Business photo created by welcomia – www.freepik.com
How to paint a room evenly? "Wet edging" is among the painting edges tricks that prevents you from having mismatched layers of paint on the wall after hours of rolling up and down, sideways and back.
It usually happens when you paint over freshly dried paint, resulting in a different, darker, denser color. Wet edge is a simple way to keep your wall from drying too fast. All you have to do is overlap the previous stroke before it has the chance to dry.
If you are using a roller, make sure the roller is always rolling up and down as you slowly progress upwards or downwards to finish the wall.
In case you have to go sideways, progress in a gentle, slight manner to make sure the paint is evenly coated.
To avoid uneven paint and overlaps, roll end to end and full height. and don't leave paint to partially dry.
Mix Colors While Maintaining Consistency
This little piece of information can save you much stress.
First of all, consider that batches of the same color might greatly differ. Different brands will offer different shades of blue. A batch of reading bought today might also severely differ from that bought 4 months ago.
To avoid any pity situations, buy the paint you need and mix it up a big bucket. As uneven colors balance out. One the shade of a single can could differ from the one next to it at a store shelf.
When mixed, colors with minor differences will unify and you will see little to no difference from the original color. Keep cans available in case you need to pour back some leftover paint.
Read more:
Always save at least two cans as back up in case of unexpected stains or damage.
Plan How Much Paint The Surface Can Take.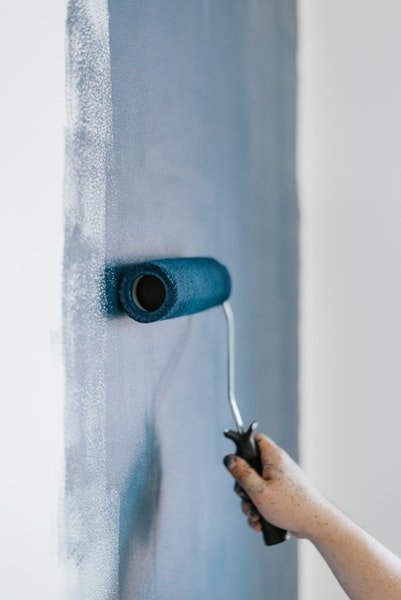 Pexels
Confirm the right type of paint for the surface you have at hand. Wood, engineered wood, tiles and etc. will require a specific type of primer, adhesive and paint itself.
Keep Masking Tape Tight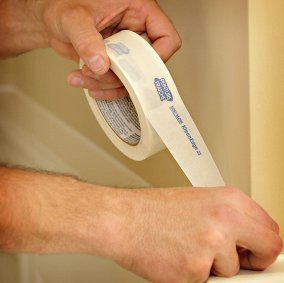 Photo by Trimacoinc [CC BY-SA 4.0], from wikimedia commons
Do professional painters use tape? In short, yes.
Masking tape is your best friends when painting. It allows you to cut off sections and paint them smoothly without worrying too much of mistakes.
Make sure that paint fully dries before you tear tape away. If you fail to wait enough, chunks of paint may come out with the tape leading you to paint it once again. Give it a good 24 hours period before you remove.
When 100% ready, pull it off gently at a 45 degrees angle.
Always Paint Edges First
Before starting to roll up and down the walls, the professional painters first identify and then dye all the edges and corners by the windows and around the door frames.
Read more: 9 Reasons To Put Down That Brush And Hire Painting Contractors.
By doing so, you allow these delicate areas to dry up first so you can tape them off before you move forward with the walls. Use a tight brush to paint and remember to dip it no more than a quarter of its length as the excess paint can cause drips and sticky fingers.
Patchy Paint Job? Not When Prime is Good
You would probably like to believe that the paint is always evenly spread over the wall with no different shade or "flashing spots", but this is not always the case.
Walls are always a subject of finishing works. Cracks, dents, and any other holes should be fixed with either a filler or a specialized drywall compound. The layers of paint can differ on these processed surfaces causing a gap in color nuance.
Use a thick layer of primer over the problematic area. Solid primer can do wonders and it is easy to apply. Get a different thickness roller to match the texture of the surrounding paint. As the problem usually occurs when the paint sinks in too fast, the layer of primer will prevent that.
Even Texture Means Well-spread Paint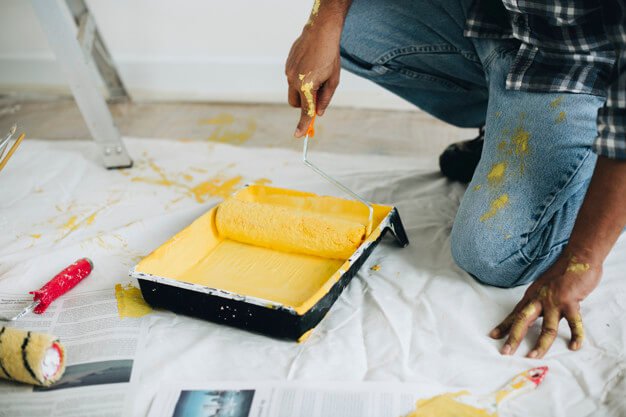 House photo created by rawpixel.com – www.freepik.com
People of detail and professionals always paint the edges with a brush separately and never with a classic roller. By simply looking at the corners of someone's paint job, you can tell the quality of the entire job done.
Read more: What You Need To Know About Wall Texture Paints?
Use the roller to evenly spread paint as close as possible to the edges but avoid contact. It will bring mess and drips that would have to be treated immediately before paint dries out.
Cotton Drop Cloths Are A Great Budget Solution
Paint spills and droplets are close to inevitable and are to happen only in a matter of coat or two.
Instead of stressing out not to drop any, make sure you have taken all precautions. A lot of people use plain newspapers as a mean to cover floor or furniture surfaces.
On one hand, newspapers are widely available and on the other hand it can cost you from very little to nothing. Unfortunately papers are not the best for such job because they rip off relatively easy and you would get you back to square one with the problem in no time.
The answer is canvas drop cloths. They are efficient and cheap, though not as cheap as the average newspaper. They can do wonders in keeping your floor paint-free. Tap the sheets together and then to the floor. If you feel like ensuring the extra layer of safety, try placing rosin paper beneath.
Apply A Coat Of Paint And Gently Sand It As It Dries
To achieve perfection and a silk-like finishing, the professional painter will apply a single coat of paint and then sand brush it before applying the next coat.
This way the grainy texture effect will be avoided, leaving the wall smooth and perfectly painted. This is especially valid when painting kitchen cabinets. If this sounds like your game, make sure you clean up the wall after the sand brush to remove any dust leftovers.
Read more: Kitchen Colors : 5 Important Things To Consider
A Quality Job Will Last You In The Long-term
This is crucial. As you might have most likely figured out by now, it requires a great deal of patience and good technique the endure a quality painting process, but nothing will matter if you don't have the know-how or are not using the right tools. A patchy job will surely last you less than a well-done job.
So next time you stop by the hardware shop, make sure you ask the shop assistant of the difference in quality of the tools and weight it against your budget.
Cheap brushes and rolls will withhold less use so make sure to count the strokes you are about to do. This is especially important if you are going to cover more than a few walls. Quality counts here and poor paint, tools and know-how can cost you more in the long term.
When Painting Is Done, It's Time For The Finish
Once you are done and proud of your painting job, there are a few hacks you can use to enhance it even further.
Read more: What Type Of Interior Paint Finishes Should You Choose?
The devil is in the details they say. Let us reveal a few finishing techniques that you can use when the painting job is done with:
Keep a little bit of the paint you used. Keep it in a well-closed metal container, so it doesn't dry out. A tiny bit would be enough to mask dents and scratches. This would feel like doing finishing touches on a large piece of art. 
Use razor blades. These little knives can help you strip off excess paint from windows or glass surfaces. Don't overdo it as you can unwillingly carve in.
Keep clean cotton rags at your disposal. Brush off dust from the walls or dry up spills. As a painter, you will surely need them.
Bonus: 16 Tricks To Make Painting A Breeze
We hope you are in for some extra tips and hacks from the handymen at Mykukun to up your painting game.
Use plastic wrap to pack up your roller or brushes. It is convenient for transportation and keeps their life longer. Avoid cleaning them too often.
The smell of a fresh paint,

especially VOCs

, can cause nausea and headaches and you help absorbing it by cutting some onions and place them nearby the paint bucket. The next best way is to use a

purifier with washable filters

to assist you through the job.
By attaching a small container below your brush can help you save dripping paint from the floor.
Metal surfaces can be cleaned out of paint with vinegar. Helps them look better too!
Messy brushes? Unstuck them by submerging them in vinegar for 30 mins.
It is difficult to avoid painting the screws head. Use petroleum jelly to cover the heads and brush around conveniently. Remove afterward.
For people with headaches from the smell of a fresh paint, try adding vanilla extract into the bucket to pass that.
Mask your door hinges with paper tape to keep their original color intact.
Use a big garbage plastic bag to cover big objects. The toilet tank for example.
A paint brush holder can be anything from a bought product to a cut open plastic bottle.
You will be surprised how good of storage place for your paint brushes is the fridge when you don't want to wash them for the next day.
Taps, pipes, handlers. All these are in a great obstacle when painting. Use plastic foil to wrap them up.
Read more: Trends In Exterior House Colors To Look Out For In 2019
Final remarks
Follow our simple painting and decorating tips and you will surely have the difficulty and time involved reduced to the minimum. If you fail to follow the mandatory precautions throughout each of the stages you risk wasting both your time and money.
Painting & Decorating Tips: How to Paint a Room Like a Professional
was last modified:
October 6th, 2019
by