Do's and Dont's of Home Renovation Project Management
Hiring a home renovation project manager sometimes becomes a necessity for keeping the workflow of your home improvement project in line — on time and on budget, among other things. There's a lot more responsibility involved than you'd imagine.
Just know that with a home renovation project manager in the picture, your home remodeling will come out on top and you will end up saving money in the process.
The truth is, a successful home renovation won't be possible without proper renovation project management. More so because this particular project is closely attached to your life and hopes for the perfect home. There's no doubt that you'll be emotionally bound to the project and hence might take hasty decisions that you may regret later on. Using project management tactics reduces the likelihood of emotional mistakes.
So, how should you go about getting the best possible home renovation project manager? Well, before you do that, give this article a read to set all your doubts to rest.
Read more: How to Stay On Top of A Renovation Project, Even When You're Not On-Site
Does every project need a project manager?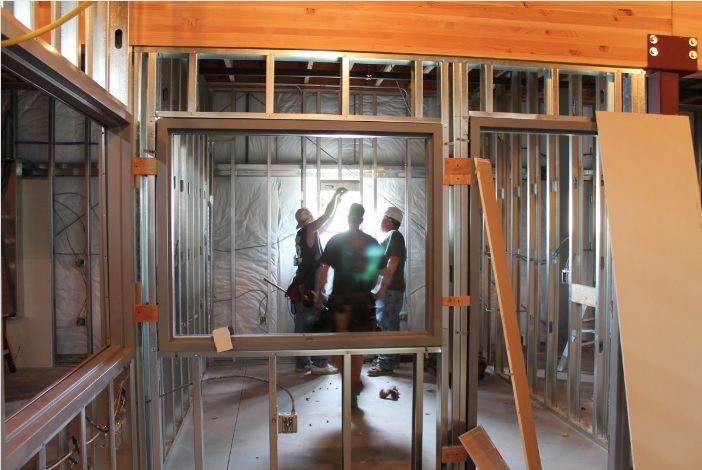 Generally, for projects such as extensions, loft conversions, and internal alterations, you may just require the main contractor to work and coordinate the remodeling process. However, having a home renovation project manager on board might suit you more if you have limited time or knowledge, and want to leave the job to professionals who do it best.
Some project managers also provide construction services whereby they oversee the work in place of a general contractor. In addition, they are responsible for the construction schedule as well as managing the remodeling budget and cash flow. In most cases, they also help you find and manage subcontractors apart from supplying materials and tools.
Looking for a licensed professional? Use Kukun's Find a Pro tool for the most reliable work team!
What does a home renovation project manager do?
A home renovation project manager can help you analyze your living space and design. Simply put, they schedule the project from design to completion — helping you with building permits and soliciting vendors.
A home renovation project manager helps you:
Stay within a specific budget.
Complete the renovation project within an arranged timeframe.
Ensures the best possible quality of building materials.
Home renovation project manager vs. general contractor
A project manager helps schedule subcontractors and orders construction materials. Although they manage the entire project, they usually don't have their own subcontractors working the job the way general contractors do. That way, they don't have a financial interest or a commission in mind while influencing the homeowner's decisions.
Furthermore, they pitch ideas, give suggestions, and offer advice while working directly with you during the project. In that sense, a home remodeling project manager is more like a life coach.
A general contractor, on the other hand, is more like a personal assistant who takes inputs from you and handles all the minutiae of your home improvement project.
Having said the above, both professionals come with residential construction experience and work with you through the project — from start to finish.
What skills do construction project managers need?
Since the project managers are qualified to handle everything from scheduling to actual building, they have extensive experience in custom home building and renovation work.
Here are five additional skills that a renovation or construction project manager must have:
Ability to communicate clearly.
Eagerness to have honest, open communication.
Ability to provide risk control through risk management.
In line with the latest technology.
Good at price negotiations.
Great at team management.
How to work with your home renovation project manager?
Your home renovation project manager is your primary point of contact — between you and the design team as well as the whole project team during the entire construction process. They are present on-site to ensure that your project moves forward according to plan, and to solve any problem that arises along the way.
You should meet with your project manager once a week to review progress and keep yourself abreast with the happenings of the project. A good manager will answer all the questions you have and address any changes you might want to make.
Remember that regular meetings and open lines of contact are key to good communication and working relationship.
How much will it cost to hire a home renovation project manager?
Needless to say, the convenience that a project manager offers comes with a price. When it comes to remuneration, a manager may charge a percentage of the total project cost (3 to 25 percent) or work for a flat fee or charge an hourly rate.
The total fees may depend on the kind of additional services offered and the scope of work. For example, if your project manager also plays the role of a general contractor while organizing the construction phase, the fees will be higher.
Want to create a budget for your home renovation project? Try our free remodel cost estimator!
Last words
So, if thinking about renovating your kitchen, changing your bathroom design, replacing a roof, converting an attic for a home office, or planning a home addition for a master suite or family room, a home renovation project manager will be of great help.
They will ensure that your home remodeling project is completed well — on time, with the highest level of quality, and to your expectations.
So, you as a homeowner can rest easy — knowing that the project manager is keeping your best interests and budget in mind. Trust us, hiring such a professional will save you time and money!
Read more: Home Addition Loans: Financing a Home Addition
Do's and Dont's of Home Renovation Project Management
was last modified:
December 13th, 2020
by
Recommended