Do's and Dont's of Home Renovation Project Management
Estimate
Estimate the cost of your construction project
Estimate
Let's be clear, a successful home renovation won't be possible without proper management. However, this particular project is closely attached to your life and hopes for your home. You will be emotionally bound to the project for some time, so you should try treating it like any other project and use project management tactics to reduce the likelihood of emotional mistakes. Following these home renovation project management tips will ensure you have the best possible outcome. 
What Are the Most Important Things to Keep in Mind?
There are three very important things that you should always be on top of. They are:
Staying within a specific budget

Staying within an arranged timeframe

And ensuring the best possible quality
Task Lists Are Your Friends
Recognize that – just like any project you take on – a home renovation has a number of necessary tasks. Some of those tasks will be dependent or linear, meaning you can't start the next task until the first one is done. For example, you can't install a sink if you don't have the countertop installed. Other tasks can be done in parallel. Remember that each task must have an allotted time period that is realistic enough to be achieved.  
Time Is Money
In order to keep your project on time (don't worry, we will talk about pricing later), you need to understand the timeline and that keeping to the timeline is highly dependent on having the needed materials on site and on time. (A common mistake that home renovators make is that they wait until the last minute to choose and order materials, and then the delivery takes much longer than they anticipated, pushing back the entire project's timeline.)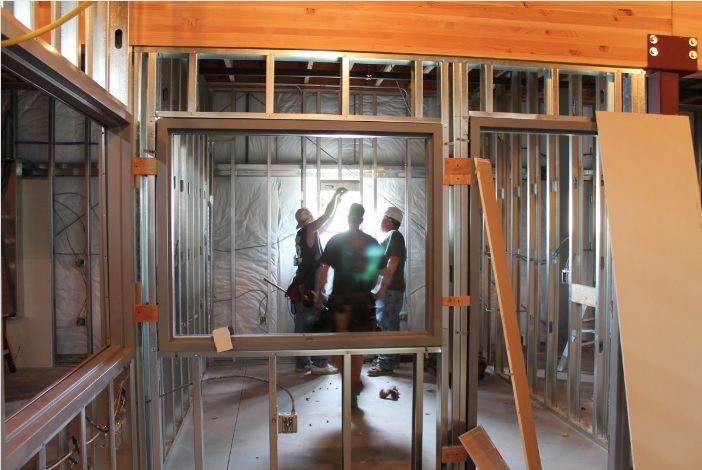 Pixabay
Scheduling Labour
Now that you know there are a lot of tasks in your project and that you must do everything you can to keep everything on time, you need to have the right workforce available on the date any given task is supposed to start. Pay attention to the fact that many of those tasks require subcontractors (think electricians, plumbers, masons). If these subcontractors are not committed to your dates, the project will be delayed. Subs sometimes double-book themselves because they don't know if you will really need them at the time your schedule dictates. If you can make sure to always have the materials ready and arrange to have the subs available and on time, you are more than halfway there.
Are you planning a full home remodel? See our ultimate guide on home improvement.
How to Get the Best Work on Your Renovation
Now let's talk quality of work. Quality is dependent on the individual professional and his or her skill set, so ask for referrals from people you trust, check references, and try to see examples of his or her work firsthand if possible. Anyone offering labor really cheap will likely result in lower quality work on your renovation. Contractors are professionals and are often certified, so don't skimp on your labor costs.
There will be surprises, so build a cushion. Assign "redo" time into your timeline, especially for those tasks that are artsy or refined such as dealing with tiles, marble slabs, trim, and paint. If you build a 20% cushion for the work, you can avoid costly delays when your timeline is held up.
How to Avoid Dreaded Price Changes
Let's talk price. There are some basic reasons for price changes:
Changes to the timeline: See above. Any delay will cost you in the end.
Change of vision and/or taste. This is one the most prominent reasons for price changes. As we start to build, we start to dream more and our vision becomes more clear. Unfortunately that often leads to us wanting to buy different materials from the original list, which are often more expensive because it's our dreams that are now talking, not our pockets. In some cases, we start to want to make our space more unique so you not only need more expensive material but you also need more specialized (more expensive) labor to do it. The best advice is to always keep a specific budget aside for the project, and commit to sticking to it if you are the dreamy kind.
Not understanding the real cost of your materials. Some contractors underprice materials and give you a low allowance, not realizing that your tastes may far exceed that allowance. A common case is flooring. If you were dreaming of that shiny wood flooring, check its price and ensure that it is within range of the allowance provided to you by your contractor to avoid surprises. Catching these kinds of issues earlier rather than later will save you a lot of potential pain (in your wallet) and conflict (with your contractor).
Easy to Use, Cutting Edge Help Is Available Right Now
Kukun's bidding system is built to help homeowners and contractors work together to better control time and money. When you accurately scope your project (using our Create a Quote Request) or estimate the cost (using our handy Estimation tool) before creating the scope, you help structure your project. Contractors can then use Kukun's online system that structures their responses into four categories:
1. material needed, room by room and cost
2. time for each task and material needed at the beginning of each task
3. the cost of labor
4. cost and time needed for each subcontract.
You will receive multiple bids, using the same language and the same units of measurement so you can compare apples to apples.
We will automatically create a renovation schedule to load onto your calendar once you have selected the Pros. You will be sent reminders to keep the project on track, make timely decisions, and buy what is needed when it is needed.
Kukun makes the home renovation process transparent, easy to understand, and controllable. Check it out for yourself today, and save yourself a lot of time, effort, and money. With our help, you can finally make your house the home you've always dreamed of.  
Do's and Dont's of Home Renovation Project Management
was last modified:
June 18th, 2020
by
Thank you for reading!
We would love to stay in touch with:
- New renovation articles

- Related discounts

- Contractor referrals
Recommended for you