If you are thinking about replacing or building a driveway, patio, or front walkway — you are probably feeling dizzy because of the variety of choices you have. Also, you may find that some are more cost-effective than the rest while others are more durable or easier to maintain. However, in today's market, the most common choice is stamped concrete vs pavers. Therefore, let's explore both to find out their pros and cons.
Stamped Concrete vs Pavers: Which One Will You Choose?
Whichever you select, make sure your selection is properly installed and is resistant to weather conditions. Especially, freezing and thawing if you stay in a region that experiences extreme cold. So, let's begin a quick analysis between the two.
Benefits Of Stamped Concrete
This kind of concrete is commonly used for outdoor spaces. It's considerably cheaper and has an easy installation process. With stamped concrete, we needn't worry about the boundaries of having different textures and designs.
The reason is that, here, the poured concrete is tinted first. Thanks to this, the concrete gets your preferred color all the way through. After the concrete is poured, it's stamped with your chosen design. The most popular one is to have interlocking concrete slabs.
Let's explore a few beneficial features of stamped concrete.
1.    Quicker Installation Process
Welcome the fastest way of building your driveway.  It's multiple times faster to install than the natural stone (paver driveways). Most importantly, it requires less labor and your driveway will be out of commission for considerably less time.
2.   Color And Pattern Options
As the concrete is poured on-site, it's responsive to many different customizing options. Most importantly, the concrete can be colored to match the exterior of your house or surrounding: existing concrete,  a pool, or anything else.
This is nice as you can make your new driveway look like it's been a part of your area design all along. The best part is, stamped concrete gives you a lot of design options. It can be stamped in any pattern.
3.   Strength And Outstanding Performance
A well-installed stamped concrete driveway will surely serve you well for a very long time. It won't sink and will hold up to heavy traffic. In any case, if you're looking for a lovely driveway that will perform well without any hassles and will be durable — stamped concrete may be your right choice. 
4.   Low Maintenance
As mentioned, stamped concrete will keep your home maintenance to the minimum. It looks beautiful and its only maintenance requirement is that it be resealed once every other year (sometimes two, depending on its usability). It'll keep the concrete from cracking or chipping as well as will help to preserve the color.
5.   Low Costs
The considerably cheaper option for your driveways will be stamped concrete. It's more affordable than any other driveway surface services. The reason behind is simple — it doesn't require much installation labor and the concrete itself is inexpensive.
Most importantly, stamped concrete has a lot of other minor advantages as well. One thing that should be mentioned is that it is completed in a few days with minimum manpower.
Besides that, you don't need to worry about different kinds of grass growing on your driveways as it happens with the driveway pavers. Stamped concrete is poured all into a single slab.
Now, let's look at stamped concrete more objectively.
Read more: Tar and chip driveway everything need know
PROS
Easy installation and maintenance
Affordable choice
Strong and long-lasting
CONS
Restricting in terms of design options
Expensive repair
Might stain, split, and crack over time
Not completely weather-proof
Tends to become slippery when wet
Estimated concrete slab cost: $800 – $1,200 for a 120-square foot area.
Benefits Of Pavers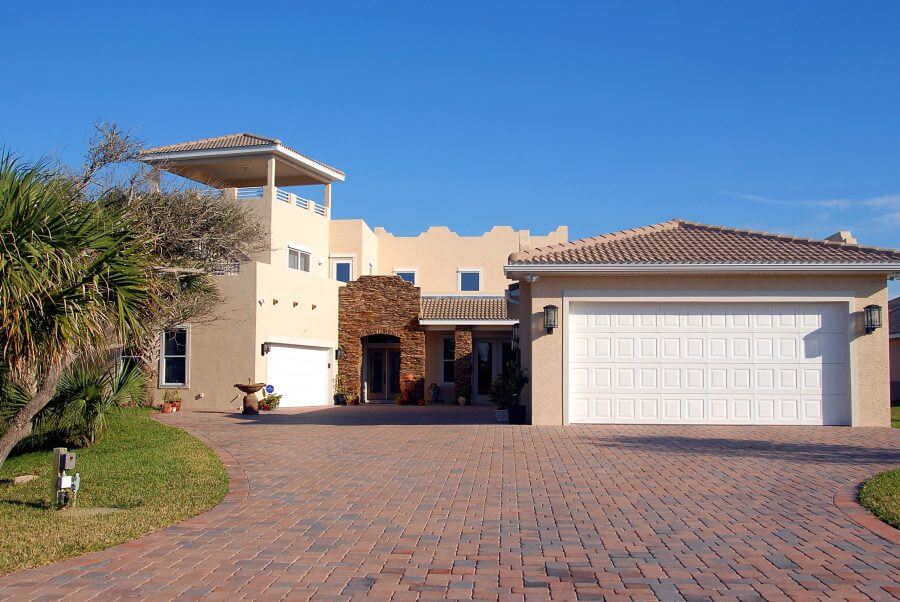 If you are considering driveway pavers as an option, we need to tell you that it is very time consuming and requires intensive labor work. This is because pavers are individual sections each made from various paving materials such as brick, concrete or natural stone and each must be laid one at a time.
Unfortunately, driveway pavers are limited on designs and colors and are more expensive as they're being priced at a per piece cost. So, if you have a large area, take into account that it might cost you a lot.
Read more: Winter Is Coming – Is Your Concrete Patio Ready?
However, here are some advantages of pavers to help you make your final decision.
1.   Maximum Curb Appeal
A paver driveway is an investment that adds value to your property. A survey among householders showed that many people would still prefer pavers as an option. Pavers are a classical option and are durable. Having said that, we would insist that before installing pavers, you must ask people around for advice.
2.   Different Design Options
A lot of companies nowadays offer more than a hundred different driveway pavers options to choose from. Thankfully, one can find different options of a sleek modern look, natural stone appearance, classical elegant style, the casual antiqued look, etc.
It's possible to explore driveway surface textures, colors or paver shapes to find the perfect one for your overall design aesthetic. What's more, you can easily mix complementary colors, shapes, and styles to create your unique driveway.
3.   Long-Lasting Color Options
Discoloration is a common complaint of natural stone owners. But, by choosing the right driveway paver, we can overcome this issue.
A few years ago, driveway pavers were installed in tan and grey shades only. Fortunately, nowadays we have a wide range of rich colors to choose from as well as technologies ensuring those colors will last.
4.    Good Pavers Will Never Crack Or Settle
Numerous good-quality driveway pavers are designed to be freeze-resistant. Most of them are flexible with seasonal changes. This is an advantage which you need to take into account while choosing pavers for your driveway.
Do note that cheaper pavers may not guarantee a solid response to climate changes and may get unsightly cracks that are difficult to repair. Basically, it's the quality of this "base" that determines the durability of your paver driveway. Therefore, we highly recommend hiring a professional paving contractor for installation.
5.    Surface May Not Spall
The term used to describe a surface failure is guaranteed spalling. What happens here is that the top layer of a product is shed — revealing a surface below that is undesirable in texture or color.
Therefore, over time, spalling may cause both natural stone or stamped concrete driveway surface to appear patchy or unattractive. This is one of the reasons that you need to choose the best one (and make sure it never spalls).
Besides these features, let's summarize pavers for you in terms of pros and cons.
PROS
More visually appealing design options
Lower maintenance with easier repairs
Does not crack
Fetches a higher resale value
CONS
Higher cost
Difficult installation
May deteriorate or shift over time
Not very easy to clean
Estimated paver's cost: $1,200 – $1,800 for a 120 square foot area.
Conclusion
There is no doubt that your house's entrance and the area around it create the first impression on your guests and neighbors. Therefore, pavers and stamped concrete can enhance the look of your outdoor living space and make it stand out.
Needless to say, whether you want to install pavers or concrete slabs for your garden and driveway or have a concrete patio or patio pavers — the choice is completely yours. Most importantly, you can redesign the look of your house while improving its curb appeal beautifully.
We hope that the pros and cons we discussed in this article will help you choose the best option from the choice between stamped concrete vs pavers. Finally, you need to choose the one which fits your house and budget well.
Read more: 7 Different Types Of Driveways
Stamped Concrete vs Pavers: Which Is Better?
was last modified:
October 31st, 2022
by
Recommended