Is replacing your old room air conditioner or central air conditioning unit on your home improvement agenda? Today, the most trending system that seems ideal for a mid-range house is ductless air conditioning. This article talks about them in detail and gives a complete lowdown on ductless air conditioner installation cost.
After all, it is necessary that homeowners thinking about installing a ductless air conditioning system in their homes should be aware of all the costs associated with such an installation.
Your home renovation budget should include not just purchasing the AC unit but also to have it installed properly. As this is different and more complex than a simple window unit, the connections between the condenser and the evaporators need to be absolutely flawless. Also, proper insulation must be done to maximize energy efficiency. Only a trained and qualified HVAC contractor must do your ductless air conditioner installation.
What is a ductless air conditioning system aka mini split system?
A ductless mini split system consists of an outdoor compressor/condenser unit and an indoor evaporator unit known as air handlers. The units are connected by refrigerant lines and power cables which pass through a small conduit in the wall. To say it simply, they provide zoned air conditioning to your home. So, if your house doesn't have ductwork or you don't want bulky window units — a ductless air conditioner is a perfect choice.
Since these mini-split units are ductless, they offer an unobtrusive design with almost inconspicuous air handlers. What's more, they allow you to open your windows when the weather is nice. The best part is they are more energy-efficient and modern in terms of components, features, and functionalities than traditional units. You can use them in winters too — to provide you heat! And, they come in different types — wall-mounted, horizontal-ducted, ceiling-cassette, or floor-mounted.
Average ductless air conditioner installation cost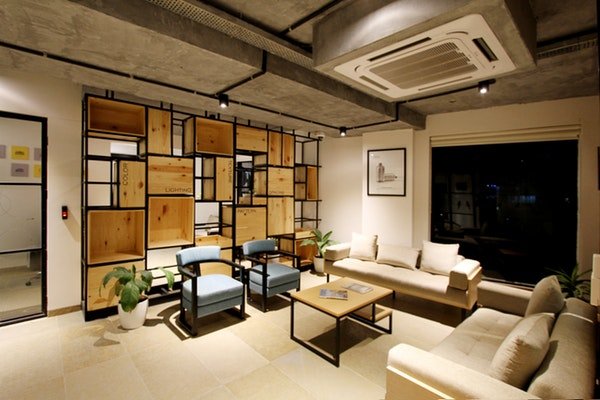 To estimate the cost of ductless air conditioning, let us consider a 2000 square foot house (the more the size, the higher will be the total cost). In such a case, the average cost is in the range of $2,500 to $8,000. This cost is higher than a window AC unit but much lesser than a central air conditioning system.
Of course, this price depends on a lot of factors — the amount of units you require (manufacturers recommend one unit per room with one common ductless condenser AC unit) and the area you live in, the location of the installation (higher in the case of attic and basement), additional installations, etc. We will discuss these in the subsequent paragraphs.
First, let us break down this amount into some obvious parameters:
| Service | Cost |
| --- | --- |
| One-ton AC (with an outdoor and an indoor component with at least 21 SEER rating | $1,300 to $4,500 |
| Professional HVAC installation | $300 to $1,500 |
| Installation of the concrete pad to mount the exterior unit | $75 to $150 |
| Dedicated electrical circuit (110- or 220-volt) | $250 |
| Upgrading existing electrical circuit | $1,100 |
| Carpenter | $25 to $50 per hour |
| Electrician | $50 to $250 per hour |
What is a SEER rating?
Seasonal energy efficiency ratio (SEER) determines the efficiency of an AC system. The higher the SEER rating, the more efficient it is. These higher ratings mean higher upfront prices but are beneficial for years to come. The ratings vary from the federally regulated 13 to 26+. You can find ductless heat pump mini-splits with ratings as high as 38.
Factors that determine AC installation costs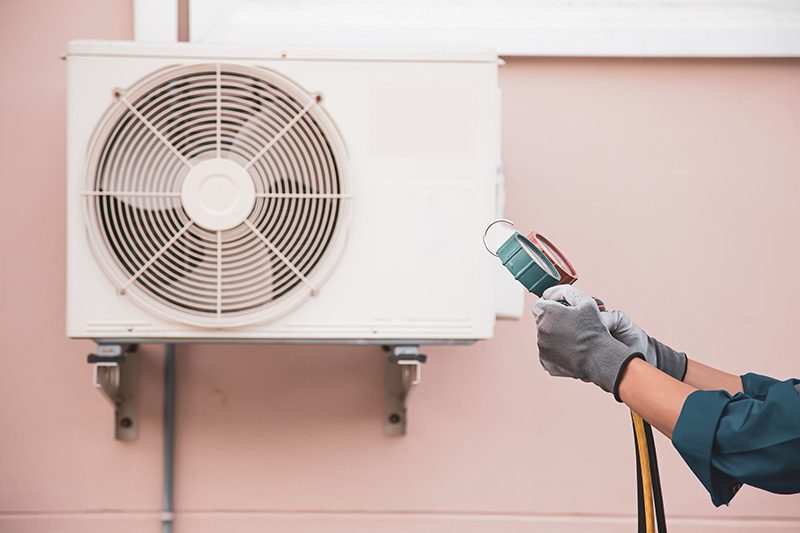 Labor costs
Since professional installation varies from place to place — it's better to take into account at least three quotes for your local area. Labor cost also depends upon the location of the indoor units and accessibility. Depending on the amount of time it takes to install the unit and the number of evaporators being installed, be prepared to pay anywhere from $200 to $1,000.
Generally, it takes about 5 to 10 hours of labor to install these multi-zone systems. But, if you're installing a split air conditioner on a second or third floor, you might have to shell out for additional conduit, refrigerant lines, and wiring. Also, an extra $10 to $20 per foot for materials and 1 to 2 hours of labor.
If the installation involves a carpenter — to mount the indoor unit on a wall and set the outdoor unit on a concrete slab or remove your existing HVAC equipment — your ductless air conditioner installation cost may go higher than what you expected.
Required permits
Generally, the installation of a mini split unit doesn't require a permit. Nevertheless, be sure to consult your professional contractor about it. If you live under HOA guidelines, always check with them before starting any exterior project. If required, you might need to spend extra dollars on these permits.
Number of units
Apart from the equipment cost, each additional indoor unit increases labor rates by almost $300 to $1,000. It requires additional electrical and refrigerant lines running inside a conduit that's attached to the exterior wall of the house.
Size of your house
If you live in a sprawling bungalow, know that the more square footage you want to cool, the larger and more costly your ductless system will be.
Typically, a one-room ductless AC unit has a single indoor air handler connected to an outdoor condensing unit through a wall. But, if you want to save on the installation cost, you may connect multiple air handlers to a single outdoor unit. It will be quite effective in cooling most parts of your home.
Wall material for creating an opening
When it comes to creating an opening in the exterior wall, a house with wood framing, plywood, vinyl, or even metal siding is less difficult to handle than one made of delicate stucco or logs. A standard carpenter may charge anything between $20 and $35 per hour. Thankfully, it doesn't normally take more than two to three hours to make the required 3″ diameter opening for all the lines and wires to pass through.
The efficiency of the ductless AC units
As mentioned, HVAC systems have SEER or efficiency ratings. You can estimate their operating costs according to them. Needless to say, high-efficiency equipment costs more initially but in the long run, reduces your utility bills. The extra investment is worth it.
These ductless air conditioning systems are single, double, triple or quad-zone systems. Here is a look at the different SEER rating, British Thermal Unit (BTU) — the unit used to measure thermal (heat) energy — and costs.
| Type | BTU | SEER rating | Equipment cost |
| --- | --- | --- | --- |
| Single | 24K | 17 or higher | $1800 |
| Double | 18k | 16 or higher | $2500 |
| Triple | 24K | 16.2 or higher | $3000 |
| Quad | 24K | 16.5 or higher | $3800 or more |
Power circuit
If you do not have a great 220-volt GFCI outlet for the condensing unit, you will need to install one. You cannot proceed with outdated home wiring. Your house has to be up to code before altering the HVAC system. Failing which, such an air conditioning mistake may cost you dearly. You must hire an electrician to add a dedicated outlet or change the entire circuit. If it's the latter, it might cost a bit more — between $300 and $800.
Extra material cost
A homeowner needs to have all the materials ready to properly install and insulate the AC unit. These could include tubes and insulation. Be prepared to spend around $40 to $50 on these basics.
Special time and discounts
Want to know a secret? If you decide to go ahead with the installation in the fall or winter, it can cost you less. The reason is that HVAC companies tend to be less busy at this time of the year and are willing to make adjustments. Another thing that a smart homeowner can do is to be on the lookout for special promotions and discounts, such as free installation or discounted labor.
Ductless air conditioner: pros and cons
Now that we have looked at the factors that determine the ductless air conditioner installation costs, it's time for us to weigh the advantages and disadvantages of opting for such a system.
Pros
Perfect for homes that do not have existing ducts. There is no need to retrofit an existing home with the appropriate duct and ventilation work — saving thousands of dollars.

Is more technically advanced and compact than window air conditioners or central air conditioning system.

It does not require complex wiring or tubing. But, do ensure that you hire a qualified professional.

You can customize them if you have more than one unit. For instance, you can connect one condenser to as many as four independently controlled evaporators in different rooms.

It provides both AC and heat and hence is suitable for all seasons.
Cons
Installation is not a DIY project and hence requires a lot of planning in terms of cost and time.

As per the U.S. Department of Energy

, mini split AC or ductless units may cost 30% more to run than a central air conditioning unit.

Requires more space to install and higher maintenance and repair costs.
Read more. Home AC maintenance tips every homeowner must know
Final thoughts
If you are looking for a way to add air conditioning to your house without the high price of installing ductwork — ductless air conditioning system is for you. It is efficient, less obtrusive, and useful in every season! Once you have decided to bear the higher installation cost, such an AC will serve you for years to come.
Read more: Air Conditioner Types: Choosing The Best For Your Home
How Much Does Ductless Air Conditioner Installation Cost?
was last modified:
May 24th, 2022
by
Recommended