Easy maintenance patio ideas for laid-back homeowners
An easy maintenance patio is great for those who don't want to take on unnecessary hassles of regular patio upkeep. The good news is that a low-maintenance patio can look as good if you use the right construction materials and design ideas. We'll show you how to get your dream patio with minimal maintenance.
An easy maintenance patio will not only help you cut down on your garden chores, but it will also provide you with a durable surface that will last for years to come. And as a bonus, you'll get a no-fuss look that's functional and convenient.
So let's help you choose the best patio materials that will ensure minimal upkeep yet maximum style. Although we've also mentioned the approximate cost of each material, keep in mind that it may vary according to the design scheme, sizes, colors, shapes, location, and scope of the home improvement project. Needless to say, the total cost will be lesser if you can undertake the installation yourself instead of hiring a professional.
Read more: Smart landscape design trends
Concrete patio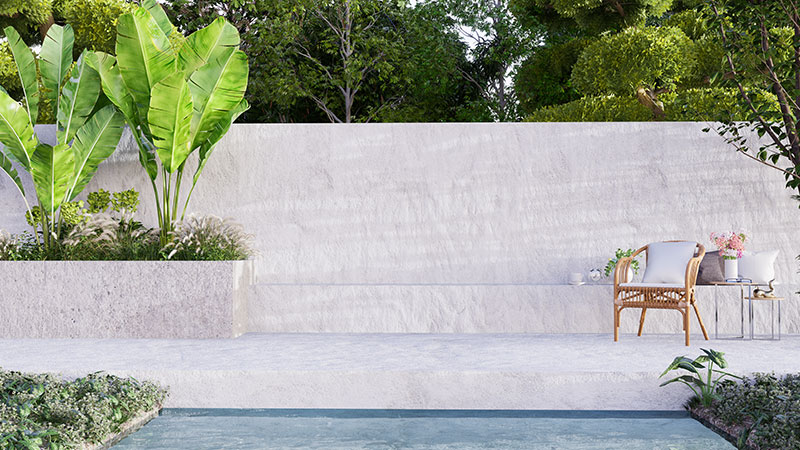 Average cost per square foot: $4.40 to $16
Concrete is an affordable material that has today become much better in terms of finish – thanks to advancements in technology. You'll no longer find concrete boring – like those old pavements a couple of years back.
If you're looking for a smart patio idea with smooth slabs and a minimalistic design, you can choose this type of material. Since concrete has stain-resistant properties, it will make your patio look clean and well-kept. The best part is that if a textured look is more your thing, you can opt for a non-slip finish too. However do keep in mind that while concrete slabs are easy to maintain, they do require sealing to protect them from stains and algae growth.
Read more: When to remove concrete patio slabs
Granite patio
Average cost per square foot: $18 to $50
Another easy maintenance patio material is the hard-wearing granite. Best suited for a contemporary patio design, the material looks sleek and shiny. Most importantly, it's exceptionally tough. It lasts a lifetime if sealed properly. Once you stain it to prevent staining, it looks as good as new for many years. And yes, it's a good idea to select a resin-based sealant than a water-based one as it's longer-lasting. Granite does come at a high cost though. If it's more than your renovation budget, you may choose a material that mimics the granite look instead.
Sintered stone
Average cost per square foot: $60 to $100
Sintered stone is a mineral matrix that's compressed under extreme temperatures. It results in a solid, impenetrable mass that cannot be etched, scraped, burned, or discolored. The man-made material looks almost like real stone and marble. In fact, it's more durable and easy to maintain than real stone. Since the material doesn't wear out easily, it's a great choice for patios.
Read more: Patio stone ideas for outdoor living
Porcelain paver
Average cost per square foot: $7 to $9
If you're looking to design a contemporary-style patio, this is a good choice. It's inexpensive, low maintenance, and versatile. Most importantly, since it's made from kiln-fired clay, it's eco-friendly and a "green" alternative to other types of building materials. Moreover, porcelain pavers can be made to mimic natural stone or wood. The strong and durable material is even dirt-repelling and algae resistant. And, it doesn't fade easily.
Stain-resistant composite
Average cost per square foot: $7 to $10
Composite decking and patios are gaining popularity among homeowners as they are stain-resistant and low maintenance. That is to say, you don't need to oil, paint, or stain them as compared to natural wood. Most importantly, they resist fading, staining, rotting, and splitting. Your outdoor patio will look as good as new year after year.
Hardwood decking boards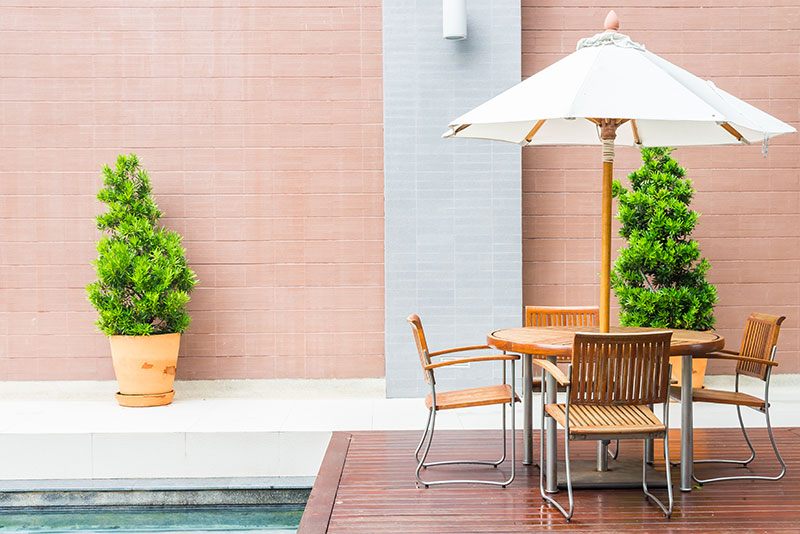 Average cost per square foot: $3 to $15 (depending on the type of wood)
If you're looking for a patio that will last long besides looking good, you can choose high-performance wood decking boards. Hardwood boards are durable and long-lasting. However, they do require some amount of maintenance such as regular staining and sealing. The best part is that these boards are available in a variety of wood species, colors, and finishes – making them an ideal choice for patio customization. 
Read more: Repair rotted deck joist
Last thoughts
A beautiful patio becomes even more desirable when the weather is pleasant. You just want to gather on the patio and enjoy the sunshine and fresh air. However, the outdoor space has to endure the elements of nature such as rain, sleet, snow, and harsh sun rays.
That's why it's important to build a patio that's strong, durable, and easy to maintain.
This list of easy maintenance patio materials will help keep you from a lot of hassles and save you money as well as time in the long run.

Read more: Patio design plans by an expert architect
Easy maintenance patio ideas for laid-back homeowners
was last modified:
November 17th, 2022
by
Recommended