Want to give your outdoor living space an upgrade? Go in for a spectacular backyard makeover and make your neighbors green with envy, and that too within a budget. 
Regardless of the size of your yard, you can enhance it in several ways. Put together the perfect backyard where you can host a party, or just relax and read. 
And, in case you're wondering how much this home remodel will cost you, don't worry. A backyard makeover need not be costly to be luxurious. With a good aesthetic vision, you can create the most stunning space. For instance, get the right lighting, a DIY patio or deck design, or outdoor furniture for a dream yard. 
Want some inspiration for backyard ideas on a budget? We'll help you with 12 backyard makeovers to help you transform your space. So, let's begin. 
1. Design a trellis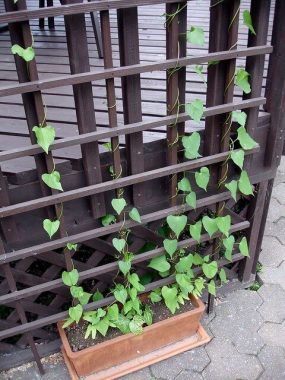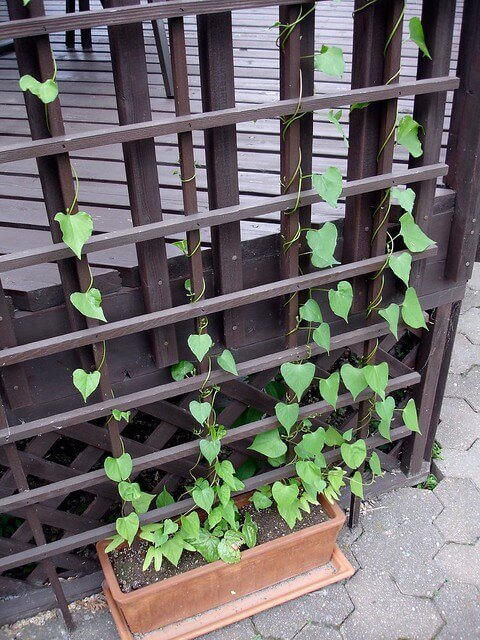 Trellis Vines, by daryl_mitchell on flickr [CC BY-SA 2.0]
Garden trellises, covered with flowering vines, can add a quick, easy, and beautiful accent in your yard. You can place it either at the back of your garden or mark its entrance. Either way, you'll create the most stunning focal point. 
You may even consider training a tree through the practice of espalier to grow along a trellis affixed to the wall. Such solutions add greenery, wall insulation, and are a smart play for areas with limited space. 
2. Create a covered seating area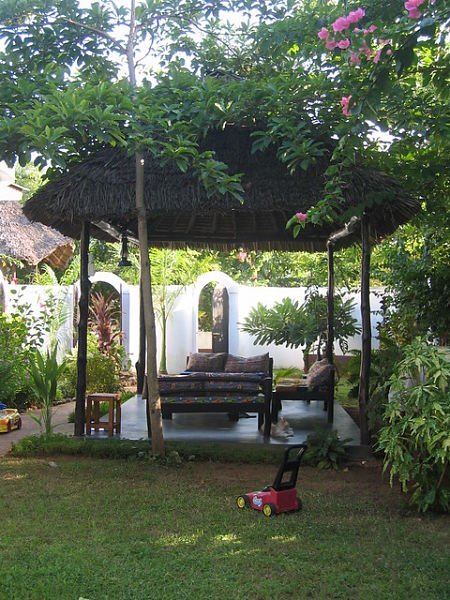 How to stay out of the sun when in the garden. by Dom Pates on flickr [CC BY 2.0]
For a cozy outdoor sitting area, you needn't spend a lot of dollars. Think creatively and build a DIY hut with just bamboo and a thatched roof. Place comfortable seating, add decorative pillows, and your outdoor sitting area is ready to welcome guests.  
3. Get an inexpensive water feature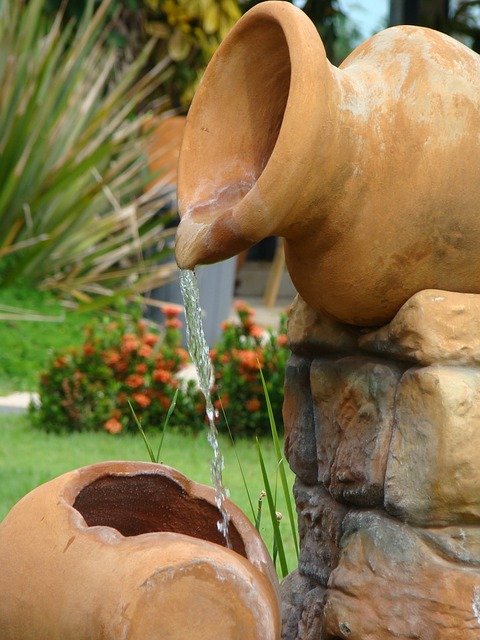 Image by Valérie Steff from Pixabay CC0
When you're on a budget, you don't have to invest in over-the-top waterfalls or fountains. A simple DIY water feature will just as easily become the focal point of your yard. If you let your imagination run wild, you can even make use of recycled decor items for the purpose.
4. Invest in a beautiful garden bench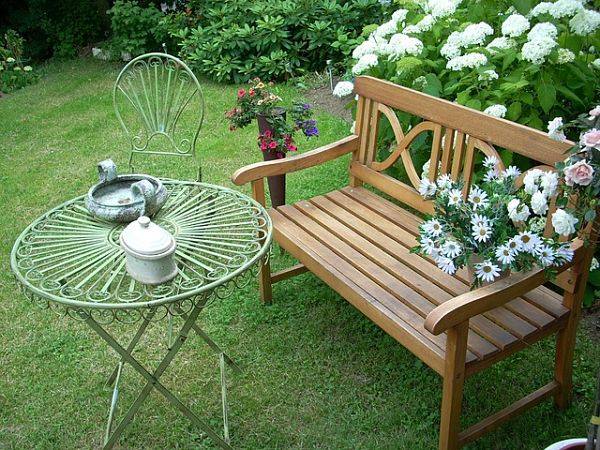 Image by artemtation from Pixabay CC0
Some things are beautiful just by their sheer simplicity. If you have a lovely flowering garden, a wooden bench will be the perfect way to appreciate it. Add in some wrought-iron chairs and table too for a lovely rendezvous for your friends and family. 
5. Get decorative outdoor lighting
Photo by Wicker Paradise on flickr [CC BY 2.0]
Fairy or string lights add a touch of class, regardless of the season. You can place them strategically to bring out the beauty in your yard. Try draping them around trees and shrubbery, along the backyard fence, or as a centerpiece on your picnic table. These twinkling white lights look festive, elegant, and don't cost a bomb. 
6. Design pavers and step stones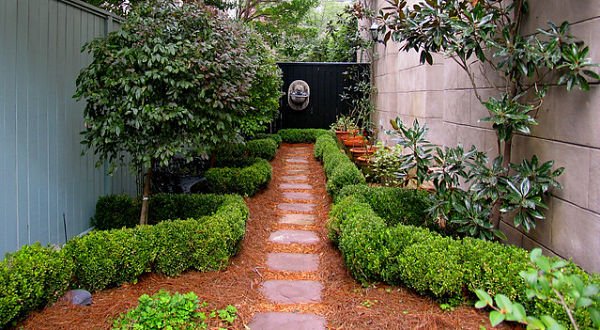 Savannah Garden path, by karol m on flickr [CC BY 2.0]
Considerably more affordable than laying a concrete patio, pavers add color and texture to any backyard treatment. Even though they cost less than a traditional patio, the finished result often looks more expensive. Similarly, if there is a path to the side yard, mark it with stepping stones. 
7. Hang a hammock or a swing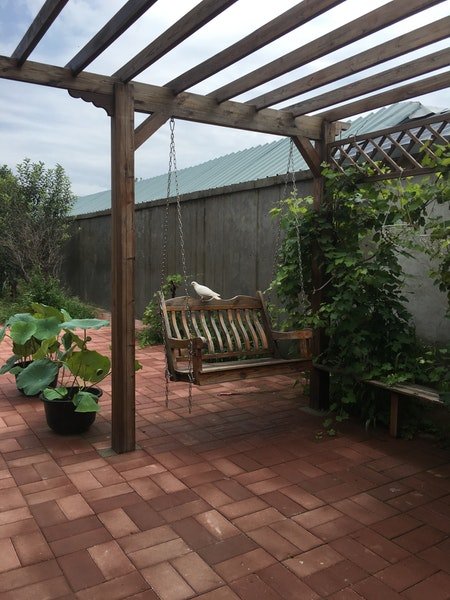 Photo by Pexels CC0
If you have a relatively secluded corner in the shade, you can place a hammock or swing there to encourage lounging and daydreaming. Make the area, even more, inviting with plants — and you'll have a nice little oasis of tranquility.
8. Be creative with potted plants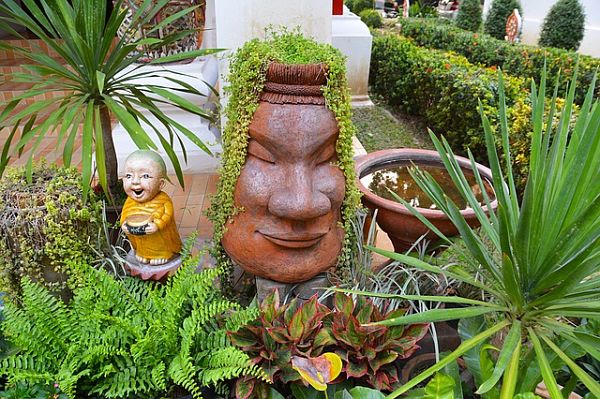 Image by Dean Moriarty from Pixabay CC0
When it comes to potted plants, you can go all out with their placement, design, and number. Mix and match plants of a variety of sizes, shapes, and colors to create the best visually appealing arrangements. 
What's more, you can move these pots for different looks. If you use native plants, they'll be easy to maintain too. Also, weeding ceases to be an issue because the main plant usually crowds the weeds out. 
9. Use artificial grass or turf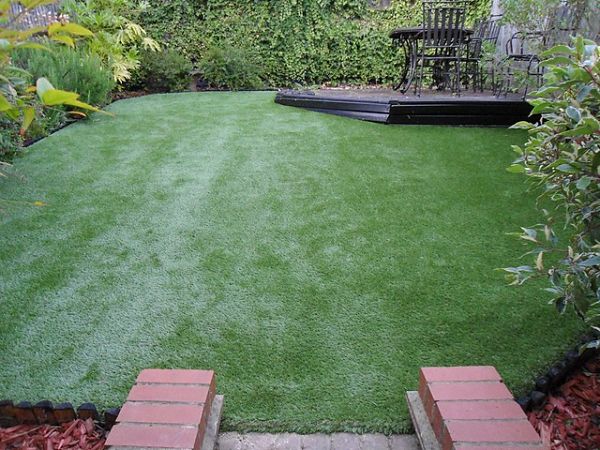 Artificial Grass in back garden, by www.softsurfaces.co.uk on flickr [CC BY 2.0]
Want an easy-to-maintain solution for a lush garden? Invest in quality artificial turf grass. You might have to pay a relatively high upfront price but it'll be a pocket-friendly solution in the long run. You don't need to water your lawn and it remains lush green in every season — and for a long, long time. 
10. Build a DIY deck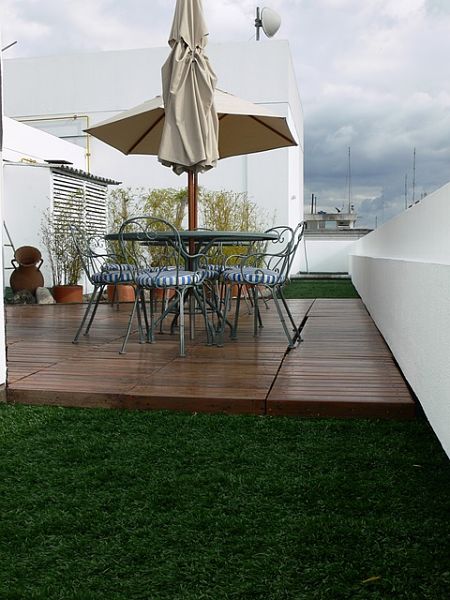 Image by peperompe from Pixabay CC0
If you know how to, you can construct the most stunning backyard decks in much less. Use the cost-effective laminated wood panels and build a small deck. Place some inexpensive outdoor furniture, a garden umbrella — and your backyard makeover will be spectacular.  
11. Create a hanging garden with candle jars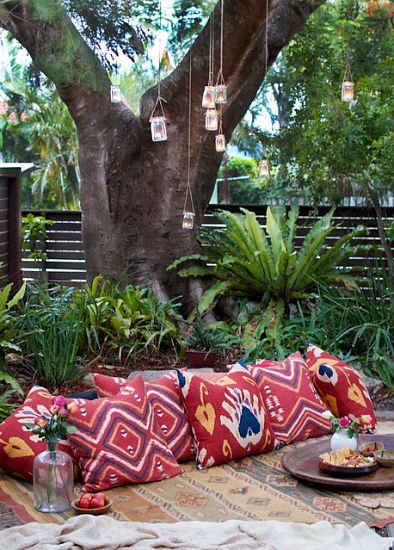 DIY Hanging Garden Candle Jars for your next garden party, by Geneva Vanderzeil apairandasparediy.com on flickr [CC BY 2.0]
If your backyard houses a tree, this unique idea is for you. Make a couple of DIY candle jars and hang them off the tree's branches. And, voila! You've got yourself a spectacular lit hanging garden! Place a floor mat below and throw in some colorful cushions for your next garden party. 
12. Construct a simple fire pit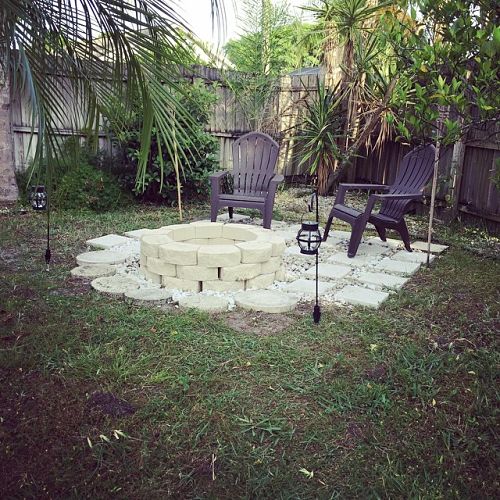 Photo by allenran 917 on flickr [CC BY 2.0]
Some backyard design ideas never go out of style. Building a simple yet effective fireplace in your yard will always make it special, especially on a cold winter night. Use bricks to create a small fire pit and gather some garden chairs around it. A great idea for a cozy get-together.
Want to go even deeper in your landscape design? Find landscape designers near you!
Last words
With the right backyard makeover, you can transform your outdoor space into a beautiful oasis. All you need is some creativity and your yard will become the prime attraction of your property. 
Our affordable and easy solutions for the perfect backyard makeover are easy to implement, require minimal maintenance, and can be executed at very little cost. Planning a full renovation? Try our free home remodel estimator to see how much would it cost! Happy renovating!
12 Easy-On-The-Pocket Ideas for a Perfect Backyard Makeover
was last modified:
August 20th, 2019
by