Create an eclectic interior design with these cool tips
Are you one of those people who hate sticking to conventional home decor? If yes, we're sure you love experimenting with different interior design ideas — probably creating a mash-up of styles. Well, guess what, we have some amazing eclectic interior design tips for you.
And, we perfectly understand your quandary. You like the clean lines of a modern style but also love the natural materials used in a rustic décor. Or, you love the casualness of a Boho style but are also a minimalist. Don't worry, creating your own unique style by combining different styles is what being eclectic is all about. Anyway, who says you have to follow a particular interior design style? We certainly don't.
What exactly is eclectic interior design?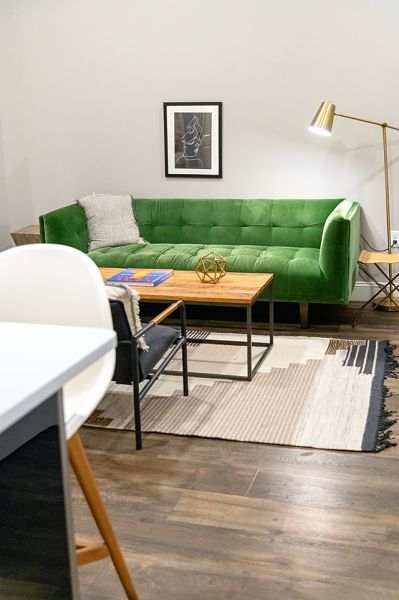 Eclectic interior design style artfully mixes elements of different décor styles into a single space. Simply put, it's an informal mix of furnishings and décor items from a wide variety of styles and eras.
Needless to say, you get a lot of freedom to experiment with eclectic home décor. For example, you can use a trunk as a coffee table or a high stool at a breakfast bar. If it suits your style, it's eclectic.
An eclectic interior design is slightly different from a Bohemian style aka Boho style. While a Boho décor pulls together organic elements such as canes, rattan, bamboo, and natural textiles to create a collected look, an eclectic style uses more unexpected elements — mixing textures and contrasting colors. The end result is a unique room that looks cohesive despite using so many elements having different origins and roots.
Read more: Bohemian bedroom décor ideas for a relaxing retreat
What are the key elements of an eclectic interior décor?
Basically, an eclectic style beautifully mixes patterns, colors, materials, textures, vintage pieces as well as trendy décor ideas. However, this mash-up isn't random. In fact, such a space has an organic flow and looks very put-together over a period of time. Of course, this style tends to be more maximalist than minimal. Keep in mind that there's no one way to achieve an eclectic style. You're free to mismatch your travel-inspired mementos with vintage items from your grandparents' house as long as you can create a beautifully cohesive vibe.
Eclectic interior design tips
If you're looking for some inspiration for your next home makeover, these eclectic design ideas will do just that. So, let's explore some decorating styles to keep the eclectic side of your personality happy.
Bring in lots and lots of plants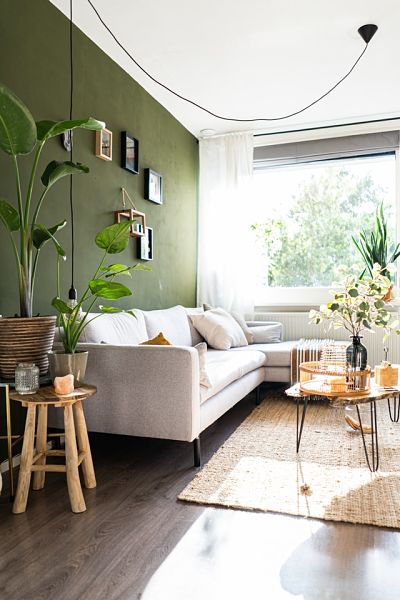 Most eclectic homes have a lot of greenery. And, there's a reason. Indoor plants don't just help purify the air inside your home, they enliven your living space instantly. Don't be afraid to keep plenty of low-light indoor plants throughout your home to get that eclectic vibe.
Let your entryway do the talking
Your home's foyer is the first thing your friends will see when they walk into your front door. When you want to go the eclectic way, try filling it with your vibrant personality by mixing and matching textures and colors. For example, a unique mirror in the entryway or a bright area rug will be some great additions.
Play with colors
If you love colorful rooms, eclectic style is for you. Don't be afraid to mix and match contrasting colors. However, plan your color palette beforehand. Especially in the living room. The best strategy is to choose a neutral wall color and a bright accent color. You can keep adding to the core palette depending on the type of room it is. The idea is to create a harmonious look instead of a wild and erratic one in your eclectic space.
Show off your favorite décor items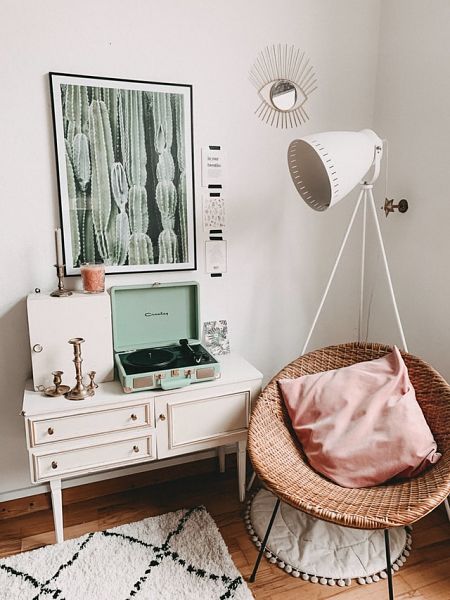 Keep in mind that your eclectic interior should reflect your personality. Decorate your home with things that hold a special significance for you. Maybe a wall art from a trip you took to Bali, ceramic plates from Rome, or a carpet that you bought from Turkey. These memorabilia items will help to elevate the whole look and feel of the room. You may even create a collection of interesting items such as a DIY furniture piece or a crooked floor lamp that you picked up at your local flea market.
Get a statement piece
A statement object will be the perfect focal point for your eclectic home. You can invest in a unique sculpture, vase, chandelier, or a huge wall clock. Give the décor item a special place in the room, and let it steal the show.
Create the unexpected
That's the best part about an eclectic interior design — you can think of quirky décor ideas and still create an enviable style. How about using wallpapers for your ceiling? Or, a swing in the center of your eclectic living room? Or, throw pillows of different patterns, colors, and sizes in your eclectic bedroom. And, how about mismatched dining chairs in your dining room instead of similar ones. Let each furniture style and decoration tell a fun story.
Mix up your art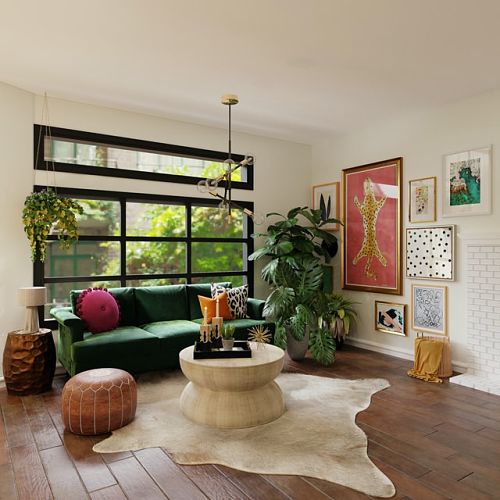 A great way to bring an eclectic vibe into your home is to create a gallery wall. However, try not to make it too perfect with matching frames and orientation. Use variant colors and textures to add visual interest. Basically, you can let your creativity go wild through a gallery wall.
Last thoughts
The kind of freedom an eclectic style interior design gives you is unmatched. And, you get to fill your home with your fun and funky personality. You can combine all the décor styles you admire, in bits and pieces. For example, farmhouse rustic with mid-century modern. The best part is, your home doesn't have to be too pristine or perfect. Or, follow any traditional interior design rules. Your home, your décor choice!
Read more: Pet friendly interior tips
Create an eclectic interior design with these cool tips
was last modified:
August 8th, 2022
by
Recommended