7 Eco-Friendly Fencing Options for Your Home
If you're looking to enhance your home's curb-appeal while maintaining an environmentally conscious lifestyle, eco-friendly fencing is possibly the best upgrade you can make. Not only does a fence significantly help boost home value, it adds a sense of security and privacy. While sustainability is usually about using less, you shouldn't feel guilty about adding a fence. Some fencing options are completely eco-friendly. What's more, they're also attractive and versatile, blending with the architectural style of your home.
There's no shortage of eco-friendly fencing options, so you're sure to find one that appeals to you – and even some you didn't know existed.
Bamboo
Everyone loves the look and feel of wood, but it's usually not conducive to sustainability efforts. That's where bamboo comes into play. A socially responsible alternative to wood, it retains an elegant yet pastoral quality.
Few people know that bamboo is actually a grass, and thus it regrows super quickly (almost 3 feet a day!) While it can be expensive to install, it helps prevent deforestation and can be quite durable. You can either twine bamboo shoots together, or turn the bamboo into panels. Its zero-maintenance nature makes it a popular choice for flooring and decking as well.
Read more: 11 Eco friendly building materials
Composite
This is a sleek and modern eco-friendly fencing option with a responsibly sourced composition. Wood-like in appearance, it combines recycled wood or plastic with wheat straw to create a responsibly-sourced and versatile fence.
The best part about these fences is that they're long-lasting. Due to the plastic components, they can last for 20+ years. They can also be stained and finished to take on almost any color and appearance.
A new year ahead? Take a look at these New Year's Resolutions for a More Eco-Friendly House
Living Fence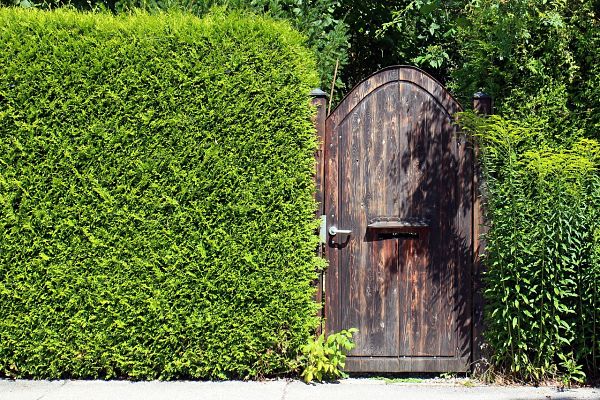 A living fence uses vegetation to form a perimeter. Not only does this fence not harm the environment, it actively benefits it. Made out of privacy shrubs and hedges, this fence is a stunning addition to any home that wants to retain a more "natural" look.
Privet, juniper trees, cedar trees, and yew make the best privacy hedges. They're also easily prune-able and pair beautifully with a wooden gate. You can customize the height of a living fence to really obtain maximum privacy. A fencing contractor can give you guidelines on how to prepare and "plant" the fence correctly.
Despite its incomparable beauty, it does have a couple of drawbacks. For one, it requires the most maintenance out of all the fence types on this list. It needs to be watered and trimmed regularly. Also, it can be harder to keep small pets contained within this kind of fence.
If neither of these are a problem for you, however, then this is the most sustainable fence type of all.
Read more: How to Keep Your Kids and Pet Safe with Beautiful Fences
Reclaimed Wood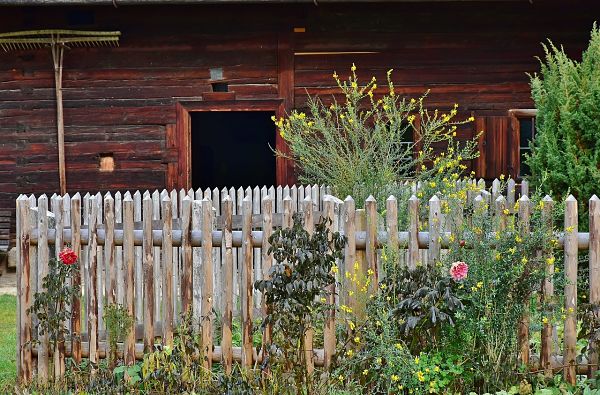 Reclaimed wooden fences definitely veer more on the rustic side, and pair best with cottages or other small homes. This type of fencing utilizes salvaged wood, which can be obtained from your local home improvement store, lumberyard, or from previous DIY projects you may have embarked upon.
Although it has an aged look to it, this does allow it to maintain a certain level of charm. Sand it down, varnish it, polish it, stain it, and you're ready to go. If you're handy, this just may be the fence type for you. When the wood planks are finished off, twine them together.
Keep in mind that, with reclaimed wood, there is a tendency to splinter, fade, or rot. You may need to spray it with linseed or tung oil to keep it fresh. As a result, it may not last as long as some of these other eco-friendly fencing options.
Locally-Sourced Stone
Locally-sourced or recycled stone can make a really beautiful eco-friendly fence. While stone quarried from overseas can be costly and difficult to transport, locally-quarried stone can be extremely efficient and an excellent use of natural resources.
The best part about this type of eco-friendly fencing is that it is extremely sturdy, thus making it one of the most secure options. Salvaging stone can be easy, but turning it into a fence is a difficult process that might require a contractor or crew – unless you're handy with mortar.
Apart from that, stone fencing is extremely long-lasting, requires very little maintenance, and only needs the occasional power wash to keep it clean. It also compliments both traditional and contemporary architectures.
Western Red Cedar
While most wooden fences are not environmentally sustainable, Western Red Cedar is an exception. This rich, warmly colored fence is very attractive and durable. Unlike most wood fencing options, it also requires no chemical treatment, which can be extremely harmful when leeched into the soil. It also does not decay easily.
What makes this fence different from other wooden fencing options, you ask?
Western Red Cedar comes from a forest that is strictly monitored by the British Columbia Forest Ministry. They inventory Western Red Cedar's output, only allowing 1% of the cedar from the forest to be used for lumber. There are fence suppliers that offer Western Red Cedar, and when you look at this gorgeous fence surrounding your property, you'll relax into the knowledge that it isn't contributing to deforestation.
Metal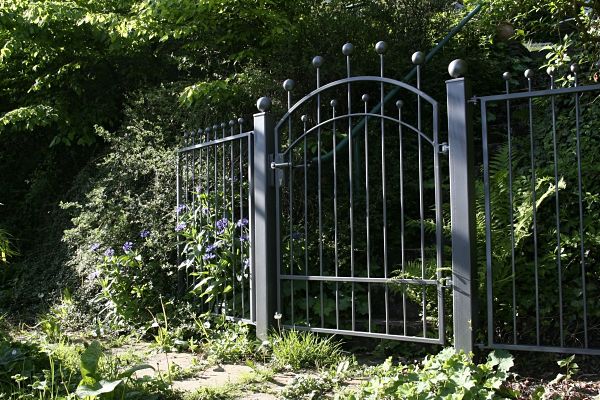 Depending on the kind of metal, this fence type can be very eco-friendly. Metal fencing is often comprised of materials that are recyclable, and can continue to be used for many years after that. Aluminum fencing in particular is lightweight, easy to install, long-lasting, and doesn't require chemical upkeep.
Aside from the fact that it will occasionally need to be rinsed, aluminum fencing is extremely sustainable. Once you feel it is time to get rid of it, you can take it apart and donate the remnants to a scrap metal recycling center, where its lifespan will continue through repurposing.
Read more: Porch Railing Materials That Lend Style To Your House
7 Eco-Friendly Fencing Options for Your Home
was last modified:
September 28th, 2022
by
Recommended