Corners are always problematic — be it in pizzas or your kitchen layout! Jokes apart, whether you are remodeling an existing kitchen or building a new one, there will always be a corner kitchen cabinet dilemma to trouble you.
The reason is that most kitchens have an L-shaped layout — leaving you with at least one corner or a blind space where two cabinets meet. Unfortunately, this area is more often than not, left vacant — or in utter chaos. This corner cabinet is usually where most of your lesser-used items are stacked and left to collect dust. And, every time you have to look for something, you have to dig deep. Really deep.
The truth is, you cannot afford to waste space in your kitchen, especially if functionality and space-efficiency are important to you.
So, how do you come up with creative ways to utilize this space? Simple. By designing a beautiful and utilitarian corner kitchen cabinet that makes the most of this area, and within your budgeted kitchen renovation cost.
We have eight highly effective corner kitchen cabinet ideas that will inspire you with their simple yet utilitarian design. These modern kitchen storage solutions will maximize your kitchen space and organize those items that you once thought were lost in the depths of your dated corner kitchen cabinet.
1. Lazy susan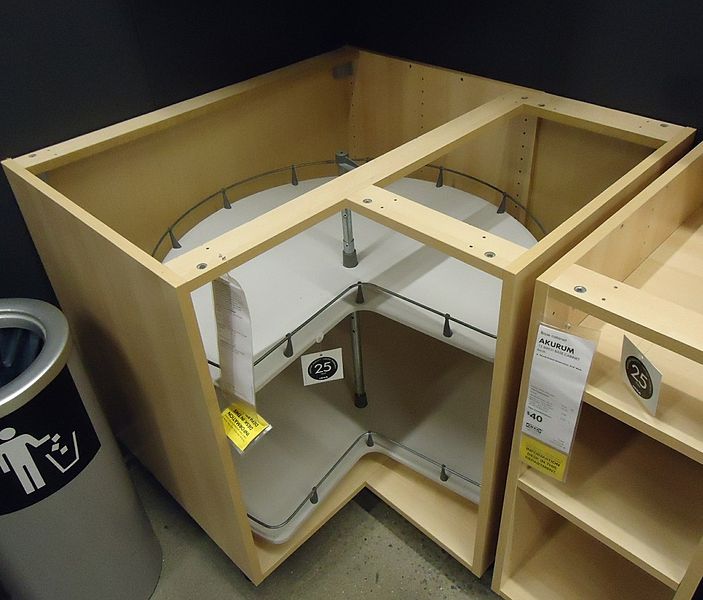 This is perhaps the most common way to utilize a kitchen corner cabinet. And, may we add one of the best. Such a cabinet fixture allows you to rotate the shelves along a central axis — easily bringing items from the back to the front for your use.
The best part about this cabinet is that you can design it in any shape to accommodate your corner space. Usually, it comes in the shape of a pie, half-moon, kidney, or even circle. What's more, it comes in a variety of materials, finishes, and sizes too.
You can place it either above the counter or below it, or both. If you choose to place it above your kitchen countertop, it will be great to store boxed or canned food and spices. On the other hand, you can store bulky cooking and storage equipment in below-the-countertop ones.
No matter what you choose to keep in your corner kitchen cabinet, the spinning makes everything easily accessible.
Instantly estimate the cost of your remodel...
...or take your time to personalize dozens of choices to transform your house into your dream home.
2. Swinging pullouts
As the name suggests, swinging pull-outs are shelves that can be pulled out from the cabinet — either from left or right. You can store your cookware and cooking accessories without worrying about losing anything in the back of the cabinet.
Everything is easily accessible and you end up optimizing your space in a great way.
3. Pull-out drawers
Pull-out drawers may not completely solve the problem of a blind space corner, but they are a great solution to optimize space under the counter corner cabinet. Add a couple of drawers with tracks inside a cabinet and you have the perfect storage for your cutlery, linen, and what have you.
If you design these strong enough, you can even store heavy cookware or cooking accessories. They add to the aesthetics and keep the kitchen organized with their practicality.
Here's a design idea. You can have your drawers at 90-degree angles — allowing them to perfectly mold around the corner. They might look unusual but will actually be quite spacious, using every bit of space under your kitchen counter.
Most importantly, pull-out drawers mean no bending in order to find the utensil you are looking for. Convenient, we say!
4. Diagonal cabinets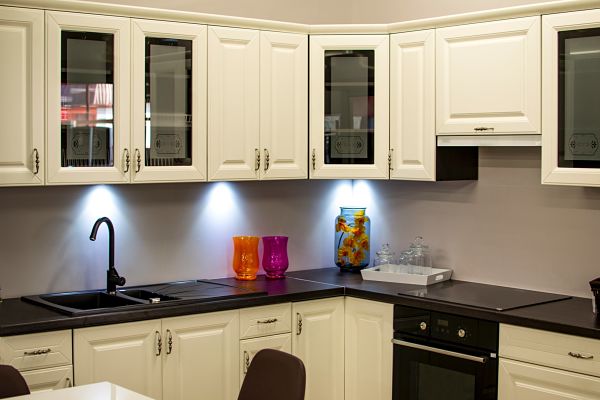 Diagonal cabinets offer a great solution to the kitchen corner problem. These cabinets connect adjacent walls and fill an empty corner — but in a more linear manner. They are paneled to fit into that space — blending in easily with the rest of the kitchen cabinets. Interestingly, they lend a visual break in the cabinetry and create an accent in the kitchen.
Generally, such a corner kitchen cabinet is a bit smaller than regular-sized cabinets. You can always store small dishes or even cookbooks. If you have a larger cabinet space, you can always accommodate a drawer system or Lazy Susan.
Do keep in mind that this kind of cabinetry is difficult to fit into a prefab kitchen. It usually requires customization and is better-suited for modern or contemporary kitchens.
5. Open shelves
The best part about corner storage space is that you can experiment with different designs. If you don't want to clutter your kitchen with closed cabinets, you can always go for open shelving instead.
These allow you to make as good a use of corner space as a closed cabinet. And, sometimes even more. With careful planning, your shelves may resemble an open pantry and add a welcoming, warm vibe to your kitchen space.
You can frame open shelves with regular cabinets on either side and create a modern, minimalist accent to your kitchen. Display dishes or your favorite coffee mugs, teapot, and teacups. Apart from displaying kitchen items and condiments, you can use the space for your decorative touches too.
Read more: Kitchen Cabinet Details That Will Make You Say "Wow"
6. Glass display cabinet
A decorative corner piece, such as a glass cabinet, above the counter, is one of the best space-saving solutions for your kitchen corner. Similar to a standard cabinet, this storage accommodates the shape of your corner and has a glass door. Use it to showcase your best dishes, wine glasses, or your crystalware.
While this pie-shaped cabinet won't be very large, it will easily become the focal point of your kitchen. Here's a design idea: Use a mirror at the back and give depth to the cabinet. Your beautiful wares will look lovelier.
7. Slide-out narrow cabinet
If you have very little space in the corner and you won't be able to fit in a full-fledged cabinet or drawers — don't be disheartened. Narrow cabinets are becoming increasingly popular these days. And, for good reason. They effectively utilize small corners underneath the counter space.
Since they can slide out effortlessly, you can access all your tiny kitchen accessories. Keep cookie sheets, hang dish towels, cleaning detergents, etc.
8. Appliance storage with a lift-up door
An appliance garage is another way to utilize that dead-end space innovatively and reduce clutter effectively. Design the storage to feature a lift-up door that's easy to maneuver. You can store your blender, mixer, and toaster inside and close the door.
Well, we couldn't think of a better place to house our appliances — giving us easy access while keeping them well-hidden.
Conclusion
A corner kitchen cabinet, especially a blind corner cabinet, can pose a lot of design challenges and waste valuable space in a kitchen. But, only if you let it! With careful design and a sharp eye, you can find a lot of storage solutions in the market to prevent your corner cabinet from becoming a kitchen wasteland.
We hope our corner kitchen cabinet ideas help you make your cooking space clutter-free, organized, and beautiful. Hire a kitchen designer and get to work today. No more losing your cooking or cleaning supplies in the deep spaces of your kitchen corners — forgotten to become dust catchers.
Read more: Ideas to update kitchen cabinets
8 Simple and Highly Effective Corner Kitchen Cabinet Ideas
was last modified:
May 26th, 2022
by
Recommended