Considering that a lot of us are going to be spending a lot of time running our businesses or working our jobs from home, thanks to the current global pandemic, now seems as good as ever to discover some elegant and practical home office design ideas.
Home environments may not always be the most conducive to work in. With kids, the TV, pets, and partners, maintaining focus and not getting distracted is easier said than done. The solution? Build yourself a workspace at home to do just that: work.
Let's explore some home office design ideas to help us build an office at home that's a perfect blend of chic design and functionality.
1. Location is everything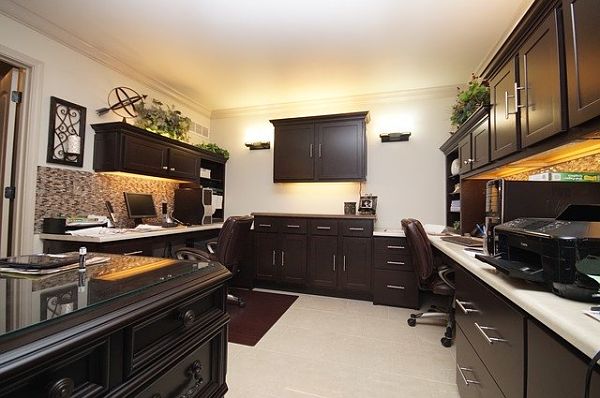 Where you place your workspace in your home is of paramount importance. You need to ask yourself if your work affords you the lenience of having your family and kids around your work area, or if you need space away from them. Also planning for possible visits from clients and/or coworkers helps.
For example, if your job or business allows you the freedom of working alone predominantly, you could easily convert your attic or your study into your office area. If you're expecting visitors, converting your outhouse or garage might make more sense.
Achieving the Balance in Home Office Design, let's review the basics.
Read more: Practical, efficient home office floor plans by an architect
2. The importance of space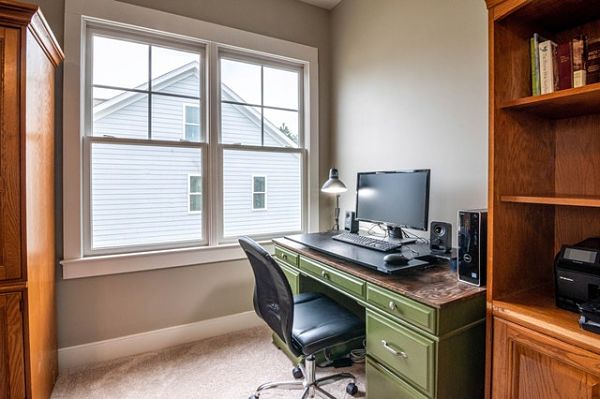 If you're going to be spending hours and hours working from your home office, you need to make sure you've got enough space. A tiny table and rickety old chair at one end of your basement are not going to suffice.
You need to make sure you have enough space to keep a sufficiently large work desk, an ergonomically comfortable chair so that the hours of toil don't take a toll on you, shelves and cupboards for files, stationery and books you need, and if you're going to be entertaining clients, comfortable seating for them as well.
Take a look at these 6 Things You Need To Convert Your Loft Into A Home Office.
3. Colors and hues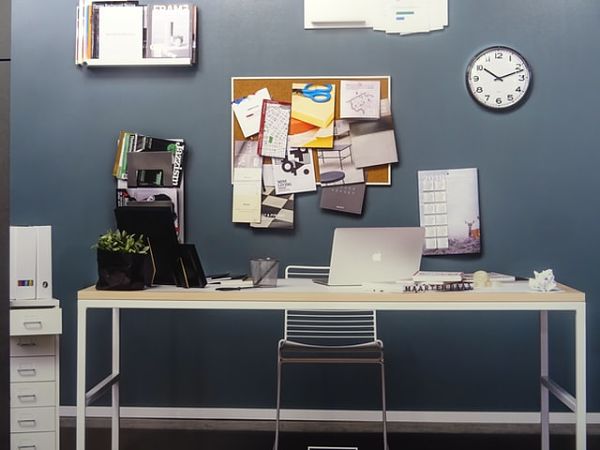 Photo by Fred Kloet on Unsplash CC0
A professional looking workspace does not necessarily need to look boring.  Some of you may prefer to keep the colors of your home office thematically the same as the rest of your home. Others may feel the need to have a completely different color scheme for their workspace, enabling them to differentiate between their domestic and official spaces.  While neutral colors are generally the norm, studies have shown that certain colors influence behavioral trends. 
Thinking about home office colors? Get the best estimate with us.
For example, different hues of blue help with concentration and focus, while yellow stimulates emotions, making it ideal for creatively charged work environments. Green and its hues are known to encourage calmness and balance.
How to Create a Productive Home Office Environment? Let's take a look.
4. Natural and artificial lighting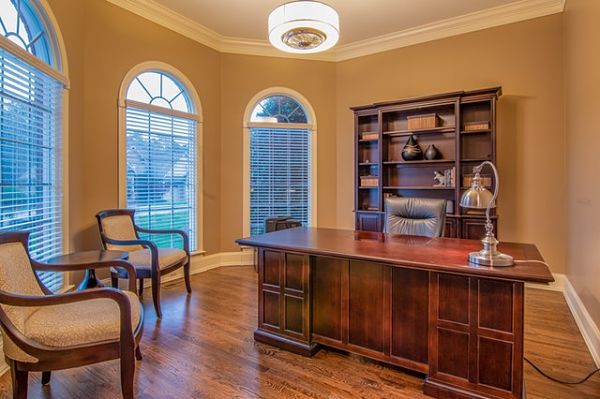 Irrespective of the number of hours you're going to spend in your home office, having the perfect blend of natural and artificial lighting is essential.
While having windows to let in natural light is definitely an advantage, analyzing the direction of the sunlight at different times of the day will help you place your desk in a manner that ensures you don't have any glare on your computer screen while checking your emails.
Alternately, you could use blinds, curtains, and drapes to control the glare.
Choosing the right kind of artificial lighting is as important, if not more. Design experts advise a mix between overhead and task lighting for the best results.
Plan your home office ceiling light properly with our estimator tool.
Flush-mounted ceiling lights or chandeliers work better than spotlights to illuminate your workspace.
While table lamps make for the best task lights, remember that placing it opposite your dominant hand is a great way to ensure there are no shadows as you write.
Always try and use LED bulbs on your lighting fixtures. Not only are they environmentally friendlier, but they also generate considerably less heat than incandescent bulbs.
Small Home Office: 5 Key Decor Tips to Consider
5. Furniture and fittings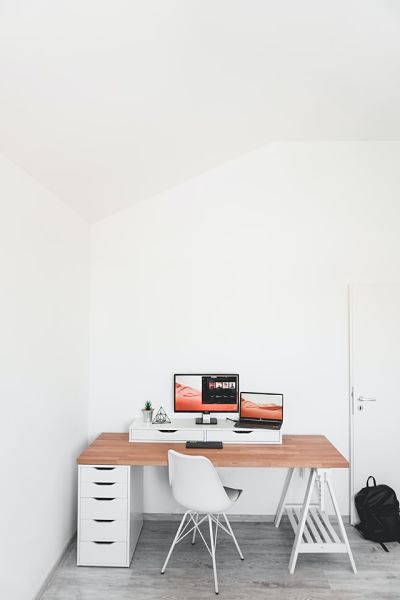 Photo by Alexandru Acea on Unsplash CC0
Choosing the right kind of home office decor to go with the kind of work you do is an integral part of home office design.
For example, if your work doesn't need you to use a lot of paper or physical files, you could choose a more minimalistic approach, with a smaller space, simple table and some comfortable chairs, leaving a large part of your workspace clutter-free.
If you need cupboards and drawers, you could consider integrating them with your work desks and walls to save space.
On the other hand, if your workspace is an extension of your living room or any other part of your home, getting some shelves to pull double-duty, housing both domestic and official material helps conserve both space and money.
If you're the kind of person that gets bored sitting in one place, rolling furniture with wheels at the bottom is the way to go for you.
Using antique tables and chairs is a surefire way to up the class factor of your home office.
The workspaces of artistic and creative people often have bean bags and low lying furniture around the room, allowing for a less formal approach to get the imagination flowing.
However, if your job requires you to sit in one place for long hours, what you need is furniture that is function over form. Making sure your desk chair supports your back ergonomically and that the height of your work table is neither too high nor too low is necessary to avoid damage to your spine in the long run.
Read more: The Shapes Of Architectural Design
6. Home office decorations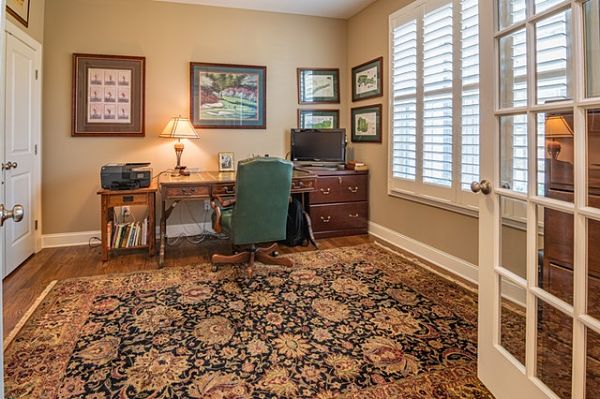 Working in a well-decorated workspace does wonders for one's productivity and morale. Here are some ways you can make your home office pretty.
Having a dedicated gallery wall and/or a shelf for art, artifacts and paintings is a great way to give your home office character.
Adding a colorful rug to your floor breathes character into your office, while a few potted plants are a great way to bring in the feel of freshness from the outdoors.
Surrounding yourself with things you love, like your favorite books, music, posters or pictures of your loved ones is an easy way to make your workspace more appealing.
Floor lamps fitted with soft yellow bulbs placed in room corners help make the environment relaxed and soothing.
Strategically placed decorative lights, as well as accent lights, are a great way to finish off.
You can also check our guide on how to attract millennial homebuyers with your social media.
Approximate home office cost and how to cut costs
The average national cost to build a home office is between $20,000 – $30,000. That cost may vary depending on the actual amount of construction and renovation needed. There are, however, some simple ways to build a cheap home office.
For example, reusing and refurbishing existing furniture is a great way to cut costs. If you don't have any, look for deals at thrift stores, flea markets, and yard sales. You'll be surprised by what you may find.
Remember that if you work predominantly alone, you could easily function with a smaller existing space at home instead of converting a whole room.
Read more: How to Successfully Work Remotely with Clients
Being thrifty about how you utilize resources like electricity could go a long way in saving money. Always make sure you switch off lights, chargers, printers, computers and other appliances when they're not being used.
You could also save quite a bit by becoming a D.I.Y expert, especially for things like painting your walls and decorating your workspace.
Want to find out how much your new home office may cost you?
Read more: Essential Office Renovation Ideas
Final Touches
A home office ought to make working from home a comfortable and wholesome experience, irrespective of whether you have a large well-lit room or a small office nook. We hope the information we have shared here has given you enough home office ideas to help you build yourself a workspace that matches your personality, home, and needs.
Read more: COVID – 19 Crisis: Sources of Financial Aid for Small Businesses
Elegant and Practical Home Office Design Ideas
was last modified:
August 29th, 2022
by
Recommended