A sink is one of the most important features of a kitchen. Needless to say, the right choice makes all the difference in the way you function in this space. When it comes to selecting the best kitchen sinks, utility is often primary and style secondary.
But, what if we told you that with our exclusive shopping guide, you can choose the best kitchen sinks that are convenient to use, look trendy, and match the decor of your cooking space?
The good news is that today, there is a huge variety of sinks to choose from in terms of ease of usage, material, width, depth, installation, and durability. These choices are a result of the demands and expectations of consumers who wanted to make informed decisions when it came to buying the best kitchen sinks.
So, let's not delay. Here are some of the essential features of a good sink. Keep them in mind while shopping for a kitchen sink.
Understand your requirement
A sink might be a small part of a modern kitchen, but it's a vital part. It helps it to run faster and efficiently. This is the place where we stack, soak, and clean our dishes. We wash our veggies, meat, strain our noodles, and so much more. No wonder, buying the correct sink is crucial and needs proper research and attention to detail. Know what you want from your kitchen sink in terms of ease of installation, material, size, number of bowls, and design.
Size, shape, and depth
Choose a size that is large enough to accommodate your differently sized pots and pans, oven trays, or roasters. Smoothly rectangular sinks are the most common ones. You may opt for circle or oval ones but avoid triangular sinks because of the sharp edges and corners. A standard D-bowl has a curved back and offers more space — front to back.
Are Copper Kitchen Sinks A Good Idea? Let's find out!
Sink bowls are generally 6 to 12 inches deep. Go for deeper sinks — they reduce splashes. But, make sure that you don't find it uncomfortable to reach the bottom of a very deep sink. Always remember that a typical under-mounted sink may be almost 1 ½ inch lower than a top-mounted one.
Types of sinks with different installation
When it comes to the kinds of sinks with different installation techniques, we have two types of kitchen sinks — top mount and undermount.
Top mount sink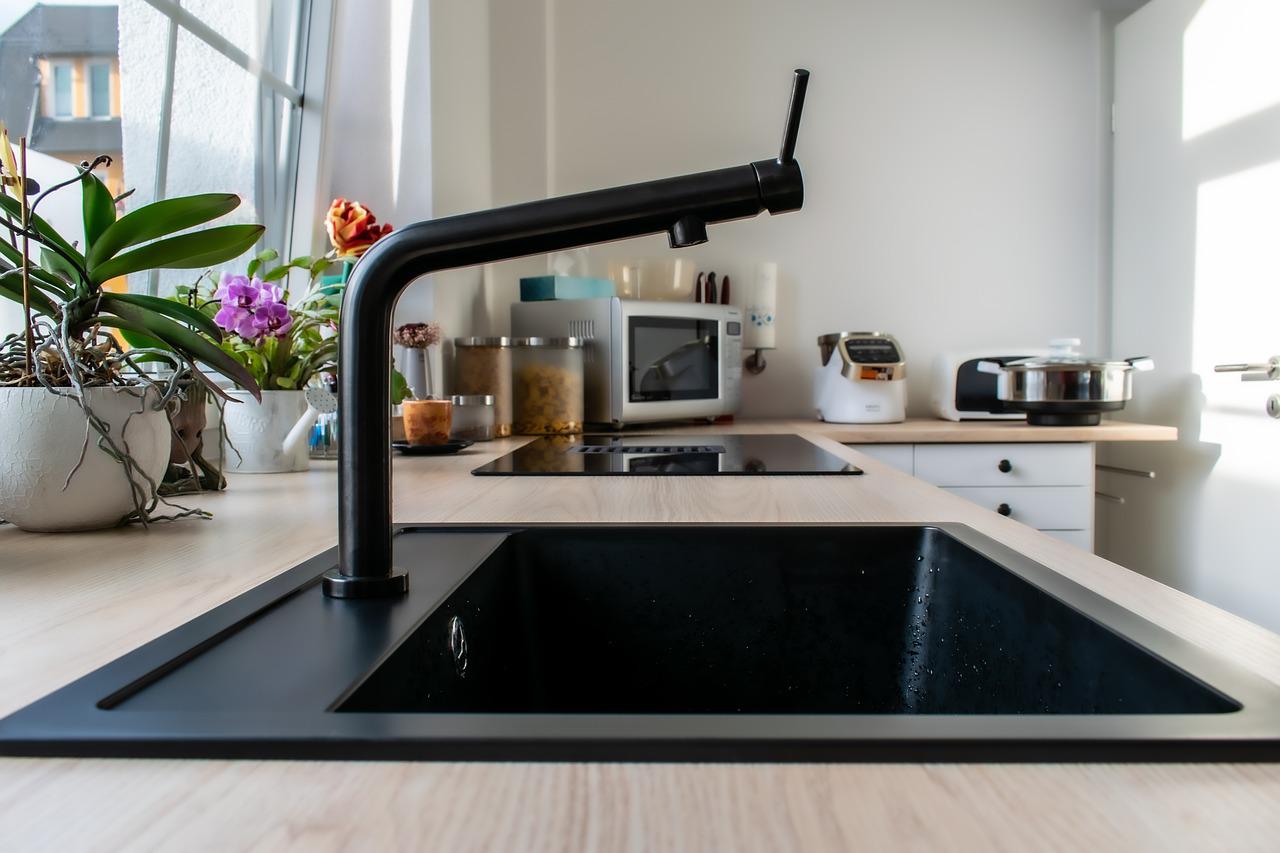 This kitchen sink, also known as a drop-in sink, is installed by just putting it into a hole in your countertop. It usually has a rim or lip that holds the sink in place and reduces the need for an internal support system under the counter. No wonder, the sink style is a good choice for those who believe in DIY projects or are remodeling their kitchen on a budget.
Top mounts are relatively easy and inexpensive to install. The drawback they have is that they are not as sleek and modern-looking as undermount sinks. Also, this sink type is not as easy to clean. The area between the lip of the sink and the counter tends to accumulate dirt over time.
Read more: How to clean pull down kitchen faucet
Undermount sink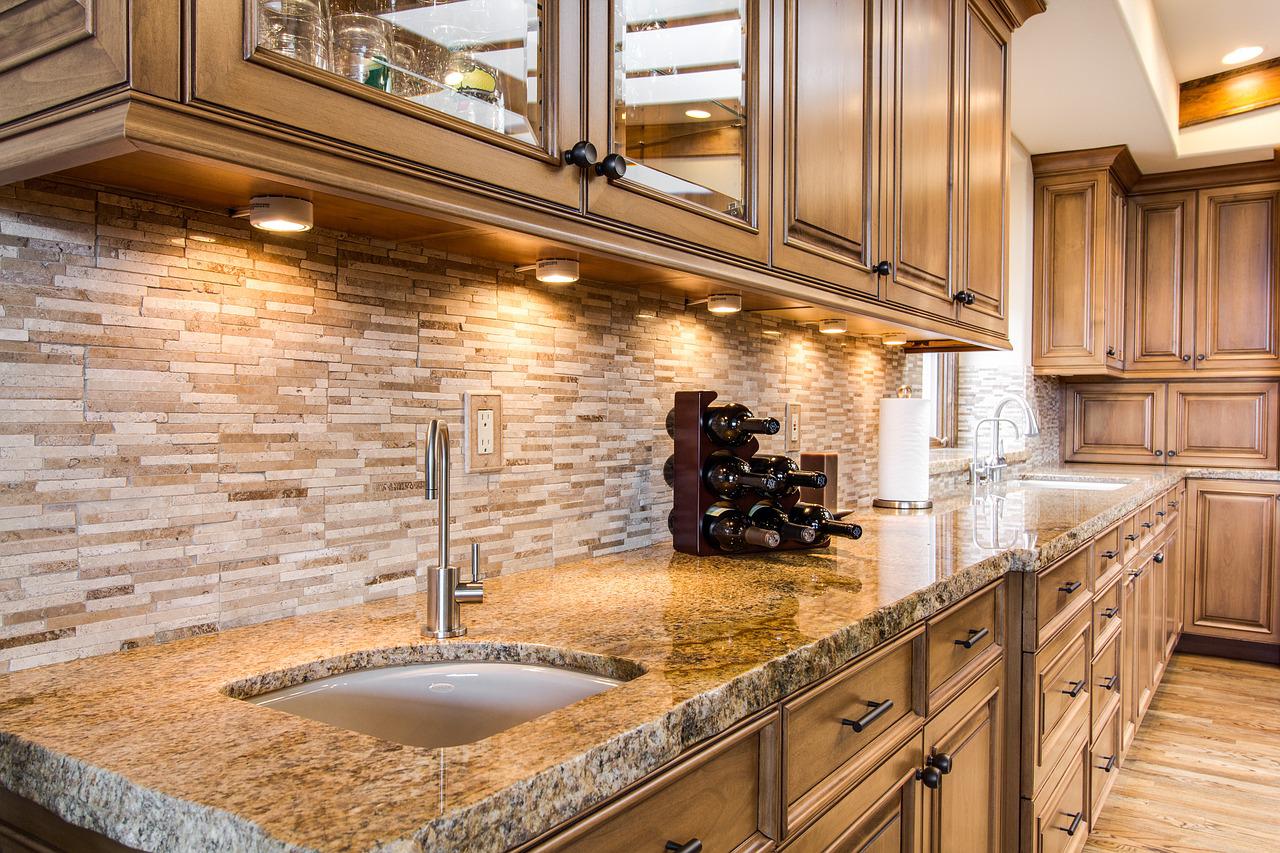 As the name suggests, an undermount sink is installed underneath the counter. The edge of the counter fits directly into the sink basin. So, there is no need for a lip or rim.
Such a sink gives a neat, modern look. Also, cleaning it is easier because debris can be cleaned straight into the sink. There are no grooves and crevices where food particles can accumulate.
Despite the fact that undermount kitchen sinks look good and are easier to keep clean, they do have some disadvantages. They are expensive. Installation is also not as easy as a top mount one because the sink needs to be glued underneath the counter. This gluing together might not work well with heavier sinks such as cast iron or fireclay. Therefore, such an installation will require an internal support system.
Usually, the undermount sink design has no space for kitchen faucets and other attachments. The only solution is to have holes cut into your countertop for their installation. Not the easiest of ideas to work with.
Kitchen sink material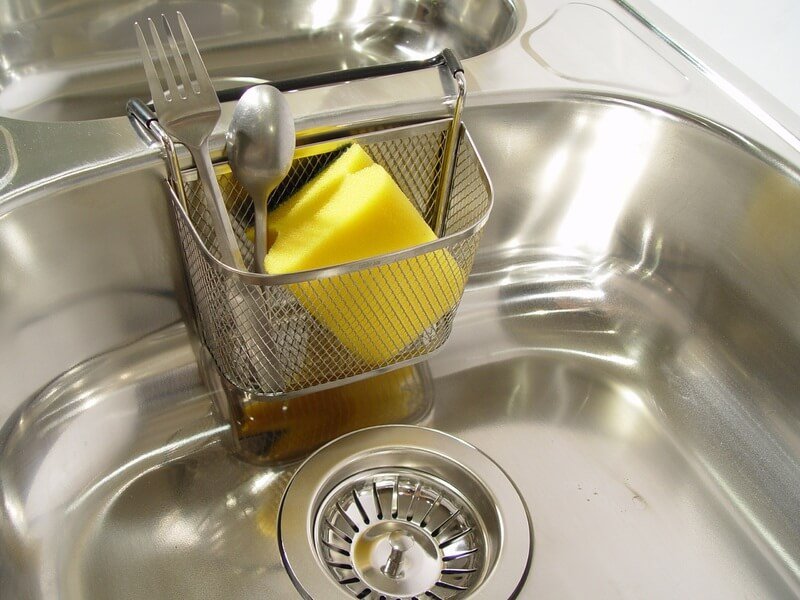 When buying a new kitchen sink or remodeling an existing one, focus on the material and not the brand name. The kind of sink you have will determine its usage and performance. Here are some of the most common ones.
Stainless steel sinks
Undoubtedly, steel sinks (particularly T304 stainless steel) are the most popular and durable ones available on the market. They are resistant to heat and stains. Steel sinks are comparatively inexpensive and are versatile in terms of installation. They can be undermount as well as top mount.
Gauge is the unit that is used to measure the thickness of stainless steel. Interestingly, the lower the gauge, the heavier and thicker is the steel sheet. Generally, sinks are between 15 to 24 gauge range. It translates to a thickness that ranges from .048 to .030 inches.
However, do note that heavier gauge steel doesn't necessarily mean that the sink is better in terms of performance. In fact, the gauge has very little effect on the overall quality of the sink. That said, a heavier gauge sink may be slightly more resistant to dents and is usually less noisy.
If you're worried that a steel sink is loud, you can use a spray coating or padding. It will reduce the noise considerably.
There are a few disadvantages to such a sink; it can scratch more easily than other varieties and tend to show water marks more clearly. Also, it can be difficult to keep your sink immaculately clean at all times.
Enamel-coated cast iron sinks
Cast iron is one of the oldest kitchen sinks used. It lasts long — for decades. The style is very popular even today because of its bright, glossy enamel finish.
While bare iron is prone to rust, cast iron sinks — with a tough porcelain enamel finish — are not. This enamel finish does a great job of resisting stains and scratches. Interestingly, the porcelain enamel finish isn't just painted — it's actually melted glass that's fused with bare iron. Such sinks are incredibly hard and are perfect for the daily wear and tear of a busy kitchen.
The best part about porcelain enamel is that it is easy to clean and does not show water spots easily. It is also resistant to light and fading.
Let's now talk about some of the drawbacks of cast iron sinks. They are heavy. An average iron sink may weigh 100 lbs or more. That's 2 to 3 times of a stainless steel sink! No wonder installation is more difficult, especially in undermount sinks. There is a need for additional support to hold such a heavy duty sink in place.
They are much more expensive than stainless steel, usually $300 or above. Also, the enameling of a cast iron sink may easily chip. And once it does, it will quickly begin to rust. That said, modern porcelain enamel sinks are generally strong and quite durable if the installation is done properly.
Fireclay sinks
When ceramic clay is molded and dried at a high temperature ( as high as 2000⁰F) for at least 40 hours, you get a raw fireclay sink. Once the clay has dried, porcelain enamel is applied and the sink is placed in a kiln again for around 20 hours.
This fusion of enamel and clay increases the fixture's strength and makes it sturdy. Such a sink looks traditional and yet has a timeless charm to it. But do note that a fireclay sink is prone to cracking and the enamel may chip from any sudden impact, perhaps of a dropped large pot or pan. It is expensive too. The average cost of a small, single-bowl model is around $400 to $500. And, larger models are $750 and above.
Granite/ quartz composite sinks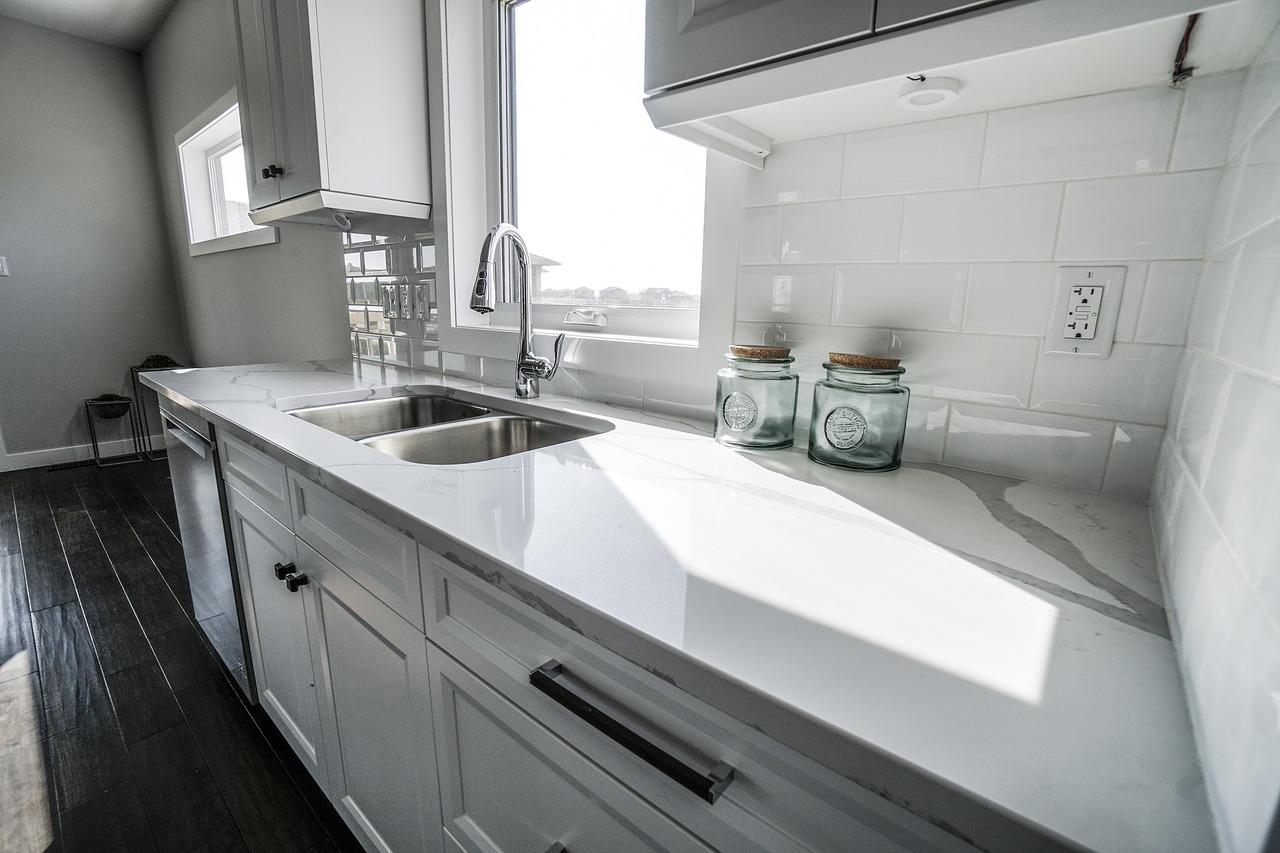 These sinks are prepared by combining crushed granite or quartz with a resin filler — usually in the ratio 80% stone and 20% resin. The result is a material that has almost the same aesthetic qualities of real granite or quartz without the maintenance and durability problems associated.
Both kinds of these composite sinks are tough and highly resistant to stains and scratching. Granite holds up a tad better than quartz though. It is one of the most durable and long-lasting sinks on the market today.
Copper sinks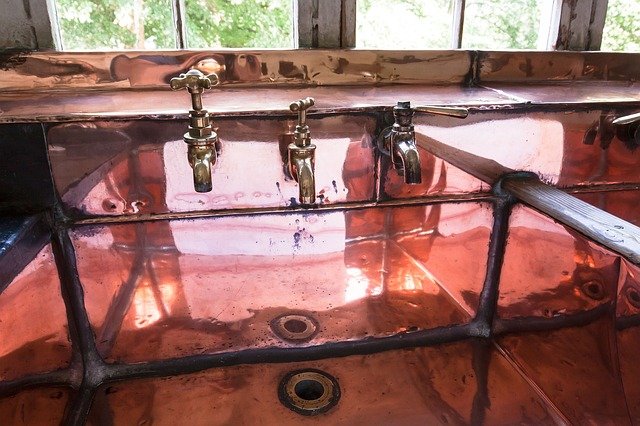 There is something really alluring and timeless about a copper kitchen sink. These charming handcrafted pieces come with unique variations because of the fact that they are created by craftsmen and not machines. No wonder, there's a wider range of quality and design on the market.
The thickness of copper sinks, like steel, is measured in gauge — following the same principle of the inverse. Higher the gauge, the thinner the copper sheet. Do make a note of the fact that the thicker the copper, the less noisy it is and more resistant to denting. A well-installed copper sink doesn't need any special maintenance. Just rinse after use and occasional deep clean with soap and water.
And now, for some negatives. Since these are manufactured by hand, there might be a discrepancy in size — it may be slightly larger or smaller than the stated specs. Also, you need to embrace the fact that copper develops a finish called patina over time and may turn deep brown. This process, we feel, adds to its antiqued charm and needn't detract from its aesthetics.
Improper drainage is another problem that homeowners face with copper sinks. This is why it's important that you research well and ensure that a manufacturer offers you an uncomplicated lifetime warranty on such a sink.
Kitchen sink styles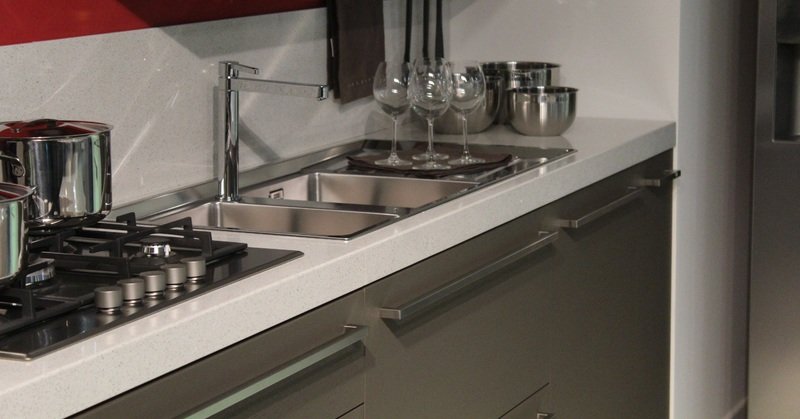 Kitchen sinks have a number of designs and basin choices according to the number of bowls. Before you start your sink shopping, familiarize yourself with the options you have.
Single bowl sink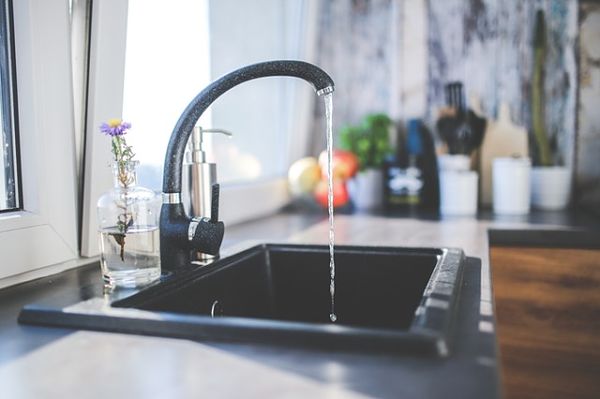 This is the most common type when it comes to kitchen sinks. You have a single and deep, large basin, where you can easily soak and clean your big pots and pans. They are cheaper to purchase and install, easier to clean, and are perfectly compact for smaller kitchens.
Just be sure to contact a certified designer to help you with the right style and design of the pan, for diverse and multi-functional use.
Double bowl sink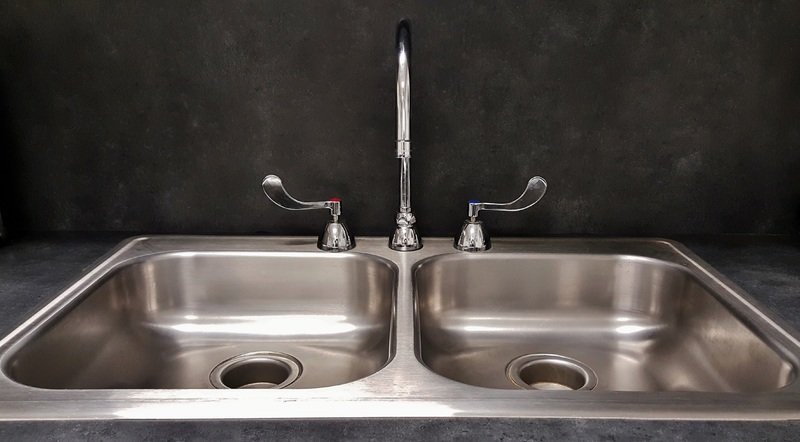 For a larger and spacious kitchen, two basins together and in different sizes might be a good option to consider. This will provide you with the opportunity to perform various tasks such as preparing food, stocking used dishes, and cleaning them separately. If you don't have a dishwasher, the dual basin is a good choice.
Triple bowl sink
This design is generally meant for condominiums with open space basin. Here, you will receive three basins together, with two large ones, a small one, and an additional garbage disposal area. You have the liberty to use garbage disposal independently of the sink, but it might be a bit difficult to sweep food scraps off the counter. Keep in mind that this kind of option is rather expensive.
Farmhouse or apron front sink
A farmhouse sink effortlessly replaces a portion of the counter. It's a good choice for people looking for a traditional or country-style design. And, it is available in both single and double basin options.
This design is stylish and hence tends to be on a more expensive side. It also requires much more work to install than other sink varieties. Sometimes, the counter needs to be designed to accommodate such a sink specifically.
Some questions you must ask yourself before buying a kitchen sink
Will the new sink match the rest of your kitchen decor?

Does the new sink have enough mounting holes for adding faucets?

How easy or difficult will your sink installation or repair be?

What are the warranties that manufacturers are offering? Do they cover leaks and stains?

And finally, are you happy with the choice you've made?
Conclusion
We hope our shopping guide helps you in choosing the best kitchen sinks for your home. It's always a good idea to do your homework to avoid buying a sink that has durability or maintenance issues that you didn't anticipate. Weigh your pros and cons and select the perfect sink which is high-quality, great to look at, and does everything that you would want it to do. Happy shopping!
An Exclusive Shopping Guide to Choose the Best Kitchen Sinks
was last modified:
July 19th, 2022
by
Recommended