A Buyer's Guide to Exterior Wood Doors
The front door of a home is a lot more than just a fixture that lets people in and out. These doors protect our homes against theft. They insulate us against the elements. And they definitely add to a home's curb appeal.
While exterior doors are now made of a variety of materials, ranging from fiberglass, steel, wrought iron, and glass, nothing looks as luxurious, warm, and welcoming as a solid wood entry door. So if it's time for you to replace your front door, here's a buyer's guide to exterior wood doors to help you make that choice.
Why Choose Exterior Wood Doors
The first thing you'd look for while choosing an exterior door is one that is durable. Wood doors, with the right treatment and with periodic maintenance, are known to last around a hundred years or more.
Wood front doors are also great for insulation, and if well maintained, will definitely help in reducing energy costs.
Visually, exterior doors made of wood look a lot more opulent and luxurious than other materials.
They are also very versatile. Not only can wooden doors be tailor-made to fit your door frame, but there is also no limit to the level of sculpting and personalization that can be done on them.
They can also be painted any color imaginable.
Home Renovation Cost Estimator
Sorry, we currently don't have that project at our disposal.
---
You can take a look at our most popular ones:
Exterior Door Installation
Water Heater Installation
Exterior Door Replacement
Install Recessed Lighting
Interior Door Installation
Interior Door Replacement
The Main Types of Wood Doors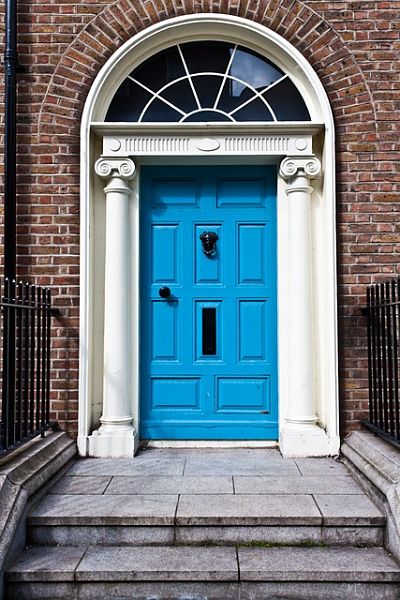 There are three main types of wood doors.
1. Solid Wood Doors
Solid wood doors are made entirely using natural woods, except for the knobs and fittings. These could be hardwoods like maple and oak or softwoods like pine.
They are usually made using a frame and panel construction method, although some of them are made from a single solid slab of wood.
Solid wood doors are known for their durability, their ability to block sound, for being fairly fire-resistant, and for helping to maintain a home's resale value. Depending on the amount of workmanship and detailing you to want on your door, you could pay upwards of $3,000 for a solid wood door.
2. Hollow Core Doors
Hollow core doors are made using a wooden shell over a cardboard or plastic core.
These doors are not very fire resistant, nor are they good with soundproofing.
This doesn't make them very good exterior doors. They are, however, lightweight and easy to install, making them popular choices for interior doors in modern homes.
They're very inexpensive, costing between $30 to $400 for a pre-hung door.
3. Solid Core Doors
Solid core doors offer consumers the best of both solid wood doors and hollow core doors.
Made of a core of solid engineered wood like Masonite or fibreboard, with an exterior shell of natural wood veneer, solid core doors are lightweight and easy to install while being durable. They are popular choices for both indoor and exterior doors.
They are also excellent when it comes to fire safety, sound blockage, and are more affordable than solid wood doors. They are, however, not as customizable as solid wood doors. You could end up paying anywhere between $400 to $2000 for a solid core door.
Popular Woods for Exterior Doors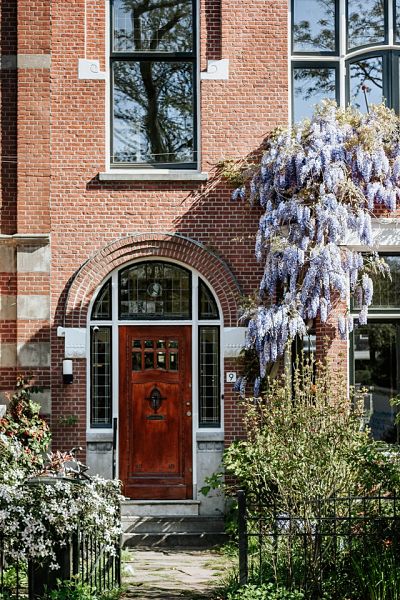 Most people prefer hardwoods for exterior doors. The main reason for this is because hardwoods are more durable than softwoods. Examples of popular hardwood choices include oak, walnut, and sycamore.
The knotty alder, known for its straight and simple grain, is another popular choice.
The most popular hardwood though, is mahogany.
That, however, does not mean softwoods aren't ideal for exterior doors. Douglas firs and pines are popular softwoods that are often used for front entry doors.
Exterior Door Designs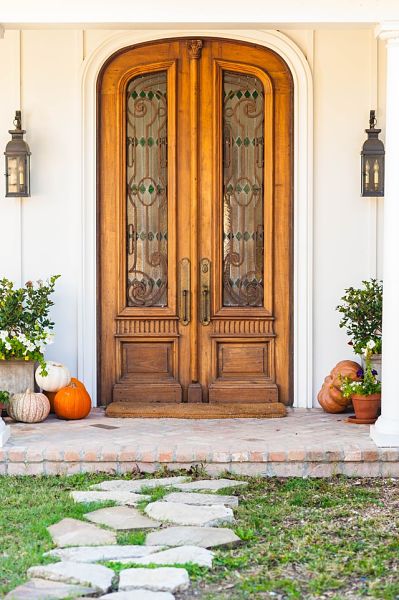 Considering how versatile wood is as a medium, it is no wonder that there is a wide range of designs for you to choose a beautiful wood door from. Here are some of the popular door styles.
1. Rustic Designs
If you have an exterior wall of brick or stone, then a rustic design is just what you want for your front door. Choose either a single door or a double door combination.
Rustic doors are characterized by a pre-aged look and vertical slats. A lot of rustic doors feature both sidelights and transoms.
2. Craftsman Doors
Want a wood exterior door on a budget? Craftsman doors are made just for you. Featuring both vertical and horizontal panels, these simple and sleek doors are also known to feature glass options on top, usually in two or three panes.
3. Arched Doors
Arched doors are perfect for those who want to make a statement of grandeur with their front doors. Arched doors look resplendent with intricate carvings, or even with the rustic treatment. Arched doors also often feature transoms on top, which are great for letting in natural light, and for your home's curb appeal.
4. Dutch Doors
Dutch doors are capable of allowing the top half to swing open independently of the bottom half. Both halves can also be latched together and used as a single door for added stability.
This makes Dutch doors capable of letting in oodles of natural light, while also making them the ideal choice for homes with children and/or pets.
5. Mediterranean Doors
Knotty alder is the preferred wood for Mediterranean doors. Known for featuring large glass panes with intricate wrought iron designs, these doors are truly unique.
6. Modern Doors
Modern architecture demands modern designs, and that means minimalism.
Modern doors are known to feature straight lines, often with glass panes in between wooden panels. Bold sidelights are also frequently incorporated to let in natural light.
Take a look at these amazing popular types of doors for your home.
It's All About Impressions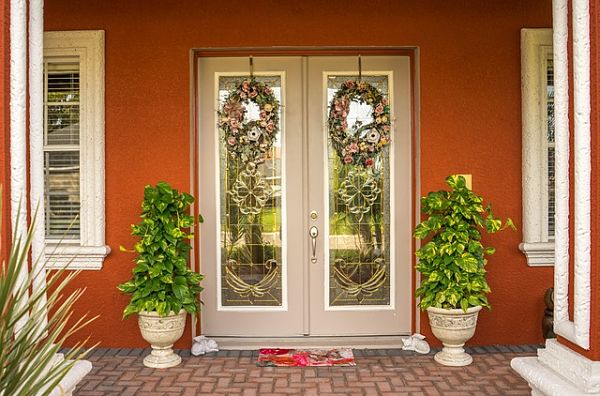 In a lot of ways, the exterior door of a home is what gives people the first impression about a home. While choosing a door, remember that your front door will see a lot of goings and comings, some happy, some maybe not so happy. Once shut, your door will keep you secure and hold your secrets inside your home. So it's almost like you're choosing a companion.
Sure, wood exterior doors have drawbacks. They warp due to weather. But stain your door once a year, and that won't happen. With age, they may sag. But even that is treatable.
What you cannot deny is that wooden doors, even though they come with these terms and conditions, also come with character. So choose a wooden door that is a reflection of your personality, and let it age gracefully with you.
Read more: Words and phrases every home buyer should know
A Buyer's Guide to Exterior Wood Doors
was last modified:
February 24th, 2022
by
Recommended