Fall is one of our favorite seasons and fall porch decor is something we love working on. The best part about autumn porch decorating is that you get to play around with a lot of pumpkins, colorful mums, apples, oranges, hay bales, and all the lovely autumn colors.
So, if you want to make the most of your outdoor area by revamping your porch and preparing it for the coming fall, we have something for you. Our 15 budget-friendly fall porch decorating ideas will make those long, balmy nights and sunny days perfect.
These fall porch decor ideas will definitely make a statement and impress your friends and family before they even walk in the door. The wreaths, mini pumpkin patches, swings, gourds, window boxes, and what have you — will instantly add curb appeal to your home. And, help to get your guests in the right seasonal spirit. And, that too within your planned budget.
Planning a home remodeling? Use our free home renovation estimator to have a fair idea of the total expenditure of your project.
So, let's begin with our affordable fall porch decor ideas.
1. Let a unique fall wreath welcome your guests
When it comes to curb appeal, your front door decoration takes center stage. Create an eye-catching (and far from a traditional) wreath by showcasing a seasonal display, like this apple wreath.
It's the perfect way to liven up your porch while lending it a little fall flair. And, it's super easy to make. You can go all out or understated with a harvest wreath — your choice.
Read more: Summer wreath ideas
2. Be super creative with a "porch sitter"
Here's a superb fall porch decor that will leave your neighbors and friends awestruck. We love the fake pumpkin man — a pure delight for both the trick-or-treaters as well as the Thanksgiving visitors.
All you need is some hay stuffing, cool accessories, and tons of creativity. By the way, this front porch decorating is sure to get you tons of compliments. You can thank us later.
Oh no, is that spooky time of the year again! Do you need some inspiration for your outdoor Halloween decor? Take a look at our 12 easy, yet scary ideas!
3. Use dried or artificial florals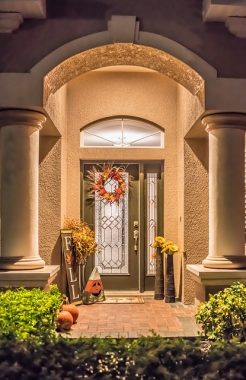 Dried or artificial flowers and fall foliage are a great way to spruce up your front porch. They liven up the space while lasting for a long, long time. We love this simple yet beautiful fall porch decor.
Strategically placed pumpkins, a charming door wreath, lots of blooms, and a board that proclaims the arrival of fall — this porch has it all.
Thinking about Thanksgiving? Take a look at our guide on Dining Room Thanksgiving Decorations on a Budget
4. Create a pumpkin patch
When it comes to pumpkins for your fall porch decor, more is still less! Think beyond the stoop and line the front walk with pumpkins or gourds of all shapes and sizes. The vibrant decorations will welcome guests up the steps of your home.
Read more: Exterior Design and Renovation Ideas: Striking Fall Trends
5. Add spectacular lighting
With fall around the corner, you may want to upgrade your lighting with fairy lights or shiny sconces. These will not just brighten up your porch but also add a bit of cheerful seasonal sparkle.
Read more: Screened in Porch Ideas to Create the Most Relaxing Ambiance
6. Paint your front door bright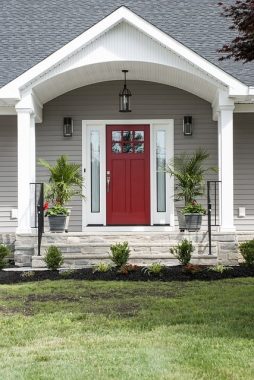 Want to give your front porch a seasonal refresh? Paint your front door in a spectacular shade. This happy red, for instance, is a great idea. You can try orange, green, or even yellow. A lovely pop of color will make your home look inviting even if you didn't get into any full-on glorious fall jazz.
7. Get a porch swing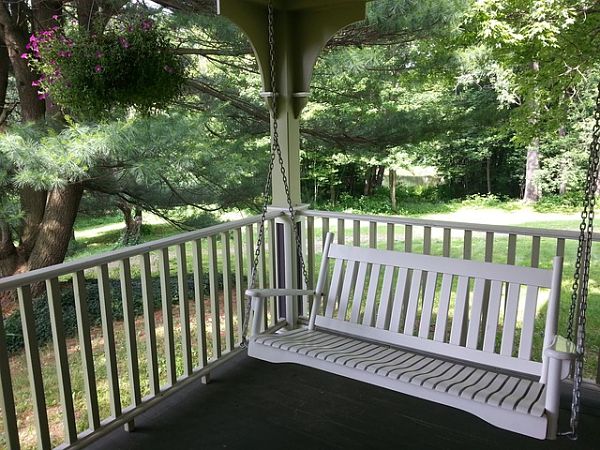 When it comes to fall porch decor, you can make a few quick changes on your existing furniture and voila! Your porch is fall-ready. This porch swing, for instance, can become a cozy autumn retreat if you add some vibrant throw pillows, blankets, and quilts. Trust us, it'll be the ideal spot to relax in the crisp fall weather.
8. Get colorful, comfortable chairs
Just because summers are over, it doesn't mean you're ready to move indoors. Well, not just yet. Add a bright-red rocking chair or bench to your porch and relax on a chilly day with a plaid blanket and a hot apple cider in hand. It's also the perfect way to admire your autumnal foliage to your heart's content.
9. Keep the summery vibes simple with tall planters
You just need the right decorating treatment and your porch is autumn-ready with an abundance of seasonal flair. Potted boxwoods are a wonderful way to liven up your space. These all-season plants look great even as the weather changes.
We also love the tall containers; they make a big impression. Not to forget, the pumpkins, throw pillows, and a lovely welcoming foot mat. Just make sure that your fall porch decor is symmetrical on either side of the door. It will keep the space from looking too busy.
10. Create a chalkboard corner
Welcome your favorite season with a chalkboard sign. We find this concept super cute and the best part is that the board can be updated for Halloween or Thanksgiving accordingly! We love this "Happy Fall" chalkboard sign on a bed of hay bales next to a bright pumpkin. A great way to remind guests what the season is really all about.
11. Spruce up your front porch with all things fall
Make your fall porch decor an autumn masterpiece with all the things you associate with fall. Go for the affordable mums. In fact, this plant and fall go hand in hand. Create a cheerful mix with some pumpkins for a seasonal anchor and a lovely door wreath. Such a fall decor will always appear fresh, contemporary, and charming.
12. Get a beautiful window box
If you do not have too much square footage in your porch, you needn't worry. You can install window boxes to keep the floor space free. During autumn, the idea is to add mini gourds on ledges and give a seasonal spin on traditional window boxes.
Fill the containers with autumnal flowers — bringing a pop of color to your porch. To make them more visually interesting, opt for plants in a variety of color palettes and textures.
13. Create a cozy space with pillows and blankets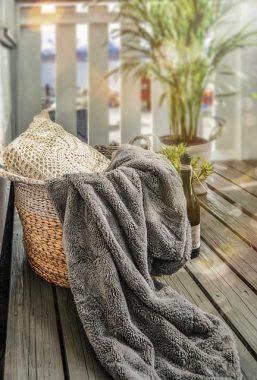 Sometimes, a simple decor idea can create an amazing look if well put together. Here, a wicker basket, a throw pillow, and a blanket have made the porch look cozy and homey. We love the classy touch.
14. Add a lot of hanging planters
We love this cozy porch — an ideal spot for after-dinner drinks or early morning brunches. In fact, we would happily witness every autumn sunset here too! The porch has comfortable rocking chairs and a lush hanging garden. The abundance of green will make your porch look absolutely stunning without making you break the bank.
15. Bring in fall colors through food elements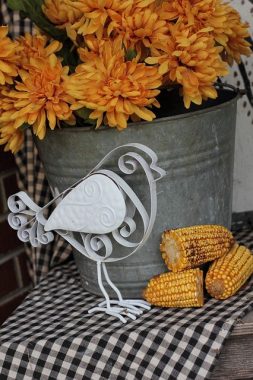 Just because you have a small porch doesn't mean you can't still enjoy autumn and all its fall-themed concepts. When you are on a tight home improvement budget, this simple look will make your porch look dreamy — in much less.
Let your creative juices flow and use food items that you already have in the kitchen for your fall porch decor. For instance, we love how yellow corns have been placed strategically to brighten up the porch area. Also, notice the rustic bucket used as a planter to house lovely orange mums. Warm tones such as yellow and orange are all things fall and we love them.
You can use apples or grapes for a wreath or a garland made of oranges.
Last words
These affordable and easy fall porch decor ideas will give your space a cozy and inviting look. From DIY projects like chalkboard signs, pumpkins, corn stalks, hay bales, to porch swings — there are plenty of ideas to inspire you.
Choose the home decor that's sure to fit your style.
Read more: Front Porch Decor
15 Affordable and Beautiful Ideas for Your Fall Porch Decor
was last modified:
May 27th, 2022
by
Recommended