Finding tranquility in everyday life can be tough. Juggling personal relationships, demanding work commitments and overloaded schedules causes stress and fatigue. As a result, that tension can affect your body, mood and behavior in negative ways.
Common symptoms of stress include headaches, chest pain, anxiety, lack of motivation, irritability or drug and alcohol abuse. Stress can even lead to much more serious health conditions such as high blood pressure, obesity, heart disease and diabetes.
After the end of a stressful day, no one wants to come home to a space that only frustrates you further. Healthy living should be practiced and perfected, and there are many techniques that can be considered in order to achieve this goal. Some choose to focus on their diet, exercise or state of mind. Stray from the beaten path and consider another option — a happy home life.
Finding balance in everyday life is not rocket science: it's more of a pseudoscience. Some well-known pseudo sciences include feng shui, astrology and hypnosis. While life events may not technically be controlled by the stars, many people still check their daily horoscopes. Additionally, while feng shui may not be deeply rooted in actual fact, its beliefs and practices have been placed in high regard over the course of centuries.
Combat chaos and restore balance in your home with the basic principles of feng shui.
Feng shui is an ancient practice focused on arranging furniture with the specific purpose of creating harmony and tranquility. Fostering 'chi' or energy is also a key element to feng shui so placing furniture and accents is key to making things flow effectively.
When it comes to bringing feng shui into your home, start by using a bagua chart.
The bagua chart is the pinnacle element in feng shui and is commonly used to start the journey. The chart breaks up the home into nine different, separate sections. These sections correspond with various life areas that commonly affect our daily routines and aspirations. Feng shui considers the nine life areas: career, creativity, family, friendship, health, knowledge, relationships, reputation and wealth.
Each of these areas can be influenced using feng shui "cures". Cures are objects, colors, shapes and materials that improve or worsen the energy affecting those nine life areas. So, for example, if you have inferior cures in the wealth sector, you are less likely to be prosperous and a negative energy will poorly affect this area of your life.
Here are some popular cures that best suit each life area:
Career: black colors, well-lit spaces, mirrors, star or triangular shapes
Creativity: white colors, art displays, objects in metal finishes, circular shapes
Family: green colors, family photos, water fountains, square shapes
Friendship: gray colors, map displays, shiny decor accents, circular shapes
Health: yellow colors, fresh flowers, bright wall art, clean spaces, square shapes
Knowledge: blue colors, bookshelves, tall floor lamps, rectangular shapes
Relationships: pink colors, objects in pairs, throw pillows, star or triangular shapes
Reputation: red colors, framed awards or accolades, star or triangular shapes
Wealth: purple colors, objects known for good fortune (horseshoes/four leaf clovers), square shapes
Spring is the perfect time to refresh your interiors. Use these feng shui tips to balance the energy in your living room and create a more positive space!
If you want to deeper on living room colors, take a look at our guide on living room color schemes to choose from.
1. Set it Up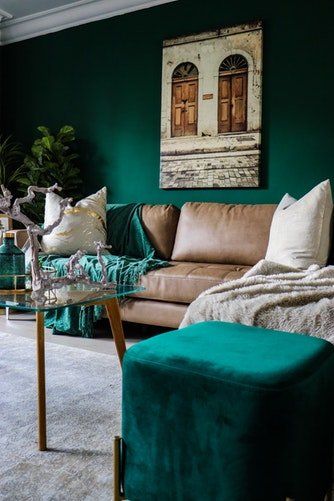 Photo by Devon Janse van Rensburg on unsplash CC0
When arranging your living room, pull furniture away from walls, windows and beams. This allows occupants to relax comfortably and feel secure with their surroundings.
Colors are another area to focus on through accents and furniture. Focus on hues that promote one of the feng shui elements to attract energy to specific areas of life:
Fire – yellow/orange/red – happiness, social, passion
Wood or Earth – green/brown – health, stability, growth
Water – blue/black – tranquility, strength, peace
Metal – white/gray – innocence, sophistication, new beginnings
2. Picture This
Photo by Personal Creations on flickr www.personalcreations.com [CC BY 2.0]
Displaying family photos in the living room strengthens bonds and relationships in feng shui. Prevent the use of too straight lines by featuring them in a gallery wall arrangement or you run the risk of creating "poison arrows" in your home. Poison arrows attract negative energy and risk your sense of safety and wellbeing.
3. Let It Flow
Balance the hard lines in your home from elements such as frames, tables or mirrors by filling your home with furniture that has rounded or curved edges. The sofa is the center of all activity in your living room so if it's time for you to update, consider styles with soft edges that match your design and feng shui balance.
Read more: Living Room Wall Decor Ideas to Inspire You
4. Bare Necessities
Clutter is a huge cause of stress within an area. Organize your space to bring calm vibes and tranquil energy. Get rid of anything you don't love to make room for energy boosting belongings. This is the most important step for creating a harmonious home base.
If you're having a hard time deciding what to keep, utilize storage pieces like baskets, drawers and ottomans. Look for accent pieces made of bamboo, as this wood is a popular feng shui cure to attract health, luck and abundance.
5. Keep It Grounded
Stability and security are important elements to creating a balanced home. Always have the front legs of the furniture on a rug and choose a rug that is proportional to the space without blocking any doors or windows. Don't forget to feature colors that encourage the feng shui elements focused on your desired area of improvement.
Read more: How To Create A Feng Shui Bedroom: A Complete Guide
Feng Shui Living Room: 5 Simple Steps to Balancing Energy
was last modified:
November 8th, 2019
by