There's no doubt that the task of renovating your kitchen can be stressful with every passing minute – up until the home improvement project is complete and your dream kitchen is ready. After all, there are so many different things to consider during the initial stages of remodeling –  the style you want, the functionality, the space you have, and of course your budget. That's why it's important that you decide how to design your own kitchen – whether you love the idea of fitted kitchens or want to go with your own sensibilities.
Once you've visualized the empty space, placing every part in its place will be easier – without giving you some kind of blank page syndrome.
What is a fitted kitchen?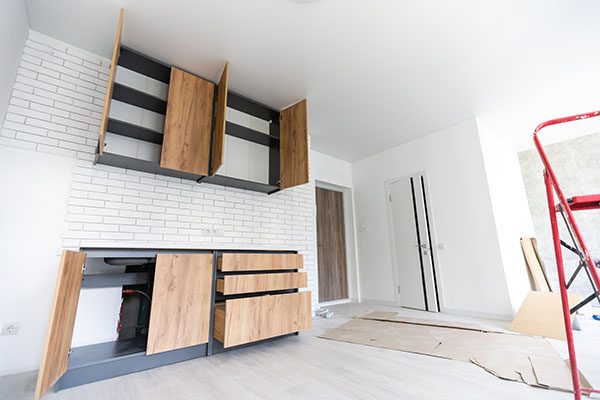 A fitted kitchen is basically where all the important components, including cabinets and appliances, are placed against the kitchen walls – resulting in fixed units, countertops, and kitchen cabinets. Interestingly, the concept of fitted kitchens appeared in Europe in the late 50s. And not surprisingly, the kitchen design is widely used even today. Some of the reasons for its popularity include its modern vibe, functional design, and the fact that it provides good storage solutions.
Fitted kitchen vs unfitted kitchen
You must first understand the differences between the two styles of kitchen design before determining which one is ideal for you. Fitted kitchens have unmovable units, counters, and storage units – usually matching and coordinated. Unfitted kitchens, on the other hand, consist of units and furniture that are unfixed, sometimes unmatched, and can be moved around easily. Basically, the kitchen components are not built into the space.
How much does a fitted kitchen cost?
The cost of a kitchen remodeling ranges between $13,000 and $70,000. Keep in mind that the exact expenditure depends on the size of your kitchen as well as the level of luxury you desire in your cabinets, countertops, kitchen island, and kitchen appliances. The average cost of designing a medium-sized kitchen in the United States is about $25,000.
Fitted kitchens: Key design components
If you're planning to have a fitted kitchen, you'll have to have fixed units. And that includes your plumbing pipes, electrical works, and gas supply points. That way, you can align the large kitchen appliances such as your gas hob, fridge, or oven. And, you get good space for your kitchen storage.
Here are some important facts to consider when choosing your fitted kitchen layout.
Kitchen cabinets
Fitted kitchens have great storage capacities. Since you can cover an entire wall, you can start with a group of built-in cabinets – making your kitchen more organized and spacious.
Although you may not have custom-made cabinets, you can give your kitchen space a more cozy and familiar touch. By the way, white wooden cabinets look really great in fitted kitchens.
Kitchen appliances
While choosing appliances for your fitted kitchen, think of how each part will contribute to the functioning of the whole. Fit the pieces like how you'd solve a puzzle! Just remember to keep the shapes and materials of the appliances coordinated. Once that's taken care of, you can try out various layouts. For example, you may want to surround your in-built oven with cabinets. That way, every part is connected to the other in a harmonious way.
Read more: Understanding the kitchen work triangle
Kitchen Island
While considering a kitchen island, you need to maintain the aesthetic of the kitchen as a whole, and also take care of your storage needs. A kitchen island with cabinets will allow you to store your kitchen essentials such as plates and cutlery in an organized manner.
Read more: Best way to store accessories and pantry items in the kitchen
Fitted kitchens: Pros and cons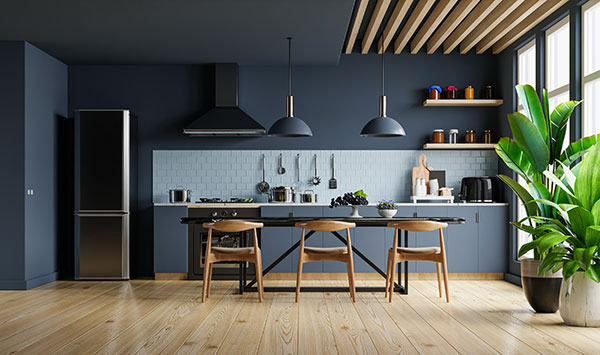 A fitted kitchen comprises matching units, built-in storage, and appliances – all fixed to the kitchen wall. It has a more coordinated appearance, is stylish as well as functional, and offers good storage space. Basically, such a kitchen layout maximizes space and makes your cooking space appear larger and more organized. It's an ideal design for small kitchens. There's no doubt that a fitted kitchen, with its integrated appliances, offers a sleek design and a streamlined aesthetic.
The disadvantage of a fitted kitchen is that the units and the overall design cannot be easily modified once installed. Moreover, this kitchen style is less versatile than an unfitted kitchen. Also, a fitted kitchen is often more expensive than its unfitted counterpart. And that's why this design is not suitable for those who want to alter their kitchen décor frequently or plan to move houses in the near future.
Conclusion
A fitted kitchen sees all the components fixed to the wall. The classic design has a coordinated, structured look, and is tailored for that particular space. Additionally, this type of kitchen beautifully solves all your storage problems. No wonder many homeowners love the cozy, practical, and well-put-together look. If you're planning to take your first steps toward creating your dream kitchen, you can surely consider this amazing design.
Understanding the key features of practical fitted kitchens
was last modified:
November 16th, 2022
by
Recommended