Cool Kids Bedrooms: Quirky Ideas for a Cutesy Haven
Forget wallpaper runners that match crib linings, pink for girls, and almost-too-cutesy stuffed animals all over the place. Today's kids' rooms are ditching the kitsch for cool. If you're about as up-to-date on what's trendy with kids bedrooms as you are with what children watch on TV, don't worry. Here are some inspiring kids bedroom ideas that will get your wheels turning, whether you're crafting a room for a teen or a tot.
Girly charm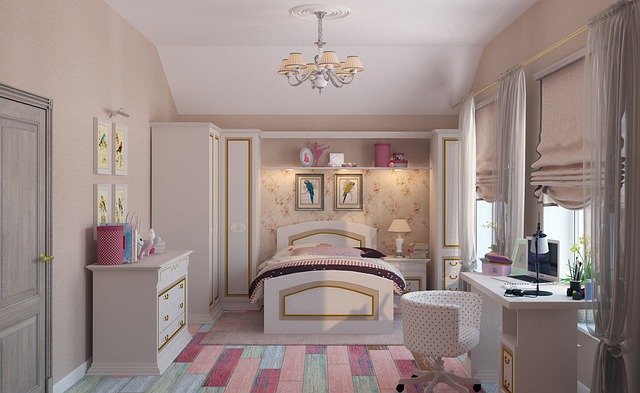 When your girl loves colors, then this adorable bedroom design is just for her. A wallpapered wall in cute patterns can serve as the focal point of the room. You can augment this further by placing colorful accessories, small storage boxes, holders, and hanging art pieces. In order to lend some balance, you can go for white cabinets, wardrobes, window treatments, and a study table. Also, note how the vintage chandelier stands in contrast with the rustic pattern on the floor below. Cream walls and matching table lamps complete the entire set-up.
Paradise for imagination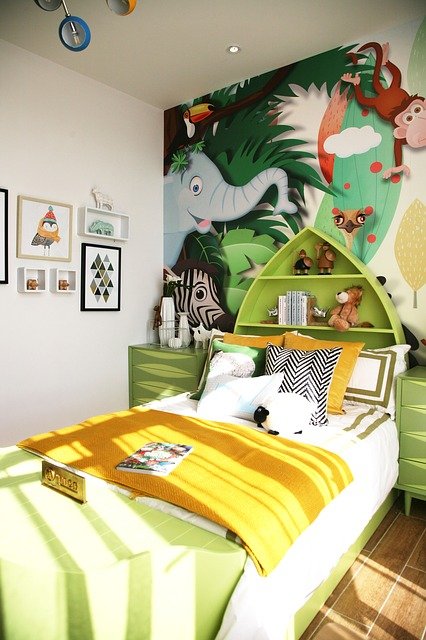 Kids love to imagine. And they love cartoons. So why not make your kid's favorite character a theme for his or her bedroom? Go with a wallpaper that brings alive his beloved animated heroes. Arrange the accessories, furniture, and furnishings in matching shades and patterns. A bright and colorful bedroom not only fuels your kiddo's creativity but also keeps him/her lively and happy.
Cozy and bunked up
Do you have two kids who are inseparable? Then, bunk-beds are a go-to option. Check out the idea above. Bright bunk beds, painted in yellow pastel shades, are connected by stairs. This is a good alternative when you want your children to bond. Combine their interest and decide on a final layout. Utilize the floor space by placing seating arrangements, an area rug. and a corner bookshelf.
Fit for a Princess
Your little girl is your princess. And she thinks the same about her. Make her dream of a fairyland come true with this dreamy bedroom. The main theme of this room is pink, but you can opt for other mild shades as well. Tall windows lend plenty of light into the interiors and reflect the existing color scheme. Brighter shades of pink on the wallpaper, table edges, and carpet complement the entire layout. In order to avoid monotony, the designer has gone for different splashes of color on the seating arrangements. Touches of white prevent the room from becoming too 'pink'. Moreover, you can also augment the fairytale factor by placing some artifacts — such as a stuffed deer in this set-up.
Twinning it up
Siblings would usually want a twin room for themselves where they can spend time together and engage in their own discussions. Two adjacent beds, with plenty of storage space underneath, enable them to have their individual areas while keeping close to each other. Large windows allow plenty of light to make the room feel more spacious. A number of wall decorations, framed pictures, and a separate space to keep books, lend the room functionality and appeal. The patterned floor is almost empty, allowing extra square footage for your kids to spend some leisure hours together.
Nursery comfort
We know, we know. Brown definitely isn't the first color that comes to mind when creating a child's room. However, this space puts the hue to work, and the result is one of the most sophisticated nurseries we've ever seen. It also wins in terms of function (look at all that storage space!), with a comfy chair near the window perfect for cuddling your little one when late-night fits hit, a cradle, a changing table, and did we mention the storage space?
Read more: An architect's practical vision for a kid's room layout
Fit for your boy
This kiddie area is cool and quirky, with plenty of space to play. Little ones, especially boys, will love the cool game area and desk space. Bold colors, geometric patterns, a high bed with a staircase, and plenty of shelving make this room playful and fun.
Read more: Homework station on children's room
Stylish whimsy
Stylish whimsy is the name of the game in this space. With a black and white, patterned, plush area rug, a gray chair, a small bed, and colorful throw pillows, this room is colorful without being cliché. A combination of various textiles, wall arts, and adorable lettering lend the much-required drama to this set-up.
TIP: Ready to create the perfect space for your child? Find out how much your renovation project will cost in less than five minutes, for free.
Final take
When you're a kid, sharing a room with a sibling can be a real downer. But maybe that wouldn't be the case if all dual-occupancy kids' rooms looked like this. Built-in bunks, bright colors, and a cluster of paper lanterns make this a great space to hang out, and we love how the puzzle-piece rug and bright cushions create the perfect area for video game time.
Read more: 10 Cool Teen Bedroom Ideas That Are Impressive
Cool Kids Bedrooms: Quirky Ideas for a Cutesy Haven
was last modified:
February 16th, 2023
by
Recommended