Ever been disabled by analysis paralysis? Analysis paralysis is when you overthink something to the point where you can't make a decision. My guess is that you know how annoying that feeling is. Analysis paralysis is not uncommon when it comes to choosing a floor that goes well with your interior design. It can be tough to make that decision, even under the advice of an interior designer. This flooring guide is meant to give you some advice from a conceptual standpoint. From it, you should be able to understand the basic thought process that an interior designer will go through when he decides what flooring is good for your house.
Types of Flooring Materials
To understand flooring, you need to know the different types of flooring that are out there as well as the pros and cons of each. These are the umbrella terms that more specific floorings fall under.
1. Carpet:
Pros=Extremely comfortable, cuts down noise, is safe for playing (it's fall-proof for kids)
Cons=Requires a lot of maintenance (getting professional carpet cleans twice a year, vacuuming, etc.)
2. Stone Tile:
Pros=Extremely durable (more durable than granite, sandstone, marble, and other ceramic tiles), really really really gorgeous, not slippery
Cons=Really pricey, each type of stone tile flooring will have different finishes so the durability and care for each type of stone tile is different ie) a polished stone tile will show more scratches than a tumbled ceramic tile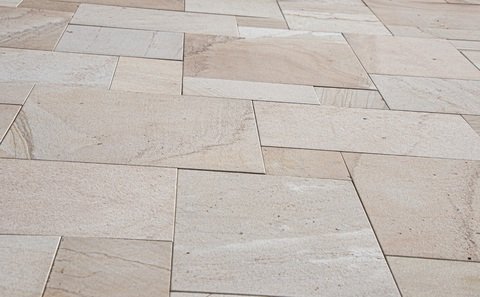 3. Ceramic Tile:
Pros=Lots of different looks and feels/varieties, really durable, if one tile is banged up, you can replace just that tile and not the whole flooring, completely water resistant
Cons=Really hard to install, can be uncomfortable to stand on, can get really cold in the winter, slippery surface
4. Vinyl Flooring:
Pros=Easy installation, you can use it to mimic many different flooring types, inexpensive, long-lasting
Cons=Not durable, not a true natural material, can look manufactured
Read more: LVT flooring cost, pros and cons
5. Laminate Flooring:
Pros=Easy to install/clean, handles normal moisture well, mimics hardwoods well
Cons=cannot sand/refinish, tends to look manufactured and not natural
6. Hardwood Flooring:
Pros=little maintenance can be refinished if damaged, really pretty and versatile looks really natural
Cons=not good with humidity/spills, relatively expensive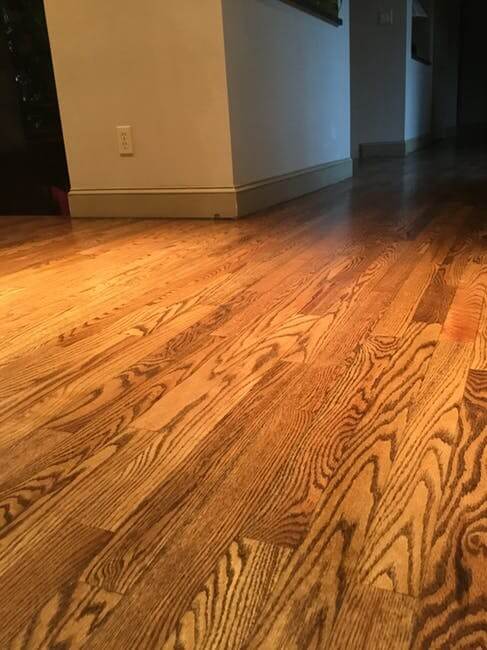 The Design Purpose of Flooring:
The purpose of flooring from a design perspective is simply to lead your eye through a room/provide continuity for your eye with different designs. A lot of times, a change in flooring type will indicate a change in the overall design. Other times, special flooring is put under furniture to highlight the furniture in the room.
Simply put, as you walk from one room to another, your eye needs to follow the design from the ground up. Due to this, you want your flooring to highlight what needs to be highlighted. As a side tip, I would recommend not trying anything too fancy with flooring. You should never be able to see more than 3 different types of flooring at any one time. In general, your flooring needs to make a nice flow from room to room while not detracting from your design elements.
Factors to Consider When Choosing Flooring
Now that you know the materials you are going to be working with as well as the design purpose of flooring in general, it's time to choose your flooring type. Here are some factors to consider:
1. The utility of the floor
Is there going to be food on the flooring you are working with? Are your kids going to be playing there? Is it bathroom flooring? Is the section to be floored underground (where there is a lot of humidity and moisture from the ground around it)? These are some things to consider. The general rule is that you should never put hardwoods downstairs or in the bathroom because of humidity and moisture. You should never put carpet in the bathroom because of bacteria and mold growth. You should have carpet for play areas or big rugs on harder floors. You should have durable materials like ceramic or stone tile if it's a high traffic area.
You don't want a flooring that will chip in the kitchen if something is dropped (ceramic tiles).  You don't want carpet right by the doorway, a hardwood floor is probably your best option (hardwood provides a really good transition from outside to inside and won't collect mud).  If you go through the pros and cons of the material and think about what your flooring is going to be used for, you shouldn't run into too many problems.
Read more: Metal transition strips
2. Cost
This one is so obvious I'm not sure why I bothered to put it on here. I don't think anyone needs an explanation here. If it's out of our budget, don't get it. The only thing that you need to remember is that installation of things like ceramic and stone tile pieces come with a high cost of both material and manual labor.
3. Coloring Schemes
Pick a flooring that isn't really different from the coloring of the room around it. Your flooring should not be the design highlights of your room. For this reason, they shouldn't be drastically different from the mood or color in the room. In addition to this, you want your floor color to match the mood of the room. If the color in the room is more dull and unsaturated then you aren't going to want a deeply rich hardwood flooring. I would also add that the flooring in your room should be the more neutral color in your color scheme. Luckily this is common with floors but there are a lot of richly colored hardwoods and tiles out there that aren't as neutral.
Conclusion:
In conclusion, interior designers think about the different types of materials as well as the pros and cons of each while making flooring selections. They also use this information in combination with design schemes, utility, and cost to give you the best bang for your buck. Never underestimate the power of flooring and when in doubt you are probably safe with a neutral hardwood.
Guide to Flooring Options : Take Hold of Your Interior Design
was last modified:
December 7th, 2022
by
Recommended