12 Painting Mistakes You Should Avoid at All Costs
Painting your home seems simple – just choose your wall color, grab a brush or a paint roller and a can of paint, and get to work. However often, we forget that there's more to it than that. No matter how experienced or careful you are, making a few painting mistakes is inevitable.
For instance, the condition of the walls, including cracks and dirt, can cause difficulties once the application of the color begins. Or, when you're using a lighter color to paint over a darker one, you will need more than two coats lest the previous one shows.
But thankfully, most painting mistakes can be rectified without too much trouble.
Here are the most common painting mistakes, and tips on how to avoid them. Once you remember to not do these things while painting, chances are, there won't be a drip or a spill accident, or an oops moment next time!
1. Not choosing the right paint colors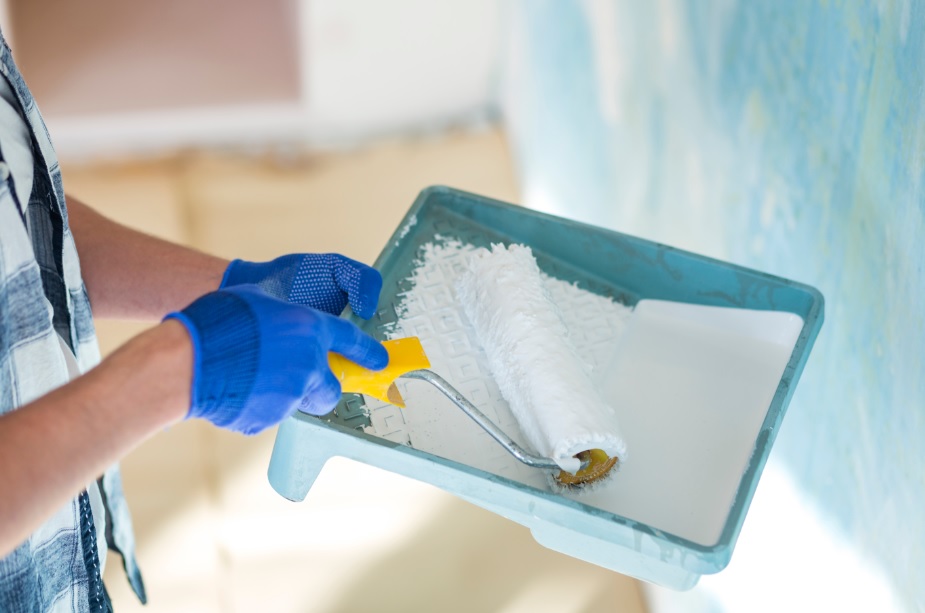 One of the biggest painting mistakes you can make is to choose a paint color from the color strip at the paint store. More often than not, when you start to paint your walls at home, it doesn't look like the hue you picked out.
You can avoid this problem beforehand. Ask the paint store to prepare a small sample that you can take home and try out on the walls with a small brush — in artificial as well as natural light.
2. Skipping prep time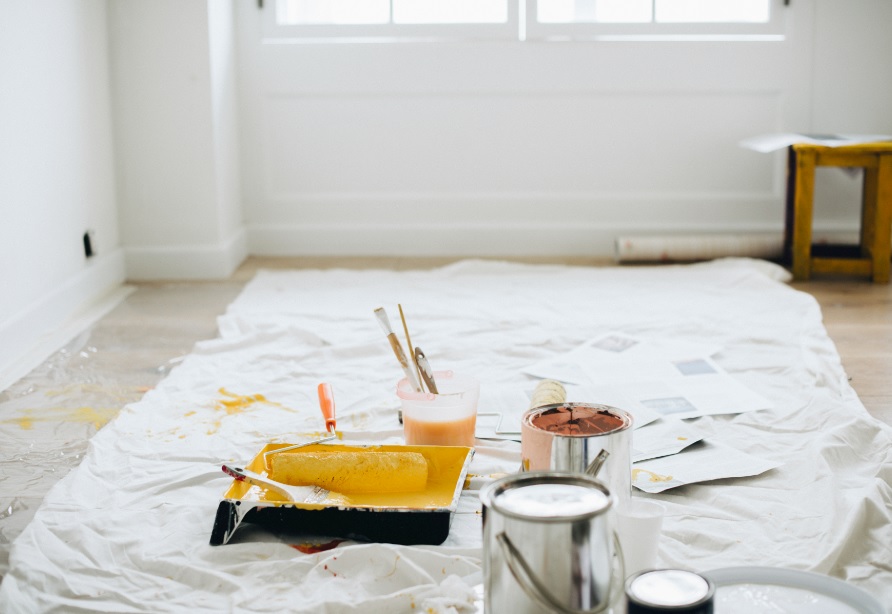 We understand that most homeowners want to jump right into the painting project (they're excited about the new wall color!) — but proper preparation is necessary. Make sure you cover the floors and furniture with drop cloths, cover door knobs with plastic or tape, and remove any outlet and switch covers. These steps can save you a lot of headache and cleanup in the end due to the drips and splatters.
Read more: FAQ about tuck tape
3. Not thoroughly cleaning the walls
Forgetting to clean the area you want to paint before your break out the brushes can be a common mistake — a big misstep! Sure, it's not fun to wipe down walls, but doing so ensures that your paint will go on nice and smooth. If the walls in the room you want to paint have grease on them, a frequent occurrence in a kitchen, you should use a super-strong degreaser. Dilute one measure of the product with five measures of water and apply it with a brush or spray. If the layer of grease is very thick, dilute one measure of the degreaser in only two measures of water.
Remember to ventilate the area thoroughly before degreasing. When applying a spray-on degreaser, be sure to use rubber gloves, a mask, and safety glasses.
How Much Does It Cost to Paint a Room?
4. Ignoring the cracks on the wall
Before you apply paint, you should seal any small cracks or holes in the wall. Make sure the surface is dry and free of particles. Scrape off any peels and fill the cracks. If you've applied any patching compound, make sure it dries completely before you start to paint.
Next, find the right spackle for the surface and type of imperfection you are repairing, and apply it.
Once dry, use sandpaper to smooth the surface and a damp cloth to remove any dust created.
Tip: If you want to make sure that the surface is completely smooth, illuminate it at all angles with a flashlight – the imperfections will be revealed by their shadows.
5. Not using painter's tape properly
Using a painter's tape correctly is a good way to ensure that you get clean edges and a smooth, polished finish. Make sure you seal the tape tightly to prevent bleeding, especially around baseboards and windows. Remove the tape before the paint dries completely or else the dried paint may peel off too.
Take a look at our guide on What You Need to Know About Wall Texture Paints
6. Skimping on paint applicators to save money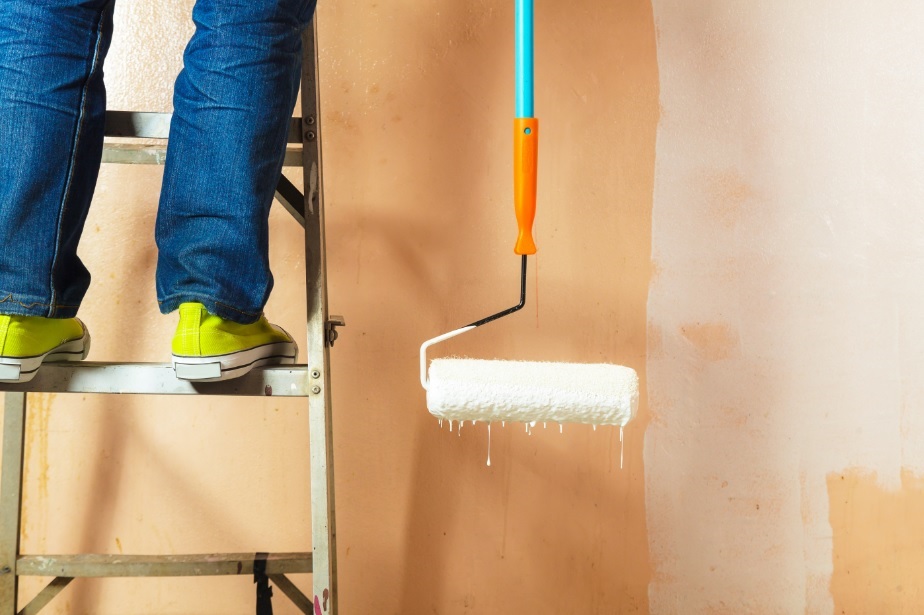 The best paints in the world won't be able to do a good job if you skimp on the paint applicators. Invest in good brushes, paint sprayers, and roller covers. And, use the right kind of brush for your project. For instance, latex paint works better with a brush with synthetic (nylon/polyester) bristles. A natural-bristle brush is a good choice for oil-based paints.
They will give better coverage and save you precious paint in the long run. What's more, if you take care of them, they will last for years to come — ready for your next paint project!
7. Skipping primer
Don't ever miss the primer. Wall primers guarantee maximum surface sealing, maximum paint adherence, and uniformity of application with maximum brightness.
Simply put, a primer offers a strong coating and provides a perfect finish for the paint to stick to. It'll also help bring out the actual color you've picked. These days, you even get a combination of paint and primer in one can.
Check our guide on Types Of Paint Finishes For Your Internal Walls
8. Not neutralizing the existing color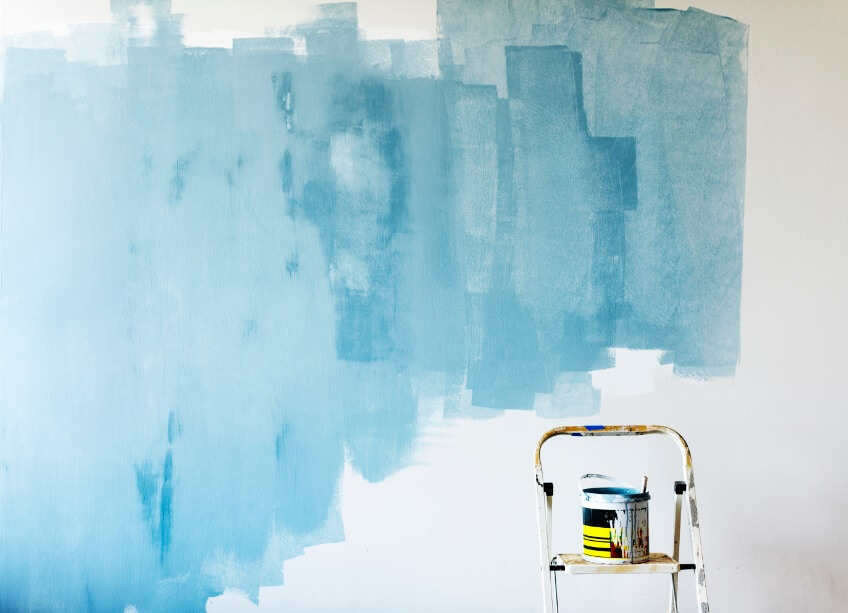 Although there's no limit to the number of coats you apply, it's always best to not waste paint trying to cover a darker shade with many unnecessary coats. If the wall you're going to paint is a strong color and you want to apply a softer hue, you must first neutralize the previous color.
First, apply a primer. Doing so will help override the strong color. Apart from sealing the surface, the primer will serve as a bonding agent. Allow the primer to dry for a couple of hours before painting the wall with the new color.
If you're using a paint similar to the previous color over a wall, then you don't generally need to prime the existing paint. Simply clean any grease off the wall and repaint it with at least two coats.
Also, when you're painting over a coat of varnish or a glossy finish, sand the wall thoroughly. Or you could wipe the surface with a liquid deglosser. It's much easier and more effective.
9. Not considering the quality of paint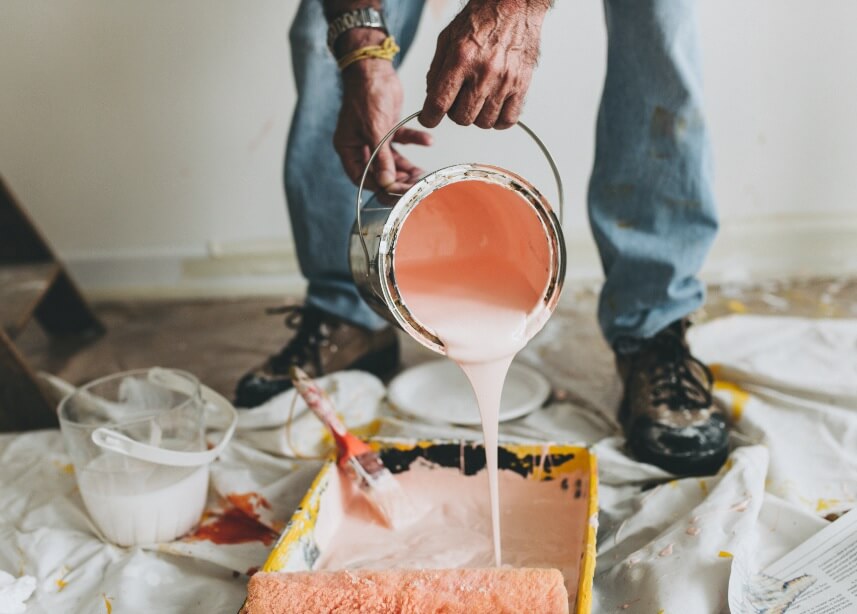 If you're worried that your paint doesn't cover well, the problem could be with the quality of paint you're using. It could be defective, old, or of a low quality. If you're stuck with a below-average type of paint, try priming the walls with a stain-blocking primer and let it dry. Then paint over it to see if that helps.
10. Not buying enough paint
Imagine, you've painted just half the total number of walls and the paint runs empty. No one wants to run to the local home improvement store mid-project, overalls covered in paint! Do your homework and estimate the paint usage correctly. Generally, a gallon of paint covers 400 square feet.
Most importantly, the color you buy on your second trip may differ slightly. Especially if it's mixed at different times.
11. Not keeping a tab on the weather
Weather and humidity play an important role in the success (or failure) of your paint job. Especially if you're doing an exterior paint project. Ensure that you check the local weather report regarding rain forecast and humidity before you get started. High humidity levels and rain can slow down drying time for water-based paints. Consider waiting out the period.
12. Not waiting for the first coat of paint to dry
If you apply the second coat a little too soon, it could result in peeling paint or visible brush strokes. Waiting for the first coat to dry completely is also important because that way, you can see the streaks or the roller marks clearly after the paint has dried.
You can apply the second coat after sanding it lightly in order to remove the drips and humps. It's best to follow the paint-specific instructions regarding drying time between coats. If you're still unsure, wait for a minimum 24 hours period.
Read more: 9 Best Children's Bedroom Paint Ideas as per Color Psychology
12 Painting Mistakes You Should Avoid at All Costs
was last modified:
July 7th, 2022
by
Recommended