Four Popular Exterior Trim Styles That Are Evergreen
The kind of exterior trim styles you use on your doors and windows is important. Your selection will have the ability to transform your home from just another house on the street to architectural beauty. If not done already, installing the right kind of trims and moldings should be a priority on your next planned home renovation.
Find the trim style that showcases your home's design. It will instantly beautify your house and make it look neat as well as structured. For those who are still confused about exterior trim styles — here's a quick lowdown.
Exterior trim styles, or casings with milled wood, are fixtures that are attached to the outside wall around a window or a door. Their job is to cover any unfinished space between the window or door frame and the wall. Apart from this functionality, they add a decorative appeal to the house.
Advantages Of Exterior Trim Styles
These exterior trim styles complement your home features such as siding, doors, and windows and render a particular architectural style or decorative appearance. What's more, they act as an air and moisture barrier too. The most important advantage of these trims is that they increase the energy efficiency of your house.
How To Clean Vinyl Siding? Take a look at our guide!
According the U.S. Department of Energy, this is a huge benefit and results from the way these trims minimize the window and door gaps — preventing air to enter or escape the home easily. They help to mitigate heat loss, reduce drafts, and make your home more comfortable. Also, do keep in mind that a good door or window trim style prevents the backflow of water between the architectural components of a home.
Read more: Interior Window Trim Styles.
Types Of Exterior Trim Styles
Interestingly, in the United States, a good way to select your exterior trim style is to match it to the style of your home. So, depending on your house design — Ranch, Craftsman, Provincial, or Colonial — you will also have corresponding trim styles. So, it follows that the four kinds of exterior door and window trims are Ranch trims, Craftsman trims, Provincial trims, and Colonial trims. Having said that, do keep in mind that trim styles can always crossover to fit any house's exterior features.
How Do You Identify The Style Of A House?
It's easily possible to determine which type of home you have by its exterior style, roofing, the number of floors, and the decor.
Colonial homes are generally rectangular and have a second floor with bedrooms. They are both tasteful and formal looking. Ranch-style houses are typically single-story with a built-in garage. Craftsman homes have a wide front porch with a second floor (but with low-hung eaves). Provincial-style houses, on the other hand, are usually brick or stone, with a lavish, intricate design.
Do you want to have all your facts straight for your upcoming renovation process? Take a look at our ultimate guide on home remodeling.
Four Common Exterior Trim Styles
These door and window trim styles accentuate your home and increase the functioning of your window system. Let's explore all four of them in detail.
Colonial Trims
As mentioned earlier, these trims are used in colonial-style homes to give them a more traditional, simple yet elegant look. Apart from the distinct side-gabled roof and the beautiful even-spaced double-hung windows of such houses, these trims too can add a lot of value to the stylish real estate. There is a beautiful symmetry and confident formality that these trims exuberate.
You may choose flat casing with a crown and sill, angle-shaped trim or curved exterior window trim. There are various options for curved window trim. Our experts suggest pine as it is perfect for a slight curve since it's quite flexible in nature.
The best part about colonial trim is that it goes well with any house that features multi-paned windows in a symmetrical grouping.
Craftsman Trims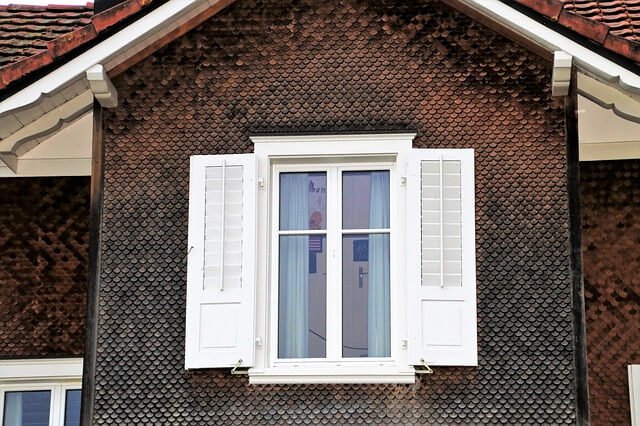 These trims are perfect for a Craftsman-style or Prairie-style house or bungalow with wide trim and window groupings. The lines are simple and clean. They are tailored in such a way that they are rich with minimally ornamented door or window casings.
They are easy to build and install too. Even if you are a beginner, all you need is accurate measurements and cuts, and you're ready to shoot casings into place with a handful of well-placed fasteners.
Any kind of house with thick columns on the front porch and a low-pitched roof can look beautiful with these simple but elegant design style of trims. Our experts are of the opinion that a multi-piece trim will create the perfect Craftsman-style window or door trim.
Ranch Trims
As the name goes, these trims are traditionally used on Ranch-style houses. These homes have a casual and low profile — typically featuring a "U" or "L" shaped layout. To enhance this look, Ranch-style trims too have a modern look with little embellishment.
They seem to flow naturally into the clean lines of this architectural style. These are generally undecorated or routed with a modest design cut into it. Most of such houses have large, horizontal glass spans. Therefore, the door and window trims are kept simple and unobtrusive.
Provincial Trims
If you own a country-styled, or French provincial homes — with steep roofs, brick or stone exteriors, or porches with balustrades — these trims are what you should be looking for. They are a classic style that is practical and unassuming — adding a timeless charm to your house's exterior. Offering a balanced and symmetrical profile to your homes, these trims have more intricate architectural features. When you love a country elegance as opposed to a city-modern style — especially on larger homes — provincial trims are a good choice.
Other considerations
Once you've chosen the right trim style in keeping with your home's architectural look, your work is almost done. But, not over. The next step is to look at some other considerations such as:
Exterior trim options include materials such as wood (fir, pine, redwood, and cedar), low maintenance aluminum, composite that are durable and maintenance-free, or synthetic materials, bamboo, or vinyl.
You may choose options that match your house's door and window frame colors. However, according to experts, you can increase the visual appeal of a house with contrasting colors.
Customization, if required
If you have a highly-modern house or need a makeover for your Victorian home, you may opt for custom trims. You can get them manufactured according to your unique decorative requirements.
Final Thoughts
Exterior trims are a great way to reflect your personal taste and create the perfect look for your home. Do consider them important when planning a window replacement project or when looking to update your home's curb appeal. These exterior windows and front door trim styles can and will make a big difference in the overall look of your home.
Read more: Cased opening
Four Popular Exterior Trim Styles That Are Evergreen
was last modified:
October 14th, 2022
by
Recommended