The outside of your house and the pathway leading to the main door are unique introductions to your home. Together, they provide the first impression of your home. And, you would want it to be as perfect as possible. We have put together an enviable list of front walkway ideas that will definitely increase your house's curb appeal manyfold.
Keep in mind that your front pathway should be stylish, practical, and pleasing on the eyes. The shapes, textures, colors, walkway ideas and designs that you choose must complement the architectural style of your home and also the front yard landscaping. A cohesive look and feel are essential for a great-looking house.
Any realtor worth his salt will tell you that houses with great entrances are easier and faster to sell. And, they fetch more money. The reason is simple. A pathway significantly boosts the aesthetic appeal of an outdoor passage.
The best part is that this area does not require too much effort, labor, and money. You must know what you want and communicate your requirements to a landscape contractor. You can then work in sync to go towards that goal.
Today, there is an enticing collection of designs, materials, and layouts to choose from. Stained or stamped concrete or pavers, flagstones, brick, raw wood to recycled materials and granite tiling — you have a wide variety of landscape designs. Now that you're ready to create a remarkable home entrance, let's start with these front walkway ideas.
1. Give a linear design with broadmour pavers
Broadmour pavers, unlike other pavers, can withstand extreme loads and traffic. What's more, they create a unique, contemporary look for walkways. We love the clean-cut linear walkway with shrubbery on either side, looks quite chic.
2. Bring in variegated Serano pavers
These flat surfaced, large formatted pavers are available in random styles and sizes. The best part is that they complement any modern or contemporary style home. You can use variegated ones for a unique walkway look.
3. Create a welcoming walkway with flagstone
Flagstone always makes for a classic front walkway. The large, flat slabs (usually 1-3 inches thick) are typically laid directly on soil or a bed of sand. And, they are available in various colors and patterns. There's something very charming about their irregular shape — rendering a rustic feel to space. The best feature is that because of their slightly roughened surface, they provide good traction — especially when wet.
Read more: Pros and Cons of Using a Realtor When Buying or Selling a Home
4. Get a strong foundation with concrete
Concrete walkways require virtually low to almost no maintenance. The durability saves significant time and money in the long run. And, if customized concrete is more your style, you can go for stamped concrete. Here, you can design the poured concrete to match your outdoor by simply stamping it in unique patterns.
5. Add style quotient with Victorian pavers
There's something so beautiful about these mid-century brick pavers. Made with a unique blend of clay, they are cut by a wire to give a finished look. You can use these precisely machine-pressed Victorian bricks to create the most awe-inspiring walkways. We like how the designer has used loose stones on either side to give a timeless appeal of European cobblestones.
6. Go for brick pavers for a traditional look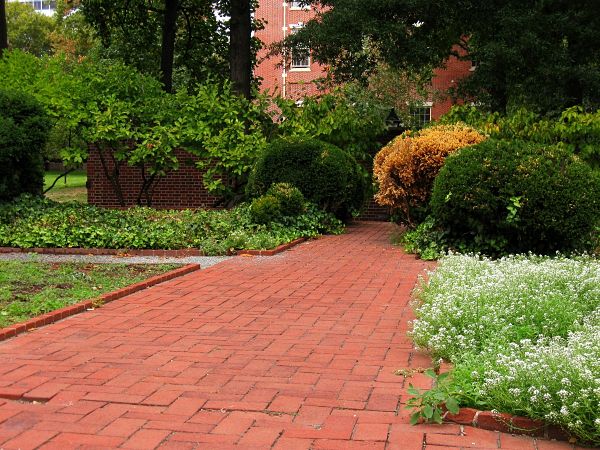 Brick pavers make for an excellent entry to your front door. They look stately and especially good in traditional settings. The most important advantage of a brick walkway is that it naturally has a slip-resistant surface. Aesthetically too, bricks provide a brilliant splash of red to a walkway –adding to its charm.
Read more: Brick walkway maintenance tricks
7. Use stepping stones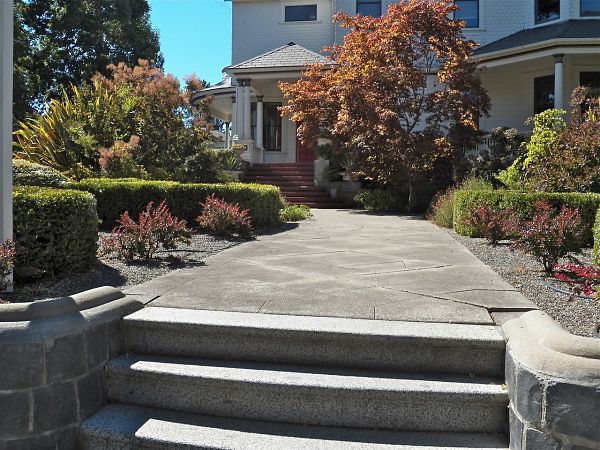 Have a steep walk to your door? Create treads with stone. These steps can provide a hint of timeless luxury to your landscape. You can either go for an aged look with natural, irregular stones or a clean-cut set of steps at the front door. They are sure to make a strong statement and a dramatic focal point for your landscape — accentuating the natural look of your property.
8. Mix and match with brick and concrete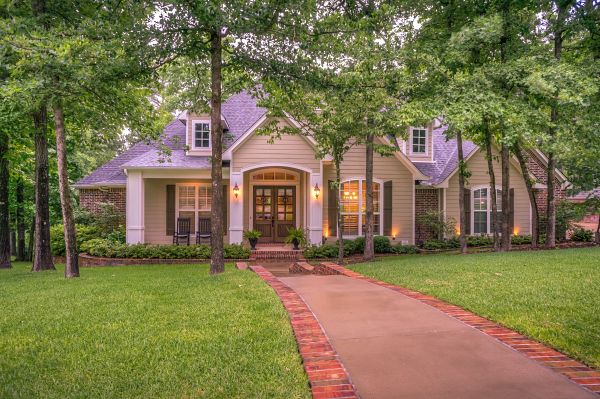 A great walkway idea can organically draw people to your house. Here is a design that is beautifully nestled in the midst of a well-maintained lawn. The concrete path is sandwiched between rows of bright-red brick pavers. The look is elegant as well as welcoming.
9. Create a beautiful curve with gravel
Love the satisfying crunch of pea gravel under your foot? Opt for a gravel walkway, especially if you have a house in country and cottage settings. Make sure that you have a solid edging that keeps stones from escaping. Furthermore, you can use landscape cloth underneath to keep weeds under control.
Read more: Exposed aggregate patios
10. Experiment with mix material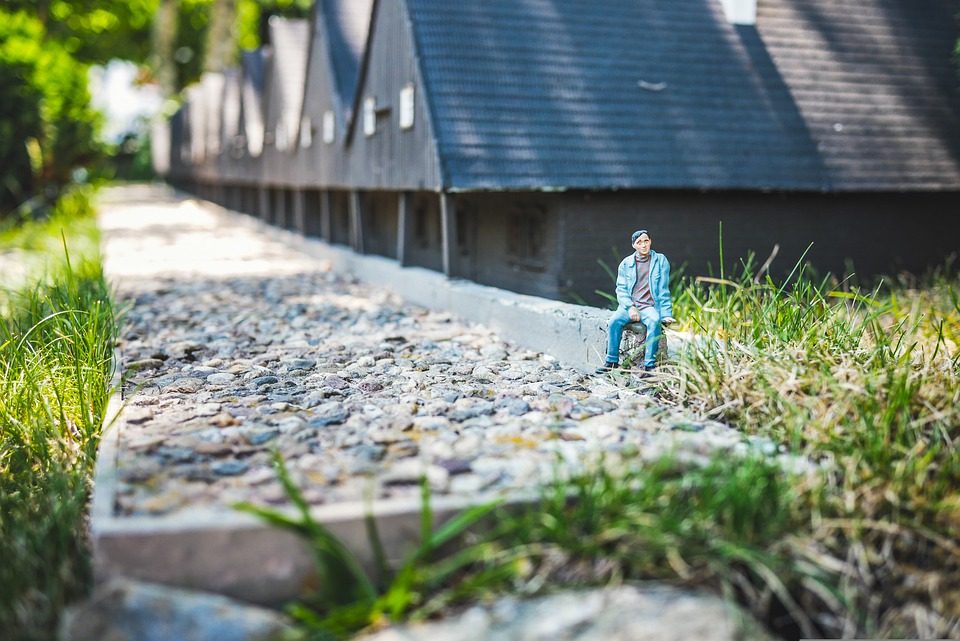 Combining different elements is a great way to give walkways (and the front of your house) personality. This geometric design brings together stones, pea gravel, and edging of color-matched landscape rocks. A beautiful shrubbery keeps materials from wandering and makes sure that the walkway design stays in place.
Read more: Front step design ideas
11. Create a cozy pathway with wood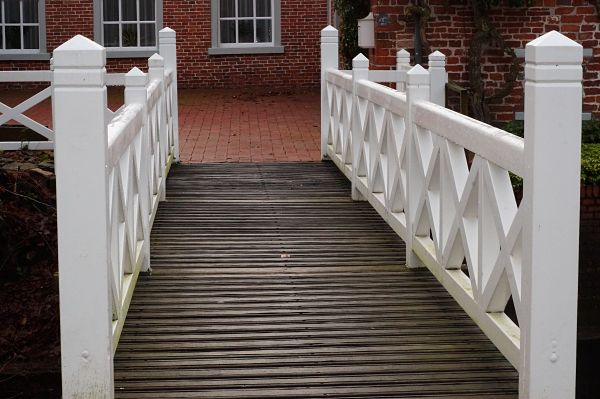 Who says a walkway has to be plain-Jane? This front entry is also used for greeting guests and simply relaxing at the end of the day. For that lovely fairy tale charm — opt for a wooden walkway. Wood is always warm and welcoming. Just make sure that you use a weather-resistant wood such as cedar, teak, or cypress. Just remember that you'll have to apply a sealer and stain every year.
Conclusion
Now that you've perused through some great front walkway ideas, it's time for you to keep these important points in mind before you choose the best one.
Important considerations
Your front walkway should complement the design of your house.

It should add value to your curb appeal.

It should have a non-slip surface. Choose materials that are safe and practical.

Make sure that the pathway is not less than 4 feet wide at any point.

It should extend along the driveway 16 feet to allow easy access from a car parked in the driveway.

The walkway and its materials should be able to withstand severe freeze-thaw cycles.

Ideally, a walkway should be stain-resistant and unaffected by most household chemicals.

Ensure that it does not accumulate too much de-icing salt

It should be durable, offering long-term surface performance
Keeping all our front walkway ideas in mind and the above pointers, we hope you'll choose the best walkway for your house.
Read more: 12 Stylish Outdoor Patio Flooring Ideas
11 Beautiful Front Walkway Ideas to Add Value to Your House
was last modified:
November 28th, 2022
by
Recommended