The way you style your front yard tells a lot about you. Apart from enhancing the curb appeal of your house, it gives a nice peek into what lies inside. A beautiful yard has a magnetism that wows those who see it and adds to your home value. If you too want a stunning landscape but don't want to break a bank, we have 12 front yard landscaping ideas on a budget to woo you.
A restricted budget doesn't mean that you have to settle for mediocrity when landscaping your yard. There are plenty of creative ways to revamp the area in minimum landscaping costs. The best part is, you can be as fun or inventive as you want to be. Plus, you don't have to necessarily hire an architect or professional landscaper to create interesting layout designs.
All you need is a little ingenuity to create the most beautiful and cheap landscaping ideas. And, get a gorgeous outdoor space that everyone will appreciate! Want some inspiration for your front yard design? Here are some great front yard landscaping ideas on a budget!
1. Replace a high-maintenance lawn with rocks, gravel, and pebbles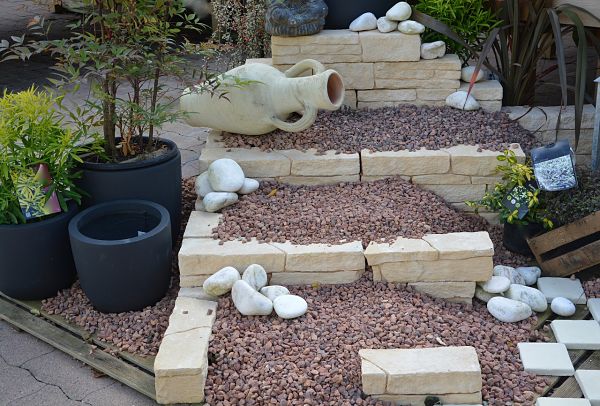 Replacing your entire front lawn with a combination of pebbles, gravel, and rocks will not only help you save on maintenance costs, such as watering and sodding, but also make it easier for you. Imagine, no grass for you to cut every week!
You don't have to fill the entire space up with gravel or rocks, you can easily create a landscape design to give your garden a decorative property and spruce up the area.
Keep in mind that gravel is perhaps the cheapest landscaping material — at $1 to $3 per square foot or $10 to $50 per ton. Of course, the total cost of gravel depends on the rock type, your landscaping project, and the total volume of gravel used.
Read more: 12 Practical and Stylish Outdoor Patio Flooring Ideas
2. Install a DIY water feature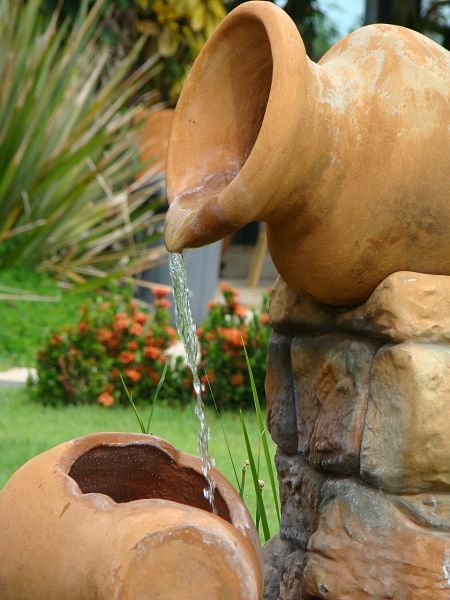 We know for a fact that every homeowner dreams of a spectacular yard with a pond or stream running on their property. But, it's a dream that doesn't come true due to a tight budget. Well, not anymore.
With the right front yard landscaping, you can install a water feature that doesn't take a ton of money. Look how this simple idea does wonders for your outdoor aesthetics.
3. Design repurposed planters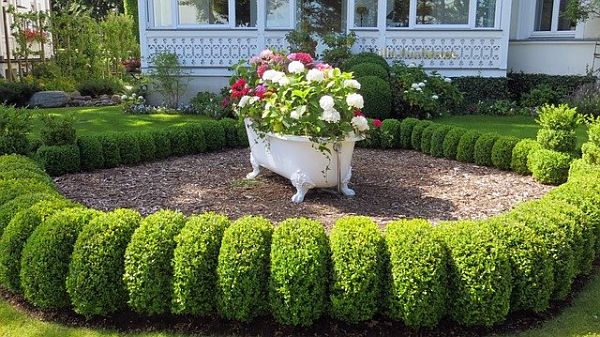 You can turn your old furniture or appliances into something unique and fabulous. We love the way this old bathtub has been repurposed as a planter. Not only is this concept super cute, but it's also a great way to keep your plants protected from pests such as rabbits or rats.
4. Create a focal point with a wooden path or a small bridge
A small foot-over bridge or a pathway made with reclaimed pallet wood will add some character to your front yard, especially an underutilized corner. And, constructing such a point of interest need not be an expensive affair. A simple DIY landscaping will create the most stunning focal point.
5. Get whimsical outdoor lighting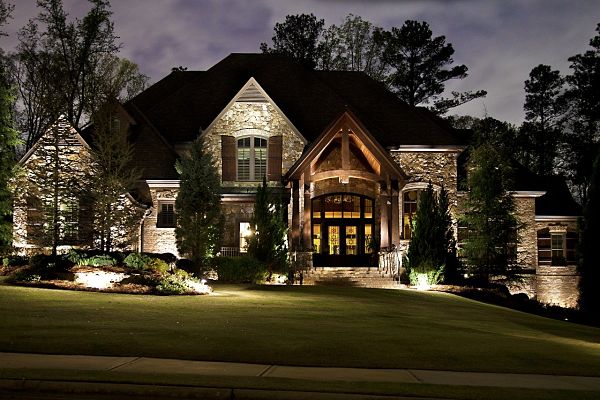 Want to make your front yard look great and party-ready at all times? Lighting your front yard is one of the most inexpensive ways to landscape it. Not only is landscape lighting aesthetically pleasing, but it also ensures that every corner of your yard is visible after sunset.
The best part is, you can do so much with outdoor lighting. With many lighting options available — such as LEDs, fairy lights, and solar lights — you can have a well-illuminated yard without increasing your electric bill unrealistically.
Read more: Why garden solar lights won't work?
6. Add some pavers
Adding raw-cut pavers to your front yard is one of the most practical and cheap garden landscaping ideas. You can create an adorable stepping stone path — especially useful if your yard experiences high traffic from friends and family.
This type of path, if incorporated into an already existing garden, will give your house a lovely whimsical, homey vibe. You can design interesting shapes, sizes, and styles.
7. Bring in the window boxes
Adding beautiful window boxes with flowers is again one of the best and easiest gardening ideas out there! Your bloom boxes need not be expensive store-bought garden accessories. Instead, you can design your own with old wood already laying around the house.
These boxes give the area, and your house, a quaint garden look — just like in the fairy tales.
8. Plant some hydrangea or rose bushes
Whether you have a big yard or a small front yard, greenery, and lots of it, does wonders for it. Plant some beautiful hydrangea or rose bushes and witness how they spruce up your curb appeal. The front of your home will come alive with these bright flowered plants.
9. Create a flower bed with a retaining wall
This easy and cheap landscaping idea will pretty up your flower beds some more. The defined flower beds will create visual areas of interest and, most importantly, give a cleaner look to your yard.
You can opt for perennials that last a solid two years such as daisies, lavenders, and catmints. Since you don't have to replace them every year, it will save you a nice bundle of money.
10. Add a brick or stone border to your yard
You can create lovely low-cost borders to your front yard landscaping for a well-groomed look. Opt for cheap landscaping border ideas such as stones, bricks, plastic barriers, or border boxes. The possibilities are many.
The borders will provide perfect demarcating lines between your flower beds, garden beds, lawn, and other plants.
11. Create a landscaping island
Most landscapers swear by berms — the small mounds that break up a monotonous yard. You too can create this mini oasis with rocks, stones, and live plants. Give the berm a border in order to make it more interesting and make your yard stand out.
12. Grow your own vertical garden with creepers
There's something very homey about displaying bright green creepers in your front yard. It's a great way to create a magazine-worthy cottage-like space. The hanging greenery looks almost like a garland — wrapping along the front porch.
Such a vertical garden successfully blends your house and yard into one cohesive concept. It's ideal for small spaces as it doesn't take up a lot of floor space. And, you can have a garden without necessarily having a green thumb!
Last words
We hope these eye-catching and creative landscaping ideas for your front yard (or even backyard landscaping) will help improve your curb appeal without making you spend too much money or effort.
Once you know which design and style you want to add to your landscaping, you'll surely create a beautiful front yard on a small budget. After all, just like your home decor and home design, your front yard too deserves serious planning — and lots of TLC.
Read more: Backyard Landscaping Ideas
12 Stunning Front Yard Landscaping Ideas on a Budget
was last modified:
November 2nd, 2022
by
Recommended