When you calculate the cost of your garage renovation, there's one important cost factor to consider — your garage door prices. Depending on their build, type, style, and material, these doors arrive in a wide range of prices — varying from a few hundred to thousands of dollars. So today, let's answer some basic questions about the costs of garage doors.
What is the average cost of a new garage door?
The standalone cost of a new garage door can range from $300 (for a basic model) to $3500 (for the more high-end models). This price will, however, vary according to your zip code, local labor charges, material transportation costs, and other related attributes. Let us explore these factors in detail.
What is the cost breakdown for installing a garage door?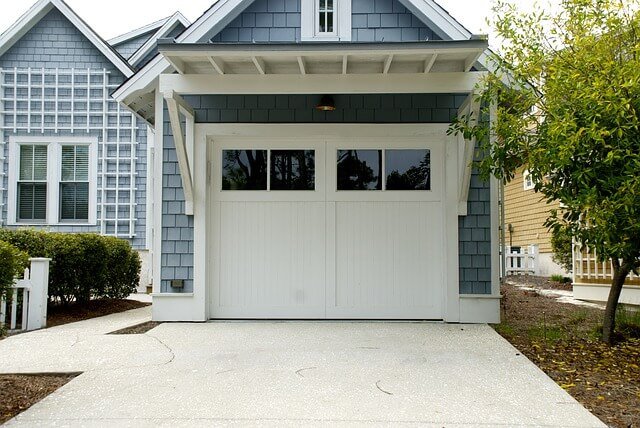 Pixabay
Size
Garage door prices definitely vary with the dimensions of the installed door. For example, a double-width door will obviously cost more than a single-width model. Now, if you prefer reducing your costs on the door-purchase front and go for the latter option but your opening is for a two-car garage, then think about the long-term costs. You will have to make huge modifications to the structure of your entryway. And that might lead to more expenditures. Therefore, make a wise decision, after weighing all the pros and cons.
Hardware
Garage doors can come with several add-ons — like good-quality rollers for quieter opening and closing, spring cycles, reinforcement struts on the door, and configuration systems. Each of these elements shall affect the ultimate price of your door(s).
Insulation
An insulated door increases energy efficiency and hence, is considered a good investment. The cost of insulated garage doors depends on the R-value — which again depends on the layers of polystyrene insulation or polyurethane foam and the effectiveness of the weatherstripping system.
Material
Different types of doors installed in your garage are made from various categories of materials. Woodgrain-finished steel — the most commonly used material — is 10% cheaper than aluminum. Again, if you go for a thick, heavy, strong sheet-metal steel door, you might have to spend around 50% more than the regular model.
Style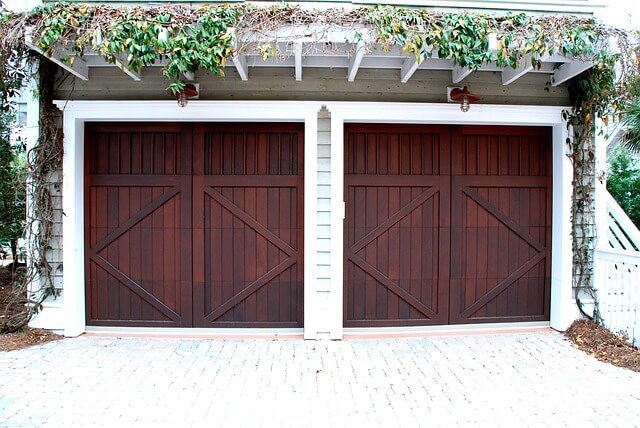 Pixabay
Garage door prices are also governed by their style and design. For example, doors with PVC overlays usually cost double than ordinary models and those with embossed carriage house styles may be priced at approximately 15% more than regular doors.
Additionally, adding windows to your doors can increase the price by 25% to 50%. Also, color plays an important role. Depending on whether you choose a standard or premium range, your per-square-foot price shall vary.
Moreover, if your garage door doesn't come with an electrical opener, make sure to add it. A new opener will cost you around $300 to $500.
Installation
The effectiveness and long-term performance of your garage door will definitely depend on its installation process. Therefore, always hire professional installers or experts to get the job done for you. Remember, this is not a DIY project. Get bids from at least three different agencies and ensure that their total price is inclusive of door type, installation fees, and electrical wiring.
Extra costs
Apart from the above cost factors, also include the following expenses:
Costs for dismantling and removing your existing door
Expenses for installing a new door frame
Charges for covering the frame with aluminum sheets or other apt materials
Final take
Every homeowner will need to replace his garage door once in a while, as part of his home improvement project. Since they are prone to wear and tear by outside elements, they shall gradually get damaged with time. And therefore, knowing the basic attributes of garage door prices is necessary to help you stick to your budget. However, garage door replacements are not an absolute necessity if your door is not functioning properly. In this case, check if you can cut down on the expenditure of purchasing a new door by simply conducting some basic maintenance, service, and repair work. At times, some mere patching up and a good paint job are all that's necessary.
However, if you are certain that you do need to replace your garage door, shop around and compare garage door prices from different sources. Contact the best, reputed contractors in your locality and ask for a written quote. This method enables you to get a precise estimate for your future costs. Once you settle on the budget and opt for a particular agency, you can go ahead with your project.
Garage Door Prices: Everything You Need To Know
was last modified:
May 23rd, 2022
by
Recommended