A garage door takes up a bulk of your outdoor space and hence, forms a major part of your property's curb appeal. Whether you are a new homeowner or simply upgrading your existing garage, you can replace your old garage door with a new one — which should be the perfect amalgamation of style, function, and affordability. And in order to help you with your purchasing decision, we have compiled this comprehensive garage doors buying guide. Read on to understand how you need to consider multiple factors before picking the correct model for your home.
Factors to consider before buying a garage door
Style
Obviously, the first factor that you should consider while buying a new garage door is its style. It should meet your personal preferences and should go with the rest of your house's architecture. For example, if you have a contemporary design, you can go for modern doors which offer a full view. If your home features Victorian architecture, then maybe, carriage-house doors should be your go-to choice.
Panels play an important role in garage door design. Check out the major panel types that are available in the market:
Carriage house panels: This category features traditional, raised panels which go perfectly with vintage, classic home designs
Flush panels: Slightly textured and flat, flush panels match the surrounding walls and don't bring too much attention toward the door itself
Long raised panels: Doors installed with long raised panels, lend depth and give a distinct appeal to your garage
Short raised panels: Featuring intricate, detailed trims, short raised panels are perfect for Victorian, colonial, or Tudor-styled homes
Read more: A Quick Introduction to Garage Door Windows
Type
There are four popular types of garage doors — swing-out, swing-up, roll-up, or slide-to-the-side. Swing-out carriage-house doors also termed sliding barn doors, are perfect if you want an exposed, highlighted ceiling. On the other hand, sectional roll-up models are the most common option among homeowners. Slide-to-the-side doors are ideal if you have minimum head space.
Garage door materials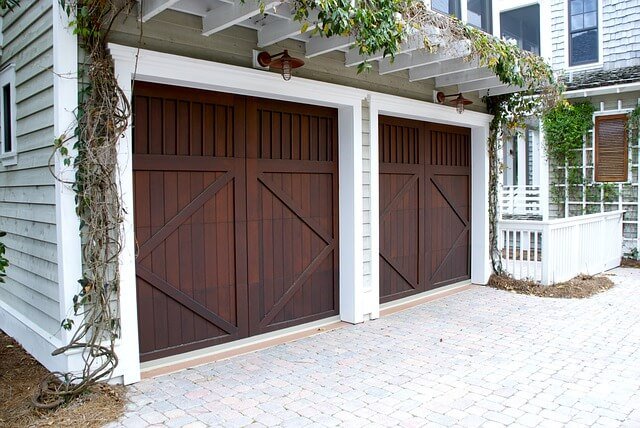 Pixabay
Garage doors are manufactured from various materials. Below is a brief about the most common materials used to make these doors
Wood
Real wood with its fine wood grain patterns, natural charm, and authenticity, is the perfect choice for homeowners who want a sophisticated look for their property. It is robust, hard, and has good insulation properties. However, do remember that wood doors need frequent upkeep, polishing, and refinishing as they are prone to weather- and moisture-related wear and tear. You can get wood at various price ranges, depending on their frame weight, insulation level, and durability. You can also choose wood garage doors from various types, including plywood, hardboard, mahogany, redwood, or cedar.
Steel
Steel is a good alternative if you want to incur minimal maintenance frequency and costs. This material is also affordable. However, bare steel does get rusted, is susceptible to scratches, and can also dent. You can counter these effects by going for strong, galvanized steel garage doors with 24- or 25-gauge panels and featuring a fiberglass overlay. Repaint them every year to ensure that they last long.
Plan your door refinishing properly with our estimator tool.
Aluminum
Cheap, light, robust, and rust-resistant, aluminum doors are also a popular choice. Currently, you get sturdier doors which feature heavy-duty extruded frames and dent-resistant laminated panels. If budget is a concern, then go for aluminum doors which comprise frames and panels made of high-density polyethylene. When you have an expansive double door, then aluminum is the perfect option. This is because it is lightweight and doesn't cause strain on your operating mechanism.
Garage door prices
Of course, budget is an important factor for most homeowners when they calculate their total garage renovation cost. And the cost of your new garage door plays a prominent role in estimating this number. The standalone price of your garage door will depend on several factors — material, insulation, style, hardware, type, and size. It can vary from $300 to $3500, depending on your zip code and local labor costs. For a lower price, you can get a single-car, non-insulated garage door. This model shall suffice your requirements if you want a moderate door and don't give much preference to style, longevity, or insulation. However, if you want an attractive, durable, and heavily insulated door, then you can opt for the more expensive versions — such as customized, energy-efficient, and premium-constructed models.
Read more: Garage Door Prices: Everything You Need To Know
Hardware & construction
Garage door hardware can also revamp the look of your door. Hinges, handle sets or simulated windows — each of these can enhance its appeal manifold. Consider the garage door opener. Pick one that matches your specifications and is compatible with your door.
Additionally, consider the construction type, which is available in three major options:
Single-layer: This construction type comprises an exterior layer made from steel, fiberglass, or engineered wood. This is the most basic type, light, inexpensive, and features easy operation of springs. However, they have low insulation values
Double-layer: Double-layer construction comes with two layers — a polystyrene board, covered with an outer layer. They offer insulation levels between R-4 and R-7
Premium: Made from high-quality, extremely durable materials such as steel, wood or fiberglass, this construction type features a thick inner layer of polystyrene or polyurethane insulation. Quite strong, they offer insulation levels of R-15 or more.
Always invest in a properly insulated garage model. Considering the size, it is important that you choose a door with sandwich construction, for maximum energy savings.
Conclusion
Picking the perfect set of garage doors is important since this outdoor feature can make or break your curb appeal. When your property has a front-facing, attached garage, your wide, expansive garage door is the first thing that visitors will notice. Hence, a dilapidated, worn-out door might be a great let-down. Therefore, decide carefully when you choose this feature during your next garage renovation project.
Read more: Choosing Garage Lighting: 10 Important Factors To Keep In Mind
Garage Doors Buying Guide: All You Need to Know
was last modified:
August 30th, 2022
by
Recommended