When it comes to garage floor plans, you could have a closed space such as an attached or detached garage or a semi-open with just a roof and no walls.
Whichever garage floor plan you choose must be compatible with your house plan and enhance your house's curb appeal. Make sure your garage is easily accessible, ventilated, and illuminated.
A garage is used primarily to store cars in a home. Of course, you can also have a garage workshop that serves as a repair or a hobby room. Or, use the space to keep your car as well as home maintenance items, tools and appliances, and other supplies. You can also design a home gym or a home office space. And, if you have extra space, even as boat storage or an RV garage!
Read more: Your woodworking workshop – Not a garage anymore
If you're utilizing your garage as much more than a space to keep your vehicle, you can have some of the most creative garage designs and ideas. Our in-house expert architect has interesting car garage plans to inspire you towards your next garage remodel.

Garage floor plan: 2 workshop areas, storage space, and ¾ bathroom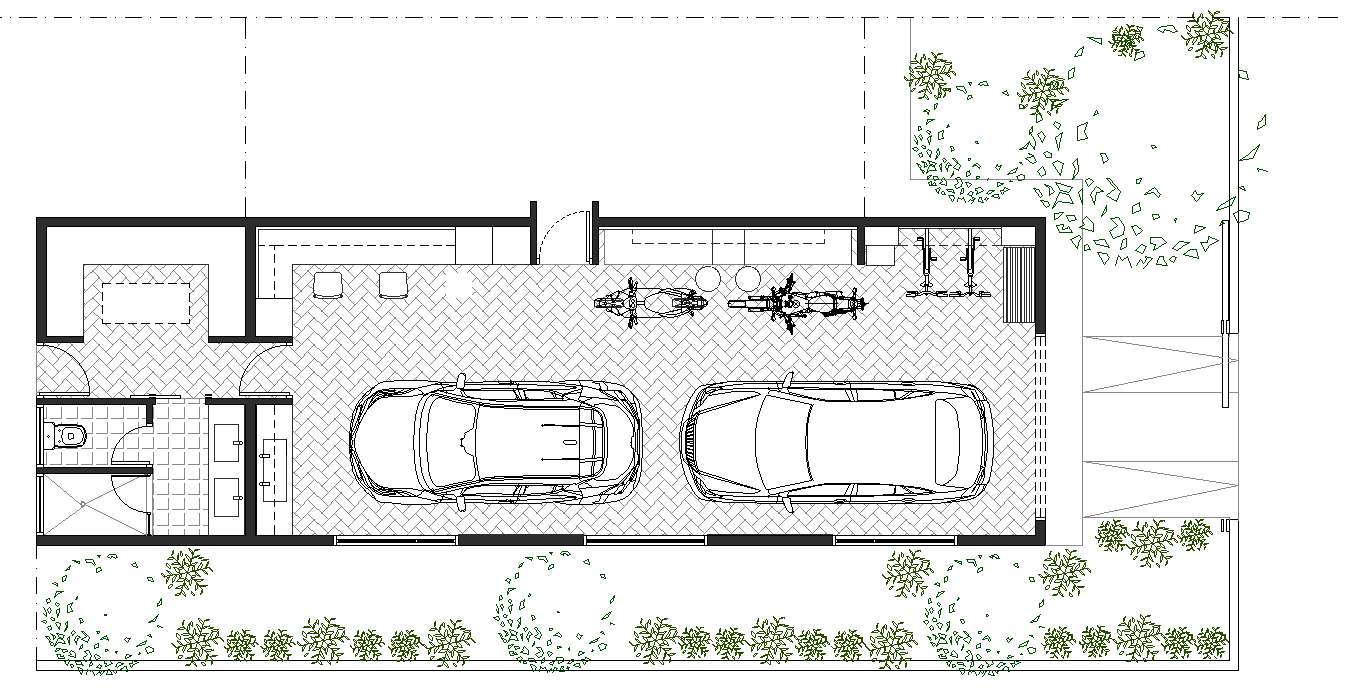 This elaborate layout consists of a 2-car garage, parking space for four bicycles, two work areas with storage, a dressing room, laundry room, a bathroom, and a pantry. It's connected to two entrances, one on the left — leading to the patio and terrace, and the other to the house — on the main floor.

Dimensions: 52ft x 16.24ft
Height: 10.50ft
Total Area: 844.50ft²
Minimum circulation: 1.97ft
Maximum 4.27ft
Home Renovation Cost Estimator
Sorry, we currently don't have that project at our disposal.
---
You can take a look at our most popular ones:
Water Heater Installation
Exterior Door Replacement
Install Recessed Lighting
Exterior Door Installation
Interior Door Installation
Interior Door Replacement
Views of the complete floor plan

Side view from the bathroom and parking area to the garage workshops, storage, and dressing room.

Side view of the access to the house to the parking lot, laundry room, and pantry in front of the bathroom.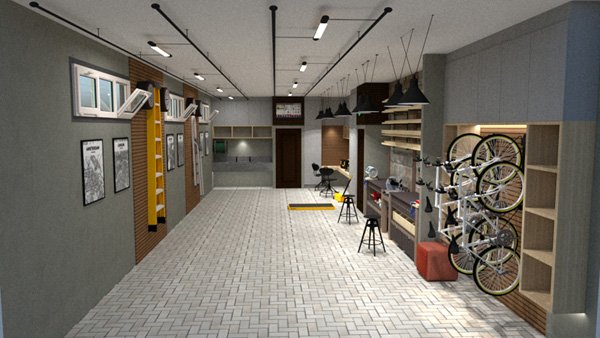 View from the garage door.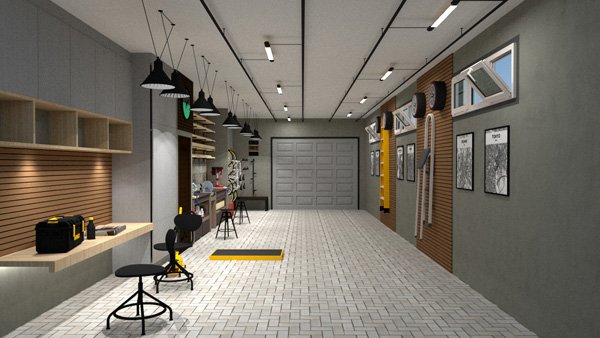 View from the second access.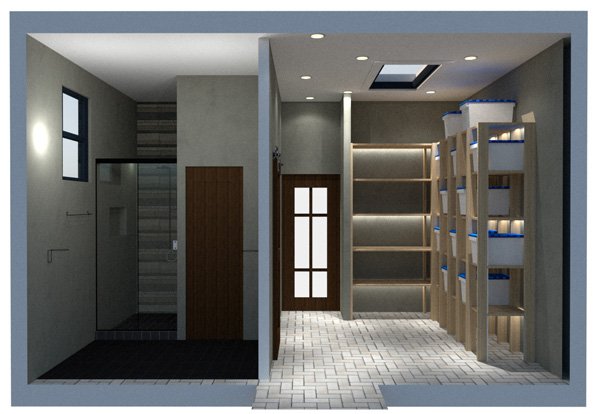 Cross-sectional view of bathroom, hallway, pantry, and the back door that leads to an outdoor patio.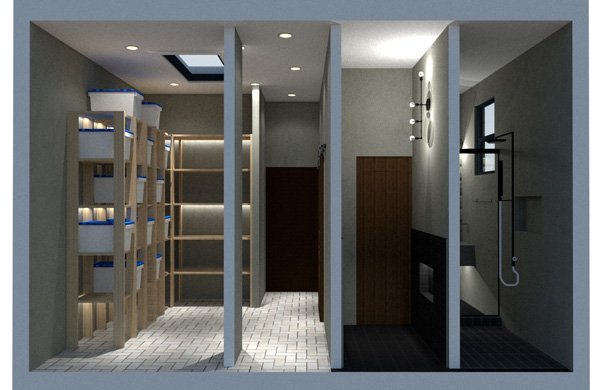 Cross-sectional view of the pantry, hallway, and bathroom, from the patio door to the garage door.
The main area
The largest space in the garage layout allows for two cars parked in a linear way, a laundry area with storage, two work areas for any mechanical work or carpentry. There's also a dressing room next to the access through the garage door. The dimensions are 41.50ft x 16.24ft. And, the total area is 674.01ft².
There are three entrances to space — the main garage door, and two other doors. One connects with the house and the other secondary door, at the back, opens to a corridor that leads to the patio, pantry and a ¾ bathroom.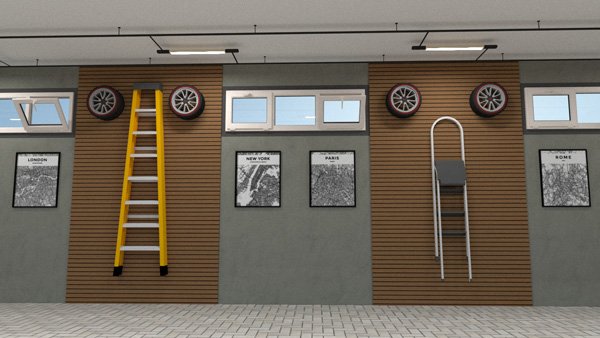 On the left side of the parking lot, there are three windows that allow ample natural light and ventilation.
Read more: Budget friendly makerspace at home
Garage storage
Depending on the style and garage usage, the architect suggests leaving the storage units open or closed.
In this design, there are two floor-to-ceiling panels to hang step ladders, extra tires, and garage tools which you want to keep handy.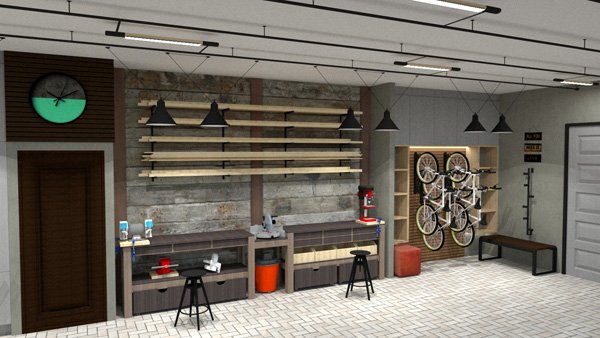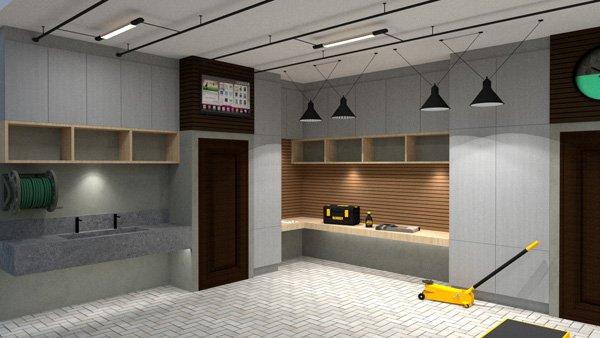 The right side of the garage plan includes built-in wooden cabinets, between 1.31ft and 1.97ft in width and 2.79ft in height. The lower cabinets, 2.30ft high (or 4.59ft for a double module) offer a minimalist and industrial style design. There's a raised open shelving, in a light wood tone. This type of garage storage is useful for keeping things that you need close at hand.
The L-shaped work area has two continuous floor-to-ceiling cabinets in the corners and a wooden workshop tabletop, supported by the corner cabinets and a wall.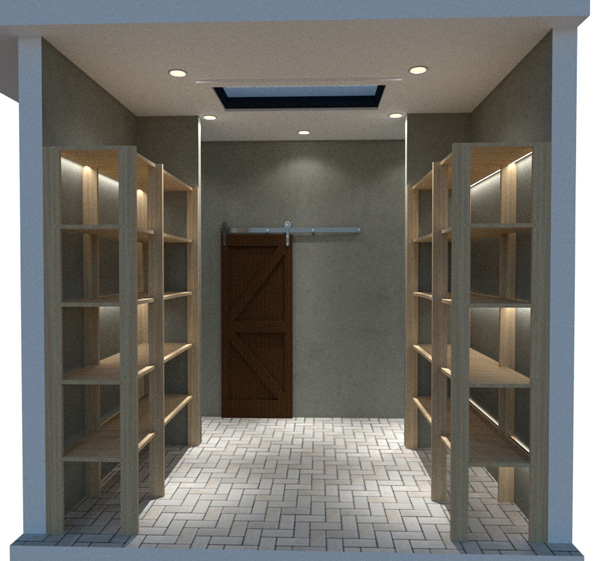 The dressing room includes two open shelves at each corner. You can use them to keep your footwear, helmets, bags, etc. The floor space can be used for a seating area with puffs or benches — offering you convenience and comfort. You can use the upper part of the closed storage to keep a coat rack or any other utilitarian items.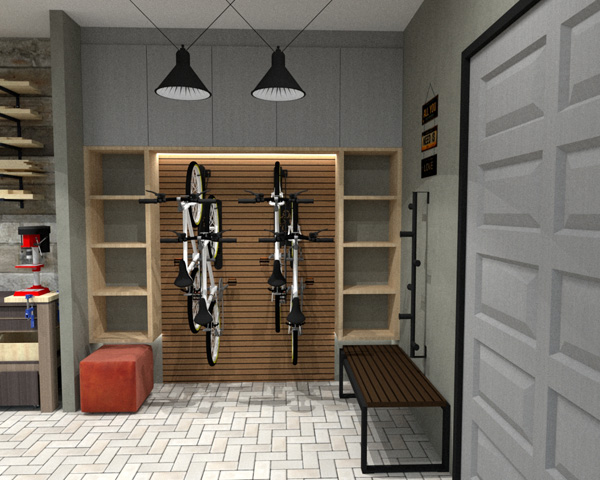 Read more: 6 ways to make your garage more functional
Decor and design
Our architect recommends mid-tone gray concrete clean-finish walls, light gray for the cabinets and garage door, and light-tone wood for your storage solutions. The open shelving wood used in the garage has a simple and modular structure that allows the walls to be seen.

You can use medium tonewood for the ribbed slat panels, used for hanging tools, and dark wood for the doors. According to the expert, wooden barn doors and gray and white window frames would complete the look.

For the garage flooring, they recommend stone paver floors, for high durability, in light gray tones. The hue will add a beautiful contrast to the other textures in the garage.
Garage lighting
A well-lit room always has a good mix of natural lighting through windows and artificial lighting. Here, you see a collection of light fixtures offering task lighting and ambient lighting. The architect recommends industrial lamps with a classic conical shape, in black, and LED tube lights, and some hanging lights.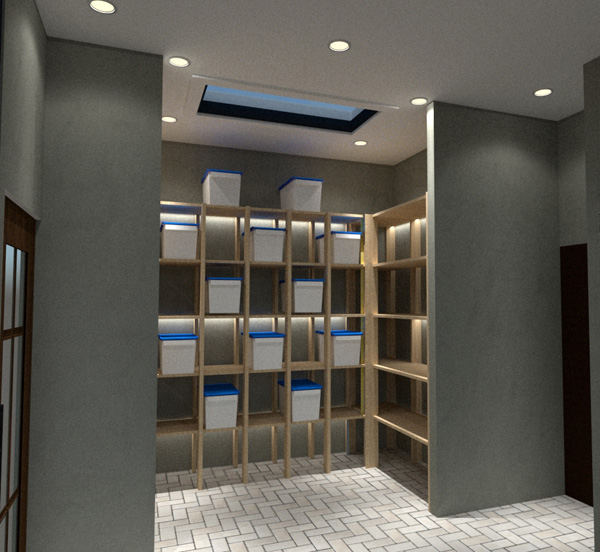 You can also add recessed lights to add a warm vibe to the garage environment. Recessed LED lighting, especially near the shelves, will also help to complement the decor and your home design. And, if you can manage a skylight for natural light, you can consider it too.
Bathroom space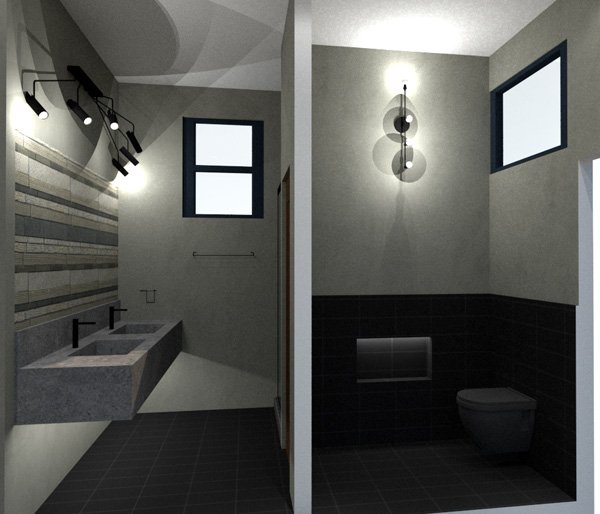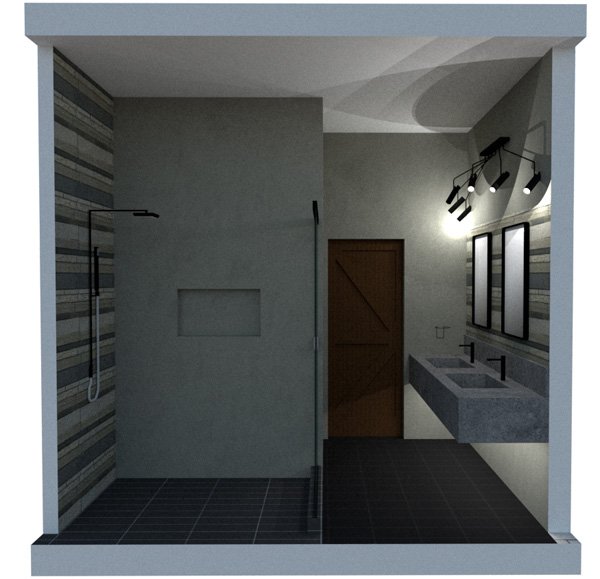 The bathroom is accessed through a sliding barn door, measuring 10.50ft x 6.89ft. The area features a concrete double bathroom sink — 6.86ft in width and 1.97ft in depth. There are sufficient windows for natural ventilation.
With a floating toilet and tiny in-built wall storage, the living space looks compact yet functional. You can add contrasting floor tiles and shower wall tiles for a stylish touch.
The shower area is 3.28ft x 5.74ft. The architect advises using tall glass doors (7.87ft) with black frames. The bathroom hardware too, including sink faucets, can be kept dark-colored.
The walls can be of different shades of gray, but contrasting in texture. The idea is to maintain the bathroom's color palette and the sobriety of the walls.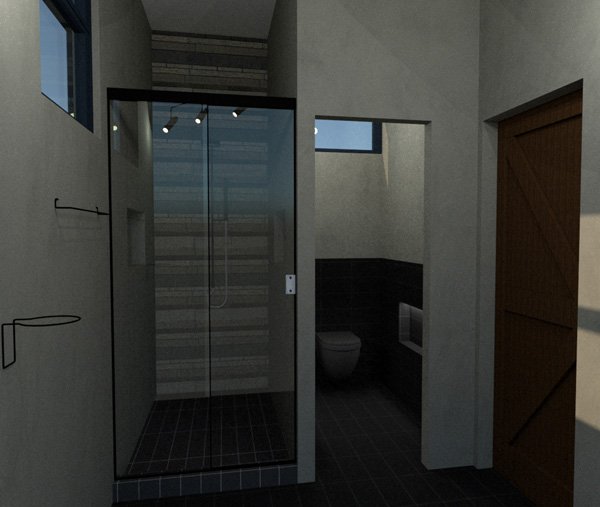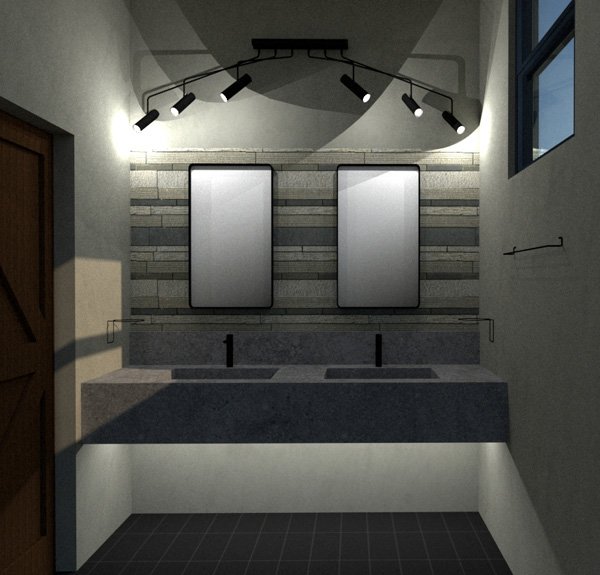 It's a good idea to use square bathroom mirrors in front of each of the double sinks to give the place an interesting structure. Don't forget to install a unique light fixture that provides softer and more intimate light.
Last thoughts
With our expert architect's help, you can sketch out a beautiful garage floor plan. With all the legwork done for you, all you have to do is hire a good renovation contractor and work toward designing a garage that's practical, convenient, and stunning.
An ace architect's garage floor plans for your home
was last modified:
August 18th, 2022
by
Recommended