A garage, like any other utility room in your house, deserves great lighting. Whether you use the space to park your car, store your supplies, or as a workshop — good garage lighting is a must. After all, you should be able to navigate the space easily, without worrying about falls and injuries.
Moreover, you want to be able to see what you are doing in there — whether it's detailing your vehicle, overhauling an engine, or completing a DIY project.
Optimal garage lighting boosts safety, visibility, efficiency, and even the beauty of the space.
Fortunately, there are many garage lighting options to choose from. However, not all the lights available are suitable for this utility room. So, how do you know which light fixtures are best for your garage in terms of type, size, brightness, energy efficiency, etc?
Relax! This buyer's guide will help you with key factors that you must consider before choosing the right garage lighting.
Factors to choose the perfect garage lighting
The following are 10 key features that you need to keep in mind before choosing the lights for your garage.
Remember that the right garage lighting will make your garage look brighter, more efficient and safer for you and your family.
1. Types of lighting
When it comes to artificial lighting, there are three main kinds: ambient, task, and accent. Ideally, a garage should have all three. You can use the following types of light fixtures for each one of these functions.
Ambient lighting

: The idea is to illuminate the floors and walls so that you can safely walk around the garage or towards your parked vehicle.

Popular lights: Garage door opener with built-in lights, round or linear flush-mount lights that affix to the ceiling, soft overhead lights.
Task lighting: The aim is to create bright illumination — lending increased visibility during detail-oriented projects and routine organizational tasks. Popular lights: Trouble lights (caged bulbs with an attached wire and a hook you can move and hang as required) and shop lights (4-8 foot-long adjustable strips that hang from the ceiling by a chain).
Accent lighting: The goal is to shine a light on showpieces you want to emphasize. It could be your foosball table or an old trophy collection. Popular lights: Pendants lights and wall-mounted sconces.
Most homeowners still consider the traditional fluorescent lights as the best garage lighting. However, you need to keep in mind that many fluorescent lights do not work below 50 degrees. So, if you live in a region that witnesses cold climate, it's best to buy fluorescent fixtures based on the lowest temperature in your garage space. Give preference to lights with electronic ballasts over electromagnetic ones.
What about garage floors? Take a look at our guide Types Of Garage Floor Tiles
2. Brightness
A good garage lighting system should illuminate each and every corner of the space. Till a few years back, the brightness of a bulb was measured by how many watts it consumed. Higher wattage meant more brightness. Today, however, brightness is measured in lumens.
So, what exactly are lumens?
The scientific measurements for the output of true light are called lumens. A light fixture with the highest number of lumens will be the brightest. Generally, a bulb with 3500 plus lumens will be ideal for your garage.
Want to know how much lighting you need in your garage? The Illuminating Engineering Society (IES) recommends 50 lumens per square foot for ambient lighting, 300 lumens per square foot for task lighting, and 75 lumens per square foot for accent lighting.
3. Energy efficiency
Who doesn't like to save dollars on household energy bills? Choosing an energy-efficient bulb is ideal for you as well as the environment. Therefore, you should consider an energy-saving LED bulb — regardless of whether you spend a lot of time in your garage or not.
Opt for the energy-efficient LED lights. They consume less energy than conventional lighting systems — almost 60 percent less! For instance, a 10-Watt LED bulb will deliver almost the same light output as a 60-Watt incandescent bulb.
Furthermore, LED light bulbs and tubes do not contain mercury or emit harmful UV rays. Also, they are much safer in small spaces as they do not give off too much heat.
Moreover, LED garage ceiling lights, surface mount LED lights and LED wraparound lights are easy to install in both single car or multiple car home garages.
While shopping for the best energy saver lighting system for your garage, choose ones with the Energy Star certification.
Some of the best LED lights for your garage include Hyperikon LED high bay light fixture, PrimeLights T8 LED HighBay, Striker TRiLIGHT Motion Activated Ceiling Light, Hyperikon LED Utility Shop Light, LED Lighting Technology LED Garage Vapor Proof Fixture and LeonLite 4ft Linkable LED Shop Light.
4. Color temperature
The brightest garage lights are those with a Kelvin temperature between the range of 4000 and 7000K. You will get optimum brightness — as bright as the Sun.
If you buy lights with lower temperature, they will make your garage look dim and strain your eyes. Keep in mind that lower temperature lights give off a bluer light while higher temperature lights give off a more orange light.
5. Dimensions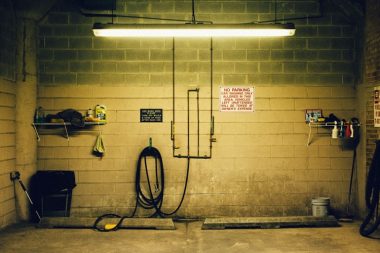 When it comes to garage lighting — it depends on the total size, the design, and what the garage is used for, besides parking a vehicle. Generally, garage or storage room lights are just under 50" in length.
You can opt for tubes instead of the classic pear-shaped bulbs. Fluorescent or LED tubes cast light over a wider area of the garage than standard bulbs. These tubes come in three different diameters: T5 (5/8 inches), T8 (8/8 inches), and T12 (12/8 inches).
FYI: T5 and T8 are more energy-efficient than T12 bulbs. Moreover, they come with electronic ballasts or transformers. These effectively minimize any kind of flickering, especially in case the garage temperature goes below 50 degrees.
Ideally, you should let three to four lights surround your car(s). You can add another if you have a workbench. You even can reduce the number of fixtures by investing in lights which are super bright. The goal is to illuminate the garage well.
6. Color Rendering Index (CRI)
The type of bulb you use in your garage could have a profound effect on the way your space looks. CRI measures the ability of a light source to show the actual colors of objects vis-a-vis a natural light source like the Sun.
Make sure your light bulb has a good CRI of 85 or above. This is required especially if you have a work area in your garage. It will ensure that your garage lighting shows the colors — of woodworks, paint, and other items you are working on — realistically.
FYI: All halogen/incandescent light bulbs have a CRI of approximately 100. It's the same as the CRI of daylight at midday!
Read more: Interior and exterior garage paint ideas to inspire you
7. Ease of installation
Make sure that the product you choose is easy-to-install and comes with clear installation instructions. The last thing you want is to damage the new light fixture while trying to install it in your home garage.
Opt for lights that have chains for hanging or ones that you can easily mount on a surface. You may even get pull-cord ones. Before you finalize your purchase, ensure that it comes with all the accessories required for the installation. You don't want to be running back to the store, do you?
8. Lifespan
Needless to say, a bulb with a good lifespan is the better option. Check the date while purchasing and go for ones with extra-long life. You will save money on replacement costs or maintenance costs.
FYI: LED garage lights have a longer life than fluorescent bulbs — up to 50,000 hours versus less than 15,000 hours!
Read more: Garage liability insurance
9. Bulb housing
A garage, especially if it's also your workshop, is where lots of activities can go on. Make sure that your lamps are protected, or else, they will need replacement ever so often. Give importance to the housing for the bulb too. Remember to invest in good-quality ones. They will keep your lights safe and durable.
Read more: Turn garage into gym
10. Switches
In a garage, you can have any kind of switch. A lot of homeowners still prefer the traditional pull-down chains. They insist that these are very convenient. There are also those who think plugs attached to switches are better.
Today, thanks to technology, you can even choose sophisticated switches with motion sensors for your smart home. These can effectively lower your electricity consumption by automatically shutting off the lights after a while if they can't detect any movement.
The decision is yours to take. Keep in mind that the more elaborate the fitment, the more will be your garage renovation cost.
Conclusion
A well-lit garage will look brighter, cheerful, and bigger. It will help you create the perfect working space where you can see the details of your projects, or car repair, clearly.
While there is a huge variety of garage lights to choose from, you need to keep the above factors in mind before making a purchase.
Select the best garage lighting for easy accessibility, work efficiency, and safety. Look for lights that are UL (Underwriters Laboratory) or ETL (Edison Testing Laboratory) certified. These certifications tell you whether the lights you're thinking of buying meet the minimum safety standards for electronics or not.
Investing in good garage lighting fixtures is a big decision, but one that must be made if you want your space to be efficient and look welcoming.
Read more: Ways to make your garage more functional
Choosing Garage Lighting: Lighting, Installation & More
was last modified:
September 28th, 2022
by
Recommended