Before starting a remodel, most homeowners have a vision for what they want their kitchen to become, what they want it to look like, and what kind of value they want to get out of it when all is said and done. What's missing is the roadmap for getting from here to there—particularly because they need to work within the constraints of time and with a kitchen remodeling budget.
If you're thinking about starting a kitchen remodel this year, our recommendation is that you start by focusing on what adds value, prioritizing items with high return-on-investment first. In this article, we'll review what to consider when planning out your upgrades, as well as ways to get more value out of low-cost improvements.
Further budget-friendly info? Take a look at these 6 Decorating Tips for Budget-Conscious Homeowners
Start with countertops and cabinets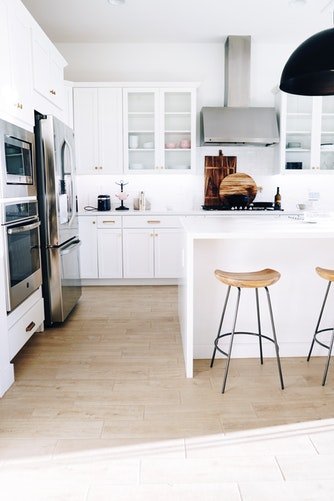 Look through any homes with upgraded kitchens that are for sale in your area, and you will notice two common elements: new countertops and cabinets. For most homeowners and buyers, these two upgrades are essential to a kitchen remodel.
Together, they are also likely to be the most expensive part of your project. In general, the average homeowner—when installation is taken into account—spends about half of their total kitchen remodeling budget on cabinets and countertops.
Yet, it is hard to argue that those upfront costs aren't necessary. New granite or quartz countertops, paired with high-quality cabinets, have a solid return-on-investment and can be a major boost to your home's curb appeal with prospective buyers. If you are looking to squeeze the most possible value out of your limited kitchen remodeling budget, start with the ever-essential cabinets and countertops and then plan from there.
Read more: Quartz Vs Granite Countertops: The Pros and Cons
Save on appliances
Many remodelers assume, right-off-the-bat, that they need new appliances to go with their newly renovated kitchen. The truth has actually more shades. While a new stainless steel stove could match the overall aesthetic vision you are aiming for, it might not be as essential as other upgrades—especially if your current stove is still relatively new. Nationwide, homeowners remodeling their kitchen spend about 14% of their budget on appliances and ventilation. If your budget is tight, you can spend that cash elsewhere.
One popular tactic for homeowners who are not immediately planning on listing their homes after renovation is to push the purchase of appliances a few months to a year out. Budgeting for them separately and allowing you to wait for holiday deals and specials. Plus, the closer the gap is between the date you purchased the appliances and the date you list, the more "like-new" the kitchen will appear to buyers.
Read more: Home Remodeling: Coming In On Time And Under Budget
Small upgrades, big value
Most homeowners are going to see the largest returns on the "big ticket" items: new countertops and cabinets, new appliances, or even a renovation of the space that opens it up to the rest of the home. However, not every value boost has to come at such a high price tag. Here are three upgrades that can extend the value of your project without a major investment:
Lighting
A beautiful portrait, dimly lit, can appear ugly. The same is true for your kitchen. Lighting is essential to how your kitchen looks and feels. If possible, bring natural light into play—windows and skylights can help accomplish this. Otherwise, make sure the kitchen is well-lit, but not in a way that makes it feel sterile. The right pendant lighting over an island or under-cabinet lighting above your counters can be a game-changer.
Read more: Basic Kitchen Lighting Types for Your Renovation
Painting
Paint is relatively inexpensive and easy for homeowners to apply themselves once the rest of the remodel is complete. It can also completely transform a space. Consider bright and bold colors that complement your countertop, cabinet, and appliance choices. If you are going for a modern aesthetic, don't neglect grays and whites. These neutral colors are versatile and meet a broad range of tastes.
Read more: Smooth finish when painting kitchen cabinets
Backsplash
In the grand scheme of things, a new backsplash will not be the most expensive part of your kitchen remodel. But besides that there is an extra value to find here. The right backsplash can be a perfect complement to your countertops and cabinets. It ties both together while adding visual appeal to your kitchen. For the best-possible value, install your own backsplash.
Take a look at our guide on 17 Small Kitchen Remodel Ideas for the Perfect Makeover!
Push your kitchen remodeling budget further
Maximizing the value you get out of your kitchen remodel takes both strategy and patience. It means prioritizing where to spend your budget, finding areas to save, and waiting for the right deals. If you are planning on starting a kitchen remodel in the near future, be sure to check out this infographic from the team at Superior Stone & Cabinet in Phoenix, AZ. It contains a remodeling cost breakdown and even more great tips for saving money on your new kitchen: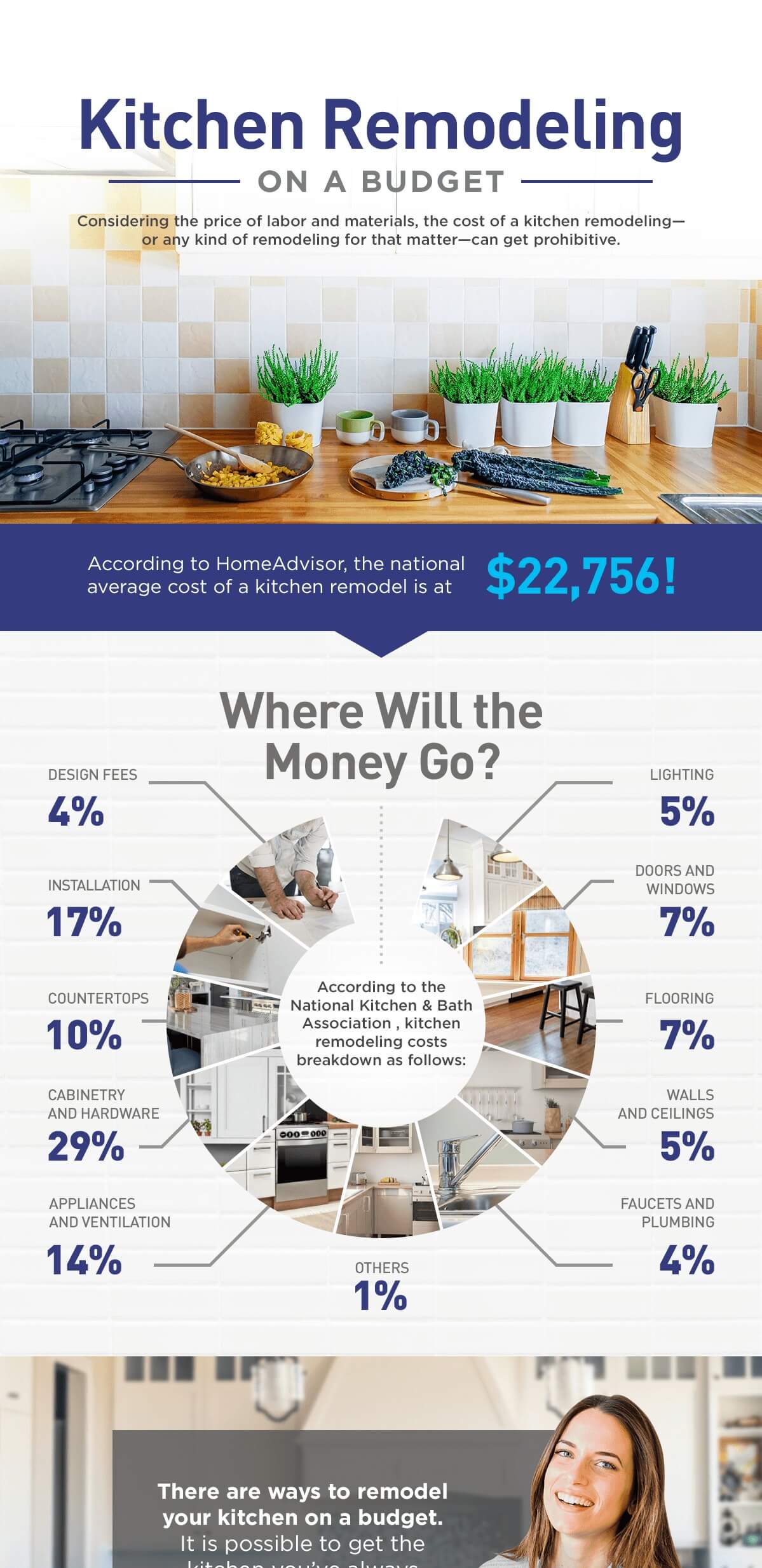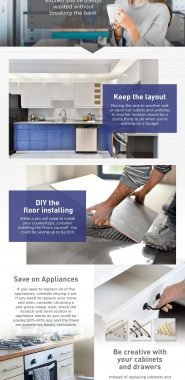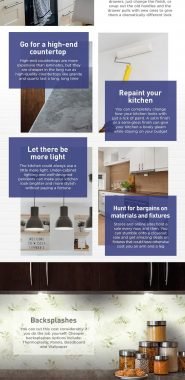 Read more: Kitchen Remodel On A Budget – 5 Tips You Should Know
How to Get More Value Out of Your Kitchen Remodeling Budget
was last modified:
October 20th, 2022
by
Recommended