The best dining table for your home must fall within your budget, match your interior design, be of excellent quality, and accommodate the number of people in your home. With this, you'll have to think about the table material and make. Some prefer wooden tables while others like glass.
Dining tables have multiple purposes. As this is a focal piece of furniture in your home and can be quite an investment, we're giving you the lowdown between wooden and glass tables to help you choose.
Pros of Wooden Dining Tables
Photo by Wicker Paradise on flickr [CC BY 2.0]
Sturdy material – Great quality wooden furniture can withstand years of wear and tear. Look around your house and chances are, you have a piece of wooden furniture, be it a table or chest drawer, that has stood the test of time. Hardwood dining tables (e.g. oak, mahogany, walnut, maple, and teak) can last years or even decades, of dinner parties and family gatherings.
Brings warmth to the dining area – Wooden furniture, with its unique grain and hardwood tones, brings out a certain appeal that's inviting and welcoming. You'll find a variety of wooden dining tables—from handcrafted farmhouse to minimalist designs—that can give your dining area the kind of ambiance you want.
Easy to restore – Because of its durability, hardwood furniture that have been scratched and dented can be repaired, while partially damaged ones can be completely restored. A skilled woodworker with the right tools can bring any vintage or hand-me-down dining table that was scrapped by careless teenagers or scribbled on by rambunctious toddlers back to life.
Cons of Wooden Dining Tables
Susceptible to water damage – Moisture is one of the biggest vulnerabilities of wooden tables. The material can swell if moisture is left to settle on its surface, which eventually can lead the material to weaken and enable mold to form. So, make sure to immediately wipe off spills and other liquid residues to prevent damages.
Tends to be costly – Quality wood materials are more valuable than other material in the furniture manufacturing industry. Genuine hardwood comes at a hefty price, and that's because each piece of furniture is unique inbuilt.
Vulnerable to scratches and other damages – While the top finish of dining tables can make it resistant to damages caused by daily use, scrapes from sharp or heavy objects can still expose and significantly damage the wood underneath.
Pros of Glass Dining Tables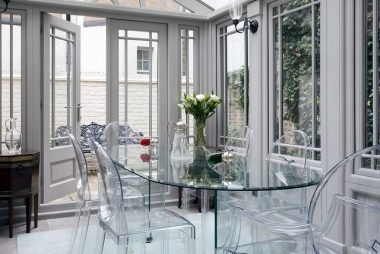 Photo by Lizzie Benton on flickr – ahorangeries.co.uk [CC BY 2.0]
Brings elegance to the room – Glass dining tables have a sophisticated look that can best compliment modern and contemporary interiors. You can elevate your dining experience at home with a sleek, glass-top dining table. It's also a fantastic choice if you want to make your space look brighter and spacious.
Low maintenance – One of the advantages of having a glass dining table is it's easy to clean. Glass doesn't absorb or allow liquids to pass through it. So, when spills occur, you only need to grab a cloth rag or paper towel to wipe the mess. You can also use a damp piece of cloth to clean stubborn stains. Additionally, a spray of water is enough to maintain its shine.
Available in different styles – Glass comes in a variety of styles, just like other furniture materials. However, there are glass dining tables that feature other materials as its base, such as wood and metal. Moreover, the glass top itself can come in different finishes and tints.
Cons of Glass Dining Tables
It's delicate and irreparable – Glass is a strong material, but it's not the same as wood or stone. Since the material is breakable and fragile, you need to be extra careful when placing objects on it to avoid damaging the surface or breaking it altogether. Once the glass table is scratched or chipped, you can't fix it or make it look new again.
Requires regular cleaning – Yes, they're low maintenance when it comes to spills. But there's a downside to it: glass-top tables need consistent wiping to keep it in pristine condition. Aside from spills, glass is prone to dust, fingerprints, smudges, dirt, and watermarks, which when neglected over time, can tarnish its sparkling appearance. What was once a clear glass top can become foggy.
It can be dangerous – Its fragile material makes glass a safety hazard, especially when you have kids or pets around the house. Once shattered, the glass fragments can be a risk for injury. The sharp corners of glass tables can also harm anyone by accident. If you have small children in the house, it's best to choose round or oval tabletops, or those with protected edges for safety.
Other Things to Consider:
Pexels
The space. Consider the dimension of your dining area, the size of your chair, and the space around your dining area, to see if a person can rise and push the chair from the table comfortably.
How many persons the table can accommodate. Will it serve all members of your family? If you often host dinner parties, you might want to look into expandable tables.
Table and chair height. Tables and chairs are available in various heights. If you opt to buy these pieces of furniture separately, make sure to measure the dimensions and distance (from the tabletop to the chair seat) before you purchase.
Choose your style. Do you want something that looks modern, rustic, industrial, or minimalist? Determine what could blend well with your interior, so it matches well with your entire space.
Summing It Up
Your dining table is a furniture piece that brings everyone together in a room, from family gatherings to late-night board games. If you're looking for something elegant and modern-looking, go for glass dining tabletops. But if you're in the market for something that speaks homeliness and long-lasting relationships, wooden dining tables are for you.
Glass Vs Wood Dining Table: Pros and Cons
was last modified:
May 15th, 2019
by