You cannot go wrong with granite or quartz. But before you make a buying decision, make sure that you know the difference between both these materials. After that, you'd be able to make an informed decision.
When it comes to installing countertops in your kitchen, granite and Silestone are the two common materials to choose from. While some people prefer the natural appearance of granite countertops, others choose Silestone quartz due to its better strength or durability.
No matter which material you choose for your worktop, you need to know about the major differences between the two to make an informed selection.
How much does a kitchen remodel cost? We can help you, try our free kitchen remodel estimator tool to figure it out!
Differences between Silestone and Granite
Maintenance
One of the major deciding factors while choosing between Silestone vs. Granite countertops is the maintenance needed to keep surfaces looking great. The Silestone quartz is a clear winner in this case, as it is non-porous and can easily resist stains and spills.
On the other hand, granite being a porous stone requires annual sealing to keep its surface protected. Without sealing, bacteria or germs may grow on its surface and you won't be able to see it with a naked eye. It can eventually end up to be a safety hazard in your kitchen.
Take a look at these 11 Quartz Countertop Colors That Will Be Huge in 2020
Resilience
When it comes to resilience and strength, Silestole again is a superb choice compared to granite. Granite worktops include crystalline material that enables the formation of fissures and small spaces. While granite is resilient to chipping and cracking, it is not as strong as quartz in this matter.
But just to make things clear, it would require an excessive force to chip or crack a worktop. You must not consider a small difference in their strength when deciding between these two materials.
Take a look at our guide on the pros and cons of Quartz and Marble Countertops
UV Resistance
Most people are not aware of the effects of sun rays on countertops. Well, direct sunlight, containing UV rays, can fade away any brand of quartz, including Silestone, because of the presence of resin components. With just a few weeks of exposure to UV rays, dark-colored quartz worktops are likely to lighten up and the white ones begin to turn up yellowish. On the other hand, UV rays have no such effect on granite. No matter how many days or years you keep granite outside your home, it will remain the same. This is because granite is quarried from the earth's crust in the mountainous regions.
Do you want to have all your facts straight for your upcoming renovation process? Take a look at our ultimate guide on kitchen remodeling.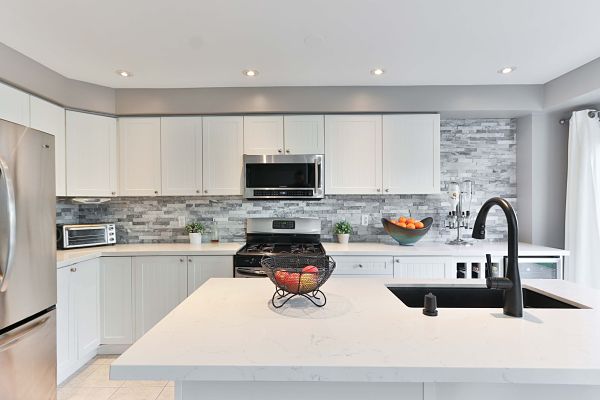 Photo by Sidekix Media on Unsplash CC0
Cost
Cost is another crucial factor and one of the common queries that many builders, contractors, interior designers, and homeowners have. We understand the significance of cost when you're looking forward to investing in a countertop for your kitchen. The overall cost can affect your buying decision. It can simply make or break the deal. Compared to quartz, granite countertops are priced higher due to the high labor involved in its processing and manufacturing. But when it comes to aesthetic appearance and functionality, it's no less than quartz. Many people prefer granite over quartz, despite its high cost.
What's the Average Cost of Kitchen Countertops? Let's find it out together!
Aesthetic Value
Both these worktops look amazing in all sorts of kitchen interiors. Whether your house has a traditional, contemporary or industrial kitchen, you will enjoy preparing meals in either Silestone or Granite. When it comes to their visual appearance and fashion statement, both worktops are the winners.
So which worktop material you should pick?
When you have to make a final decision, the visual aesthetics play an important role in choosing the best worktop material for your kitchen. But remember that Silestone is an engineered and processed worktop, so it doesn't offer the similar natural appearance that of the granite that's carved out of the earth and further polished for creating a glossy surface.
Many people adore the natural appearance of granite and won't settle for less. If you're inclined to granite, it must be your choice of worktop material. If you are a homeowner who appreciates their countertop the most and doesn't care about the high cost, you must go for white granite worktops.
On the other hand, if you are someone who is looking for a more durable and stronger worktop material and don't care much about the natural appearance of the surface, Silestone is your best option. Both these countertops are best in their way but you have to decide which one suits you.
Differences Between Granite And Quartz Silestone Worktops
was last modified:
December 19th, 2021
by
Recommended