If you're going to be renovating your bathroom, don't go back to building a sterile, boring looking one. Modern bathrooms are about sophistication and class without being brash or loud. Among the colors helping people make design statements with their bathrooms, grays and white seem to be leading the pack. Here are 17 stunning gray and white bathroom ideas for your consideration.
1. Classic Stone Floors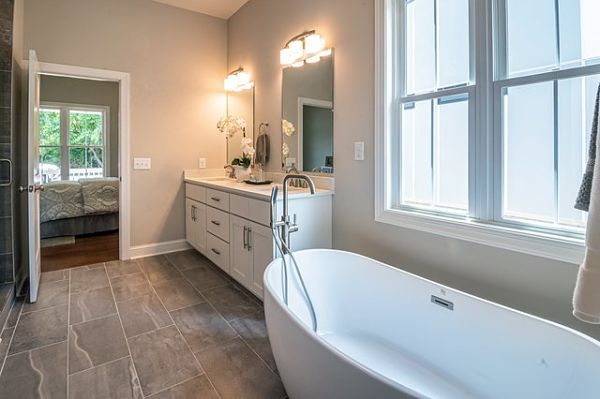 Natural stone is one of those materials that adds a lot of character to any setting they're used in. For example, dark gray granite tiles on the floor look exquisite with a lighter gray on the bathroom walls. White trims on the window, a white door, white sinks and cabinets as well as a white standalone tub add some light to the room.
2. Stripes for Space
If you have a narrow bathroom space, make it look wider and better ventilated by using grey and white horizontal striped tiles on the wall. You could choose from vinyl tiles, ceramic tiles or even laminate tiles, based on your budget.
3. Exotic Wallpapers
Give your bathroom an exotic look by using a wallpaper with white and gray palm tree prints for your bathroom wall. A gray and white patterned tile on your bathroom floor will complement it perfectly.
4. Showcasing Elements
Using gray and white walls as well as flooring in your bathroom is also a great way to draw attention to other elements like ornate bathtubs or designer sinks you may have installed. Consider small chandeliers or pendant lights if your ceiling is high enough to add to the grandeur.
5. Designer Mosaics
Gray and white speckled mosaic tiles add a lot of character to your shower area, especially if you have a clear glass shower enclosure. A quartz countertop will add even more pizzazz to the set up.
6. Classy Contrasts
Some design ideas are meant to breathe life into bathrooms. The contrast between gray cabinets and white countertops does exactly that. Adding an oval mirror to the combination only increases the already inherent class.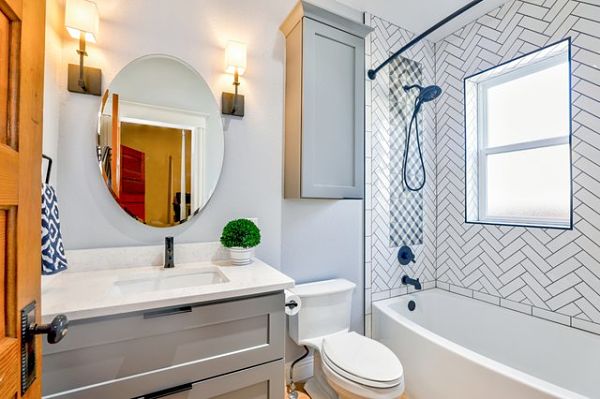 7. Adding Color
Your bathroom doesn't have to look too somber. Add a splash of color and wildness to your gray bathroom by adding an accent wall with multi-colored mosaic tiles on it. But make sure it's only one wall. You do not want the burst of color to be overbearing.
8. Adding Texture
Another great take on accent walls is to have a pebbled section on your wall in between gray tiles. The sudden change in texture is visually striking while not being overwhelming. Try this on your vanity wall.
9. Back in Black
What other color is an instant fit with gray and white? Why, it's black, of course. Nothing showcases the youthful spirit of a young home like gray walls, white floor tiles, and bathroom fittings with black accents. A poster on the wall only adds to the simple yet striking design.
10. Timeless Designs
Some bathroom designs are so timeless that they seem to be right out of a fairy tale. A grand white bathtub, white marble floor tiles with gray speckles, white cabinets and countertops against light gray walls is nothing short of magical. Large French windows will help bring in plenty of natural light, while an indoor fern will add the much-needed dash of color.
11. A Dash of Drama
Just one gray wall of subway tiles in a bathroom full of white is a great way to introduce a dramatic effect to an otherwise boring bathroom. A vase of fresh-cut flowers not only adds freshness and color but also aroma to the bathroom's decor.
12. A Little Says a Lot
A lot of modern master bathrooms are all about one main color and minimalism. Clean lines with gray wall tiles and floor tiles look striking with a dark blue mural on the walls. A white closet, a floating bathroom vanity, and dark blue towels will only add to the bathroom's macho aura, making it the perfect design for the man of the house. We'd suggest not using any shower enclosures with this design.
13. A Classic Pairing
A great way to use the color gray, if not on your walls and floors, is on your bathroom panel cabinets. Gray panel cabinets look graceful and timeless when paired with dark wood finish floors.
14. Luxurious Finishes
Marble tiles are visually stunning on bathroom walls as well. Natural finish marble wall tiles with mosaic gray and black floor tiles are sure to make any contemporary bathroom look sensational while adding an element of luxury to it.
15. Adding a Modern Twist
Here's a creative way to add a touch of modern elements to an old-school design. Use white ceramic tiles on your walls and to line your bathtub, giving your bathroom an almost austere look.
Add a modern twist to it by throwing in cement floor tiles to the mix. The gray floor will bring in just the right amount of character into the room to make it stand out.
16. Playing a Different Tone
A great way of making your bathroom look larger than it actually is to play with two tones of the same color.
For example, use dark gray tiles for the lower half of your bathroom walls and use a lighter shade of gray for the upper half. Not only will your bathroom look larger, but your ceiling will also look higher as well.
Black and white chequered bathroom floor tiles will complement this wall arrangement splendidly.
17. An Eternal Favorite
Natural stone is one of the most used mediums in classic interior design. We've already discussed how well natural stone walls and floors fit into the gray and white color scheme. Bathroom countertops made of natural stone are just as stunning, if not more.
Imagine a marble countertop against a light gray wall. Or a dark granite countertop against a blemish-free white wall. Wouldn't either look absolutely exquisite? Well, it's no wonder stone countertops are sought after to make bathrooms look opulent and luxurious.
Beauty Is in the Eye of the Beholder
We hope some of the designs we've taken you through have inspired you with ideas for your own bathroom remodeling. Eventually, though, it all boils down to what looks appealing to you. Come back and visit us for more interior design and renovation tips.
Read more: Small bathroom layouts from an architect
17 Stunning Gray and White Bathroom Ideas
was last modified:
October 11th, 2022
by
Recommended