When you're selling or buying a home, the number of bathrooms the house has is an important consideration for potential home buyers. While there's no significant difference in value between a ¾ bathroom and a full bath, it could affect the home sale to a certain amount.
This is to say that since a three-quarter bathroom generally has a toilet, sink, and shower, but no bathtub, there might be homebuyers looking specifically for a bathroom with a bathtub. If the house does not contain a bathtub elsewhere, those with young children may not prefer a real estate without at least one full bathroom.
But if the house has a full bathroom already, having a three-quarter bath can be a practical, functional, and aesthetically pleasing solution. In order to make the best of ¾ bathroom layouts, let's explore some great bathroom designs. The idea is to choose the best bathroom layout that suits your lifestyle.
What's a ¾ bathroom?
A three-quarter bathroom includes three plumbing fixtures such as a toilet, a sink, and a shower (or sometimes a hot tub, but never both). So essentially, this type of layout covers the basic needs of a bathroom. ¾ baths are ideal for a guest room or all bedrooms except the master bedrooms for which a full or master bath is a better choice.
Instantly estimate the cost of your remodel...
...or take your time to personalize dozens of choices to transform your house into your dream home.
¾ bathroom floor plan idea 1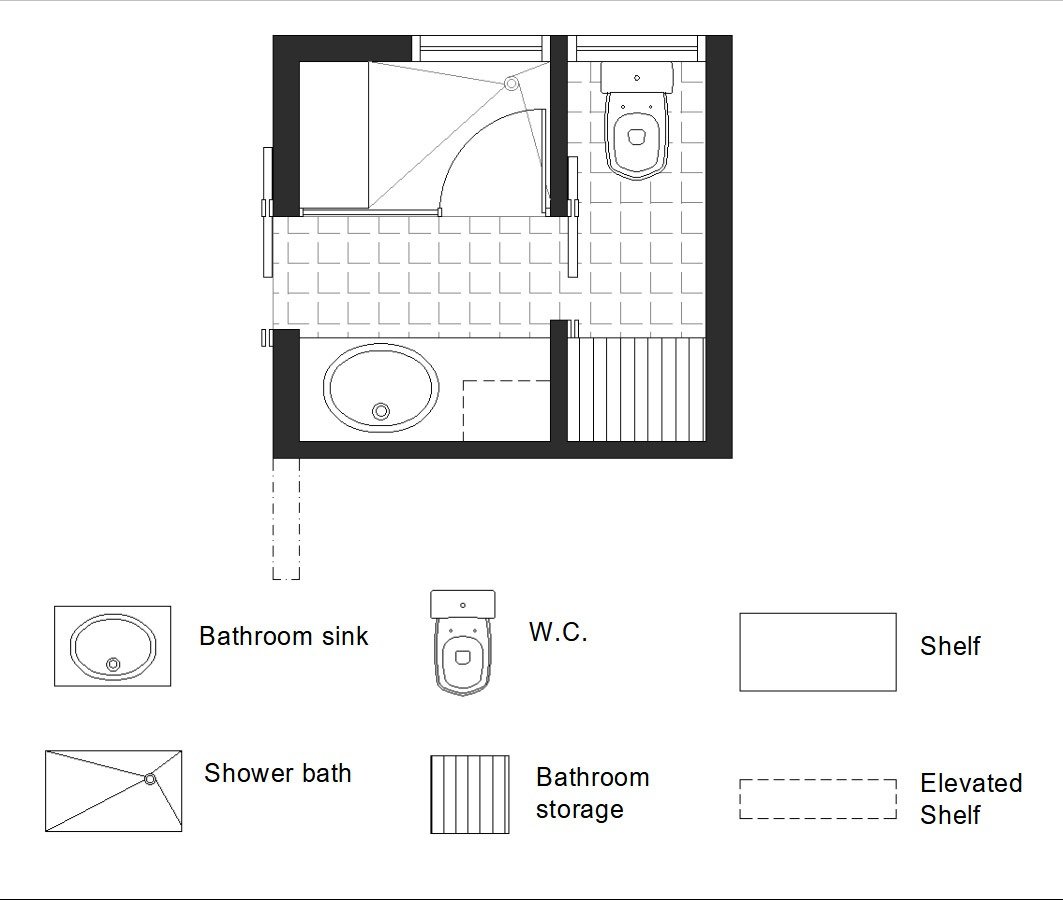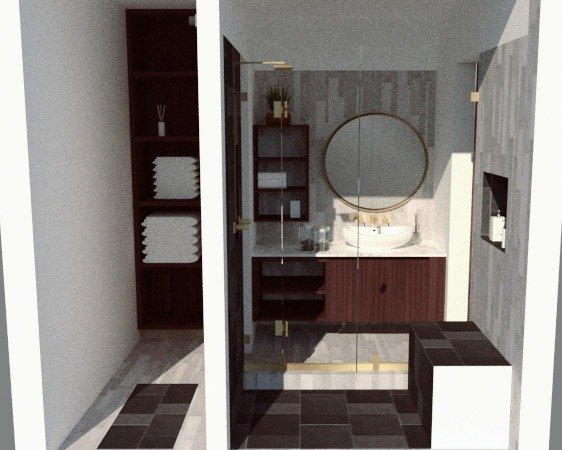 Total dimensions: 7.71 feet x 7.28 feet
First environment (sink and shower): 4.76 feet x 7.28 feet
Second environment (W.C. and storage): 2.62 feet x 7.28 feet
Circulation: 1.97 feet
Height: 9.18 feet
This design consists of two separate environments — a toilet with a floor-to-ceiling cabinet for storage on one side, and a shower with a bathroom sink on the other side. This way, you get complete privacy in the toilet space.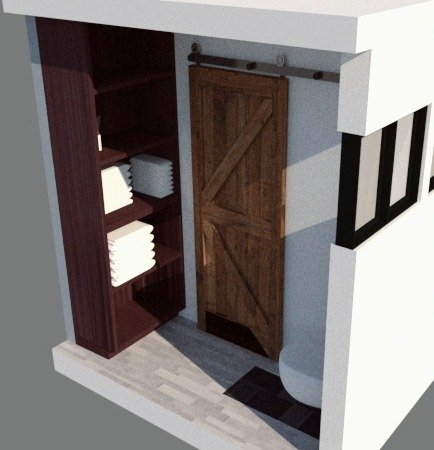 The architect recommends sliding barn doors for both environments. Such types of bathroom doors offer greater comfort and take up less space. That's why they are ideal for small bathrooms, closets, cupboards, and minimalistic spaces. Interestingly, such doors can adjust to any design style — whether rustic or modern.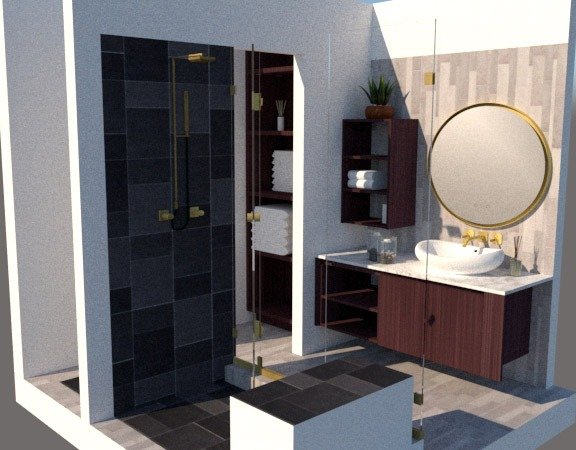 The architect has kept the bathroom windows 1.97 feet high, enough to light up and ventilate the entire bathroom. Apart from this, the expert recommends good artificial lighting, especially around the bathroom vanity — through wall sconces, and task lighting.
There's a color palette of white, gray, and black occupying most of the wall and floor space in the shower area. The color white predominates though, to give the bathroom more light and spatial illusion.
The idea behind using a darker color scheme for the shower and the toilet is to visually demarcate the areas.
Interestingly, the vertical bathroom storage is wine-colored, making it the focal point of the bathroom design. The floor-to-ceiling storage, with open shelving, helps organize the bathroom utilities and accessories. It's easier to have things closer at hand.
The architect has used gold on faucets, knockers, and shower door hardware. And, the shower doors are glazed for added elegance.
Read more: What are the most important guest bathroom essentials?
¾ bathroom floor plan idea 2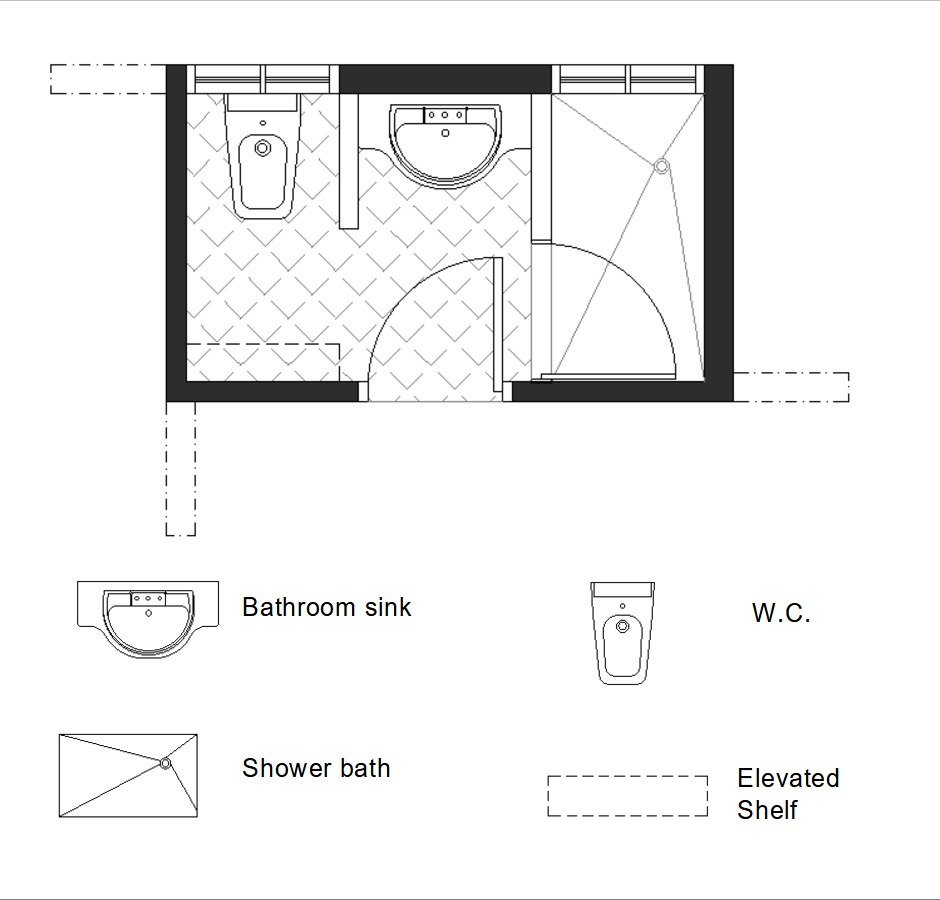 Dimensions: 8.87 ft x 4.92 ft
Clearance: 2.62 foot
Modulation: 2.62 foot
In this design, although the architect has created a single environment, they've divided the area by using half walls.
Since all the sanitary pieces rest on a single wall, their installations are less expensive. Moreover, such a layout gives an orderly look to the bathroom. The windows, one in the toilet area and the other in the shower let in abundant natural light.
Due to the spacing, the half-wall divisions allow each space to be separate without blocking the passage of light. There are no windows in the sink area to leave good room for overhead cabinet storage or mirror lights.
The half-wall, at a height of 4.92 feet, gives the toilet good privacy without making the bathroom look too congested. The ideal storage solution for such a setup is to have a raised cabinet in front of the toilet apart from the built-in cabinet or vanity — either a single or double vanity.
Read more: Factors to consider for the right modern bathroom vanity
¾ bathroom floor plan idea 3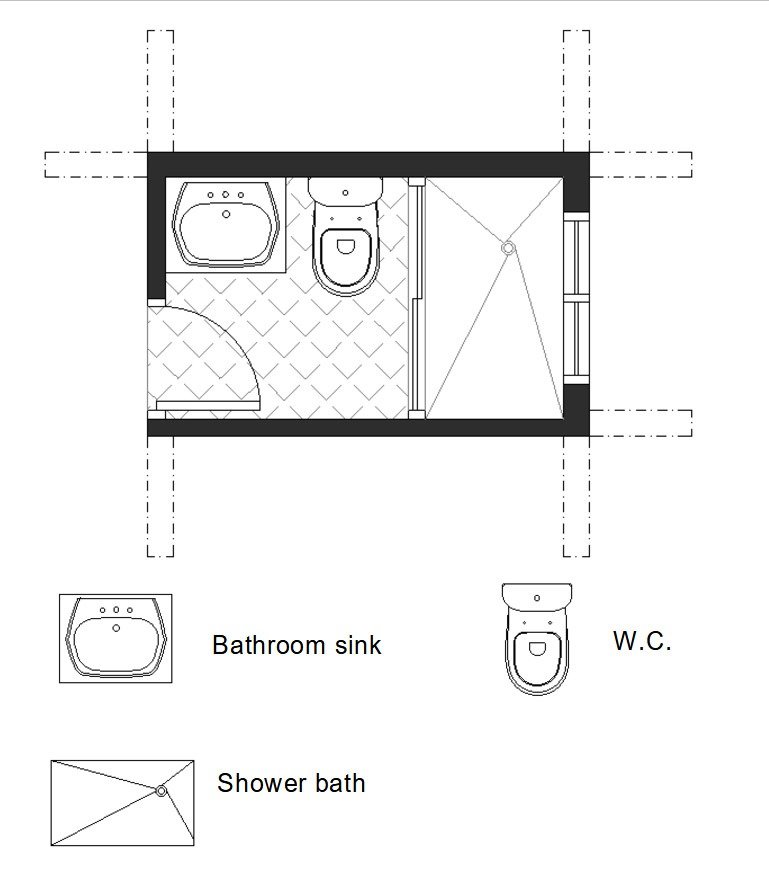 Dimensions: 7.55 feet x 4.59 feet
Circulation: 2.30 feet
Modulation: 2.30 feet to 26.25 feet between each piece
This third design is a classic model with a single environment. This type of ¾ bathroom is ideal for spaces where square footage comes at a premium. The sanitary pieces rest on the same wall — making the plumbing installations simpler and less expensive.
There's a window at the end of the corner shower which allows direct airflow for good bathroom ventilation.
The architect recommends a sliding or folding shower door to utilize the bathroom space in a better way.
Read more: 12 Steps to remodel a bathroom in a successful way
Key takeaway
A ¾ bathroom is somewhere between a full bathroom and a half bathroom. Undoubtedly, three-quarter bathrooms offer a lot of design flexibility. Whichever bathroom design you choose, make sure it suits your requirements and lifestyle. We hope these bathroom ideas and tips by our expert architect will help you make the right choice for your next bathroom renovation.
Planning a home improvement project for your bathroom? Try our bathroom remodel cost estimator; it's free, convenient, and quick!
Read more: An expert architect's tips and ideas for a u-shaped kitchen
Great 3/4 bathroom floor plan ideas by an architect
was last modified:
December 5th, 2022
by
Recommended