If you're a homebuyer or want to remodel your existing living space, it's important to understand your living space inside out and assign functions to every room accordingly. For instance, in an epic clash of great room vs living room, which one is more your style? Or, you want a house that has both — a perfect mix of formality and casualness?
Planning a house remodel? Try our free home renovation cost estimator to know how much the home improvement will cost you.
Do you know why houses were partitioned into separate rooms in the olden days? Surprisingly, it was to enable temperature regulation. When a room was not in use, the source of heat would be removed or shut off to focus on occupied areas of the house.
However, with today's efficient and effective heating and cooling systems, dividing a house up according to old traditions is no longer necessary. You can have a flexible home floor plan.
But, how do you decide what you want your living space to look like? While some prefer the open concept with a great room, others require a more formal living room to host guests.
Thinking about the great room? Find the best cost for your installation.
More often than not, there's always confusion between a great room and living room. But, the truth is, these are actually two different rooms in a modern home.
What is the difference between a great room and the living room?
Typically, a great room is a large and open space within a home that is used for entertainment, recreation, and relaxation. Needless to say, such a room is far more casual than a living room. It's meant to be used every day.
You can recognize a great room by its high ceilings.
A living room, on the other hand, is a conventional space that is used to entertain guests. A living room generally features expensive, high quality, comfortable furniture, and plenty of space for a formal gathering. It's not designed for everyday use but rather reserved for special occasions.
If you want to give a change of looks to that living room, take a look at our guide on living room color schemes to choose from.
Great room vs living room: the differences
Let's explore some of the differences in detail. They will help you choose the right layout for your primary living space.
1. The history
Interestingly, the concept of a great room reflects the romanticized idea of great halls and chambers in medieval castles and mansions. These were large central rooms — where everything happened.
The idea was brought back by home builders in American suburban homes where a relatively central room was used for all family functions traditionally split between living rooms and family rooms.
The concept of a living room, on the other hand, was a formal display space for welcoming guests in homes built in the 17th century. With time, it slowly morphed into the more casual gathering space that we know today.
In most large contemporary homes, with multiple common areas, the living room retains its more formal underpinnings.
2. The floor plan
As discussed above, a great room has an open floor plan. The room, typically with raised ceilings, is usually placed at or near the center of the house.
Get the best estimate for your great room with our estimator tool.
A living room, also called a lounge, sitting room, or front room is specifically used for socializing. Such a room is mostly near the main entrance at the front of the house.
A great room has a huge advantage over a living room, the open floor plan allows for a lot of natural light into the house. Since there are no walls, sunlight streams through the windows and lights up the entire room, including the adjacent kitchen or dining room.
This floor plan helps improve your house's energy efficiency!
Planning a great room remodel? check out these great room design ideas!
3. The size
A significant difference between a great room and the living room is the size. While the square footage of both the rooms is in proportion with the rest of the house, a great room is always bigger.
The reason is that you need plenty of room for your friends and family members, being lazy while watching TV, playing a game of poker, or just enjoying each other's company.
When it comes to great room vs. living room size, the great room is a clear winner.
4. The function
A great room is multi-functional — it can be a TV room, home office, playroom, library, a hobby corner, and even a casual living room. If you have great room decorating ideas, you can use the space any way you desire.
A living room is a separate entity that's used sparingly for special occasions. It's the perfect, organized space for all your formal parties. If you have important or less familiar guests coming over, this is where you would direct them to.
Typically, you won't find a TV here. Needless to say, kids and pets aren't particularly welcome!
Read more: Smart Home Library Design Ideas for You
5. The furniture
It's important to choose the right type of seating for your space. And, both the rooms have their own requirements in terms of furniture.
Since a great room has free-flow and continuity between the various living areas, you rely heavily on sectional furniture pieces and area rugs to define the spatial boundaries.
For instance, a couch is a clear border between the kitchen and the great room.
Keep in mind that you need comfortable and inviting items to add to the coziness, which is precisely what you're looking for in a great room. If you have limited space, look for a high-legged sectional. It will make the room look open.
For the more formal living room, you need the newest, the most stylish, and highest-quality furniture and furnishings.
Or, you could bring in some antique furniture to add a touch of elegance. A living room is a luxury because it offers a place that is always clean and proper.
Steer clear of large furniture items, especially sectionals. They would shrink the room instantly. Instead, focus on small sofas, coffee tables, and armchairs instead. Choose furniture with high legs. They'll help the room look and feel more open and less stuffy.
Whichever room you're decorating, make sure to bring in complementary furniture. It will transform your great room or living room into an inviting space. When in doubt, don't hesitate to get professional help.
Read more: Benefits of armchair slipcovers
6. The vibe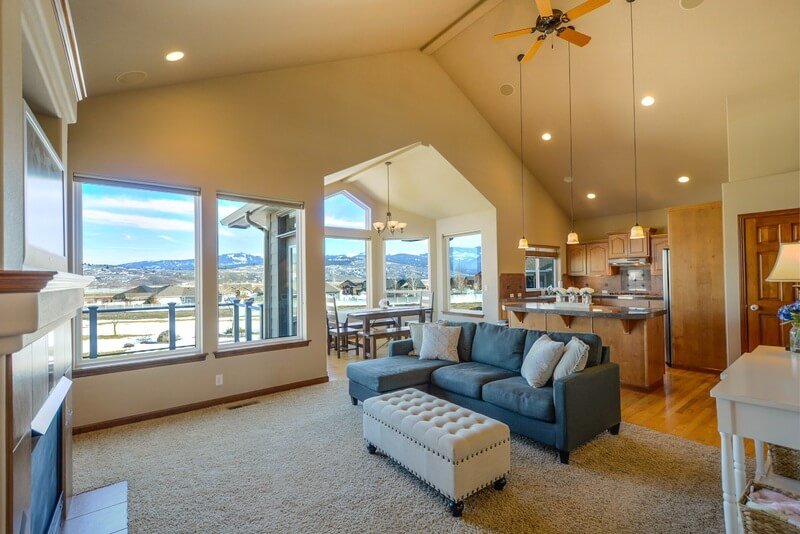 As mentioned above, when it comes to the great room vs living room, the primary difference between them is the level of casualness.
The great room is the heart of your home. Often, this single space contains the dining room or even the kitchen. This is where you spend most of your family time — bonding together. The ambiance of the room is relaxed and happy.
No wonder, a great room makes the house more appealing to potential buyers.
Living rooms tend to be more formal and separate. Let's just say — it's pure business. There's no "room" for casual enjoyment (pun unintended!)
Conclusion
If you have a long wish list of features that you want to incorporate into your new home, you need to be clear about your living space. Whether you choose a great room or a living room — ensure that your house is comfortable, functional, and trendy.
At the end of the day, it's up to you to define what kind of space you need for your household. Great room vs living room — choose well.
Read more: Family Room vs Living Room
Great Room vs Living Room: Understanding the Differences
was last modified:
October 11th, 2022
by
Recommended