Many people consider the kitchen to be the heart of the home, and it isn't difficult to see why. Everyone tends to congregate there before and after mealtimes, talking to one another as they cook or clean up. So, considering the function of this room, it would stand to reason that you create a family friendly kitchen that is a great space for all members of the family, regardless of age.
Here, you will be able to find interesting ideas to ensure that your kitchen interior design is beautiful, functional and a perfect place for everyone to mingle. However, before you get started, the first thing you will need to do is crunch some numbers and figure out your kitchen remodel cost. This will make it easier to determine the changes you can actually make and which ones you should avoid.
Figure Out the Flow
The first thing to think about is the main layout of the kitchen. This is because it directly impacts the flow of the space. With kitchens, it is important that you are able to move around efficiently, especially since there are bound to be several people in the space at the same time. Thus, you need to be careful about including island or peninsula counters unless you have the space for them. Stand in your kitchen and imagine the steps you would take when preparing a meal. Now, picture how other members of your family may move about at the same time. The refrigerator and sink area, for instance, will be one of the more frequently-used parts of the kitchen. Your goal is to make sure that there is an effectual flow in place.
Read more: Architect tips for L shaped kitchen
Opt for a Versatile Design
In most cases, kitchen remodels are good for up to about ten years after the renovation. This means that even if you have young children when it began, your kids are going to be quite a bit older before you will need to make changes again. Thus, it is important to opt for a design that will work for kids of all ages. For example, if you are going to construct built-in spaces for your microwave or have refrigerator drawers, keep them at a height that is suitable for both kids and adults. After all, once your children are grown-up, they wouldn't want to keep stooping to use an appliance.
Create a Dining Nook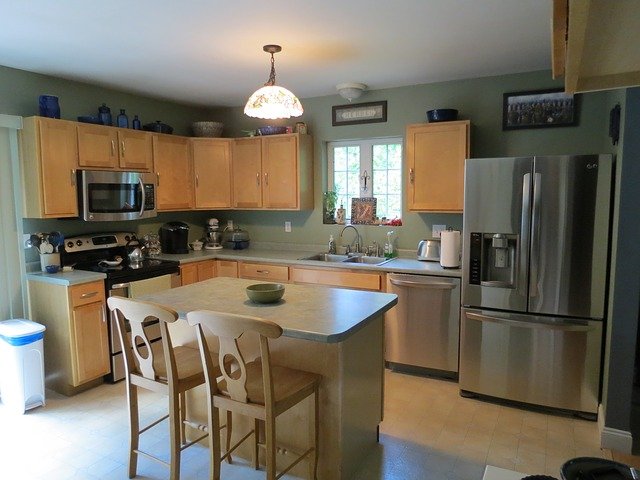 Pixabay
With families, it is often more stress-free to eat close to the kitchen. This is especially true during breakfast, when everyone may be in a rush. Also, if you have smaller children, it can be easier for you to keep an eye on them while you are cooking. So, you should think about inserting a small nook in a corner of the kitchen, if you have space. It doesn't have to be too big – just enough for a small built-in bench and table. You can also build an island counter and have it double as a dining spot if you don't want to use it for prep work.
Set up an Organization Station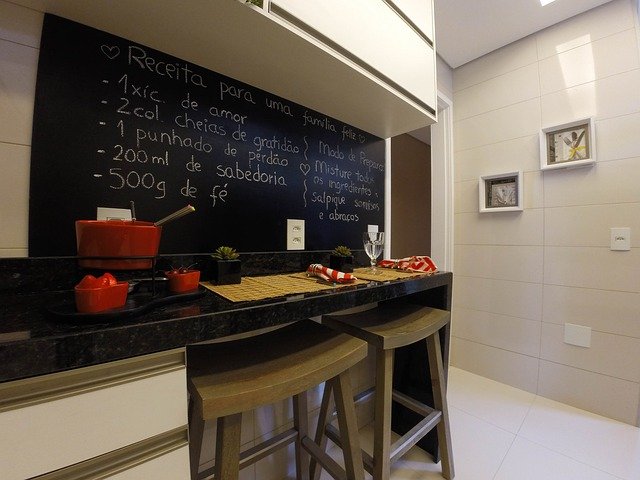 Pixabay
There is a reason that notices and messages tend to go up on the fridge or somewhere around the kitchen – you spend a lot of time here. Well, if you are tired of all these things cluttering up the space, it might be time to set up an organizer or command station. You can use blackboards, small cabinets, and letter holders to create a space where you can keep track of everyone's activities and whereabouts.
Choose the Right Countertop Materials
When it comes to kitchen counters, the most important thing to keep in mind is maintenance and resistance to scuffs and damage. The one thing that you can be quite sure of with kids is that they will leave fingerprints on most surfaces they touch. This is why stainless steel is often not the best choice unless you want to be wiping down the surfaces every few hours.
There are, however, a lot of materials that will work well for busy kitchens. If the price is of no object to you, then you may want to consider quartz. It is a tough material that stands up well to heat, scratches, and even stains. It doesn't show smudge marks, either. If you are looking for a material that is more cost-effective, then laminate will be a great choice. In recent times, these designs have gotten a lot better, so most laminate looks quite good as countertops. At the same time, they are tough and able to withstand heat and stains.
Read more: Pros and cons of today's most popular kitchen countertop materials
Select Safe Flooring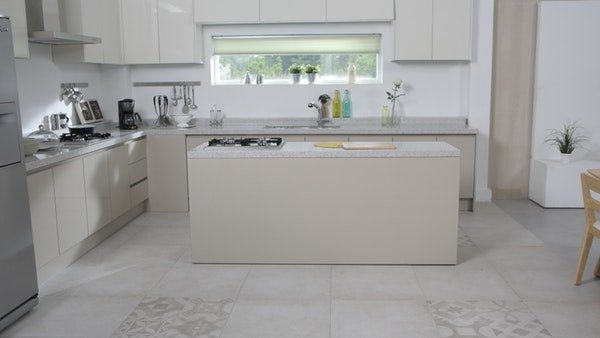 One of the most important aspects of designing a child-friendly kitchen is to make sure that it is safe. In particular, you need to be careful about the material that you select for the flooring. Because it is so easy to clean up, most people decide on tile. While this is a great choice, it is much better to choose matte over glossy tile. This surface is less slippery and has the additional advantage of not showing stains and dirt as well.
These are all the ways that you can design a kitchen that works well for the entire family. As a result, you will have a space that is calmer and more efficient, ensuring that you and your family will enjoy spending time together here.
Read More: Tackling Your Kitchen Countertop Issues With These Simple 5 Tricks
Your Guide to a Family Friendly Kitchen Interior Design
was last modified:
May 18th, 2022
by
Recommended