Your bathroom is a special room in your house, a place where you spend time every day. Many people look for their bathrooms to be a soothing place to relax, a personal haven of wellness. It is also a space that isn't redecorated very often. So you should do your research when you're choosing new bathroom flooring, accessories, or décor elements.
The bathroom floor plays a big part in the atmosphere of the bathroom. And we're here to help you make choosing bathroom flooring an easier task. Safety, water resistance, and style are all important factors. Wood, cork, tile — there's an option for every taste. Get inspired by the best bathroom flooring options for bathrooms as well as powder rooms — presented below. Find the perfect fit for your new bathroom!
Ceramic Tile Bathroom Flooring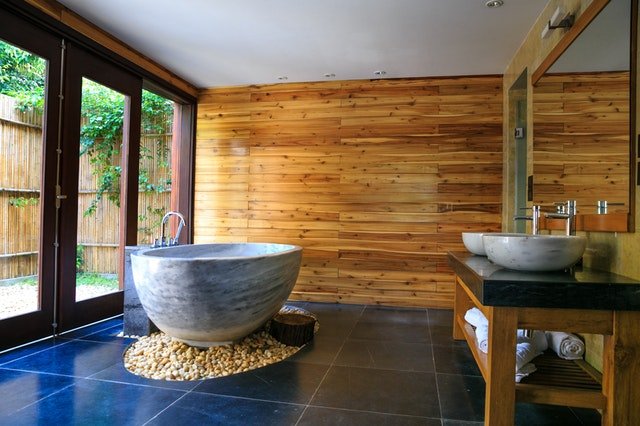 One of the most popular types of flooring is a ceramic tile floor. The pros are obvious: they are durable, cheaper than many other options, waterproof and stain-resistant. Ceramic tiles come in a variety of shapes, patterns, and finishes, meaning you can find ceramic tiles compatible with every style.
However, they also have some cons. Ceramic tiles may be uncomfortable if your feet get cold easily (though you could install in-floor radiant heating). Also, installing them can be a challenge, even for a skilled DIYer. Add slip-resistant options if you want to prevent slips from occurring in the bathroom.
Vinyl Bathroom Flooring
Vinyl floor is another good bathroom flooring option — you can choose sheet vinyl or vinyl tiles. Both options are low-maintenance, safe and more comfortable compared to ceramic tiles. Vinyl is also a budget-friendly choice and easy to install, which is great for DIYers.
If your bathroom sees heavy traffic and is definitely not a splash-free zone, sheet vinyl is probably your best bet. Sheet vinyl has fewer seams. This reduces the chance of moisture creeping through the seams, in comparison to vinyl tiles. You can find countless styles of vinyl too — making it easy to pick a great floor that perfectly reflects your taste.
Laminate Bathroom Flooring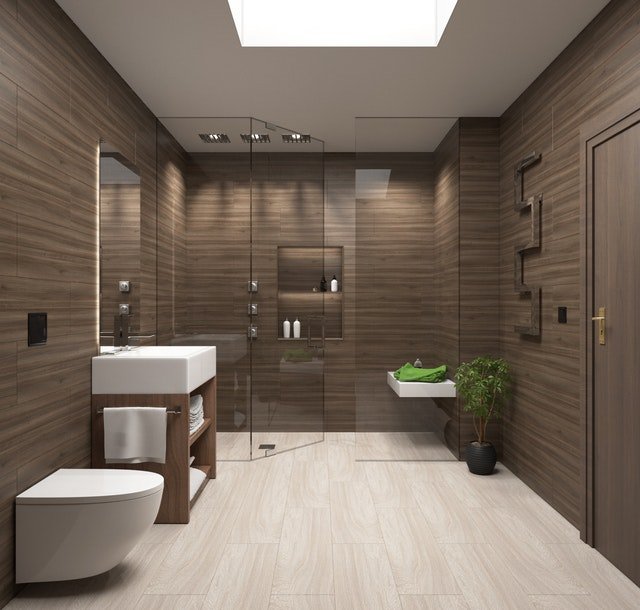 Laminate flooring is a possibility for the bathroom floor. Laminate flooring is durable and easy to maintain. The biggest problem has to do with the seams. Laminate flooring is locked into place, making it possible for water to seep through the seams, which will cause the laminate to expand and buckle.
You can add laminate floor glue to the seams as explained at doityourself.com to increase their resistance to water. You should note that this will not make your laminate flooring waterproof. Quickly cleaning up after any water spills or splashes on the floor is still a recommendation, and an important consideration to keep in mind.
Cork Bathroom Flooring
If you are looking for an eco-friendly floor, cork might be the one for you. Cork flooring is still a much-discussed bathroom floor. Though it is known to be water-resistant, it is not waterproof. Even as it grows in popularity as a flooring choice for any room, the experts are far from unanimous about whether it should be used in a bathroom.
Cork flooring does have many advantages: it is soft underfoot, hypoallergenic and resistant to mildew. It is renewable every 8 to 10 years and stays warm compared to tiles which feel great against bare feet. If you decide to go with cork flooring for your bathroom, we advise you to first check whether it has been approved for usage in high moisture spaces.
Stone Tiles Bathroom Flooring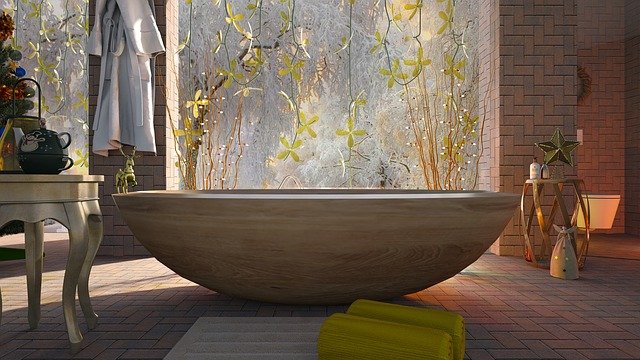 Stone tiles include granite, limestone, slate, marble, and travertine. Compared to other flooring options, stone tiles are expensive. They need more care compared to ceramic tiles, meaning regular cleaning is recommended and you'll need to have the floor sealed and then resealed on a regular basis to protect the surface.
Keep in mind that some stones scratch more easily than others and some chip more easily, even during installation. Purchasing extra stone tiles is encouraged in case these accidents occur. Although stone tiles may be a more expensive bathroom flooring option, they do add a beautifully dramatic feel to spaces. Over the years, stone tiles increasingly gain character and can be good for the value of your home, if that's a consideration.
Porcelain Tiles Bathroom Flooring
Porcelain tiles should not be overlooked when you are choosing bathroom flooring. On account of being waterproof, stain resistant and tougher than ceramic tiles, porcelain tiles are highly suitable flooring for bathrooms.
Besides being resistant to moisture, porcelain tiles are durable, require very little maintenance and keep their color longer compared to other tiles. They are also a stylish choice but can be expensive and difficult to install. When choosing porcelain tiles, you may want to consider installing in-floor heating to avoid really cold flooring under bare feet.
Glass Tiles Bathroom Flooring
One of the lesser known — or chosen — options are glass tiles. Glass tiles will definitely add a unique, eye-catching feature to your bathroom. For example, small mosaic-style glass tiles give bathrooms a beautiful and luxurious feel.
Glass tiles are stain- and mildew-resistant but can be slippery. Therefore, we recommend textured tiles or smaller tiles with a lot of grout to avoid slippery flooring. Glass tiles also easily show dirt and scratches, are on the more expensive side, and installation is a bigger task because of all the small tiles.
Home Renovation Cost Estimator
Sorry, we currently don't have that project at our disposal.
---
You can take a look at our most popular ones:
Water Heater Installation
Exterior Door Replacement
Install Recessed Lighting
Exterior Door Installation
Interior Door Installation
Interior Door Replacement
Hardwood Bathroom Flooring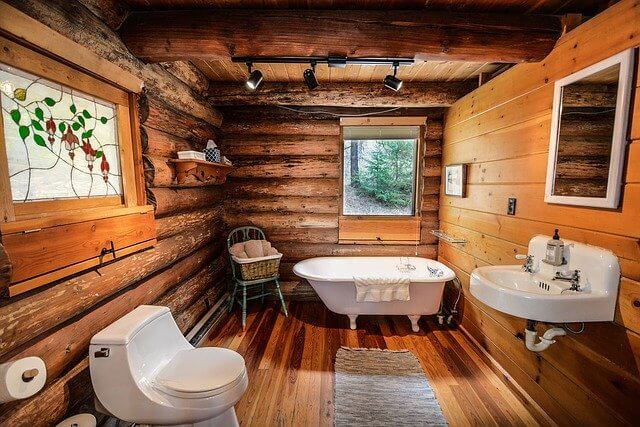 Hardwood flooring seems like a great choice due to its durability and natural absorbency, but it doesn't handle really moist areas such as the bathroom very well. Nonetheless, you can still find it in some chic master bathrooms. One solution is to apply a finish, but this will not guarantee a waterproof floor.
Both wood flooring and engineered wood floors demand high maintenance. Mold and mildew can become a problem, although some types of wood hold up better compared to others.
If you decide to go with hardwood flooring when you're choosing bathroom flooring, make sure you understand the different wood types and find the one that is going to hold up best. So what are the pros? No one can argue: hardwood floors are gorgeous, and add warmth and style to any space.
Concrete Bathroom Flooring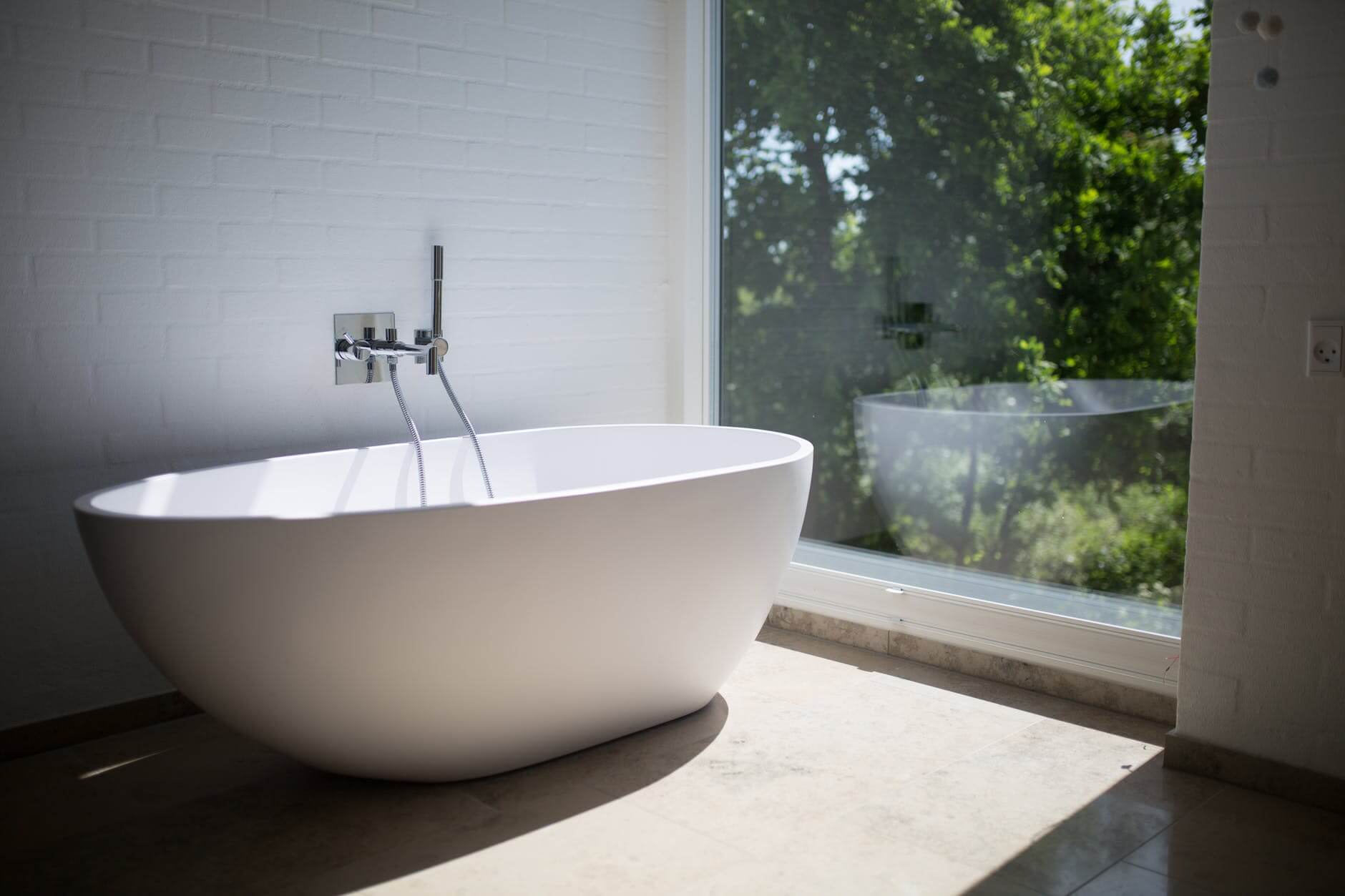 Concrete is a lesser-known flooring option but is growing in popularity. Concrete flooring doesn't have many cons. It is available for most budgets, low maintenance, stain-resistant, waterproof and durable. And that's not all: it can also add a sleek, contemporary look to your bathroom.
Are there downsides? Yes: you require to reseal concrete flooring regularly. Additionally, it is really hard in comparison to other flooring options. A bathroom is one area in the house where accidents occur. Hence, we would not recommend concrete as a flooring option for small children or seniors.
Conclusion
Whenever you choose any bathroom flooring idea or type, follow the latest trends as well. Our friends at Sebring Services have listed all the bathroom tile trends for 2017. Our favorites include nude neutrals and geometric tiles.
The perfect bathroom makes you relaxed and rejuvenated. And nude colors can really help create this kind of atmosphere. Using geometric tiles is all the rage right now, it's an eye-catching choice that will make your bathroom floor pop — we love it!
Read more: Guide To Flooring Options : Take Hold Of Your Interior Design
What Are the Best Bathroom Flooring Options for Your Home?
was last modified:
April 25th, 2022
by
Recommended