In chilly weathers, it is undeniably important to ensure proper garage door insulation and encapsulate your garage against the colder temperatures outside – especially if you have got your home workshop in there. Metal garage doors may be useful in blocking out strong winds, but they are not so effective in maintaining a comfortable temperature. However, if you're not prepared to add a thousand extra dollars to your garage remodel cost by buying a pre-insulated model, consider gearing up the garage door you have got.
Types of garage door insulation
Any premium insulation type will boost the energy efficiency of your garage doors. Here is a list of the most popular kinds to apply to the back end of garages.
These rigid panels are typically made of polystyrene, providing a highly insulated value for relatively little thickness. Panels usually range from 0.5 inches thick to 1 inch. The foam board is often faced with aluminum or vinyl.
Since it is considered one of the most flexible insulations, batt is commonly made of fiberglass and is often found stuffed into exterior walls. It is usually backed by foil or paper, which act as air barriers. The insulating values are R-3 to R-4 per inch of thickness. Cost is about 30 cents per square foot.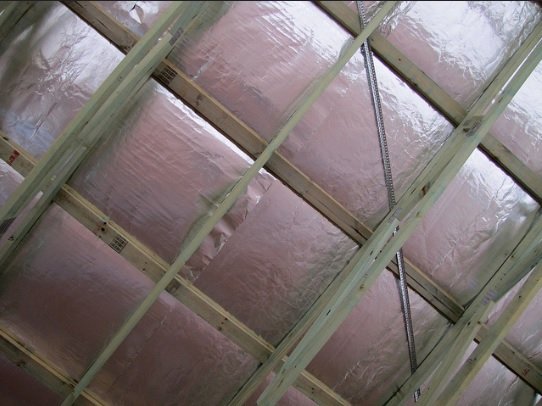 Photo by Brett and Sue Coulstock on flickr [CC BY-ND 2.0]
The rolls of reflective insulation have highly reflective aluminum foil applied to either or both sides of insulating materials, such as polyethylene bubbles and cardboard. This type of insulation, in particular, reflects radiant heat, making it an excellent insulation choice for garages that heat up quickly in the summer months or hot climates.
How to execute a garage door insulation project?
Studies done by garage door manufacturers have proved that an energy-efficient R-18 insulated garage door can keep your garage around 12 degrees warmer in the winter months and about 25 degrees cooler in summer. This reduces the loss of energy along the ceiling and insulated walls.
A new R-18 garage door costs around $1400; so it doesn't pay to replace yours based on the energy savings alone. However, you can add insulation, doorstop weather stripping, and a new bottom seal to your existing garage door to gain some comfort as well as savings. The project can be completed in about 4 hours under $200. You just have to buy the relevant materials from any home center and gather up a tape, straightedge, saw, dusk mask, utility knife, a hammer, and nails. Here is a summary of how to do it.
1. Shop for materials
You can easily purchase two kinds of garage door insulation kits at local home centers. An R-8 vinyl-faced fiberglass batting kit provides a high value since it takes two kits to insulate a typical 16-ft wide garage door. Or you can buy pre-cut R-4 expanded polystyrene (EPS) panel foam online. Customers can just cut the panel to length and bend-snap it into the horizontal rails on your door. At R-4 per inch, however, EPS has the lowest R-value. In case you live in a moderate climate, this may be enough.
Next, you can buy enough doorstop vinyl weather stripping to seal the upper sides of your garage door. You will also require a new vinyl bottom seal to aptly fit your existing track, or buy a new one if yours is damaged.
2. Measure, mark, and install
The next step is to measure, mark and install the retainer pins. Through measurement, you have to locate the spot that is 12 inches from each edge of the panel and midway between the horizontal rails.
Make sure to mark the location, followed by peeling off the adhesive backing paper and pressing the retainer pin base onto the panel.
Next, install two retainer pins on each panel and start by washing each door panel with household cleaning spray and rags. Before installing the retaining pins, rinse the areas with clean water and let it dry on its own.
3. Lock the batting in place
You can then line up the insulation, so it is centered in the panel and push it against the retaining pin until it punches through the vinyl facing. Push the retaining cap over the pin until it falls into place with a snap.
Panel sizes may, indeed, differ along the garage, so make sure to measure each one as you go rather than pre-cutting all the panels based on a single measurement. Carefully fit the cut insulation into the panel with the vinyl side facing straight into the garage and getting secured into the retaining pins.
4. Mount the doorstop weather stripping
Start this step from the top of the door and tack the door stop weather stripping to the top jamb. Then mount the side doorstops the same way, pressing against the door to simulate how much it might move in the strong winter winds.
You can then readjust the doorstep, so it seals against the garage even in windy conditions. Then pound the cells along the way. If you can see the light through the doorstop weather stripping or in case the door has too much to play to adjust the doorstop correctly, replace the existing hinges with spring-loaded versions so that they remain intact with the weather stripping regardless of the weather conditions.
Read more: Garage Door Tips To Improve Your Curb Appeal
5. Slide in the new bottom seal
You can slather some local dishwashing liquid detergent onto the door slots along the bottom track or spray them with silicone. Then insert the vinyl seal and pull it carefully into place. Scrape off the excess vinyl with a utility knife, crimping the ends of the track with a pair of pliers. Then install the new one.
6. Test the door
A properly balanced garage door would stay in place if you lift it part-way and let go. Insulation, however, adds weight to the door, throwing it off balance. In case your door falls after you let go of it, hire a garage door service company to readjust the spring tension. Leaving the door in a consistent unbalanced state can damage your garage door opener.
Why go for garage door insulation?
Photo by Varmin, from Wikimedia Commons [CC BY-SA 2.0]
In addition to helping you save money and protecting your valuables, an insulated door tends to travel up and down much smoother, rattling far less than typical garage doors. Not only is the door quieter but your house is too. For many people, an insulated door is also a sound barrier to the ruckus outside. Anyone living on the busy road should consider installing an insulated garage door to keep out the noise pollution entering through their garage space.
Final take
Any garage door insulation project will significantly increase its weight. The extra pounds is not usually a big problem if you have at least 9 foot wide doors. But still, it can substantially strain the opening mechanism of bigger garage doors. If anything of this sort happens and the garage door's spring extension needs a readjustment, a professional garage door repair company should be called in.
Read more: Stunning Garage Door Designs You Should Try For Your House
Guide to Garage Door Insulation for Your Home
was last modified:
June 4th, 2019
by