Your roof and gutter play a great role in transporting rainwater and then depositing it to the bottom of your downspouts. The downspouts — vertical attachments on the gutter — in turn, transfer this water away from the foundation and into the drainage system. However, a poorly constructed gutter system can result in the water gathering up, against your foundation. And this can lead to severe foundation issues, such as water seepage into your home, basement, or crawlspace. However, with the employment of foolproof gutter downspout drainage solutions, you can avoid this problem and increase the life expectancy of your downspout drains up to several years.
However, before coming to the solutions, let us understand the major functions of downspouts.
What do downspouts do?
They collect and transport water away from your home's foundation and direct it into the connected drainage system.
They help in keeping your basements and crawlspaces dry, by combating water accumulation in problem areas.
Downspout drain lines are of two types — PVC drain lines and corrugated pipes. The former is able to handle thrice the volume of water as compared to the latter. Moreover, PVC piping lasts 20 times longer.
Downspouts, when installed properly, require minimum maintenance and can last a lifetime.
Now, if you wish to improvise the performance of your gutter, then here are some of the best gutter downspout drainage solutions that you can implement.
Best gutter downspout drainage solutions
Regular inspection and maintenance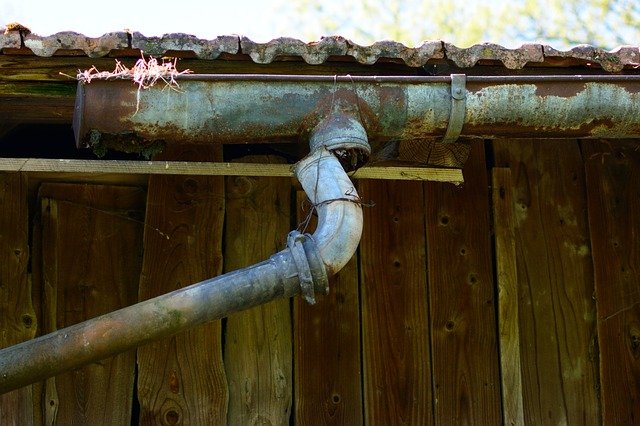 Embrace the practice of regularly inspecting and cleaning your gutters. Remember to remove all debris, especially during the fall season. Do a thorough cleaning at least once during the spring months. Moreover, check the berms and ditches. Get them repaired by professionals, if you notice any damage. Again, closely inspect your gutter connections. Seal off any gaps and tighten any loose joints. Once you take care of all the above points, you can relax during the snowy and rainy months!
Pro tip: It is highly recommended to replace your gutters every 20-25 years.
Installation of gutter guards
To ensure the prevention of clogs and overflowing drains, it is necessary to install gutter guards. They function by filtering out all kinds of debris and allowing only water to flow through the gutters.
Outdoor gardens
Outdoor gardens that house landscape plants act as a natural solution to drainage issues. They absorb rainwater and help manage water runoff. You can also create a rain garden for more effective management.
Downspout extensions
A downspout extension — when added to your gutter system — guides water toward the ground and diverts it away from your foundation and structure. They are usually installed by cutting at an angle of 45 degrees and then connecting it to the downspout with hinges and screws.
Storm drain or dry well
You can also consider the possibility of constructing a storm drain or a dry well. Discuss with your plumber and check with him about the possibility of installing a sump pump. A sump pump shall divert water away from your foundation into the storm drain.
Grade and slope
This step might require the involvement of professionals who will excavate your surrounding landscape and calculate its slope. When your slope angles away from the house, only then, water will escape from the vicinity. If not, you might need to manage this issue with the help of experts. If there are low spots around your home, fill them up to avoid water accumulation.
French drains
A trench or French drain is a drain that is filled with sand or gravel and allows water to flow away from the home, in the direction of its grading. Since its base is permeable and is not made of impermeable concrete, it is much more effective. Although trench drains are costly, they prove beneficial in the long run.
Rain barrels or cisterns
Rain barrels and cisterns are quite effective to channel water for future use. Not only do they reduce the amount of stormwater runoff into a nearby area by collecting rainwater from the roof, but they also help in storing water and avoiding wastage.
You can incorporate all or any of the above measures as gutter downspout drainage solutions to protect your home from water-related damages. However, if you adopt any step that involves excavations or elaborate renovations, always remember to take the help of expert professionals in your locality.
Read more: Drainage issues
Gutter Downspout Drainage Solutions: Some Effective Tips
was last modified:
December 28th, 2022
by
Recommended