Is your old hardwood flooring looking like it needs refinishing? Can you spot scratches, scuff marks, gouges, stains, or general wear and tear on the surface? Well, hardwood floor refinishing is an easy home improvement that can make your floor look as good as new.
Experts advise that you should refinish your hardwood floors once every 10 years. Or, more often if your house experiences heavy traffic flow — especially from kids or pets. The reason is that over time, hardwood flooring can inevitably get dull or scratched. However, the good news is that such a floor, unlike other types of flooring, can make a lovely comeback with some refinishing.
Planning to install new flooring? Try our free tool to estimate the cost of your flooring installation; it's easy, quick, and convenient to use!
A typical wood floor refinishing involves sanding the top layer of the covering material. This process helps remove all the scratches, stains, or imperfections, leaving you with a fresh surface to be stained or painted.
Hardwood floor refinishing is definitely worth it as solid wood floors add value and style to your home — providing a classic look that never goes out of fashion. Refinishing an old hardwood floor is always a lot less expensive than replacing it altogether. Replacing the entire floor will require you to pay for additional wood, flooring materials, and labor costs. Not to forget, the extra effort of ripping up and hauling away the existing hardwood!
Hardwood floor refinishing cost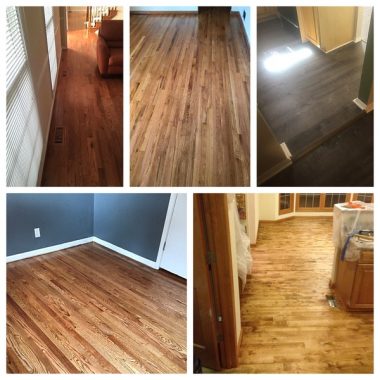 The average cost of refinishing hardwood floors is around $3 to $8 per square foot. Most homeowners can expect to pay between $1,074 and $2,411. A more complex job or a custom refinish work involving sanding, applying stains, water-based, oil-based finishes, or acid-cured finishes might cost as high as $4,000. Of course, the total refinishing cost depends on the type of work, whether you prefer a DIY project or hire a flooring professional, the material costs, and your zip code. Interestingly, the more area you have, the lower will be the square foot price.
Generally, the process takes up about one week including cleanup depending upon the type of finish you use, the number of coats you apply, and the humidity level.
Ideally, if you want to seal the floor, it's a good idea to do it on the same day you finish sanding. This is to ensure that the open wood surface doesn't absorb moisture. Use a sheepskin applicator to apply the stain and sealer evenly. Remember that excess sealer doesn't soak into the wood so be careful not to apply too much.
If your wood floor is slightly worn out but otherwise in good condition, you may skip the sanding and directly recoat the flooring. This is perhaps the cheapest way to refinish hardwood floors at $1 per square foot.
Another way to refinish wood floors without sanding is by using a technique called screen and recoat. This process involves scuffing up the finish with a floor buffer and then applying a refresher coat.
But, how do you identify the condition of your floor? A simple water droplet test should do the trick. Splash some water droplets on your floor. If they soak in immediately, it means that the wood fibers of your flooring are exposed and the surface requires refinishing. If the droplets bead on the floor, thorough cleaning and polishing are all that's required.
Read more: Laminate Vs Hardwood Flooring
Types of hardwood floor finishes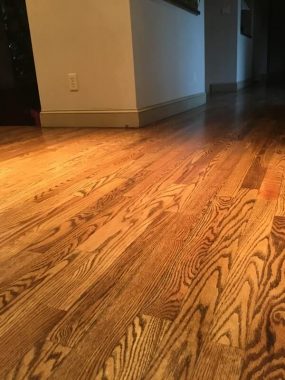 The type of hardwood floor finish you choose depends on the style and durability you're looking for.
This finish can be either oil- or water-based. The plastic-looking finish comes in varying degrees of luster. It's excellent for high-traffic and high-moisture areas. But, keep in mind that such a finish is extremely difficult to spot-repair.
Read more: How to get rid polyurethane smell from floors
The luster of varnish ranges from matte to glossy. Interestingly, the more the gloss, the more durable it will make the surface. You can easily make spot-repairs with varnish. Do remember that this finish tends to darken with age.
If you're looking for a natural-looking finish to bring out your wooden flooring's grain, a penetrating sealer offers good protection. It looks especially great when waxed. It's the easiest finish to spot-repair. However, it's slightly less durable.
Read more: How to install tongue and groove flooring
Hardwood floor refinishing steps
Knowing how to refinish your hardwood floors can help you maintain your home and combat the wear and tear of everyday use.
Prepare your floor for the refinishing
Move out all the furniture from the room
Pull out the rugs or carpeting
Use plastic sheeting to seal doors (to keep dust from sanding contained)
Find and hammer down any protruding nails across the floor
Secure any loose floorboards with finishing nails.
Clean the floor with a vacuum cleaner, mop, or floor cleaner
Seal air vent covers to prevent dust from entering your ductwork
Pull up the base molding with a pry bar
Pry up the molding from where the floor meets the wall
Make sure you protect the baseboard at all times, especially when operating the sander
Label each piece in order to make it easier to replace it after the refinishing
Read more: Types of Molding for Kitchen Makeovers
Rough-sand your hardwood floor
Wear a dust mask, safety goggles, and ear protection before beginning the sanding process
Use a drum sander or belt sander along the length of the floorboard to remove scratches and stains
Work the drum sander back and forth (over 3- to 4-foot lengths) with overlapping strokes
Begin with coarse sandpaper (36 to 40 grit), then with a medium one (60-grit), and finally a finer paper (100 grit).
Sweep and vacuum the flooring between using the different grades of grit paper
Replace the abrasive belt after every 250 square feet for good results
Fill in the holes with wood putty or wood filler
Sand the floor edges and corners
Make use of an edger sander or a small orbital sander for corners, edges, closet floors, stairs, or around fitments.
Start with a coarse-grit paper before moving to a finer grade one
Sand the entire floor at a uniform consistency
For difficult to reach areas, remove the old finish by hand with sandpaper
Screen-sand the hardwood floor
Use a floor buffer with a screening pad
Level out the minor unevenness and smooth away any sanding scratches
Remove all the dust and debris by wiping the floor
Apply the wood stain
Choose a wood stain that suits the type of hardwood flooring you have
Use a foam applicator pad to apply the stain
Always stain in the direction of the wood grain
Keep removing the excess stain with clean cotton cloths or paper towels
Allow the stain to dry completely before applying the wood finish
Apply the finish
Apply the finish with a lamb's wool applicator
Avoid drips and move in smooth, even lines
Opt for three coats of oil-based finish or four coats of a water-based product
Wait for each coat to dry completely
Keep in mind that most water-based polyurethane wood finishes or lacquers dry quickly while oil-based polyurethane wood finish dry slowly, taking almost 24 hours to dry
Sand the hardwood floor lightly with 220-grit paper or a steel wool
Vacuum up the dust
Reattach the molding
Dispose off the oil-soaked rags properly
Bring back the furniture. Avoid dragging it across the floor
Read more: Hardwood Floor Care Tips
Last words
Whether you hire flooring pros or tackle the hardwood floor refinishing yourself, if you follow these steps, you can easily revitalize the look of your flooring without having to install a brand-new one.
Keep in mind that experts estimate that hardwood floors can be refinished up to 10 times, depending upon the thoroughness of the sanding and refinishing.
Read more: Best Wood Flooring Options
Hardwood Floor Refinishing: Costs, Tips, and Steps
was last modified:
July 7th, 2022
by
Recommended