For a moment, consider that your washing machine stopped washing your clothes, or your smartphone simply went blank!
And unfortunately, the manufacturer's warranty period for both of them EXPIRED recently! The repairs will cost you a bomb.
Now back to reality, how would you react in the above situation(s)? D you regret your decision to politely turn down the salesman's offer of getting the product(s) covered with an extended warranty?
Well, this is usually the case with most of us.
Problems Come Uninvited
Appliance protection plans and extended warranties have been shown in poor light as a mere marketing strategy. Or that is what is embedded into our subconscious minds. Right?
However, we cannot blame ourselves for such a line of thinking. There have been instances where consumers haven't got what they were assured of. Sometimes, the 'terms and conditions' of such service contracts are so absurd that we can't trust them.
So, we fail to gauge the seriousness of it and repent later on (as was the case above).
Spending a few bucks extra on buying such plans could save you hundreds, or even thousands, of hard-earned money later on.
Let's consider a case study (the figures are berserk). You bought a smartphone of a reputed brand for, say, $400. So, after the warranty period (generally a year or so) expired, the device slipped from your little kiddo's hand.
Now, replacing the cracked screen (other things working fine) will cost you around $200, if you plan to go for the original one.
Sellers of extended warranties (either the manufacturer or private guys) will charge you anything around $150 and offer you a complete protection package of your smartphone, for 3 years!
So, you can judge for yourself where you will end up saving more!
You won't get the money back if your phone is never damaged during the coverage period. However, you don't have a 'time machine'. So, preparing for the worst always helps.
Read more: Home warranty insurance questions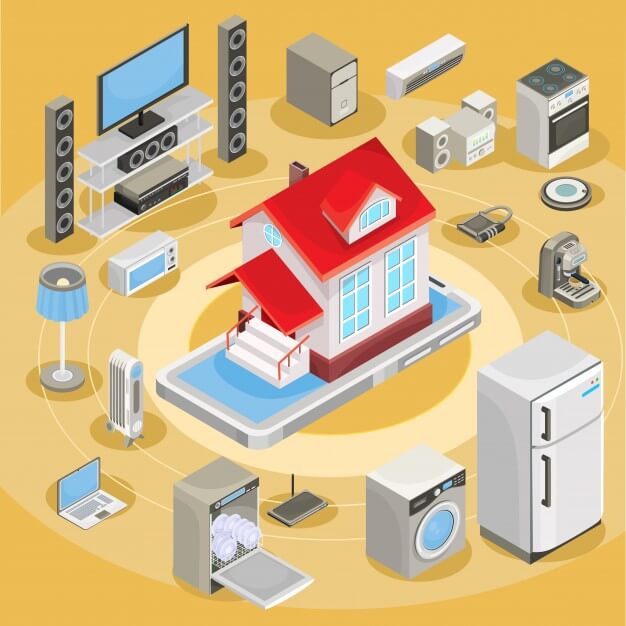 Banner vector created by vectorpocket – www.freepik.com
Why the Extended Warranty Trend Has Become a Trending Thing!
No business in this world is run on the loss!
When you purchase the extended service contracts or home warranty plans, you are not the only one who is benefitted. The retailer benefits as well.
These Service Contract Programs (SCPs), as they are technically known, help to generate higher margins and lead to greater brand loyalty.
Companies go to great lengths to design a well-structured service program that must be a win-win for both, the company itself and the end consumer.
And they are highly effective, especially during a recession. People tend to sign up for these plans as they want to avoid an out-of-the-pocket expense.
Having said that, the statutory bodies are tightening their grip on retailers to clearly outline the policies and conditions of coverage.
Read more: Smart choosing perfect home warranty company
What to Keep in Mind When Buying Such Plans?
As a consumer, you will be surprised by the fact that extended warranties, total home protection plans are selling like hotcakes in spite of their tarnished image.
It can be attributed to the increased awareness among the consumers about the long-term benefits of them, and a sense of security, too.
There are certain aspects, or tricks rather, that can't be overlooked when purchasing these products –
Prefer to sign up for the extended warranty plan when purchasing the specific product from the retailer.
Service contracts offered by the Original Equipment Manufacturer (OEM) are recommended; chances of securing the original spare part(s) are higher comparatively.
If opting for a 3rd party service (there are plenty of them), always do your homework! The internet is plagued with fake reviews, written with the intent to take you for a ride.
Last but not the least, read the terms and conditions of the contract carefully before taking the final call.
Innovation in Protection!
Private sellers are leaving no stone unturned to stay ahead in the competition.
When you purchase an extended warranty policy, you get bound to it for a specified duration.
Nowadays, however, this practice is changing for the better. Consumers can opt out of the policy and change the service provider (3rd parties) as and when they feel the need to do so. No questions asked!
And wait, there's more to it! You don't have to pay the entire amount at one go. Sellers are seen offering monthly subscription plans to users.
Unlimited claims and adding any newly bought gadgets to the existing coverage plan are the icing on the cake.
Read more: Does home insurance cover cracked windows
On a Final Note…
Protection plans are not that bad either. It can prove to be your best bet when you would least expect it. With digitization and advancements in e-commerce retail solutions, getting any gadget repaired, or replaced, is just a matter of few clicks!
So, choose what suits you best and rest easy!
Read more: Best appliance financing: How to finance washer, dryer & more
Home Appliance Protection Plans and Extended Warranties
was last modified:
September 10th, 2022
by
Recommended