Entertain your guests better with these home bar ideas
Having a bar at home isn't really a new concept. Having all your wines and spirits as well as bar accouterments in one place definitely makes it easier and faster for you to make drinks while entertaining guests. The location of these bars varies from home to home.
While some have large basement bar set-ups that may include wine cellars, others have simpler bars in their game rooms. Those that love entertaining outdoors may have an outdoor bar by their backyard pools. Some modern homes have hidden designs that make their bar a part of their living room decor, while still others with small spaces may just make do with minibars and a drinks trolley. Some people have simple bar counters, while others prefer to invest in wet bars, replete with a sink.
If you're thinking about setting up a home bar, here are some great ideas to help you get started.
Home bar essentials
Let's begin with a list of essentials that every bar must-have.
Glassware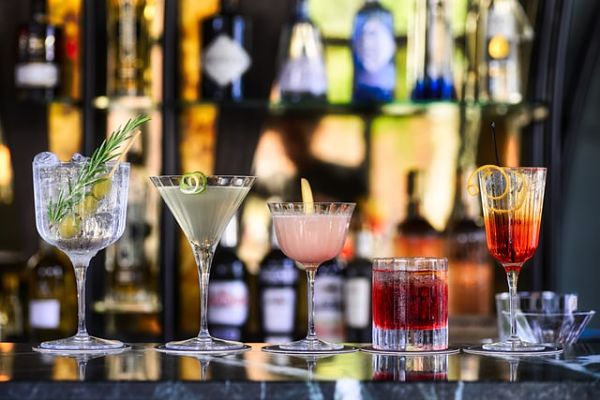 Let's take a look at what glassware is essential to your bar setup.
Old fashioned rock glasses are best used while serving drinks poured on ice cubes or balls, and for muddling ingredients in a serving glass. The average capacity of these glasses is around 6 to 10 ounces.
To serve drinks such as Mai Tais as well as gin and tonics, you will need to buy Highballs and Collins glasses. Both these are similar in design, except that the Highball is wider and squatters.
Coupe glasses measure 6 to 8 ounces and are ideal for serving cocktails that are strained into the serving glasses, such as Martinis and daiquiris
A 750 ml Japanese mixing glass with a spout is necessary for you to be able to make cocktails. The spout will make it easier to pour the drinks into the glasses. Make sure the mixing glass is thick enough to handle a mixing spoon banging in its sides without shattering.
Cocktail tools
First off, you will need a metal bar spoon. Bar spoons are used to both measure ingredients and stir cocktails. The average length of a bar spoon is 12.5 inches. Make sure you don't buy one that's too short, or you will not be able to stir effectively.
Next, a two-piece Boston shaker is essential, for those cocktails that need to be shaken, not stirred.
Cocktail strainers are essential to the presentation of your cocktails. Invest in both a conical mesh metal strainer as well a Hawthorne cocktail strainer.
Another essential tool every home bar should have is a Japanese jigger to help you measure out your alcohol portions accurately. You get them in various sizes. We'd suggest you get a 1-ounce x 2-ounce jigger as well as 0.5 ounces and 0.75 ounce one.
Read more: Incorporate a cocktail bar into project
Extra accessories
Every bar has to have an ice maker or a freezer at the very least. You can't keep running to the kitchen every time you need ice to fix a new drink, can you?
Ice molds are a must-have for every home bar. Make sure you get the regular molds as well as sphere molds.
Fresh citrus juice is an integral part of many cocktails, so you will need to invest in a citrus juicer.
A wooden muddler to muddle your sugar cubes and mint leaves is another essential. Make sure you buy an unvarnished muddler to avoid getting varnish in your drinks.
A bar cart, or a rolling bar would not be out of place either, for those occasions that you need to take a few bottles and glassware to a different part of the house to continue the party.
Essential spirits
While we're not going to get into brands, because those are personal preferences, your home should ideally have one Bourbon, one single malt whiskey, one blended scotch, one bottle of vodka, a bottle of dry gin, a bottle of herbed gin, rye, Irish whiskey, tequila, mezcal, a dark rum, and a white rum.
A few select wine bottles and beers would also fit right into the list.
You will need both a dry and sweet Vermouth, maybe a couple of Italian aperitifs like Campari and some interesting liqueurs such as a Cointreau and Bailey's Irish Cream.
Essential mixers include plain and flavored tonic waters, Angostura bitters, club soda, and simple syrup.
Design inspirations
There are plenty of home bar design ideas that you can use to work on your home bar decor without having to hire an interior designer. Here are some of our favorites.
Give your bar an old-school barn look with a long wood slab counter, wooden bar stools, and vintage wire lighting hung from a piece of wood. Instead of a backsplash, you could use a blackboard and get your friends to add their ideas to the decor.
For a home bar with a modern look, consider a glass countertop with hidden lighting. A mirrored backsplash will not only look beautiful, but it will also make the room look larger.
Pendant lights placed over a sleek but bare metal bar counter will be in line with the minimalistic theme that modern architecture embraces.
Recycling is something that never goes out of fashion, and your home bar decor is no exception. Beer kegs can be upcycled to make trendy bar stools. Beer bottle caps can be used to make coasters. You can utilize beer cans to make track lights for your bar.
The bibliophiles amongst you can combine your love for books and booze by building a shelf at home designed to be a bar cabinet and book rack in one.
If you're building an outdoor wet bar, consider converting an old wine barrel into a sink to give your bar a classy yet eclectic look. After all, any outdoor space designed to entertain guests only adds to the charm of a home.
Read more: Basement layout by our expert architect
Entertain your guests better with these home bar ideas
was last modified:
September 29th, 2022
by
Recommended