House Facade: How to Bring It Back to Life
The exterior of your home is the first thing anyone approaching your property notices. It makes a nice first impression and has an impact on the value and the curb appeal of your home. So, if the time and weather were not kind to your exterior, roll up your sleeves. Renovating the house facade is a relatively affordable project that makes a big difference. It gives your exterior a completely new look that will capture the attention of neighbors, visitors and buyers alike. Let's see how you can tackle this task.
Setting the stage
Start by examining your exterior well. Determine your course of action and come up with a budget. Factor in labor, material and other costs. Know that it is best to both improve the aesthetics and longevity of the façade at the same time. And whatever you choose to do, prep work must not be skipped. It is a necessary step that allows you to complete projects like repainting with flying colors.
So, inspect the original façade and identify problems like cracks, water damage and other faults. Make sure the surface is clean. A pressure washer is most commonly used in this stage to deal with dirt and loose paint. The shingles that cannot stand high pressure should be cleaned with a scrapper. Moving on, put the primer over spots like bare wood and use painter's caulk to fill crack and holes. All that is left to do is to smooth out the bead with your finger and install flashing on eaves.
A splash of color
A fresh coat of paint is one of the most common solutions for exterior spruce-ups. For best results, opt for high-quality exterior paint from a reputable brand and apply it with a paint gun. Going for subpar products is not the best option since they do tend to have a shorter lifespan. As for the color, you can pick the tone that speaks to your sense of style. At the same time, try to make it fit other architectural and design features like roofing and gutters.
Using a masonry paint in a natural shade is a safe bet. For instance, staples like white can really help you unify the exterior look and beautify unsightly facades. You should also consider textured finishes that are particularly good at concealing minor cracks. Bear in mind that you might also require a special elevated platform to reach some areas. Ladders are fine, but versatile solutions like modular scaffolding can really make your life easier and save a lot of time.
Read more: Scaffolding safety tips and tricks
Rendering and cladding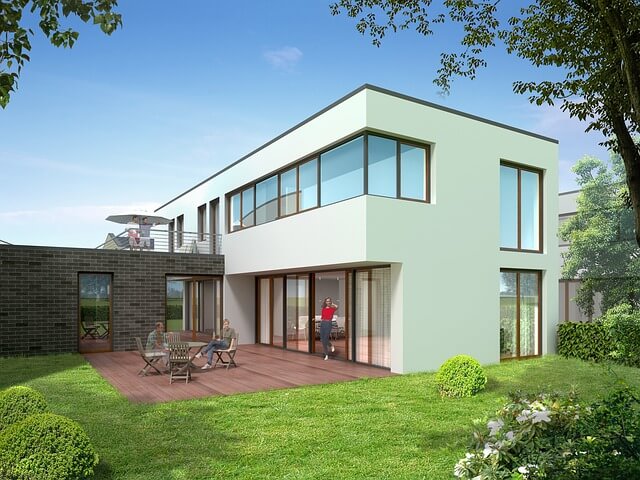 Pixabay
You have an option to render you façade using cement or acrylic render. This kind of work is a bit pricier and it generally requires a touch of a seasoned pro. There are two ways to go about this: applying paint over the render and adding oxides and colorants to the render mix. The latter approach tends to produce some lovely tones and another advantage of it is that you do not have to worry about fading and chipping damage.
Finally, depending on the budget, you might want to do some cladding, which refers to re-finishing and covering exterior walls with different materials than the original ones. This is a great way to create beautiful and unique facades. There is no shortage of options at your disposal, including timber, stone, brick, steel, concrete, weatherboards, etc. However, all of these materials have their pros and cons, so you have to determine what works best for you.
Pay special attention to durability, weight, maintenance and weather-resistance. Heat-treated timbers may be more expensive upfront, but they require almost no maintenance, which is a big plus. You should also remember that some materials change their appearance over time, which is to say you should check both new and aged samples. In any event, done right, cladding will enhance the insulation of the building and last for years and years.
Read more: How much to stucco a house
Breathe new life
So, you want to rejuvenate and reinforce the envelope of your home? Well, this project can be utterly rewarding. There are just a couple of things to mind here. First of all, you have to take your time and properly prepare the surface. Also, carefully assess what makes the most sense: just repainting or also doing rendering and cladding? Once you reach a decision, tool up and get familiar with proper techniques. Restore your house facade to its former glory, boost the insulation of the building and shield it from the elements.
House Facade: How to Bring It Back to Life
was last modified:
May 17th, 2022
by
Recommended