If you're looking to create a stylish and useful home music room, whether to practice or record music, we have some stunning and practical ideas for you.
This guide will help you transform any space in your home into the ultimate music studio — right from improving the acoustics to getting trendy music-themed room decor ideas.
Whether you're a full-fledged musician or a music lover who's considering converting an unused room into a music studio, these home music room ideas will help you in your decor and design journey.
The final result will be a room where you can immerse yourself in the world of music without any distractions. So, here's how to design a dedicated music space in your house. And, help you play musical instruments or sing like a Rockstar!
Home music room ideas
Decide your music room's location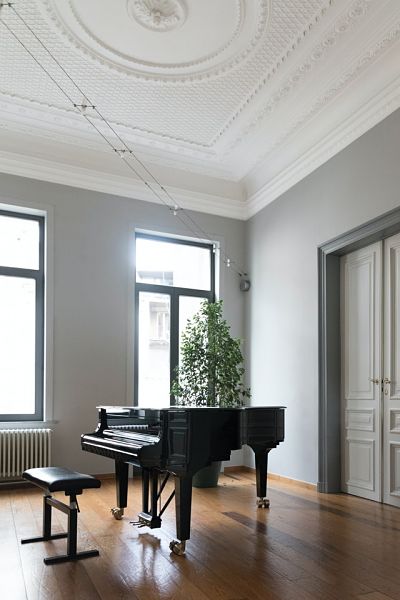 The first step is to determine what exactly you want to create — a music room, a band practice room, or a pro sound studio. Based on the purpose of the room, you can decide the ideal location. You may carve out a music room in an existing space or build a new music studio in the house. A basement is a good location for a brand practice room or a recording studio. The reason is that it allows for better sound control. A windowless home studio will lessen any possible reflective noise.
Remodel the music space
Once you've chosen the location, you'll need to decide if the room requires any major remodeling, such as adding or removing walls, painting the walls, or replacing the floor. You will also need to decide on the level of soundproofing the music room will require. And, if your music room is a part of a larger space, say a living room, you may want to use dense room dividers to create your music zone and help buffer sound.
Read more: Interior & exterior house painting financing
Begin with soundproofing
Soundproofing is extremely crucial in a home music room. Apart from improving the acoustics of the room, it will keep your family and neighbors happy by containing your sound. Especially, if you're planning to strum your electric guitar or practice the drums. It's best to hire a contractor to add extra drywall or add acoustic foam. If you're planning a serious home recording studio, you may want to install a drum shield or a cage to enhance the acoustics of your music room. The plexiglass barrier will also help you with good sound quality. Interestingly, an exposed brick wall too helps contain sound and gives an urban vibe to your home music studio.
Read more: How to soundproof your house with creative home decor ideas
Invest in sturdy music room storage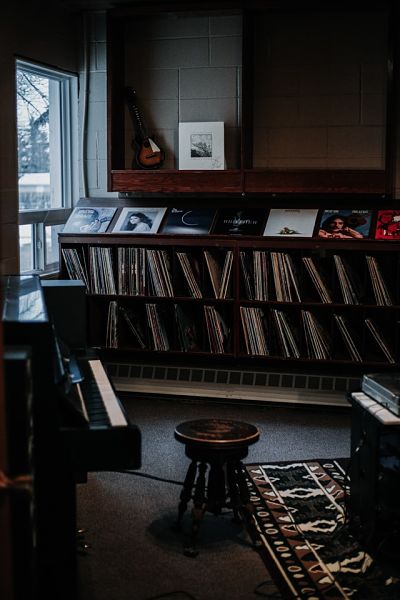 You need to create ample storage space for your musical instruments, bulky equipment, sheet music, and miscellaneous items. Well-designed shelves, closets, and cabinets will make your space look tidy, which in turn will offer you greater peace of mind.
Get stylish and strategic lighting
Smart lighting is important for your home music room. You may consider adding wall sconces, overhead lighting such as a chandelier, or any other fancy light fixtures above your classical piano so you can read your sheet music easily. You can opt for recessed ceiling lights on a dimmer switch to control the music room's ambiance and your mood. Make sure to use adjustable floor lamps as well as task lighting. Going one step ahead, you can invest in LED music lights, that clip onto music stands, and stage lighting — especially if you regularly rehearse for music performances.
Make your instruments and records a part of your wall decor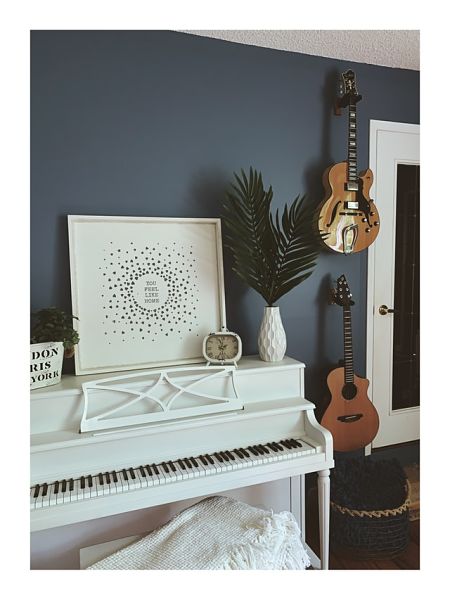 If you plan smartly, your music room decor and interior design can be really fun. You can display your musical instruments as part of your wall decor. Think wall-mounted guitars, flutes, or saxophones to add a trendy look to your room. And, it will also help solve your storage problem.
You can also display your favorite records and rare vinyl finds on the wall for everyone to see!
Get area rugs that add style and function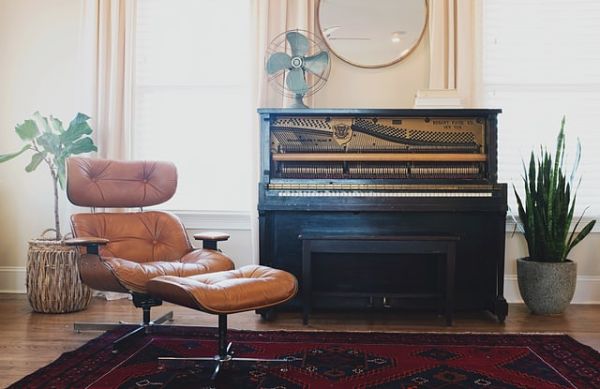 Did you know, soft rugs do more than give a cozy warmth to a room. They help absorb extra sound and therefore support rich acoustics. That's why they are an ideal addition to a music studio. And, they also add a stylish touch.
Invest in comfortable seating
One of the most important aspects of a music room design is having a comfortable space. Always choose practicality and comfort over shiny beauty. Your home music room should invite relaxation – letting you into the universe of the music without worrying about the outside world for a few hours. You can buy a cushy sofa, plush chairs, and maybe some creative instrument-themed furniture. Keep in mind that upholstered furniture can help dampen sound.
Use bright wall colors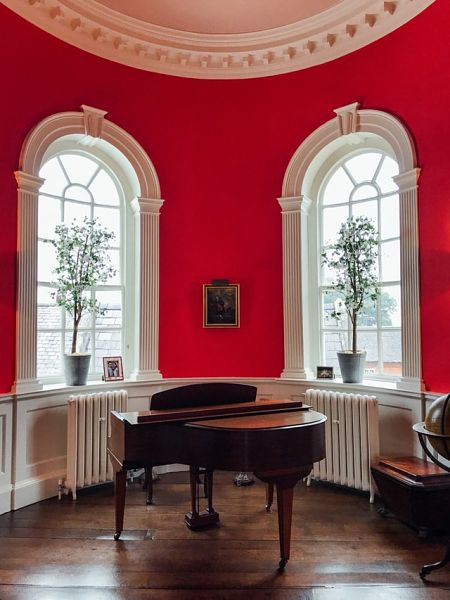 Vibrant colors help to stimulate the brain. For example, red and orange accents are known to enhance energy. Blues and such cool colors help to inspire soothing tunes and soft melodies. They are especially a good choice if you play classical piano or soft acoustic music. But if you want to heighten the luxury of your music space, you may want to opt for a simpler color palette.
Add indoor plants for a cozy vibe
Plants too do their bit in sound absorption. They are known to help absorb the extra decibels. Plus, indoor potted plants help create a space with a natural look and feel.
Design a DIY stage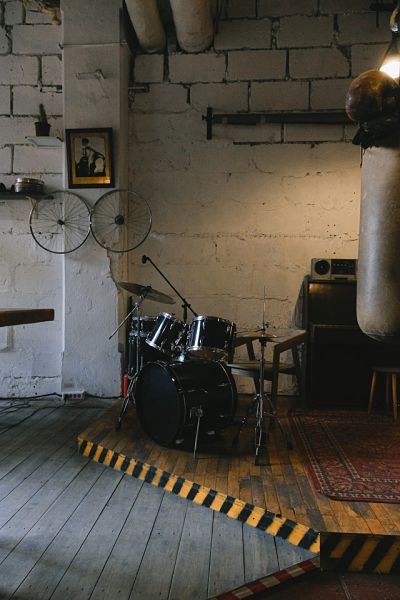 Creating a DIY stage does not have to be difficult or extravagant. You can designate a space for showcasing your music practice and performance when friends and family visit. It could be through a smart furniture arrangement or an elevated platform. Make sure you use interesting stage lights for a jazzy effect.
Add books to help the acoustics
A home music room that doubles as a home library is not just a space-saving design idea, it's stylish and functional too. Books and bookshelves can provide great sound diffusion in your home music studio.
Last thoughts
Trust us, you'll be able to create better music when you're happy and inspired. We hope these ideas will help you in creating a music room that's your own personal space within your house, your perfect musical universe.
A home music room that reflects your personality will keep you motivated and creative. And, whether you love to play instruments or sing, you'll happily want to spend hours in your music room — without getting bored or restless.
After all, you'll not know when the next inspiration strikes. But, when it does, you want to be in your zone.
Practical home music room ideas for an ardent musician
was last modified:
November 15th, 2022
by
Recommended