Achieving the Balance in Home Office Design
Working from home can have so many benefits: you get to be your own boss without distractions by office rules and constant gossip that doesn't concern you in the slightest. You have all the freedom to do anything you want, the way you want it, just as long as you follow the deadlines. Some people prefer to work while lying on a sofa, or even while in bed, but in order to maximize productivity, having a home office can more than useful. Some people don't have enough space, but if you do, using that extra space to make your own home office can definitely help you be more hard-working and goal-oriented. Therefore, here are the essentials you'll need if you want to have a chic office at your home:
Focus on the essentials first
Photo by James McDonald on Unsplash CC0
Decorating your office is a must, but only after you take care of other essentials, such as lighting, ventilation and getting the right office chair and table. After all, there's no point in taking care of decorations, if you don't have a place to sit comfortably without straining your back. Similarly, getting the right table can be helpful, and if you plan on seeing clients, you should also add a few extra chairs and preferably a small sofa or an armchair. Before you get into less important decoration details, you need to make sure that your home office is well-equipped with everything you need in order to work without disturbances.
Take a look at these 15 Home Office Decor Ideas to Enhance Your Efficiency
Paint the office accordingly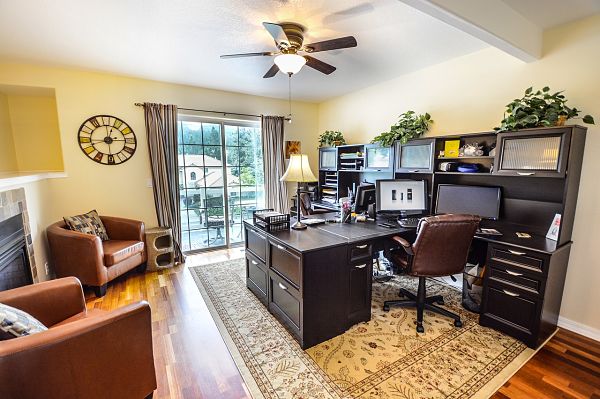 You have all the freedom to paint the office the way you like it, but if you want to be productive and free from distractions, then it's best to opt for neutral and calming colors that will have a positive and soothing effect on you. Therefore, you should stay away from red as it often leads to anxiety, but if you want to enhance your creativity, then choosing yellow can be of help, or in case you wish to increase your productivity, then you should opt for blue and lilac. Of course, you can mix and match various colors, but it's important to make sure that your working environment is peaceful enough so you won't end up feeling too nervous or under pressure.
Read more: How to Design a Good Therapist Office at Home?
Your productivity matters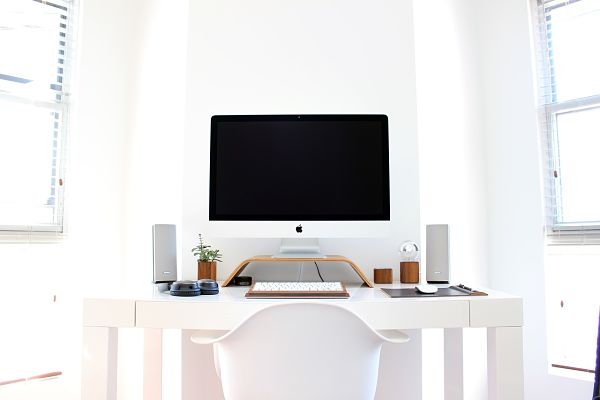 Having a chic office is great, but if you want to reach your true potential, then you should ensure to be productive and have access to the best tools and equipment you need for your work. Hence, getting the high-performing desktop computer and laptop is something you should make sure to invest in, but additionally, getting the printer or scanner can be equally beneficial for your work. And don`t forget that brainstorming requires taking notes, so purchasing Winc stationery for the office will come in handy every time you need to grab a pen and paper writing down something you need to remember later.
Take a look at these Elegant and Practical Home Office Design Ideas
Add little things that make your office feel cozy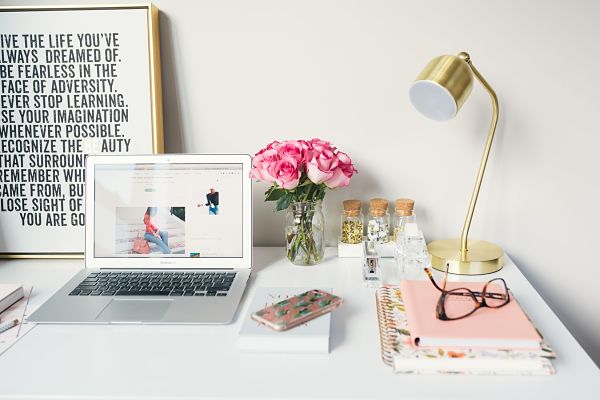 Photo by Arnel Hasanovic on Unsplash CC0
Details do matter, so after you've taken care of the essentials, it's time to start thinking about decor pieces that will make your office feel cozy and look elegant. For example, a bookshelf can add an element of intellectualism, while a rug will definitely make the room feel more welcoming. Also, hanging a few pictures will fill in space and make it seem very arty and chic. If you really love wall art, then adding a gallery is something to consider. In addition to that, you can add various houseplants to enrich the space, especially since indoor greenery can be beneficial to your well-being and productivity.
Read more: Home coffee station
Estimate your home remodel cost in just a few clicks with our free cost calculator.
Make sure you're free to work in peace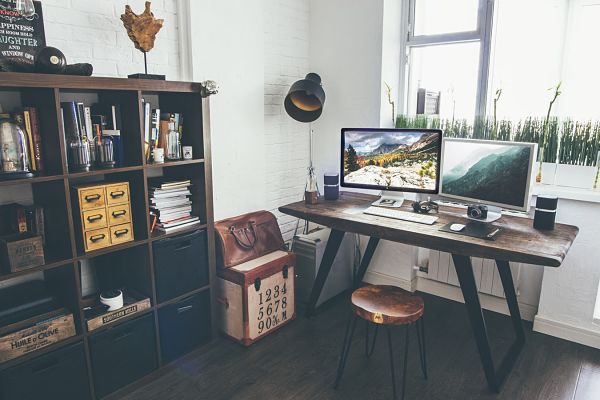 Photo by Vadim Sherbakov on Unsplash CC0
Working from home often means not having to endure office chatter. But that doesn't mean you're free from all the distractions. Therefore, soundproofing the office can ensure you peaceful work in a quiet environment. Sometimes, the outside noises can be too loud to bear, especially if you're Skyping with the client. Also if you simply need some peacefulness in order to concentrate on your work. If you're also a parent, then it's best to work while your kids are at school, so you'll be able to finish everything without any interruptions. Additionally, playing some soothing music and lighting candles will help you concentrate and do your job tasks in a positive and relaxing atmosphere.
Read more: How to Successfully Work Remotely with Clients
Business chic is a style that needs some experimenting in order to look good and elegant. Furthermore, it's important to treat your office for what it is: a space where you're able to be free and work. You should not use your home office as an extra storage room. That can have negative effects on your efficiency and workflow. Instead, make it your sacred space where you'll be able to learn, work and be the boss you already are.
Read more: The Shapes Of Architectural Design
Achieving the Balance in Home Office Design
was last modified:
May 27th, 2022
by
Recommended