Are you planning to add a home office? With today's work-from-home culture taking center stage, it's important that your home office floor plan is as practical and inviting as possible.
For quite some time now, many people have been working remotely to contain the risks of spreading the Covid-19. Creating a fully functional home office is a necessity today — more than a luxury.
Whether your home office is located in a guest bedroom, an annex, a small bedroom, or even your dining area, there are a few essentials you will want to consider.
Because whether you're spending the entire working week or just a few hours in here, you should have all the comforts of getting your work done efficiently. And, that's why we have an expert architect giving you the perfect work-from-home setup.
Check out these stylish and practical home office floor plan options. And, find the best home office layout that will suit your work demands and lifestyle.
Read more: How to create a productive home office environment?
Home office floor plan 1: Office situated in a guest room
Dimensions of the room: 13.12 feet x 9.84 feet
Height 8.20 feet
Dimensions of the storage unit: 9.22 feet wide, 1.31 feet deep, and 6.99 feet high
Overall design: Visual room division through different wall colors and finishes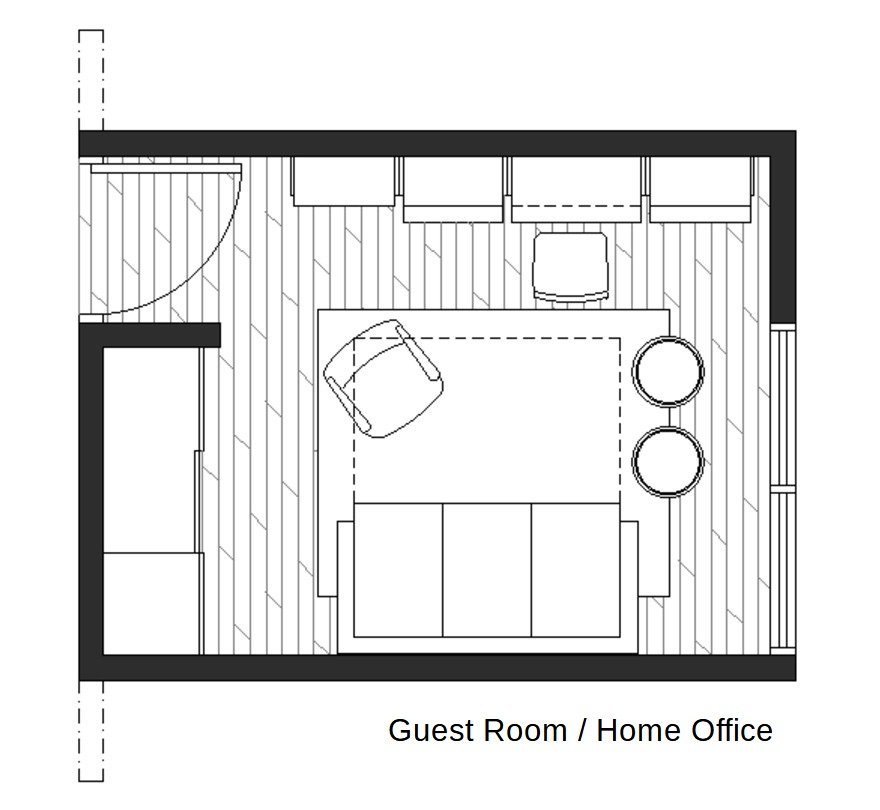 This home office design model is specifically meant for a multipurpose guest room. While the area can be used as an office most of the time, when an overnight visitor comes over there's enough space for them too.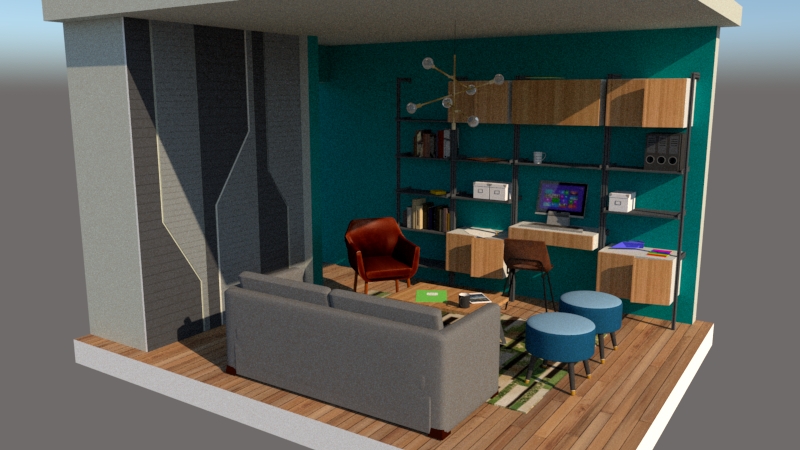 It consists of two areas, the first part containing typical office furniture, including a work desk and storage unit while the other part has a sofa-cum-bed that can be perfect for an overnighter guest. You can use this space as a place to rest or relax between hectic work schedules.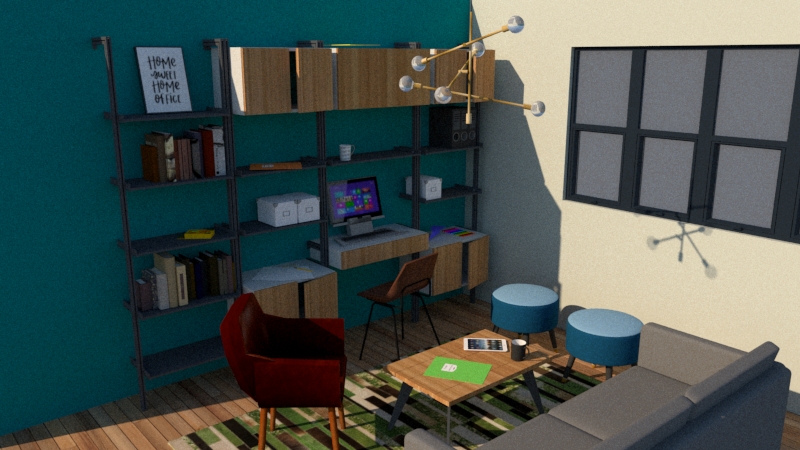 The room has a lovely accent wall — in a happy turquoise color. The color is believed to increase creativity in the workplace. A sturdy wood and metal storage rack rests against this wall. The combination of closed and open shelving makes for an ideal storage solution.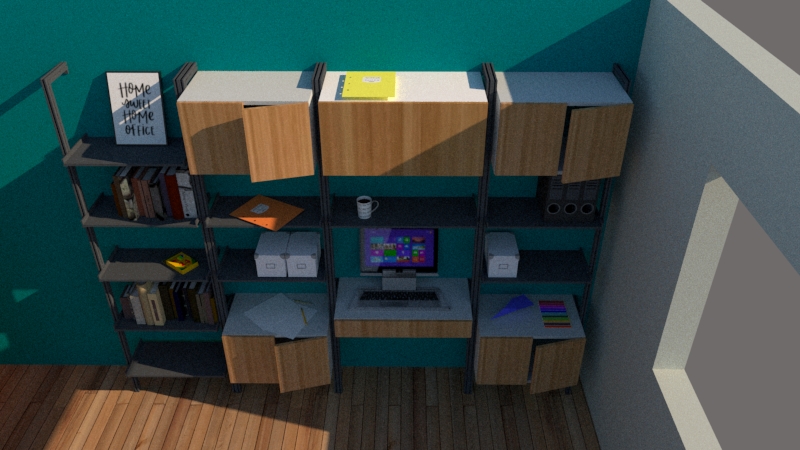 The other side of the room can be conveniently converted into a mini-conference room or a place to read and sign documents. The easy-to-move furniture, including a coffee table, can be adapted according to the use of the room.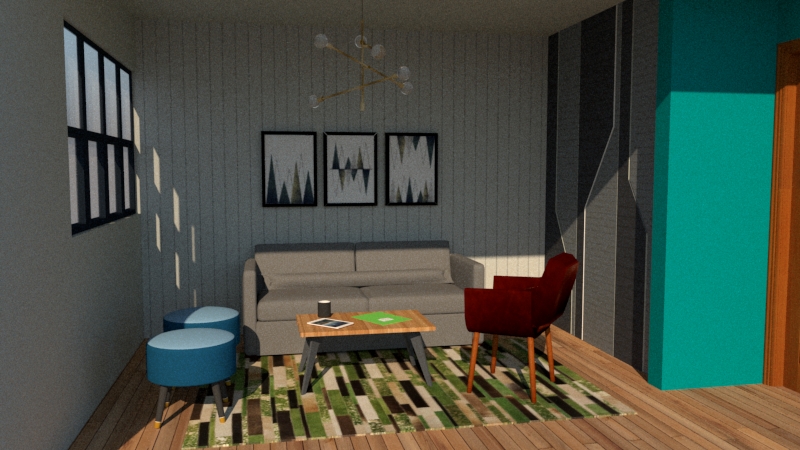 To keep the contrast alive, our architect recommends the use of white and gray colors, with exaggerated tones and textures on the closet and the wall behind the sofa bed. The colors help to create a beautiful balance of space and continuity.
The architect especially suggests having a lot of natural lighting in the room through windows. Notice how the beautiful modern chandelier complements the home office space — easily becoming the focal point of the room.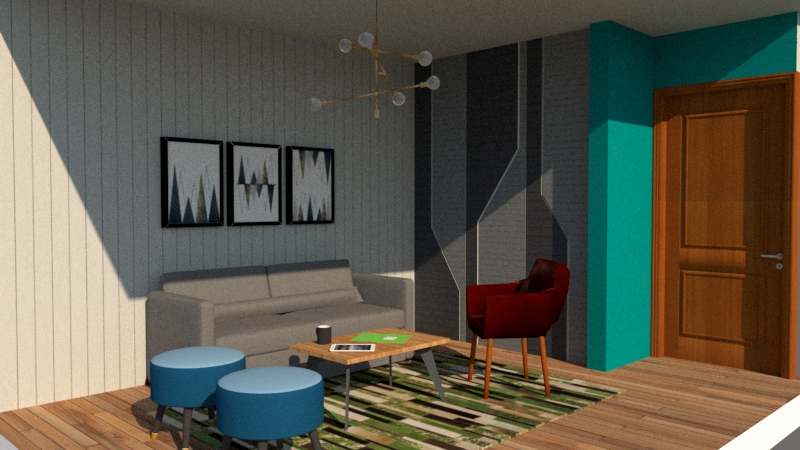 The wood flooring has been kept a light-to-medium wood color to enhance the natural light even more.
Read more: 6 Modern and chic home office ideas you should try
Home office floor plan 2: Office set up between two spaces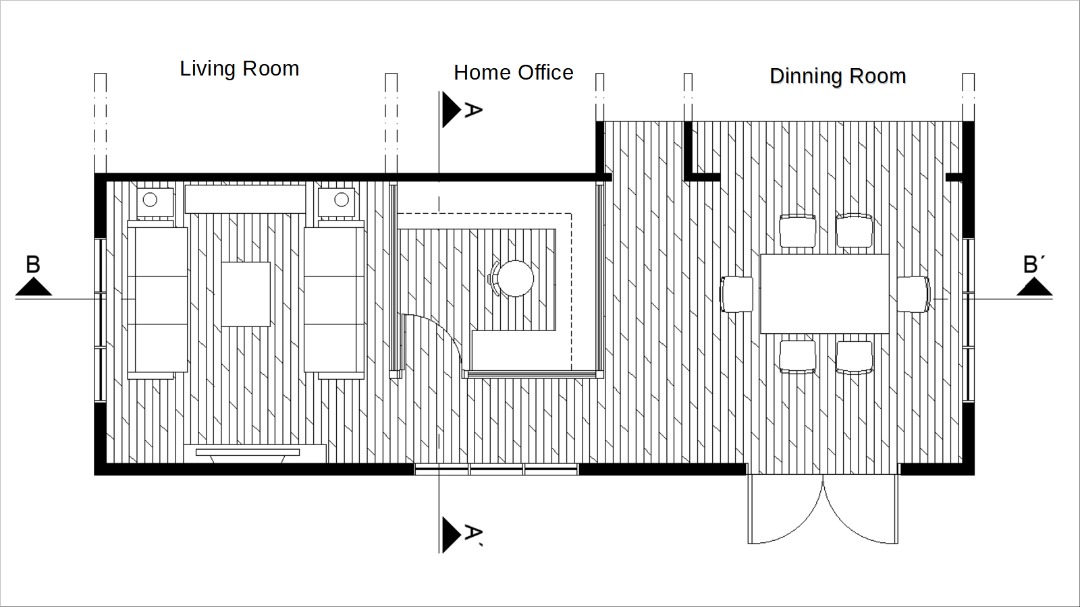 Dimensions of the room: 8.73 feet x 8.07 feet
Room height: 8.20 feet
Dimensions of the office cabinet: 8.07 feet x 7.74 feet, height 6.89 feet
Depth of the office desk: 1.64 feet
Overall design: Metal and glazed enclosure structure around the home office layout — on three sides for privacy
This home office is located between a living room and a dining room — with a connection to a patio. A corridor connecting the rooms gives the only access to the office/study area.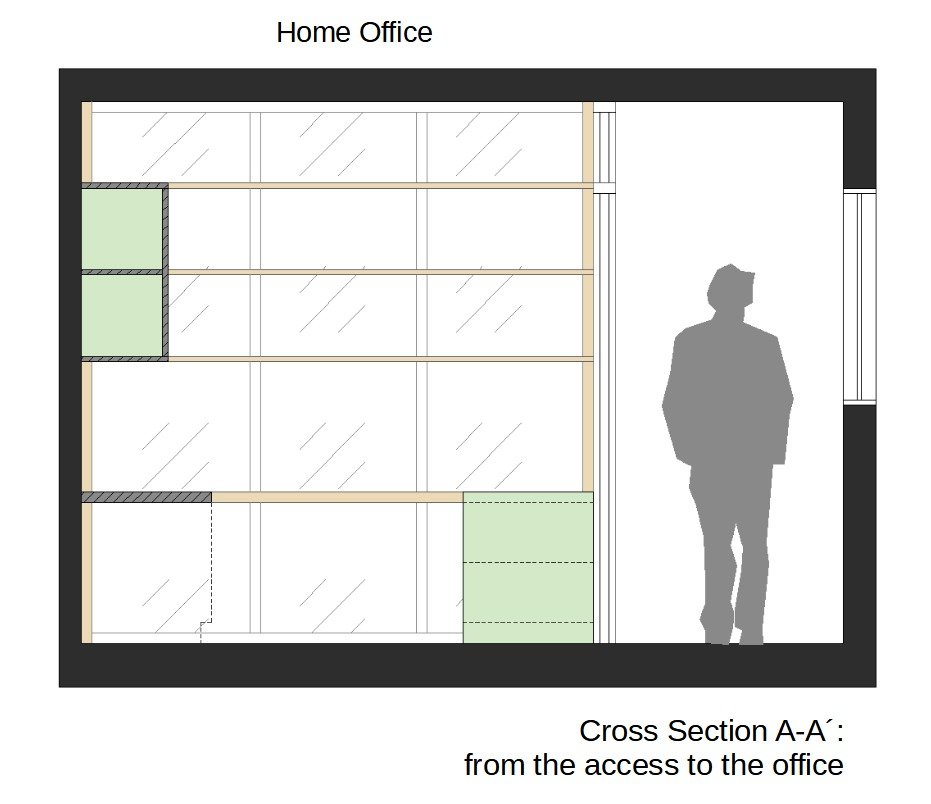 The office consists of a continuous desk in a "U" shape and a shelf in an "L" shape — with closed cabinets and drawers for storage. A glazed door renders the office space good privacy.

The architect recommends using a vinyl, textured wall, or wallpaper between the desk and the cabinets to give more character to the home office design. The most suitable color palette would be to use green ribbed wood for the upper cabinet doors and lower drawers. The rest of the structure can be in soft magenta and gray tones.
Right in front of the corridor, there is a window that brings in abundant natural light. You can use artificial lighting through LED lights or some such light fixtures. Do remember to add a lovely office lamp for task lighting.
Plan your home office ceiling light properly with our estimator tool.
Read more: Office desk decoration ideas
Home office floor plan 3: Office in dining room/kitchen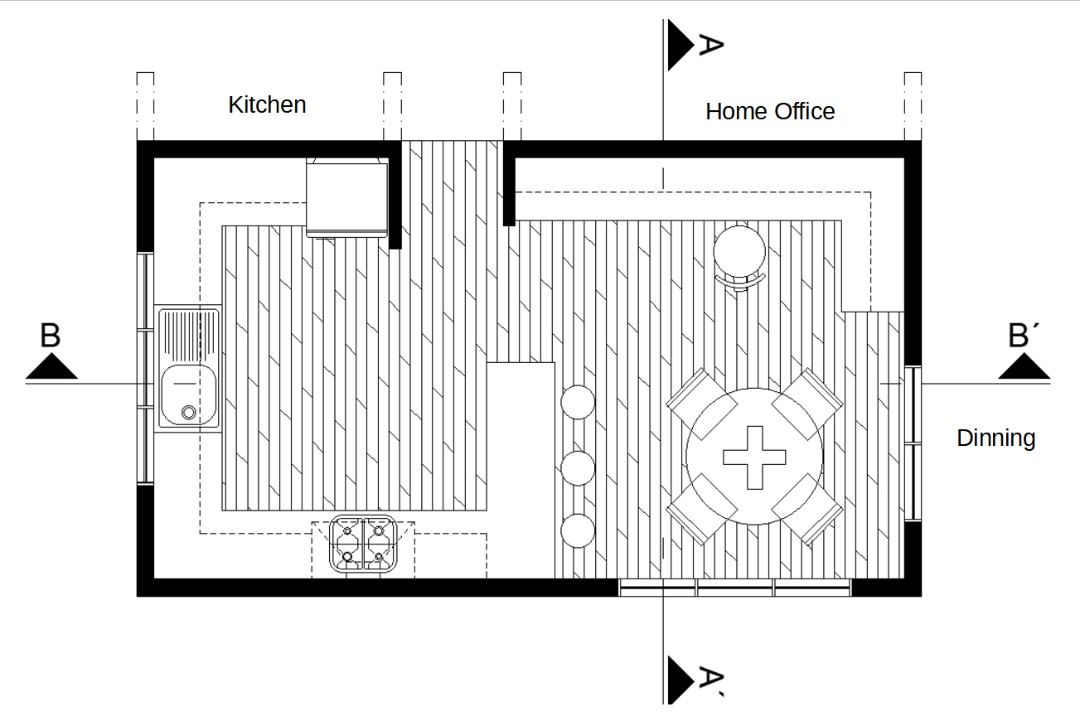 Dimensions of the room: 21.59 feet x 12.13 feet
Height: 8.20 feet
Dimensions of the kitchen: 11.48 feet x 12.13 feet with variables
Dimensions of the dining room: 10.07 feet x 7.71 feet
Cabinet size: 11.20 feet x 4.43 feet, height 8.20 feet
Depth of the office desk: 1.80 feet
Depth of the shelf: 0.98 feet
Overall design: Three well-differentiated areas
This kitchen is located in front of the dining room and next to a "U" shaped kitchen with a kitchen peninsula. The open concept kitchen is of medium size with a dining area.
The office has an "L" shaped desk with built-in cabinets — having closed as well as open shelves.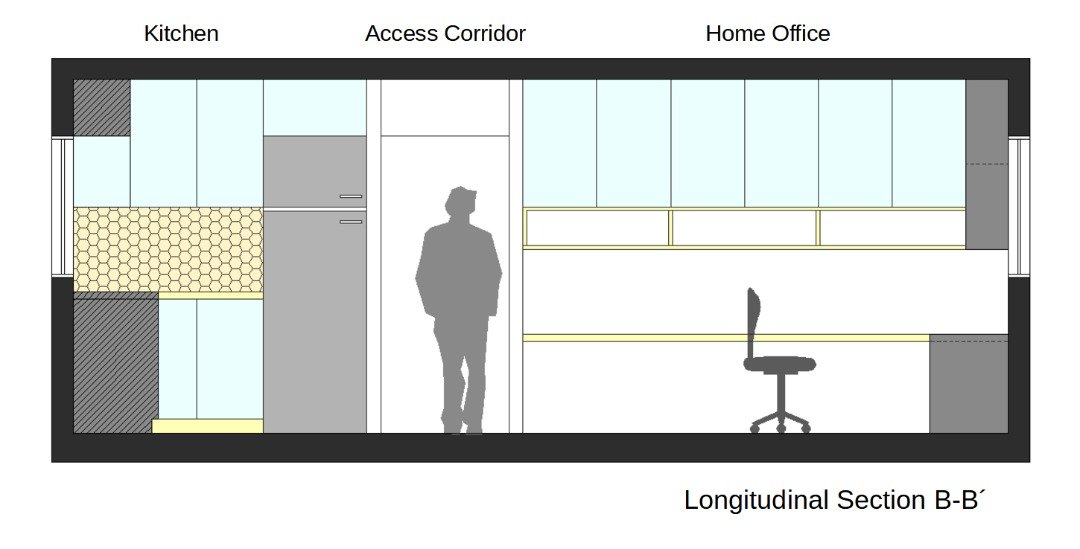 To maintain continuity, the office cabinets have been given a similar size and look as the kitchen cabinets.
Our in-house architect recommends vinyl, texture, wallpaper, or paint on the wall between the desk and the cabinets. It will give the work area a well-defined space. The best color palette would be to use smooth wooden cabinet doors in soft blue color. This will give the area a minimalist modern style — the perfect home office for those who like to keep things simple and elegant.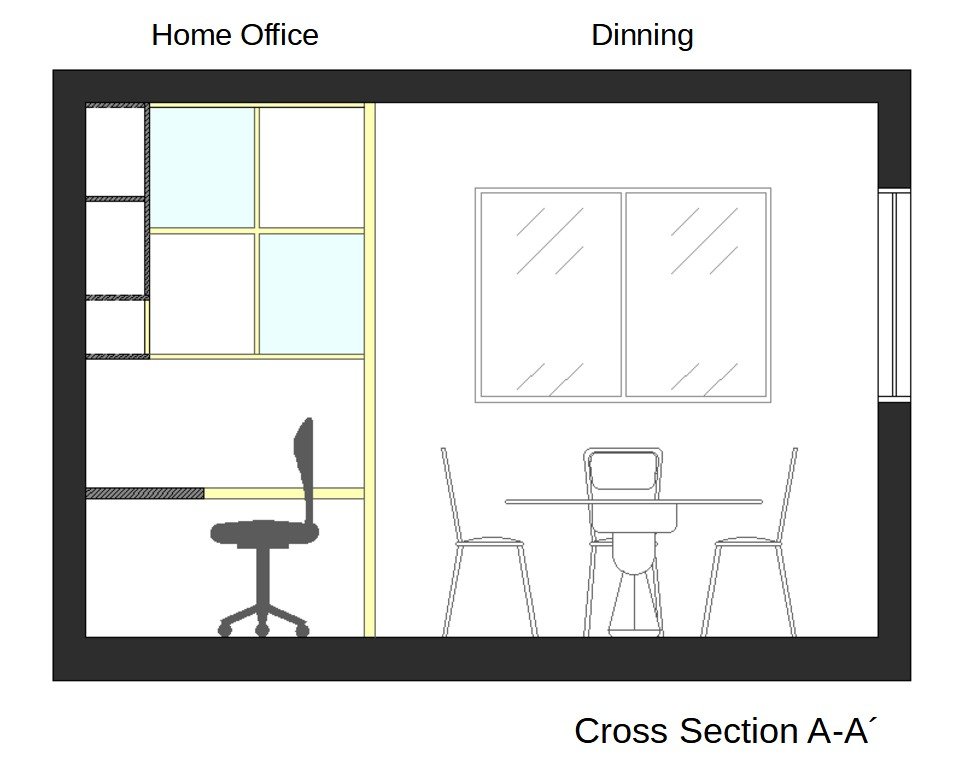 There is ample natural lighting through three windows. The best artificial lighting would be achieved through recessed LEDs. Of course, a table lamp is always a requirement for a home office.
Your home office ideas are important. Get the best estimate with us.
Read more: Luxury home plans by architect
Last words
Today, the majority of people in the world — especially in the United States — are working from home. Thanks to technology, many of them can have a full-time remote job — from their home to any company across the globe! No wonder, choosing a great home office floor plan is a top priority for everyone.
If you have sufficient space at home, and are planning to add an office, these home office floor plans will be a great way to start. They will help you create a functional office area , and add effectiveness to your office work. Remember that an office layout plan can make or break your productivity!
Read more: 15 Home Office Decor Ideas to Enhance Your Efficiency
Practical, efficient home office floor plans by an architect
was last modified:
December 15th, 2022
by
Recommended